If a stargazing vacation conjures up sleeping wild in a tiny orange bag under a collapsing tent and vulnerable to the forces of nature, then think again. You no longer have to be a skilled camper to enjoy the natural wonders of the world. Luxurious glamping domes, equipped eco trailers and homely house boats are just a few of the options available to the intrepid traveller to enjoy stargazing in comfort, instead. Here are The Ethicalist's five tried and tested picks of authentic getaways where you can reconnect with Mother Nature and enjoy uninterrupted views of the stars without even another tent between you and the sky.
Wadi Rum Night Luxury Camp, Wadi Rum, Jordan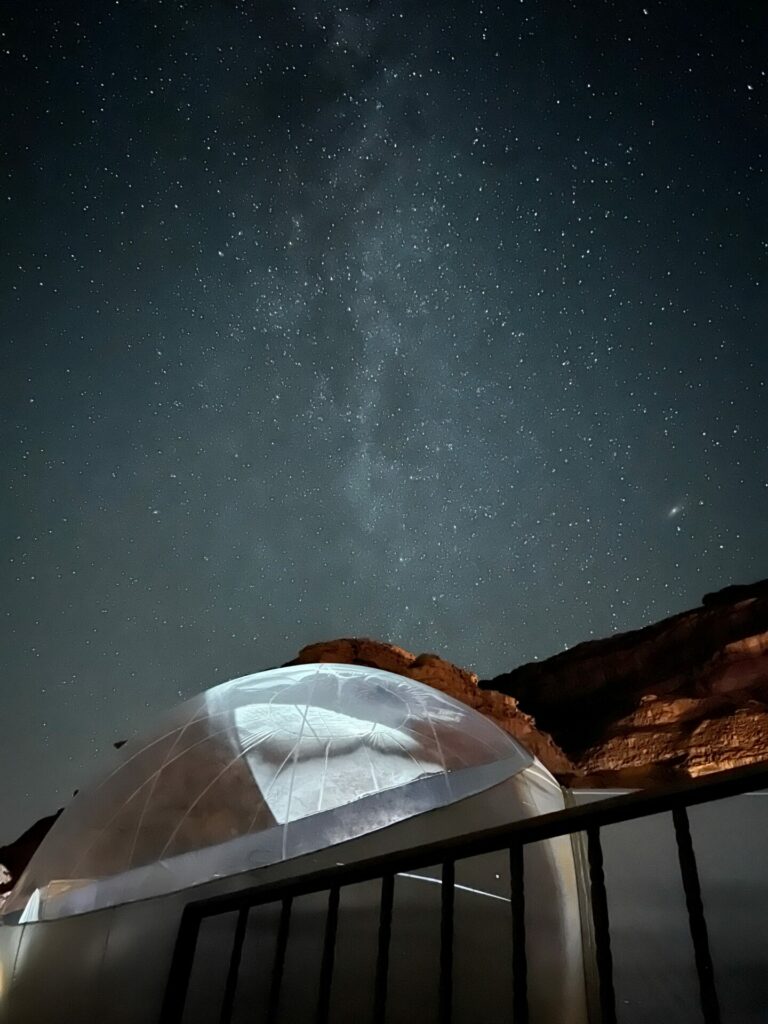 This piece of Middle Eastern paradise is not only a stargazer's dream, but an adventure from start to finish. They say Wadi Rum is the place to be if you want to experience life on Mars, and they aren't far wrong. Also known as the Valley of the Moon, Wadi Rum is a valley cut into sandstone and granite rock in southern Jordan. Arriving to a crater-like landscape and red rocky peaks just waiting to be climbed, the first step is to choose a great camp to experience Wadi Rum's full potential. While there are plenty of luxury 'glamping' options to choose from Wadi Rum Night Luxury offers stunning views with eco credentials.
Their 32 luxury tents are equipped with locally handmade Bedouin furniture while all the electric facilities are run on solar power. Standard tent options are available, but if you're looking for the ultimate intergalactic slumber experience, choose the aptly named 'Full of Stars' transparent tent. The 'space pod' – while fully air conditioned – can get hot during the daytime in the summer months but come evening time is a perfect base to stargaze into the desert's undisturbed Milky Way. Spanning the horizon, you will lose count of the shooting stars as you fall sleep. It is, quite literally, out of this world.
The Details:
Full of Stars tent approx. AED934 per night (Half board included). www.wadirumnightluxury.com
Splav Drina, Perucac Lake, Serbia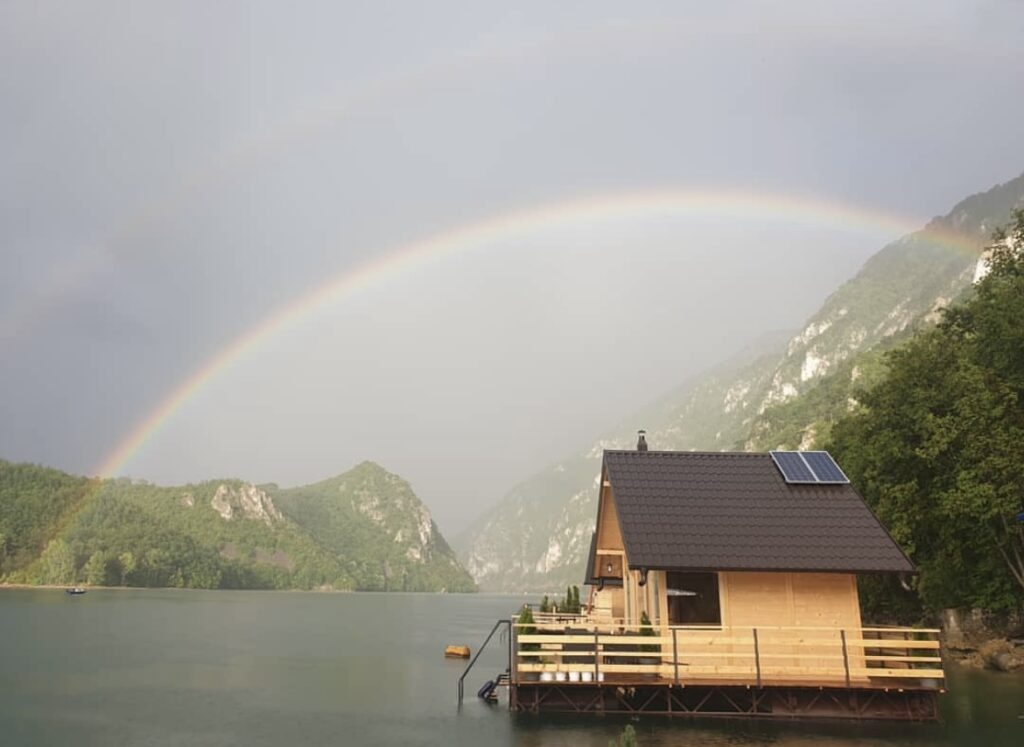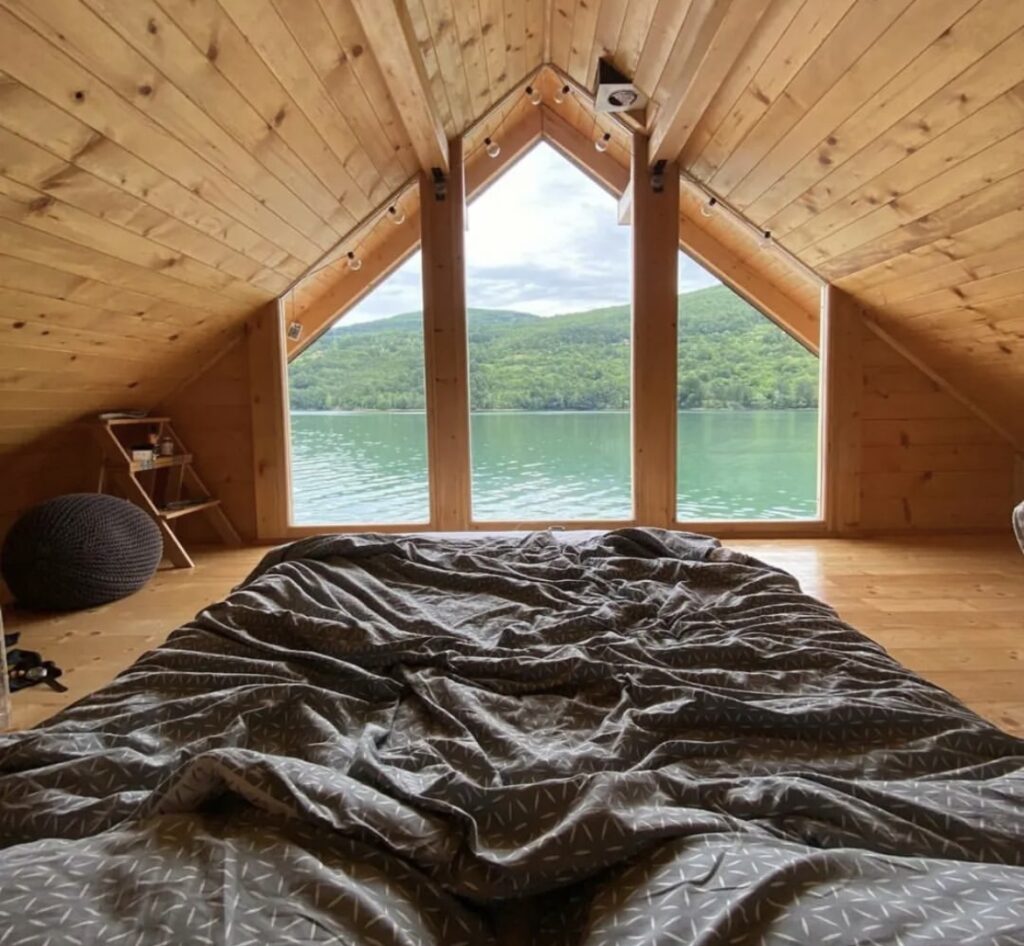 This lakeside haven is surrounded by mountains but situated on Perucac Lake – the body of water separating Serbia and Bosnia – allowing guests to observe the scenery of two countries during their stay. A three hours' drive from Belgrade airport, this wooden two storied lake house, only accessible via boat, boasts undisturbed panoramic views of turquoise waters and green blanketed hills. You'll be initially accompanied by your host Katarina and then will be left to enjoy life on the water which is easy as a canoe is thoughtfully provided so you can explore the lake and its surroundings.
The beautiful wooden cabin has a bedroom on the top floor with stunning views of the lake, a fully functioning kitchen, and a BBQ area on the terrace, so you can have dinner under the starry night until the evening chill sets in. We chose to continue our stargazing from indoors with a roaring log fire and the stars shone so bright artificial lights were not needed at all. The only downside will be checking out…
The Details:
Full lake-house approx. AED184 per night (lodging only). @splav_drina
HATTA Sedr Trailers, Hatta, Dubai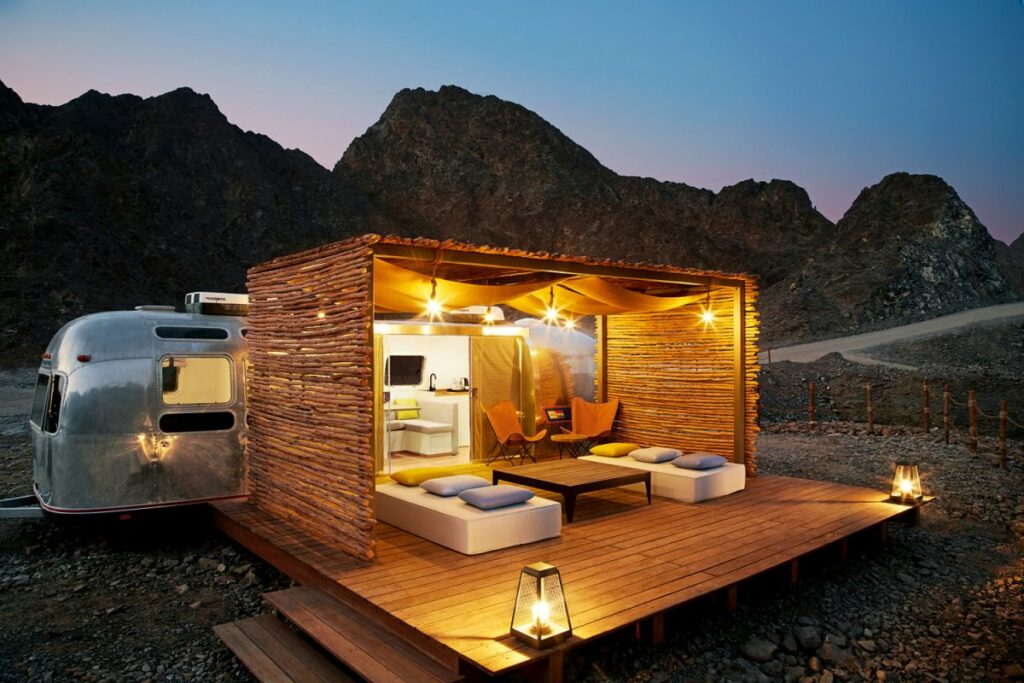 For a stargazing choice a little closer to home, check out Hatta Sedr Trailer Resort situated high in the Hajar mountains between the mountain ranges of Hatta. Boasting breathtaking views of the turquoise Hatta dam, this remote location is a far cry from Dubai's typical tourist attractions. You can choose one of 13 fully equipped deluxe trailers with either a water or mountain view, all with a private terrace that includes a BBQ.
Spend the day reading, hiking, cycling, or partaking in water activities on the lake but by night, this eco resort is primed for star gazing. As its 90 minutes' away from the bustling City of Gold, and its proximity to the infamous UAE deserts, the sky here is flawlessly clear and stars are easy to spot. Pack extra layers to stay out on the terrace all night though as once the sun sets, it gets chilly.
There is a waiting list for this pricier choice but this magical glamping experience will leave you starry-eyed and feeling like you have checked into a wellness retreat for the weekend.
The Details:
Water view trailer approx. AED1,500 per night depending on season (lodging only).VisitHatta.com
Plas Onn Isa Glamping Pod, Abergele, North Wales, UK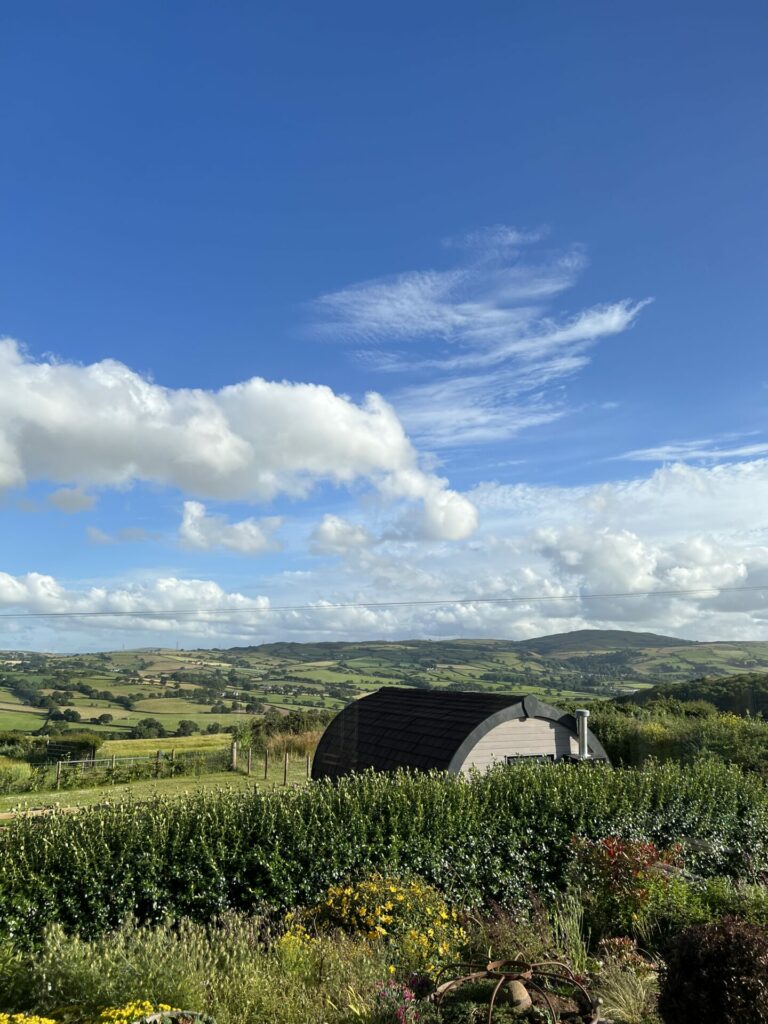 A stone's throw from where Louis Vuitton shot their infamous Fall Winter 21 Men's Campaign, Plas Onn Isa Glamping Pod hosts a breath-taking view under a clear Welsh sky. Placed just up and beyond Abergele, known for its long white sandy beach, this romantic, adults-only site is uber exclusive – and by that we mean, there is only one pod available for hire! Expect silence, scenery, and stars all to yourselves.
The unconventional compact wooden pod boasts a comfortable bed, living space and fully fitted bathroom while the balcony and private garden are the perfect places to relax, observe the starry sky, and – with the help of an app or two – discover constellations you learnt about in school.
Without another tourist in sight, this lodging is remote and romantic. A stay here will likely consist of sunrise breakfasts with the resident pheasants, walks amid the picturesque Welsh countryside and night-time stargazing sessions. A perfect way to experience the nature of camping in comfortable surroundings.
The Details:
Wooden glamping pod approx. AED290 per night (lodging only). @glampingpod_plasonnisa
Mt Batur Glamping Domes, Bali, Indonesia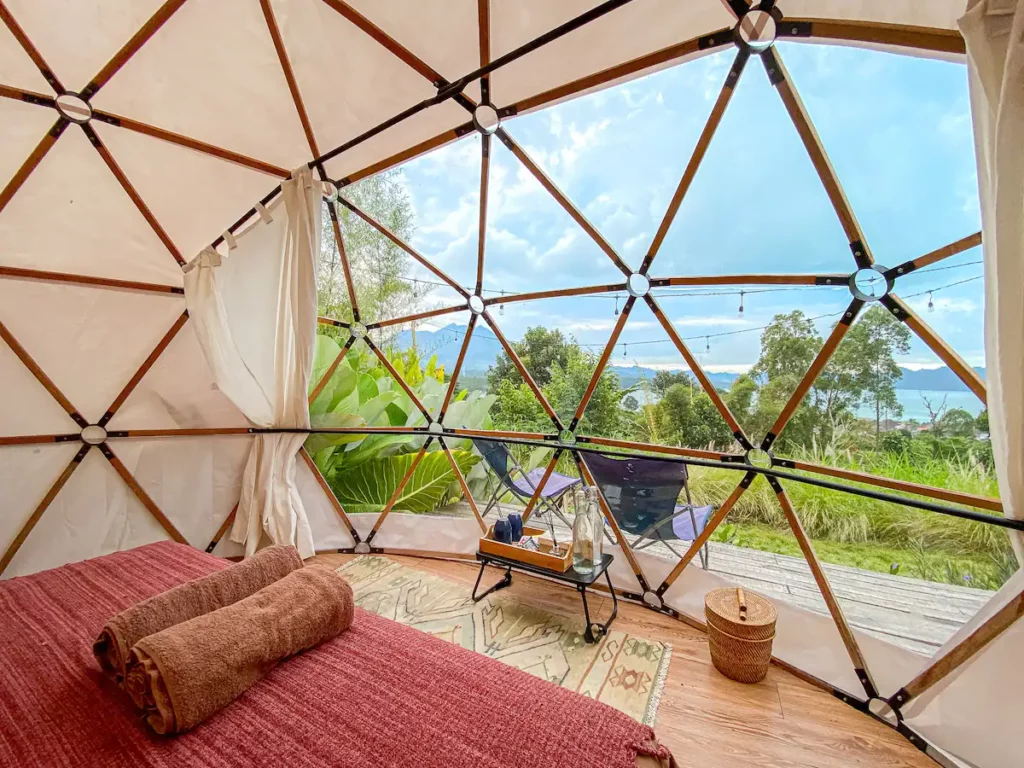 Not to be missed on any romantic stargazing getaway, this dome decked glamping spot overlooks the Batur Mountain Volcano – famous for its natural hot springs – in Bali. Close to hiking spots, this location allows the adventurous traveller to relax and enjoy the starry sky after a day of strenuous but scenic walking and climbing around this Indonesian island. Equipped with private bathrooms but a shared fire pit and kitchen, it's the perfect location to meet other intrepid travellers and share anecdotes under the stars.
The Details:
Full private pod approx. AED173 per night (lodging only) Book here
Some images supplied by the author @watchourworld