On the long sandy beach of Jumeirah Al Naseem, over looking Dubai's iconic Burj al Arab, over 50 people gathered yesterday morning to send 12 sea turtles, including the endangered Hawksbills and Greens, back to sea. Onlookers smiled as the turtles, both young and mature, made their way to the water's edge and were gently swept up by the waves, venturing into the open sea, free once again.
Dubai's dedication to a sustainable future has made way for some impressive initiatives, and the Dubai Turtle Rehabilitation Project (DTRP) who organised the morning's conservation event, is one shining, and longstanding example.
Started almost two decades ago back in 2004, it's been a powerhouse program, rehabilitating and returning the UAE's injured sea turtles back to the ocean. Based out of the Burj Al Arab Jumeirah, the DTRP places rescued turtles in an intensive care unit at its aquarium for early treatment before transferring them to a specially designed, sea-water-fed lagoon at Jumeirah Al Naseem. There they are able to get used to a natural environment and regain strength before being released back into their ocean home.
So far, over 2,100 turtles have splashed back into the Gulf waters, thanks to their efforts, with an average of more than 100 turtles rescued and rehabilitated every year.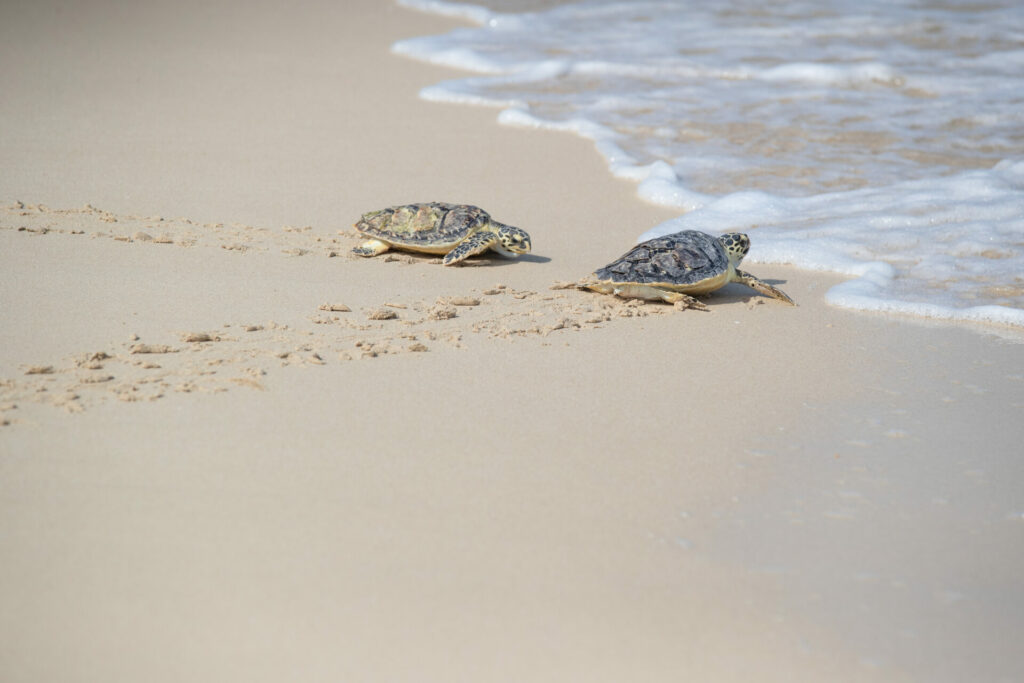 But the project goes beyond rescue; it's about research too. Gina al Wasl, one of the turtles releaesed back into the gulf yesterday, left the sandy shores of the UAE with a sattelite tracking device attached to her shell. That tiny piece of tech will allow the DTRP to monitor this particular marine adventurer, which in turn will inform conservation strategies.
The DTRP's tagging program has uncovered the remarkable distances sea turtles can travel. Dibba, a turtle rehabilitated by the DTRP, travelled an impressive 8,300 km to Thailand in nine months, marking the first documented migration of a marine turtle from the Middle East to South East Asia. Other turtles aided by the program have reached distant shores like India, Pakistan, Oman, and various nations around the Gulf.
This year, the DTRP has set 75 turtles from four different species free into the wild, equipped with satellite tags. Many have navigated to nesting grounds and lingered in conservation zones such as Ras Al Hadd in Oman and various sanctuaries in Abu Dhabi.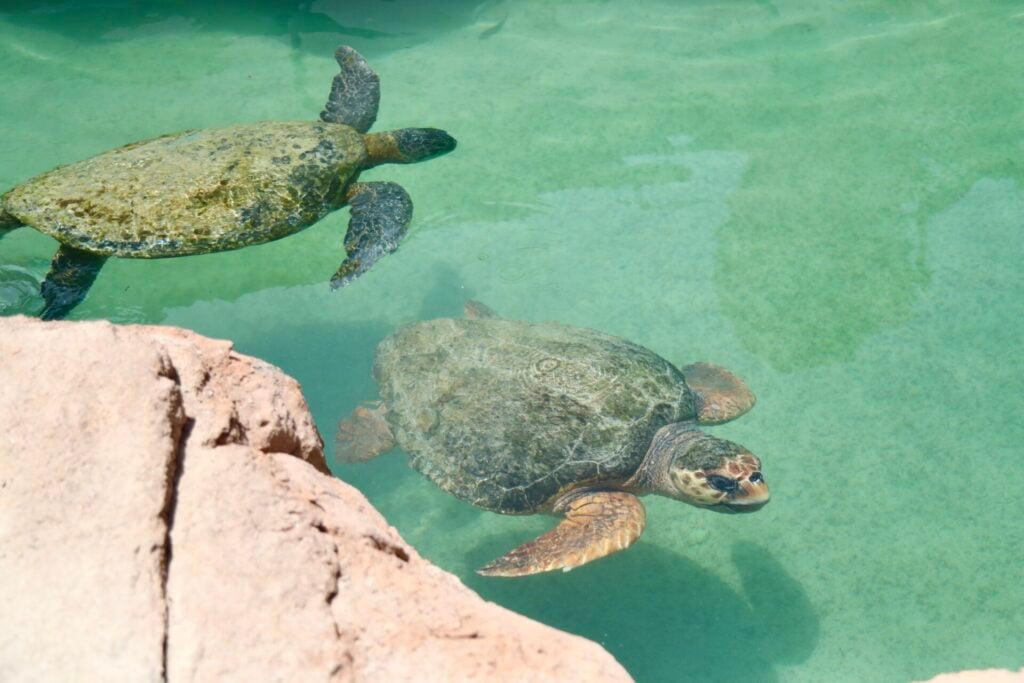 While all turtles released into the wild may not be tracked, all are microchipped enabling the team to immediately detect if they get washed back onto the beaches.
This age-old species, along with over 800 other marine and coastal inhabitants, faces dire threats from rising ocean temperatures and pollution. Plastic debris is a significant hazard to turtles, with an alarming 19 to 23 million tonnes of plastic estimated to enter our oceans and waterways each year.
All seven species of sea turtles are now endangered, largely due to human activities including pollution, fishing industry bycatch or fishing net entanglement and habitat destruction from coastal development, along with climate change.
The Dubai Turtle Rehabilitation Project underscores the vital role public involvement plays in conservation. Launched in October 2021, the 800TURTLE hotline (800 887853) allows locals to report and aid distressed sea turtles. Since its launch, community members have been involved in most turtle rescues, phoning in tips and helping out until the rescue team arrives. It's all about the UAE community as a whole coming together to save these critical sea creatures.