Actress Dame Joanna Lumley has condemned British trophy hunters as the 'lowest of the low', as she backed plans to ban the import of skins, heads and tusks of wild animals into the UK.
The Absolutely Fabulous star said the 'utterly grim and cruel industry' of hunting holidays – where large fees are paid to shoot animals, some of which have been specifically bred for the purpose or taken from the wild and released from cages just to be shot – is driving lions, rhinos, leopards, elephants and giraffes, to extinction
'We have a responsibility to help protect wildlife,' Dame Joanna said. 'Trophy hunting is helping drive endangered animals to extinction. Anyone who makes excuses for these people should hang their head in shame.'
It is estimated that 5,000 trophies of species at risk have been brought back to the UK over the last 40 years.
Henry Smith, a Conservative MP, is bringing a private members bill called Sally's Law – named after a tiger cub saved after being 'bred for the bullet' – to try to introduce a ban on such imports.
'Trophy hunting is the lowest of the low,' continued Dame Joanna. 'Breeding tiger cubs like Sally and ripping them away from their mothers just so they can be shot in an enclosure for someone to brag about is contemptible.
'This is an utterly grim and cruel industry. Weasel words and twisted evidence will try to show the benefits of this hateful past-time. But, killing animals for fun is disgusting.
'Virtually everyone agrees that allowing people to bring home animal trophies from hunting holidays should be banned at once. It isn't sport, it's cruel and cowardly'
In 2019, an investigation by UK newspaper the Daily Telegraph revealed how 96 body parts, including elephant feet, polar bear skins and a rug made from the skin of a lion, were shipped into Britain as trophies from hunting holidays in just one year.
Smith, the MP for Crawley, said: 'Breeding cats in cages so a trophy hunter can kill them in an enclosure and put its head over the fireplace is frankly sickening. Right now there are literally thousands of lions, tigers and leopards in captivity waiting for a trophy hunter to kill them for kicks. British trophy hunters are killing lions that have been bottle-fed and hand-reared.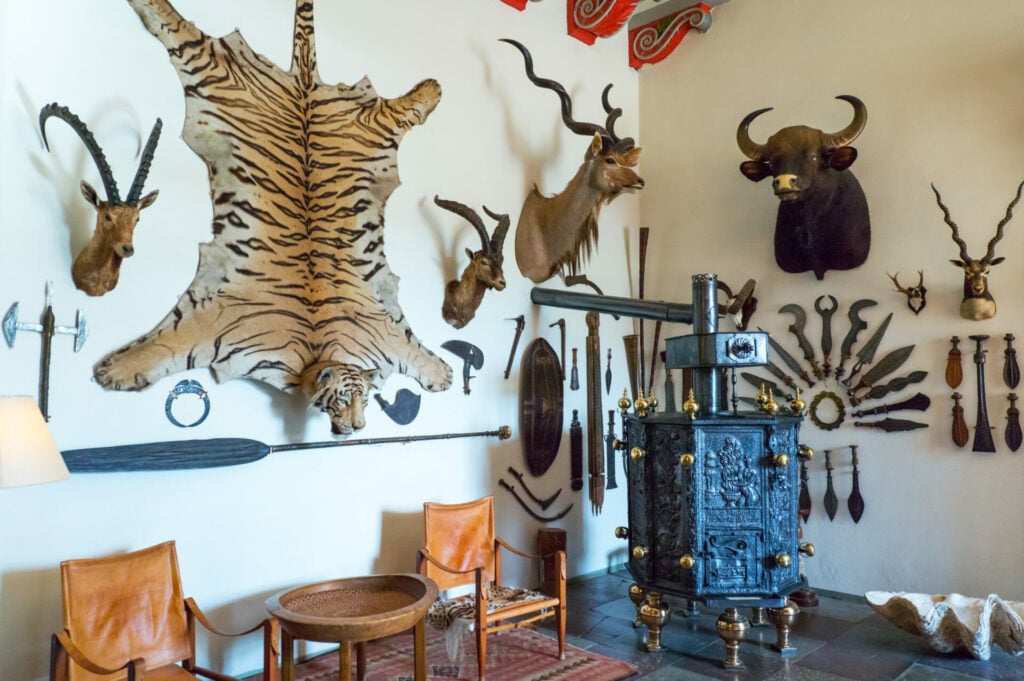 'They're shot in a fenced-in enclosure they can't escape from. That isn't "sport", it's cruel and cowardly. Voters are strongly opposed to all forms of trophy hunting. We can't end it altogether but we can certainly stop British hunters taking part.'
Dame Joanna has urged MPs to back the bill, which has cross-party support and will have its third reading in the House of Commons next month.
It is supported by The Campaign to Ban Trophy Hunting and includes explorer and conservationist Sir Ranulph Fiennes, James Bond actress Dame Judi Dench and comedian Ricky Gervais among its supporters.