Dimple Khitri is the mastermind behind Dubai's popular eatery Being Vegan and a pioneer of the guilt-free diet in the UAE. Launching her restaurant a decade ago, when veganism was far from mainstream, it is fair to say Dimple played a key role in instigating the plant-based food movement in the country.
A certified vegetarian chef with a passion for motivating those transitioning to a vegan lifestyle, she recently penned 40 different raw vegan recipes for her book Being Rawesomely Vegan.
And now Dimple has exclusively shared three delicious recipes from her book with The Ethicalist that are all gluten free and include an irresistible vegan desert which is popular among her many fans.
Vegan and Raw Pad Thai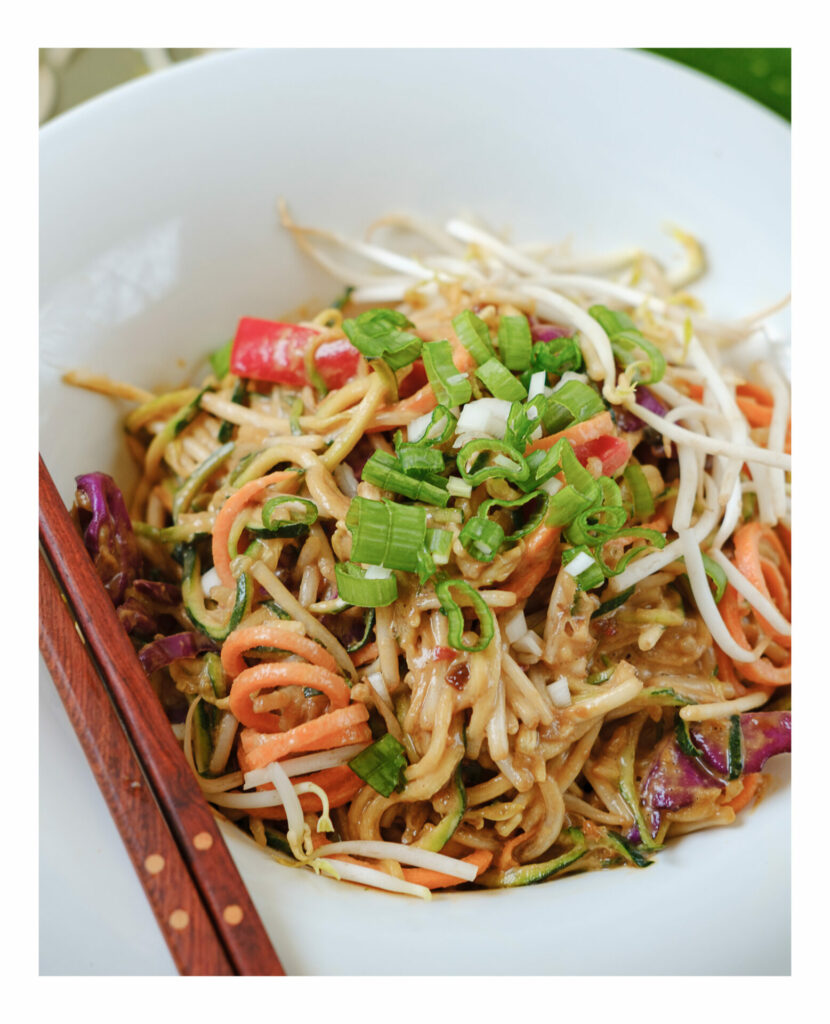 Gluten Free, Dairy Free, Refined Sugar Free, Soy Free, Artificial Food Colour Free
Serves 2
1 cup bean sprouts
3 cups zoodles (spiralised zucchini)
1 cup spiralized carrot
1 cup shredded purple cabbage
1 cup red bell pepper sliced
For the dressing:
3 tbsps peanut butter
1 tsp ginger, garlic, chilli paste
1 red chilli chopped
3 and 1/2 tbsps powdered jaggery
3 tbsps tamari sauce
2 tbsps sriracha sauce
1 tbsp sesame oil
2 tsps rice vinegar
Salt to taste
2 tbsps chopped green onions
For garnishing:
1 tsp chopped peanuts
A few bean sprouts
1 red chilli chopped
1 tbsp chopped green onions
Soak the bean sprouts in water for 10 mins and then drain.
In a bowl, add the zoodles, spiralized carrots, bean sprouts, shredded purple cabbage, sliced bell pepper. Keep aside.
To make the dressing, in a separate bowl add peanut butter, ginger garlic and chilli paste, chopped red chillies, powdered jaggery, tamari sauce, sriracha sauce, sesame oil, rice vinegar, salt, and green onions. Mix well with a spoon.
Pour the dressing onto the zoodle mix. Mix well with your hands. Transfer to a serving dish and sprinkle over peanuts, green onions, red chillies and bean sprouts. Serve.
Vegan Red Thai Curry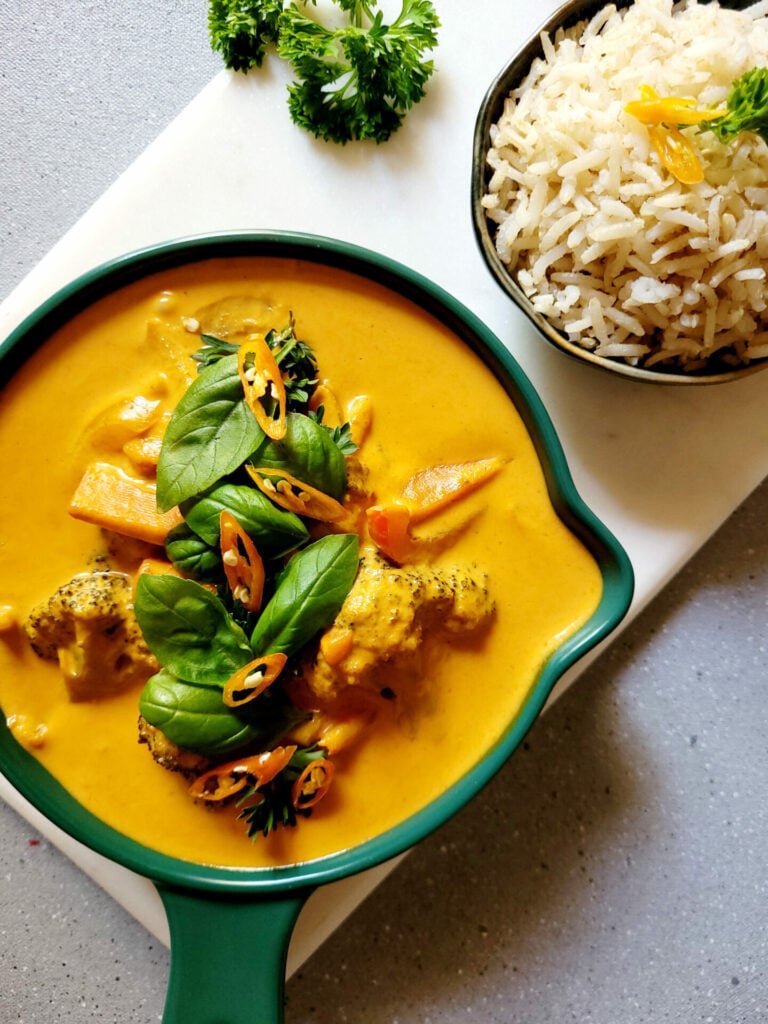 Refined Sugar Free, Dairy Free, Gluten Free, Egg Free, Food Color Free, Preservatives Free
Serves 2
3 tbsps sesame oil
1 tsp ginger-garlic-green chili paste
1/4 cup of each: chopped baby corn, chopped green bell pepper, chopped red bell pepper, chopped yellow bell pepper, chopped zucchini, chopped carrots, chopped onions, chopped mushrooms
2 tbsps red curry paste
1/2 cup lemongrass and celery juice (4" lemongrass, 4" celery and 1/2 cup water)
600 ml fresh coconut milk
1 tbsp tamari sauce
1 tbsps white vinegar
2 tbsps grated jaggery
Salt to taste
1/2 cup broccoli florets
1/2 cup tofu
handful of fresh basil leaves
1 red chilli for garnishing
In a pan, add in 2 tbsps of oil. Once the oil is warm, add in the ginger-garlic-green chili paste and stir for 3 minutes. Then add in all the vegetables and stir fry them for about 10-12 minutes. Once done, keep them aside.
In the same pan, add in 1 tbsp of oil. Once it has heated up, add in the red curry paste and stir for about 7-8 minutes. Add in the lemongrass and celery juice along with the coconut milk. Keep stirring for 2 minutes.
Pour in the tamari sauce, white vinegar, grated jaggery and salt. Cover the lid and allow the curry to cook for about 5 minutes on a low heat.
Then add in the stir fried vegetables, tofu and basil leaves. Allow it to simmer for another 5 minutes. Garnish with thinly chopped red chili. Serve hot with rice.
Vegan Raw Chia Pudding
Gluten Free, Dairy Free, Refined Sugar Free, Soy Free, Artificial Food Colour Free, Nut Free
Serves 2
1 cup coconut milk
1 and 1/2 tbsps date syrup
1/2 ripe banana
2 tbsps chia seeds
1 cup chopped fruits (banana, mango, kiwi, orange, pear, pomegranate, berries)
Pinch of Himalayan pink salt to taste.
In a high powered blender, add the coconut milk, date syrup and banana. Blend until the mixture is smooth.
Next, in a large bowl, add the chia seeds and pour the above mixture over it. Cover and let it rest on the kitchen top for 2-3 hours.
Once the chia seeds swell up and thicken the mixture, divide it between two bowls equally. Then, add the chopped fruits on top. Season and garnish with extra date syrup. Refrigerate for 30 minutes then serve cold.
For more recipes by Dimple Khitri you can purchase her book Being Rawesomely Vegan on Amazon.com, Kinokuniya, selected Spinneys stores and on beingvegan.ae.