Fast food doesn't have to mean junk food. It's easy to reach for a ready meal, drive thru or order a take away when you don't have much time. But these delicious dishes are all quick and easy – and they all contain watercress which is good for you.
Watercress is a nutritional powerhouse, containing more than 50 vital vitamins and minerals, including more Vitamin C than oranges and more Vitamin E than broccoli. Vitamin K, iron and Vitamin A also aid gut health – and can even help you lose weight, and prevent DNA damage and lipid peroxidation (damage to muscles and cell tissues) caused by exercise. Plus its peppery flavour is fantastic, too.
For an even speedier supper, do the prep ahead of time and take out of the fridge when needed.
Nasi Goreng-inspired vegan watercress bowl with charred lime
Serves: 4 Prep Prep Time: 30 minutes Cook Time: 25 minutes
1 Lime
2tbsp Rapeseed Oil
400g Firm Tofu, grated on a box grater
6 Spring Onions, finely sliced
1 Red chilli, finely sliced
¼ tsp Turmeric, ground
1 Red Pepper, sliced
A large handful of Green Beans, sliced
1 Bunch Radish, thinly sliced
200g Tender stem Broccoli
240g Cooked Basmati Rice, cold
2 tbsp Kecap Manis or 2 tbsp Soy + 1tsp coconut sugar
2 tbsp Soy
1 tsp Tomato Puree
2 tbsp Sambal Oelek/ Chilli Paste
50g Watercress
Coriander, Crispy shallots and Lime wedges to serve
Cut the lime into 6 wedges and grill under a high heat until charred and set aside.
Heat the oil in a large wok, fry the tofu until the moisture has evaporated and it becomes crisp. Scoop out, leaving the oil and set aside.
Fry the spring onions for 2-3 minutes or until tender. Add the chili and turmeric and fry 2 minutes more. Add in the pepper, beans, radish and broccoli and cook for 2 minutes more.
Now add the rice and tofu to the pan. Break up any large clumps and combine all the ingredients thoroughly. You need to make sure the rice is piping hot all the way through.
Add the recap manis, soy, tomato puree and the juice of two of the charred lime wedges. Stir though before adding the samba oelek. Stir through the watercress
Divide the hot rice between 4 dishes, top with coriander, crispy shallots and extra charred limes.
Vegan Pad Thai noodle bowl with Edamame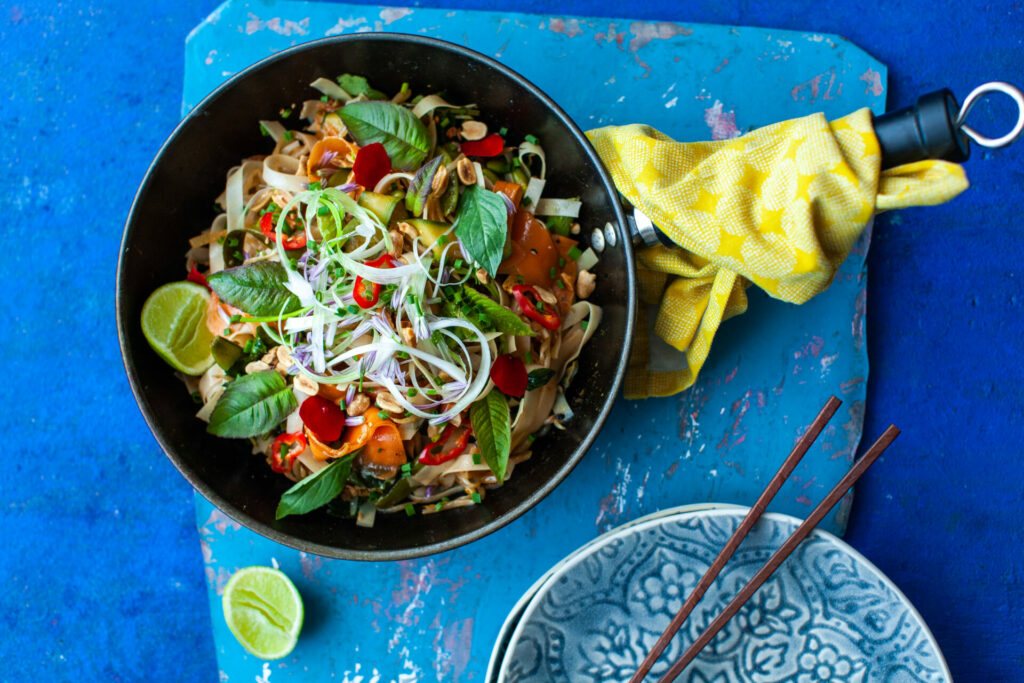 Serves: 4 Prep Time: 30 minutes Cook Time: 20 minutes
300g Flat Rice Noodles, soaked in cold water for 2 hours
2 tbsp Rapeseed oil
6 Spring Onions, finely chopped
3 tbsp Tamarind Paste (brands vary in acidity so taste and adjust accordingly)
2 tsp Smoked Chilli Powder
3 tbsp Soy Sauce
50ml Chilli Oil
2 tbsp Maple Syrup
100g Beansprouts
3 Carrots, shaved into ribbons
Large Handful Mangetout
2 Courgettes, cut into ribbons
1 tbsp Minced Ginger
2 tsp Minced Garlic
200g Frozen Edamame, defrosted
10g Chives, finely chopped
50g Watercress
50g Crushed Toasted Peanuts, Lime & Coriander to serve
Drain the noodles and rinse thoroughly, set aside.
Heat the oil in a large wok over a high heat. Add the spring onions and cook 1-2 minutes or until softened and beginning to crisp.
Meanwhile mix the tamarind, smoked chilli powder, soy, chilli oil and maple in a bowl and set aside.
Add the beansprouts, carrots, mangetout, courgettes, ginger, garlic and edamame to the pan and fry, agitating with a spatula constantly.
Mix in the edamame and move the vegetables to the side of the wok. Pour in the tamarind mixture and cook for 30 seconds before mixing through the cooked noodles.
Add the chives and watercress and mix through to heat. Taste, it should be sweet, sour and firey with a chilli kick.
Serve straight away garnished with peanuts and coriander and lime wedges to serve.
Watercress, pickled peach and fennel salad with pomegranate and almonds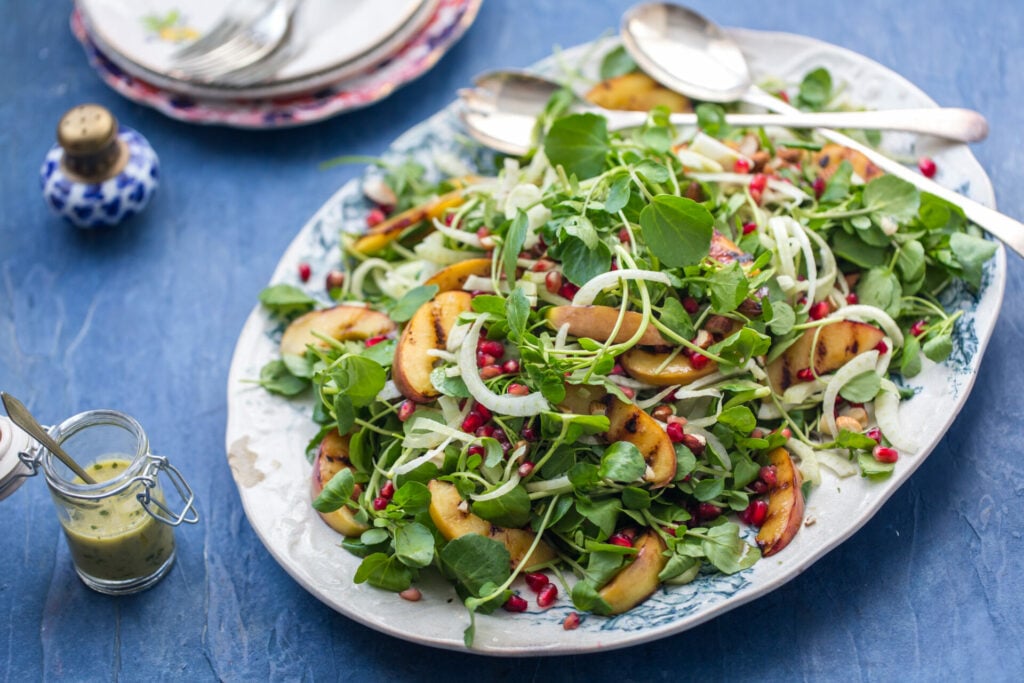 Serves: 2 Prep time: 40 minutes plus half an hour cooling time Cooking time: 10 minutes
For the pickle:
50g caster sugar
100ml white wine vinegar
Pinch coriander seeds, toasted and lightly crushed
1 star anise
Pinch salt
For the salad
2 x peaches
Vegetable oil
½ a head fennel
1 x 85g bag watercress
50g almonds, toasted and roughly chopped
2 tbsp pomegranate seeds
For the dressing:
Squeeze lemon juice
½ tsp lemon zest
50ml extra virgin olive oil
2 tsp chopped tarragon (or substitute for 1 tsp dried)
Salt
First make your pickle by adding the sugar, vinegar, coriander and star anise in a pan and bringing to the boil along with a pinch of salt. Set aside and allow to cool.
Halve the peaches and cut them into wedges. Take a char-grill pan and place it on a high heat. Brush the peach segments with oil, then cook in the char-grill pan for a minute or so, turning once, until lightly charred on both sides. Place the peaches into the cooled pickling liquor and leave to pickle for 30 minutes while you prepare the rest of the ingredients.
Make the dressing by whisking together the lemon juice, lemon zest, olive oil and tarragon. Season to taste, adding more lemon juice if required
Trim the fennel, finely slice, and add into a large bowl. Remove the peached from their liquid and add into the bowl along with the watercress. Drizzle with the tarragon dressing then toss to coat.
Arrange the dressed salad on two plates, then scatter over the almonds and pomegranate seeds. Serve immediately.
Red Onion tart with watercress pesto and roasted cherry tomatoes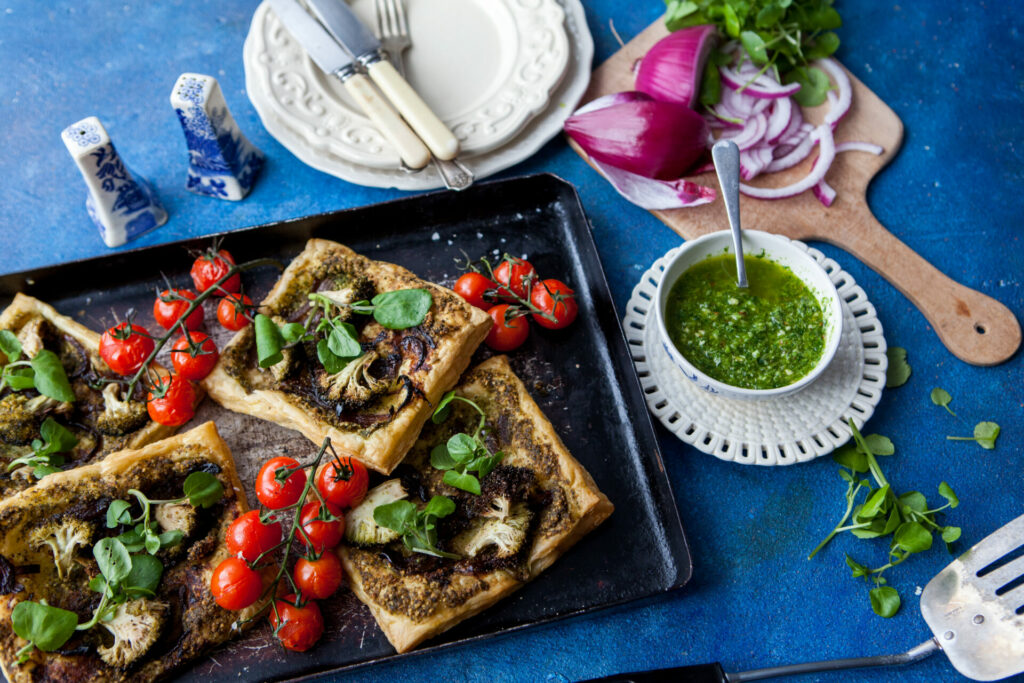 Serves: 4 Prep time: 25 minutes Cooking time: 15 minutes
100ml extra virgin olive oil plus a bit extra
4 red onions, finely sliced
1 tbsp red wine vinegar
1 tbsp sugar
1 head broccoli, cut into small florets
1 sheet of puff pastry (suitable for vegans – we used Jus-Rol)
250g cherry tomatoes on the vine
For the pesto
75g watercress
35g toasted hazelnuts
½ a clove of garlic, finely chopped
Salt and pepper
2 sprigs fresh thyme
Juice and zest of ½ a lemon to serve
Place a medium heavy-based saucepan onto a medium heat and add in a splash of oil. Once the oil is hot, add in the sliced red onions and fry for 5 minutes or until beginning to caramelise, stirring occasionally. Add in the red wine vinegar and sugar then reduce heat to low and continue to cook until onions are completely softened, and the liquid has reduced to a sticky consistency (about 15 minutes). Remove from the heat and allow to cool.
Next make the pesto by adding the watercress, hazelnuts and garlic to a food processor with the olive oil. Blend for a couple of minutes then remove the lid and scrape down the sides and pulse a few times to ensure no big chunks are missed. Season to taste then set the pesto aside.
Place the broccoli florets into a bowl and drizzle with a little olive oil. Add a pinch of salt and pepper then toss to coat evenly.
Preheat your oven to 200°C. Take your pastry sheet and cut it into 4 equal rectangles. Place the rectangles on a baking tray. Spread the pesto thickly onto the pastries, leaving a 1cm border around the edge. Take a spoon and scatter the red onion mixture over the top evenly. Dot with the broccoli florets then put the baking tray into the oven. Bake for 10-15 minutes or until the pastry around the edges is risen and golden.
While the tarts cook, prepare the tomatoes. Use a pair of scissors to snip them into four equal sized portions, keeping as many tomatoes attached to the vine as possible. Place onto a baking tray, drizzle with olive oil and season with a little salt and pepper. Place into the oven with the tarts for the last eight minutes of cooking.
Finally remove your tarts and tomatoes from the oven and serve hot decorated with a sprig of thyme and spritz of lemon juice. For a different variation why not try swapping the broccoli for asparagus, kale or green beans.