You no longer need green fingers to grow leafy plants in your house – nowadays city slickers can produce their own food in the heart of a concrete jungle with the help of mini smart gardens.
As the world population is set to pass the 10 billion mark by 2050, climate concerns, population growth, and supply chain pressure keep us asking: how can we still get fresh, healthy food in an environmentally-friendly manner?
The fast-growing smart agriculture market is one of the answers and it is expanding globally, even planting its own seeds right here in the UAE. Large companies are building indoor vertical farms and investing in the new future of food sustainability while DIY food growing kits are enabling consumers to produce their own fruit and vegetables in even the teeniest of kitchens.
Smart agriculture – also known as controlled environment agriculture – is becoming the norm in many global cities with the purpose of growing more on less ground, producing high-quality food locally.
In Paris, they are pumping new life into underground parking garages by filling them with smart farms for growing food. In London the WWII air raid shelters are the perfect temperature-controlled tunnels needed for year-round hydroponic farms – that skip soil and grow crops directly in nutrient-rich water – and so are able to reduce food miles, water consumption, land mass usage and completely remove the use of pesticides. (Pests aren't so prevalent indoors, after all.)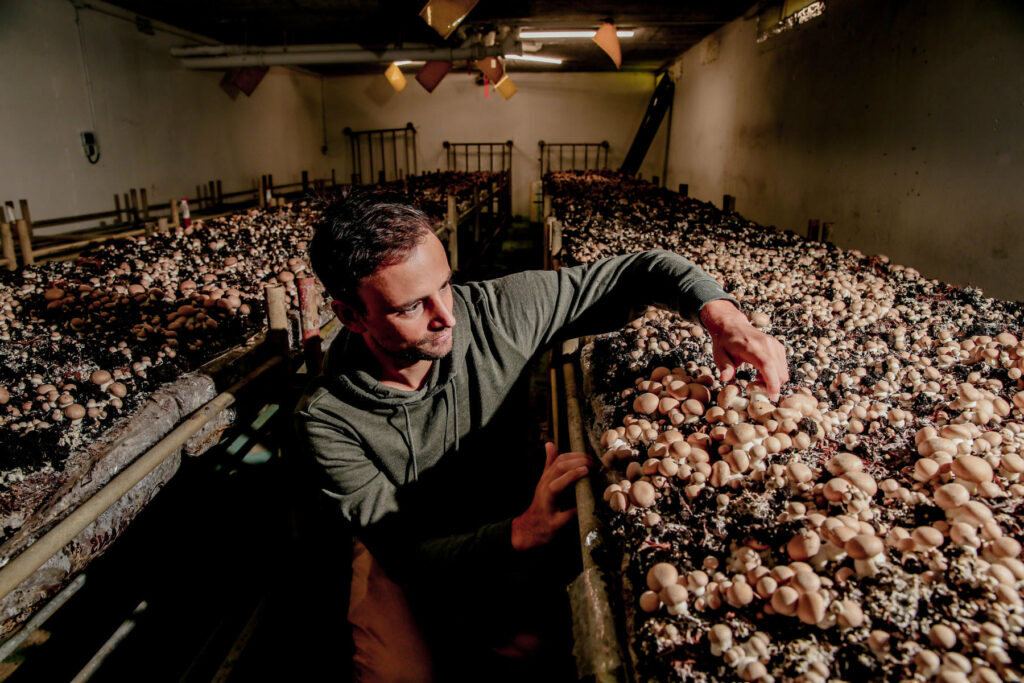 In Ohio, USA there is a warehouse that is fully automatic and produces 2 million pounds of fresh lettuce a year, growing 10 acres worth of greens on only one acre of land.
Closer to home, Emirates Crop One (ECO) – the world's largest vertical farm – is growing food for Emirates Airlines inflight meals while Badia Farms, situated in the heart of downtown Dubai and one of the first vertical farms in the UAE, focus on supplying sustainable gourmet greens to five-star restaurants across the country.
Smart Gardens
But what about growing your own vegetables in a small city studio? Today 55 per cent of the world's population lives in urban areas and that is expected to reach 68 per cent by 2050. City-dwellers don't usually have access to large vegetable gardens where they can connect with nature and pick their own strawberries or grow their own courgettes.
But here in the UAE Click and Grow, providers of indoor smart gardening kits from Estonia – the second largest organic farming country in Europe with the planet's second cleanest food – are one of the companies making it easier for citizens to grow flowers, herbs, fruits, and even vegetables at home with no gardening skills required. The smart garden concept, supported by Taste Estonia, makes it possible to grow plants 365 days a year in a city apartment thanks to technology that takes care of watering, light and nutrients.
While it isn't comparable to a back garden or allotment, Martin Laidla, PR manager at the firm says: 'Naturally, the smallest kits that only grow a few plants at a time don't facilitate enough yield to be compared to a whole backyard garden, but bigger units can take care of your, or even your whole family's, everyday leafy green needs.'
There are a host of benefits linked to the expanding smart agriculture sector. Below we take a look at some of the reasons we should all be embracing our green fingers with the help of a smart garden.
Mental Health Benefits
The effects of living 24/7 in a connected society are taking their toll with urban living reported to have adverse effects on mental health. The risk of developing depression – the most prevalent mental disorder in the world – is 20 per cent higher in urban dwellers than those who live outside the city.
One of the most beneficial aspects of growing food is that nature is beneficial for your mood and connecting with it keeps us calm, grounded, and stress-free. Studies have also proven that taking care of plants can help reduce loneliness and depression. Martin Laidla explains: 'A common trait of depression and stress-related disorders is the feeling of not being able to take care of anything anymore, not being able to follow through with daily things. That's where growing plants can help you regain the perspective that you can take care of things, that you can be responsible and that you can succeed with lengthy tasks.'
Reduce your carbon footprint
Growing food at home helps you to reduce your 'food miles' and therefore your carbon footprint. Food miles are calculated by how far produce has travelled from production to plate and the amount of CO2 emissions consumed to accomplish this, including your own trip to the store. Since the UAE imports up to 90 per cent of its food, reducing your purchases by growing food at home can be have a major impact for those looking to reduce their burden on the environment.
Pesticide Free
When was the last time you ate fruit and vegetables that weren't covered in wax or sprayed with pesticides and other chemicals used as preservatives for long distance transportation? When using a smart garden at home, it is fresh, nutrient-filled and pesticide free – you have control of your food. Studies have also shown that eliminating pesticides may also allow plants to produce up to three times more nutrients.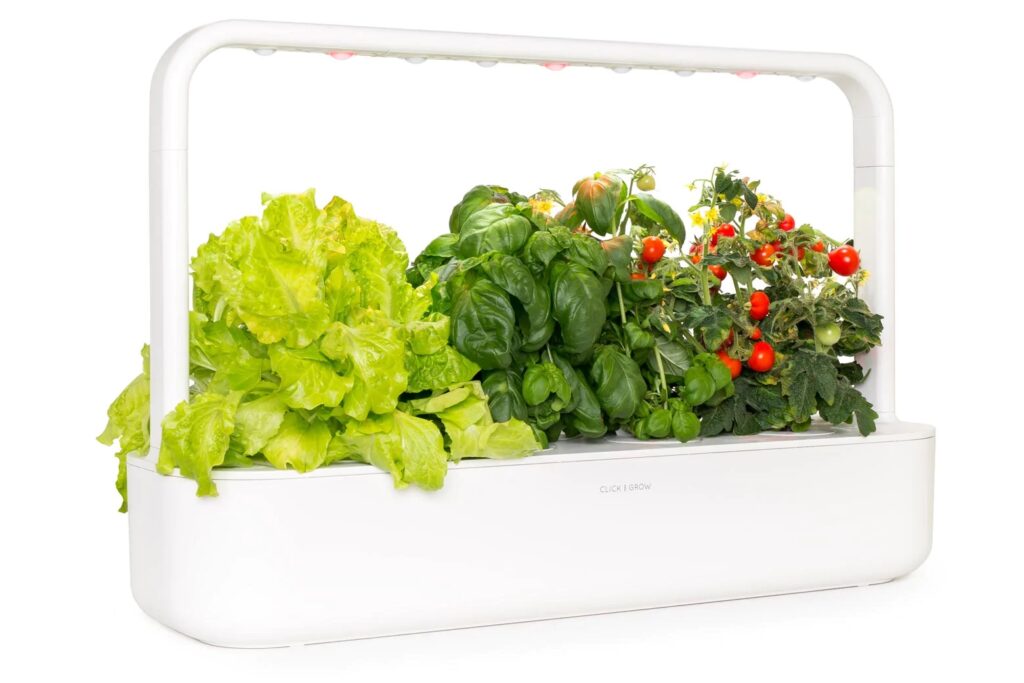 Seasonal All Year Round
You can have fresh produce available around the clock not just seasonally. With LED lights for sunlight, controlled environments at home, and technology-driven precise irrigation systems, a smart garden means you can grow fresh fruit and vegetables of your choice 365 days a year. 'Growing a garden is often seasonal and even impossible in many climates,' says Martin.'That's where indoor solutions provide a very comfortable substitution.'
Less Water
The irrigation systems in smart gardens control water levels to avoid over or under watering, which means, on average, there is 95 per cent less water consumption than conventional food gardening. 'Every plant drinks just the correct amount of water it needs,'says Martin. 'Nothing more. This saves a lot of water compared to solutions where you water plants from the top and where most of the water either spills deeper into the ground and becomes unreachable for the plant or evaporates.'
Severe and extreme weather conditions are wreaking havoc around the world. All of us are increasingly feeling the tangible impact of climate change. Growing a fraction of our own produce on our kitchen counter is one simple contribution we can all make – and will have a major impact on the planet as well as our own health and happiness.