Ah dads. They've always been there, getting us out of scrapes and showering us with affection. So why not show him just how much he means to you this Father's Day with a delicious home-made three-course meal that's kind to his waistline as well as the planet?
And if he's not near you, or within visiting distance, simply share the recipes with him and make a meal of it – cooking and then eating together over Zoom on Father's Day itself. That will soon have Daddy literally (or virtually) eating out of your hand.
Vegan Eat-Your-Greens Risotto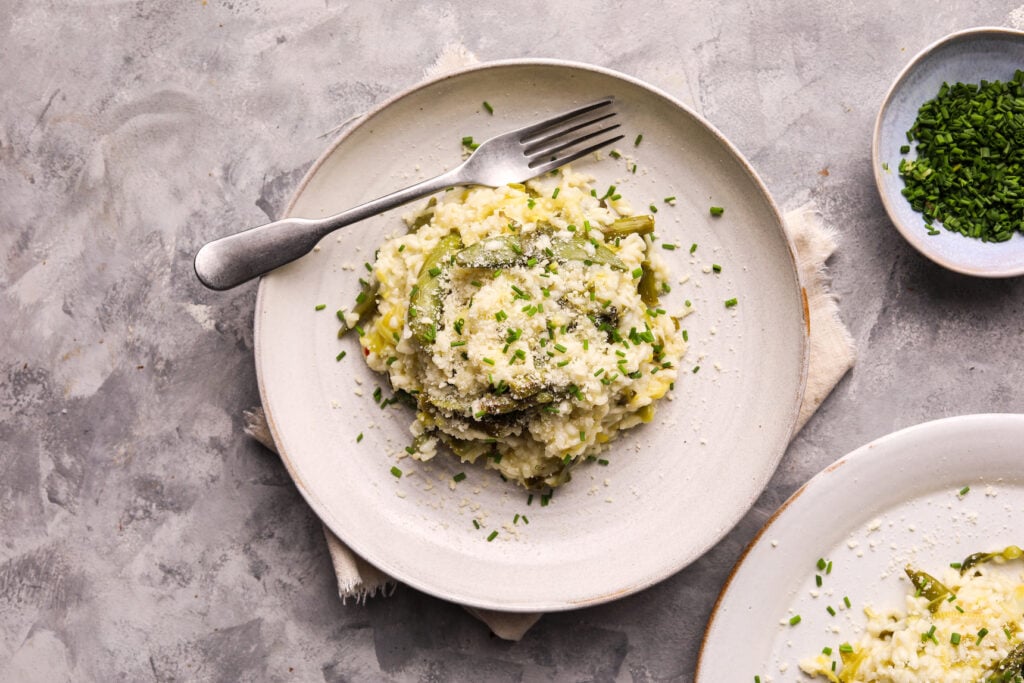 Prep Time 20 mins Cooking Time 30 mins Serves 4-6
1 tablespoon extra-virgin olive oil
1 leek (finely sliced and slices halved)
3 garlic cloves (minced)
100g asparagus spears (cut into chunks)
140g sugar snap peas
480g arborio rice
1.3 litres of vegetable stock
140g spring greens (finely sliced)
Juice from 1/2 lemon
Salt and pepper
80g Nurishh Gran Vegiano or other alternate vegan cheese (plus an extra sprinkle upon serving)
Freshly chopped chives
Heat a large pan on a medium heat. Add the oil along with the sliced leek. Cook for a few minutes until the leek starts to soften.
Add the garlic and combine. After a couple more minutes add the asparagus and sugar snap peas and combine.
Next add the arborio rice and half of the vegetable stock. Mix and leave to simmer for 5 minutes allowing some of the stock to be absorbed. Add the remaining stock plus the sliced greens and combine.
Squeeze in the lemon juice, season with salt and pepper and leave to simmer for a further 10 minutes, stirring frequently.
Most of the stock should now have been absorbed, so add the Nurishh Gran Vegiano, or alternate vegan cheese, and combine. This will add that lovely creamy texture and parmesan flavour.
Add a little more stock to loosen the mixture should you want to and leave to simmer for a final few minutes. Serve with extra Gran Vegiano and garnish with chopped fresh chives.
Black Bean and Watercress Burger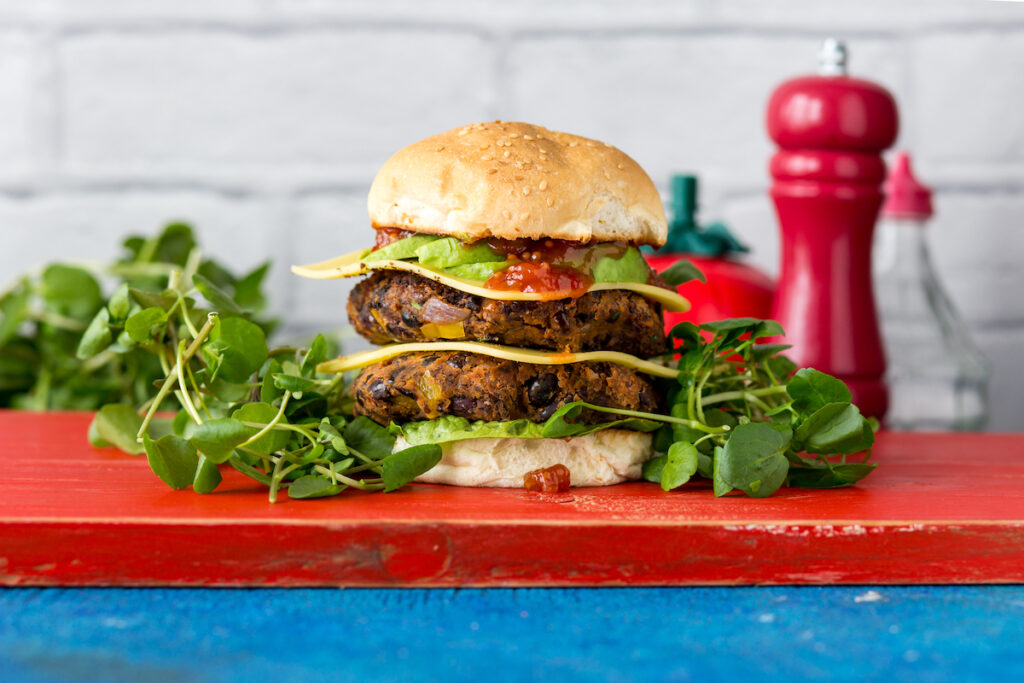 Prep time 20 mins Cooking time 20 mins Serves 4
Vegetable oil for frying
1 small onion, diced
1 red pepper, deseeded and diced
2 cloves garlic, finely chopped
2 red chillies, deseeded and finely chopped (optional)
2 x 400g tins black beans
1 small sweet potato, baked in its jacket until soft
50g tinned sweetcorn, drained
90g fresh breadcrumbs (roughly 3 slices)
30g watercress, chopped
1 heaped tsp smoked paprika
Salt and pepper
To serve
4 x burger buns (dairy and egg free)
2 x ripe avocadoes (optional)
Tomato relish or other sauce of your choice
Heat a splash of vegetable oil in a frying pan over a medium heat. Once hot, add the onion, red pepper and garlic along with the chopped chillies and pinch of salt. Stir-fry for three minutes then tip into a bowl and allow to cool.
Drain the black beans in a colander and rinse with cold water. Line a tray with a tea towel and tip the beans into the tray, patting the top dry with another tea towel to remove as much water as possible. Place half of the beans into a large bowl and mash well with a fork.
Cut the softened sweet potato in half before scooping out the flesh and adding to the bowl along with the remaining black beans. Add in the onion and pepper mix, sweetcorn, breadcrumbs, watercress and paprika and use your hands to combine everything. Season.
Form four large patties and leave to chill in the fridge for at least half an hour before cooking.
Pre-heat the oven to 180°C. Wipe out the used frying pan, add a splash of oil and return to a medium heat. Once hot, carefully place each patty into the pan. Fry for 2-3 minutes on each side before placing into the oven for 10 minutes or until piping hot.
Remove the patties from the oven and leave to rest for a minute. Slice the buns in half and toast (either under the grill or in the toaster). Slice the avocado. Place a burger on the bottom of each bun, top with avocado slices and a dollop of tomato relish.
*Watercress contains more than 50 vital vitamins and minerals. Gram for gram there is more calcium in watercress than there is in milk, more vitamin C than in an orange, more folate than in a banana and more Vitamin E than broccoli. What's more, because watercress contains high levels of Vitamin C and nearly twice as much Vitamin A than spinach, watercress is a better source of iron because vitamins A and C are needed to convert the plant iron to a type the body can absorb.
Watercress' distinctive peppery flavour is a result of Phenethyl isothiocyanate (PEITC), which is a bioactive. These help us to defy ageing (just what any dad wants on Father's Day) keeping inflammation low (think glowing skin for starters) and protect against some forms of cancer and to enhance the effect of chemotherapy.
Raspberry and Banana Cheesecake Cups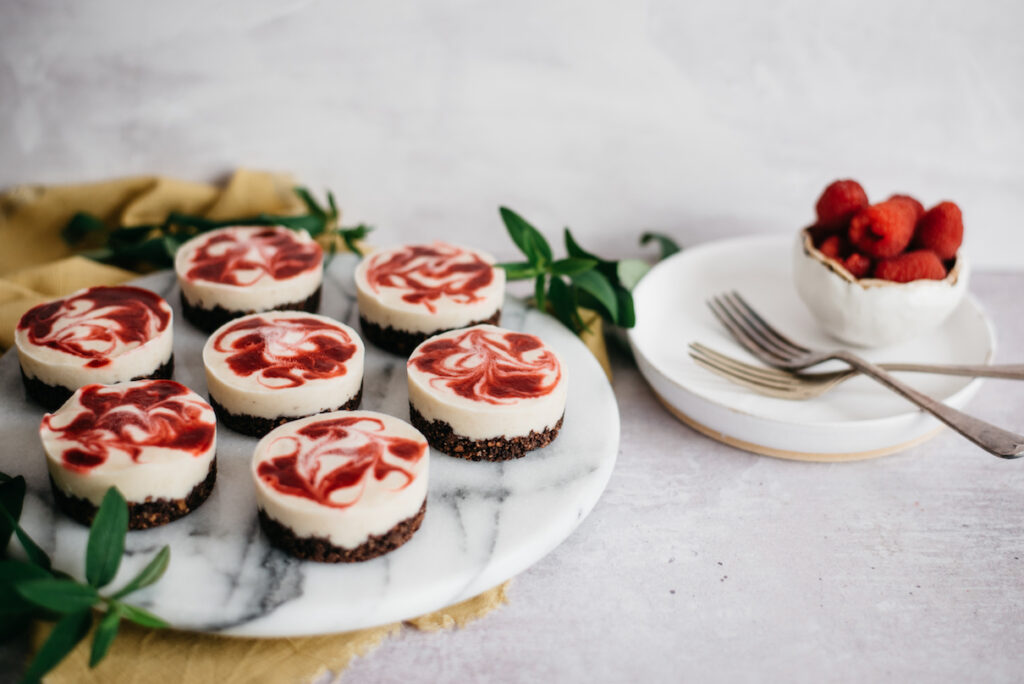 Prep time 15 mins Cooking time 25 min plus 2 hours Cooling Time
For a tropical twist on this delicious dessert on Father's Day desiccated coconut to the base and top the cheesecakes with a mango drizzle.

For the cheesecake filling
3 Bananas (medium)
250 ml Coconut cream
1 tsp Vanilla Extract
Small lemon (zest & juice)
For the Base
150g Medjool dates (stoned)
100g Raw blanched almonds
2tbsp Cacao powder
20g Coconut oil (melted)
For the raspberry swirl
100g frozen raspberries
1tbsp Truvia for Baking – Caster sugar
Peel and slice the bananas into 1cm chunks and place in a single layer on a baking tray lined with cling film then cover with another piece of cling film. Freeze for at least 2 hours but ideally overnight until the banana is completely frozen.
Next make the base by adding the dates and almonds to a food processor and blitz. Add the cacao powder and melted coconut oil and blitz for a few seconds until combined.
Divide the base mixture between 10 cavities in a mini Victoria sandwich tin or a silicone muffin mould. Press the mixture gently into the bases then pop the tray into the freezer while you prepare the raspberry drizzle
Add the raspberries and sugar to a saucepan, stir and bring to the boil. Reduce the heat and simmer for about five minutes. Remove the pan from the heat and press the raspberries through the sieve discarding the seeds.
To make the cheesecake filling, put the frozen banana chunks into a food processor with the coconut cream, vanilla extract, lemon zest and juice. Whizz for a few seconds until smooth and the mixture is thick and creamy.
Divide the cheesecake mixture between the bases and smooth out the top with the back of a spoon.
Carefully drizzle the raspberry sauce over the cheesecakes then using the end of a cocktail stick create a swirled pattern effect. Pop the tray back into the freezer for about 2 hours to firm up.
To serve, take the cheesecake out of the moulds and pop on a plate and leave for about 5 minutes before serving.