Say the word 'apples' to Raymond Blanc and he has an endless list of anecdotes – including the time he planted an apple tree with King Charles III nearly a decade ago.
The renowned French chef, who was awarded an OBE in 2010, lifted the lid on his visit from the newly-proclaimed monarch while working with promotional body British Apples & Pears who are keen to share the benefits in buying homegrown apples, not only for affordability and health, but sustainability too.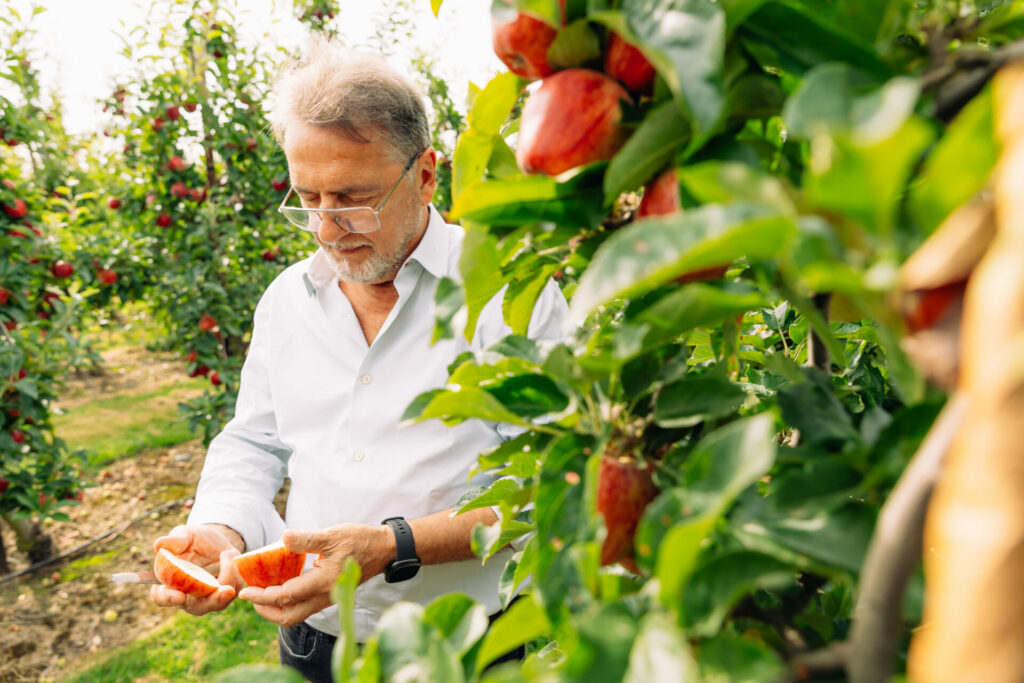 It's a view Blanc shares despite being French. The gardens at his famous Le Manoir aux Quat'Saisons in Oxfordshire, include an orchard boasting an array of rare British varieties that he proudly showed off to Charles when he visited in 2014.
'I told him that my garden was so much better than his at Highgrove,' Raymond says. 'I said, "Sir, you should come and visit my place". And he came.' On that visit, Charles toured all 12 of his gardens, including his orchard. 'We planted a tree together and his tree, I must say, is better than mine. But I've learned how to lose in England, so I said, "okay Sir, well done",' he chuckles.
A love of apples isn't the only passion the king of the kitchen shares with the nation's monarch. Blanc's campaign to ensure we all eat British apples, which, thanks to a combination of this year's strong harvest, the long-lasting nature of some varieties and modern refrigeration and storage technology, will be able to fill our supermarkets' shelves for the next 12 months – is something he sees as leading the way in prioritising homegrown produce, not only for practicality and affordability but for the environment too.
'Why am I, Raymond Blanc, a Frenchman, promoting British apples? Why don't I promote French apples?' he says. 'It's simple. My mum always told me to buy local. Because if we buy local, we help our farmer to keep his farm. We help our village to keep its post office. We don't import food from billions of miles away which creates pollution, both from all the chemicals they use and more pollution when you transport the fruit.'
His message is simple: 'Why should we import our food when we could grow it? Homegrown produce can be best. Best on so many counts: better taste, better texture, better flavours, better colours and better nutrients.'
'If it's local, everyone wins. The farmer, the grower, the chef, the local economy. Imagine the impact it has on sustainability, our environment, climate change, if we start growing our own food instead of importing. That's the big message: let's start to grow our own food.'
Blanc insists apples are an ideal affordable, healthy snack – second only to bananas in terms of fruit affordability, they're plentiful, easy to store and don't spoil as easily as some fruits.
They've also been suggested as an ideal snack for heart health thanks to their antioxidants, fibre and flavonoids, all associated with a decreased risk of cardiovascular disease. 'There's some truth in the saying, "an apple a day keeps the doctor away",' adds Blanc, as he waves a homegrown Bramley in the air to emphasise his own love of the fruit.
Apple Crumble
But a focus on health doesn't mean we can't turn apples into some of our favourite puds, including a classic crumble which Blanc says once rendered a room of top chefs silent. 'I went to France to cook for all the world's best chefs – of course with their own preconceived ideas that British gastronomy 'simply didn't exist'. I cooked a number of dishes, some of them from France, but for dessert I did a crumble. It was autumn so there was blackberry, a hint of ginger, and apple – I brought Cox's Orange Pippin, my own Bramley, and I did a lovely mix.'
The key to a good crumble, according to Blanc, is to cook the apples separately so they don't steam the raw crumble on top, chuckling that if that happens 'then you have raw flour, which falls in your tummy and you die… for at least two hours.' His technique was a triumph, he recounts. 'The French? They couldn't believe it. At the end there was this silence eating the crumble – a reverential silence. Then they stood up and they sang the Marseillais to honour the British crumble. That made me very happy.'
Bramley Apple and Salted Caramel Mini Ice Creams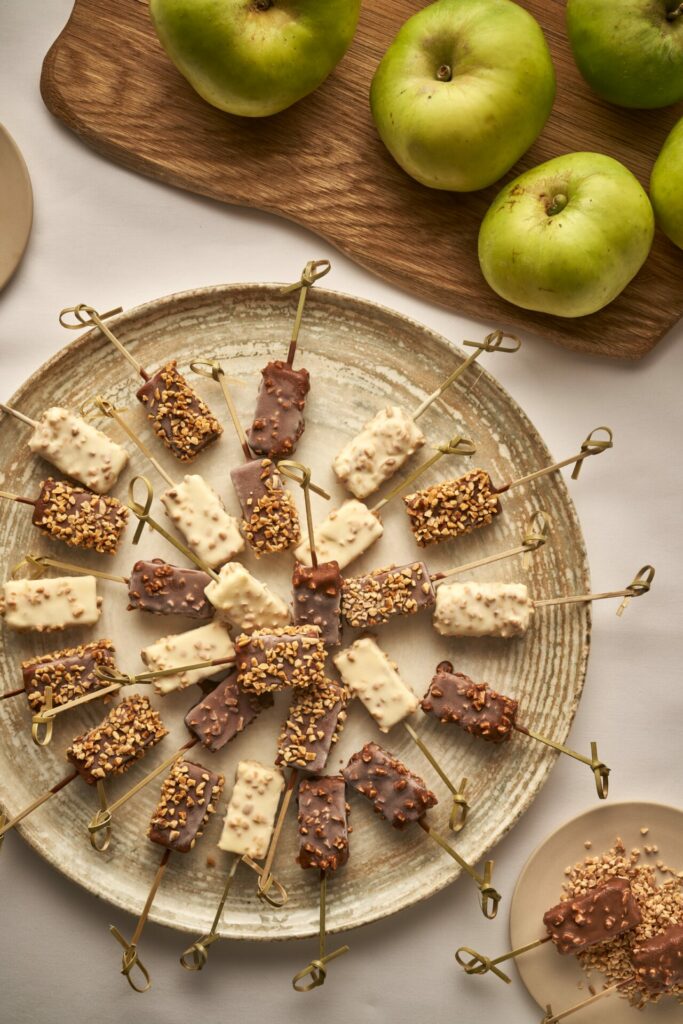 Raymond remembers reaching for a refreshing ice cream in his favourite sweet shop on a sweltering summer's day many years ago. This inspired the Bramley apple and salted caramel bite-sized treats. These little ice creams remain one of the most popular petit fours at Raymond's restuarant and hotel, Le Manoir aux Quat'Saisons and the new flavour combination is inspired by the Bramley apples in Raymond's orchard there.
Prep Time: 35 mins plus 2 hours for freezing Makes: 40
For the caramelised apple dice:
1 Bramley apple (approx. 120g)
50g caster sugar
Peel, core and dice the apple into ½ cm dice. In a medium-sized bowl, roll the diced apple in half the sugar.
Heat a heavy-based large frying pan over a high heat, then add the remaining sugar to the pan. Cook it until it is a dark caramel and then add the diced apple and toss them in the pan until golden and caramelised. When they're evenly coloured, tip them onto a tray and allow to cool.
Making the 'mini ice creams':
1 x 400ml tub salted caramel Ice cream
40 cocktail sticks
Line a 20cm x 20cm baking tray with clingfilm. Remove the ice cream from the freezer and leave it to defrost for about 15 minutes, and then transfer it from the packaging to a medium-sized bowl.
At this stage the ice cream should be soft enough to mix with a spatula. Fold the diced, caramelised apple into the ice cream.
Spread an even layer – about 2cm thick – of the apple-caramel ice cream over the lined tray. Place the tray in the freezer for at least 1 hour or until frozen hard.
Next, line a separate large tray (that will fit into your freezer) with baking parchment.
Remove the ice cream from the freezer and cut it into about 40 evenly sized rectangles. Insert a cocktail stick into the thin end of each piece to create bite-sized ice creams – maybe 2 bites!
Place them on the prepared tray so they're flat and don't touch each other. Return them to the freezer for at least 1 hour before finishing.
To finish the mini ice creams
50g nibbed almonds
200g chocolate (dark, milk or white – your choice)
40g cocoa butter (or vegetable oil)
Preheat the oven to 170°C. Spread the nibbed almonds on a baking tray, transfer to the oven and toast for 7 minutes, until golden brown. Remove from the oven and leave to cool.
In a bain-marie (or in a microwave) melt the chocolate and oil to around 50ºC. Remove from the heat and stir to ensure they are well mixed. Add the toasted nibbed almonds and stir again.
Pour this mixture into a tall, narrow jug – it'll be easier to dip the ice cream.
Remove the little ice creams from the freezer in batches. Dip each ice cream into the chocolate mix ensuring all the ice cream is coated and tap the stick on the side of the jug to knock off excess chocolate drips.
Return the chocolate-coated ice cream to the tray and repeat the process until they are all dipped.
Return the mini ice creams to the freezer and keep there until ready to serve. Serve them straight from the freezer. Delicious!
Tarte Boulangère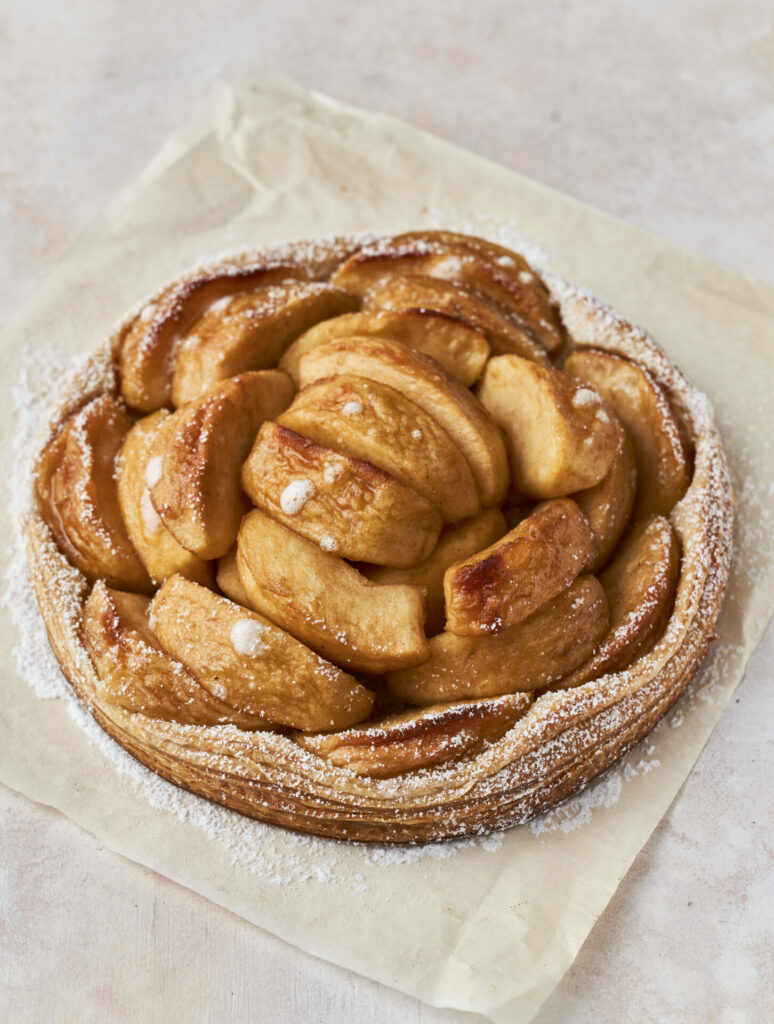 Prep Time: 15 mins Cooking Time 50 mins Serves 4–6
Or baker's tart. So called because for centuries it has been prepared by nimble, floury fingers in every bakery in France. A pillar of French tradition, this dessert is also very simple, unrefined and rustic – bakers did not aspire to be the finest pâtissiers. With the availability of good-quality puff pastry, it is even easier to make these days. It's delicious and a joy to cook at home, using British-grown apples.
The lid-less tart can be prepared in advance and served at room temperature, or gently reheated in the oven and served warm. Apricots, plums, figs and most fruits make a delicious substitute for apples.
plain flour, for dusting
300g all-butter puff pastry
(block or ready-rolled)
5–6 Royal Gala, Cox or
Braeburn apples (total
weight 700–800g)
50g unsalted butter
5 dessertspoons (about
85g) Demerara sugar
1 teaspoon ground
cinnamon
juice of ½ lemon
1 tablespoon Calvados
(or water, if you must)
To finish
a handful of flaked
almonds (optional)
icing sugar, for dusting
Preheat the oven to 200°C/180°C fan/gas 6.
Pastry first. On a floured board, roll out a disc of pastry that's about 4mm thick. If using ready-rolled, simply unroll your pastry. Place a cake tin of about 18cm diameter on the pastry and cut around it, to create a disc of puff pastry. Run a sharp knife around the pastry, about 1cm from the edge, and about 1mm deep. This concentric circle will enable the pastry to rise perfectly around the apples. Line a baking tray, and place the disc onto it. Reserve in the fridge.
Peel and core the apples. Halve each apple lengthways, and cut each half into three equal-sized segments lengthways.
Melt the butter and mix it on a separate baking tray with the Demerara sugar, cinnamon, lemon juice and the Calvados (or water). Roll the apple segments in the sugary mixture, so that they are well coated.
Roast for 10 minutes. Turn over the apple pieces, baste them, and return them to the oven for a further 10 minutes. Remove the tray from the oven, and reduce the oven temperature to 190°C/170°C fan/gas 5. Baste the apples once more, and leave them to cool.
Arrange the apple segments on top of the pastry in a circle – leaving the space of about 1cm from the edge of the disc – to form a dome of apple pieces. Brush them with the remaining syrup from the baking tray.
Bake in the oven (at the reduced temperature of 190°C) for 25–30 minutes.
Enjoy Tarte Boulangère warm or at room temperature. Sprinkle with flaked almonds, if using, dust with a little icing sugar and serve with a jug of cream, a bowl of whipped cream or with ice cream or crème fraîche.