Solemann Haddad was robbed. The 26-year-old may have received the Young Chef Award at the Michelin Guide Dubai awards ceremony, but the fact that his restaurant Moonrise was overlooked for a Michelin Star feels criminal. Located on the rooftop of Eden House on Sheikh Zayed Road, the omakase concept features it all – innovation, gourmet ingredients, skilful plating, and attention to details that most diners would fail to notice. And while Dubai has no shortage of fine-dining institutions that can make such claims, Haddad caught our eye for his commitment to minimising waste. But more on that later.

It's tempting to describe his creations as 'third-culture cuisine' owing to his background. Born to a French mother and Syrian father, the self-taught chef was born and raised in Dubai, and attended culinary schools in Tokyo and London. Haddad, however, prefers the nostalgia-tinged term 'Dubai cuisine'. His upbringing in a city that's home to over 200 nationalities has translated into genre-bending dishes that somehow feel familiar. 'This is cuisine that anyone who was raised here – Emirati or not – can connect with. Growing up in Dubai, I primarily ate Middle Eastern and Japanese food, but also Italian and French and what not. And you see that in our dishes.'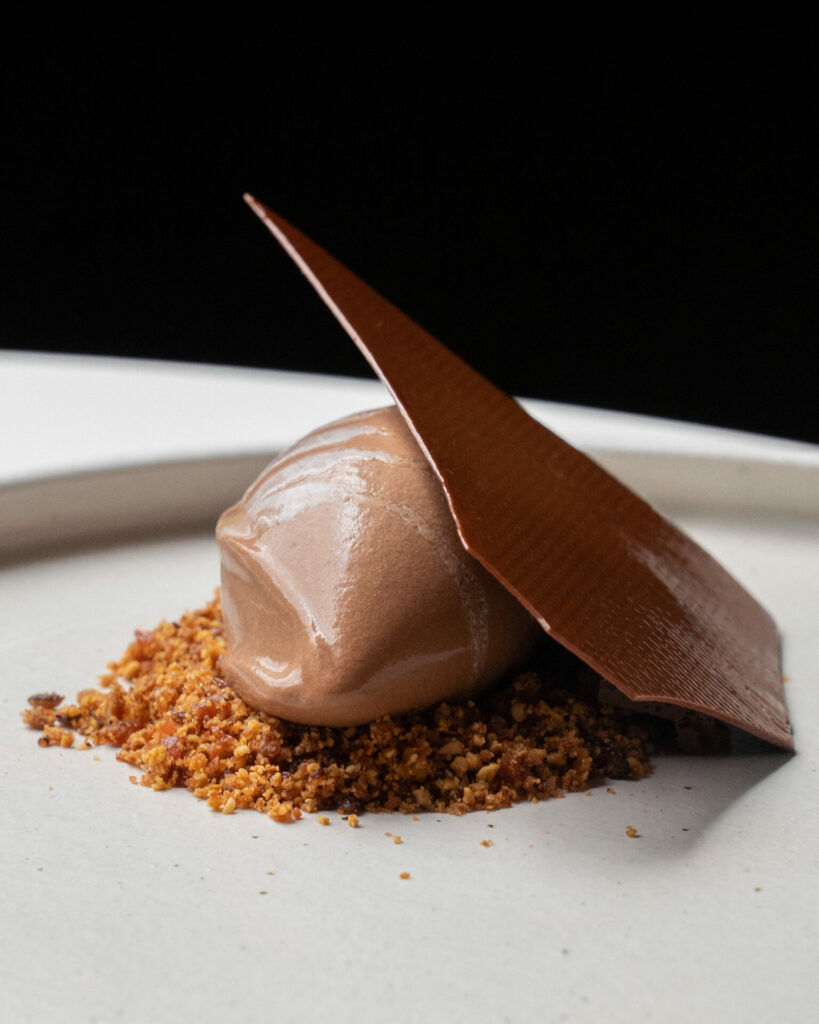 Haddad's culinary style is casually summed up as 'fusion', but a meal at Moonrise reveals that it's a lot more personal. 'It really was just me and Dubai, our relationship, and me vocalising that connection through food,' he explains. Case in point: You'd be hard-pressed to find a more elevated take on the humble pani puri, an Indian snack that he has only sampled on the streets of Dubai. Peppered with surprise elements, each dish has a backstory that's shared as it's presented, adding to the air of exclusivity – only eight diners are accommodated at a time, each granted front-row access to Haddad and his team meticulously assembling each course.
With two seatings per night, the concept syncs perfectly with Moonrise's minimal-waste philosophy. 'There's financial food waste and ethical food waste. Ethically, we throw away nothing. Let's say I bought ingredients for eight guests, but only seven show up. Well, I'm going to make everyone's portion a little bigger. We're also very strict when it comes to procurement. This benefits us from a financial perspective because I just have my food cost. The wastage is absorbed into it, which is less than one percent.' Incidentally, this is visible from the get-go. You'll be welcomed with a drink that pairs vanilla and mango with wilted shiso leaves, resulting in a concoction that's fresh and citrusy, yet subtly sweet. The ends of a loaf of sourdough, meanwhile, are vacuum-sealed, eventually turned into a homemade miso. Elsewhere, Haddad's mission has led to the creation of the Spicy Hamachi.
This ingenious combination of nori tempura, black truffle caviar, and shatta-yuzu dressing is designed around hamachi tartare made using parts of the fish that are ordinarily scrapped. 'Certain parts, like the tail and collar, have more connective tissue but taste perfectly fine, so I didn't want to waste them. Now, I can't remove the Spicy Hamachi from the menu because it has become a favourite. And what I use is free because it's basically waste.' Turns out, this is a value that goes way back. 'I hate wasting food,' he says emphatically. 'It wasn't a big thing in my household when I was young, it's just something I picked up. I'd imagine the chicken with his family. I'd have all these really sad stories in my mind and wanted to at least give it a purpose by eating it,' he chuckles. 'I always felt way too much empathy towards food.'
In a city where roughly 38 percent of the food prepared daily is wasted, Haddad points to Dubai's brunches as part of the problem. 'When you're at a buffet, the food that's going to be wasted is factored into the price, so you're practically paying for food to be wasted – the business model itself creates waste. And with à la carte restaurants, there's often a disconnect between the employees and management. A lot of times, the employees will toss away excess food, and management either won't know or be too busy with 'bigger' matters.' In Haddad's case, him serving as both the head chef and co-owner is key. 'I know that I have eight guests unless we're not sold out, so it would be ridiculous to buy more than I need.'
Simultaneously, he's also one to champion regional produce instead of aimlessly turning to imports. Whether it's the bite-sized appetisers or downright sinful desserts, local ingredients are part and parcel of his culinary process (think: sidr honey, date syrup, and delicate edible flowers, all of which are produced in the UAE). Even the plates that house his signatures are sourced from ceramic design studio, Slō – it's just down the road, in Jumeirah, in case you were curious.
For reservations click here