With the festive season upon us, being a vegetarian or a vegan – especially as an expat in the UAE – can sometimes prove a challenging time of year. In the (not so) recent past, vegan shoppers faced the constant challenge of limited plant-based supplies in grocery stores, small quantities of specialty vegan-friendly holiday items, or simply insufficient selections. And as for vegan treats – well, forget it!
To enjoy Christmas dinner with everyone else, vegan home cooks would plan far in advance, either ordering ingredients from overseas or planning trips to import vegan-appropriate items when traveling. While others may have found plenty of choices, vegan diners needed to plan well in advance if they didn't want to end up with just a plate of parsnips and roast potatoes on December 25th.
Vegan Treats
Fortunately, with the increased popularity of a plant-based diet, vegans are no longer left out in the cold at Christmas. As the vegan trend continues to grow (and shows no signs of abating), restaurants and other food outlets are starting to pay attention. Investments in a multitude of alternatives for diners means better and tastier choices – including those vegan treats –appearing on menus and grocery store shelves.
Although the UAE may still not have quite as many choices as other countries, with every season, comes an increase in the number of vegan treat options available. Whether going out with friends, ordering in, or preparing food at home, here is a list of vegan items worth trying over the holidays.
Vegan Wellington, Spinneys
Spinney's vegan Wellington – found only in stores – is a savoury vegan treat of leeks, celery, tomato, mushroom, and walnuts. The culinary team uses chestnut mushrooms paired with fresh thyme and dried oregano, then finishes with almond butter in the puff pastry. Spinneys also has an excellent vegan gravy to complement the wreath or as an appetising option to accompany roast veggies.
Salted Caramel Sauce, Jones the Grocer
Made in Australia with Aussie ingredients, Misty's vegan coconut salted caramel sauce is an excellent choice for those with a sweet tooth this holiday season. Made from sugar, coconut cream, coconut oil, and desiccated coconut, the topping is 100 per cent natural. Consider drizzling over your favourite dessert, or grab a spoon and dig into this dairy-free salted caramel for a real vegan treat. Available from Jones the Grocer gourmet outlets.
Dipped popsicles, House of Pops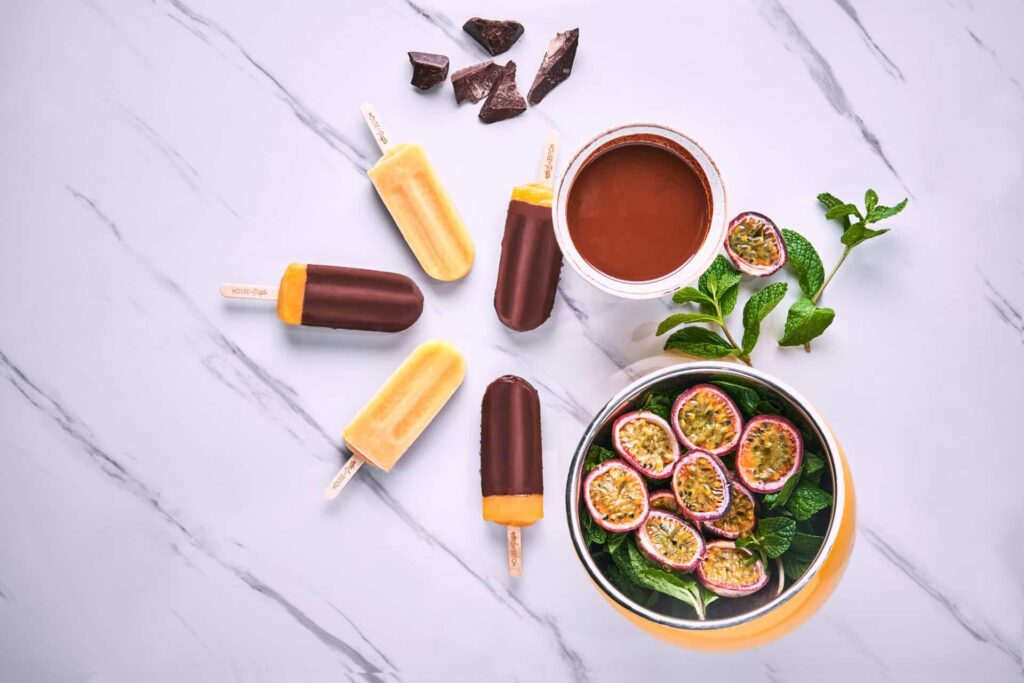 'Tis the season for hot chocolate, and now, healthy chocolate-dipped ice pops. Just in time for the holiday season, House of Pops has created a limited-edition Choco-Dipped selection box as a vegan treat. These all-natural, guilt-free treats are made of five healthy, organic, and plant-based ingredients, such as fruit, coconut, and fibre. House of Pops' divine dipped range takes treating yourself to the next level. With a choice of best-selling passion fruit, chocolate, coconut, or strawberry, these vegan pops are immersed in a rich, indulgent layer of sustainably-sourced 72 per cent single-origin Madagascan chocolate. The choco-dipped collection is the perfect gift – but it might be one you'd rather keep for yourself!
Vegan Christmas menu, Thyme
This holiday season, Thyme revisits French holiday classics and converts them into tantalising vegan versions. The Christmas menu features favourites as starters, such as Coquilles Saint-Jacques, parsnip veloute, and hazelnut with chestnut granola. There is also a variety of main courses, including tofu roast stuffed with mushrooms, chestnuts served with slow-roasted root vegetables and gravy, butternut stuffed with caramelised onions and served with organic black rice, cranberries and walnut served with slow-roasted root vegetables and gravy sauce, and finally, a mouth-watering Christmas salad containing pomegranate, kale, and crispy pecans. Yum!
Kibsons Vegetarian Hamper
Don't feel like going out to do all the festive food shopping? Consider ordering a Christmas Hamper from Kibsons. Each hamper contains plenty of produce to make holiday cooking easy. Diners can expect brussel sprouts, parsnips, red cabbage, chat potatoes, carrots, thyme, clementines, royal gala apples, chestnuts, walnuts, dried apricots, dried figs, cherries, and six fruit mince pies.
Winter Wonderland Cake, The Cake Boutique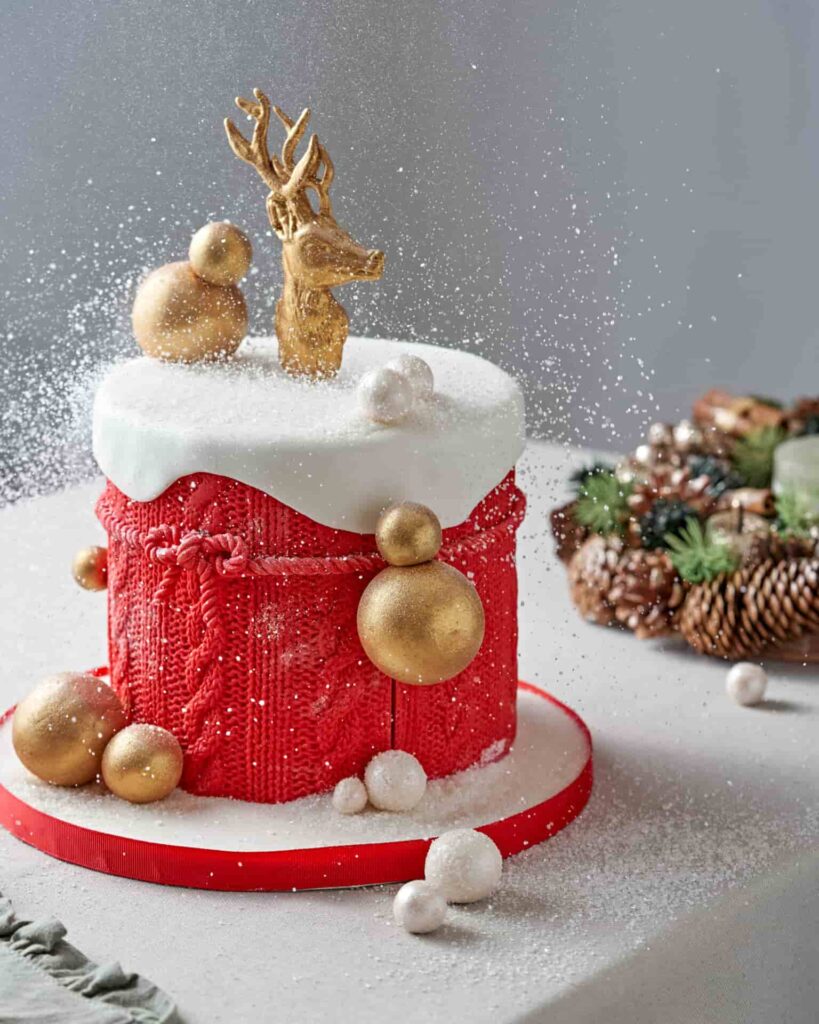 Santa's been busy setting up for the festive season, preparing an eye-catching selection of seasonal offerings and sweet treats to make Christmas special at The Cake Boutique. From the classically festive to the divinely decadent, step into the holiday spirit with special cakes, cakesicles, and hot chocolate bombs from award-winning cake artist Beth Lauren.
The vegan Winter Wonderland Cake (2.5kg) is a lightly spiced cinnamon sponge cake filled with clementine Swiss meringue buttercream, spiced black cherry compote, and dark chocolate ganache. Also available? Santa's Button is a vegan Biscoff cake filled with Lotus ganache encased in vegan dark chocolate.
Gourmet vegan cheese platter, Food For Soul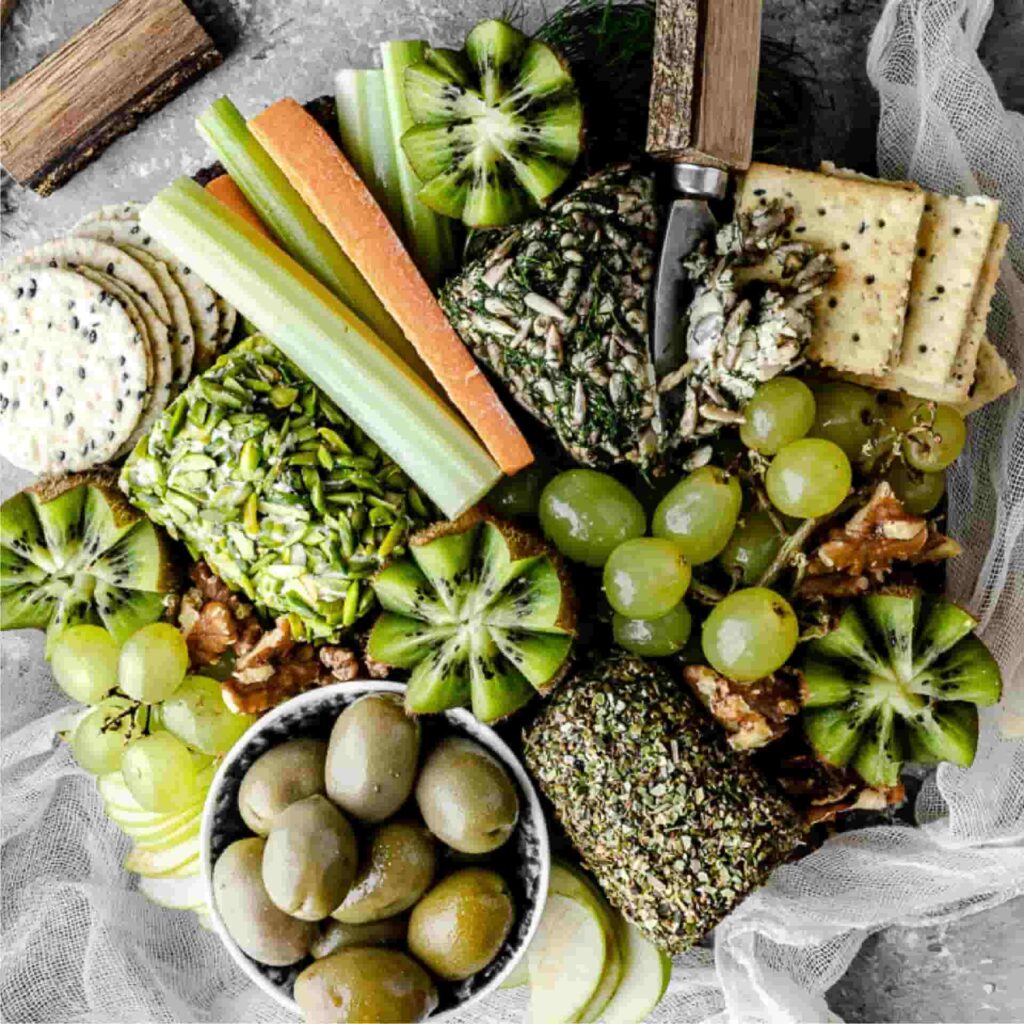 Located in Depachika, Food for Soul – who have been delivering vegan cheese to happy customers since the summer of 2018 – offers a sensational selection of vegan cheese platters this festive season. The perfect partner to a refreshing apéritif, Soul Vegan Cheese signature platters carry an eclectic assortment of their delicious vegan cheese flavours, fresh and dried fruits, Kalamata olives, and gluten-free crackers, all placed beautifully on a bamboo wooden cheese board.
While there are other wonderful vegan treats across the city, this list is an excellent place to start. Next year we hope to see even more plant-based items to choose from.
Do you have a seasonal favourite? Found something we've missed? Let us know in the comments!
Wishing you a very happy (and delicious) holiday ahead!