A wedding is, quite simply, a celebration of love. What could be more organic than that? If you're planning your big day, you'll want it to be one of the happiest of your life – but you might want to consider the impact it will have on the world around you.
One wedding can produce as much as 20kg of plastic waste. Reports suggest that 4,910 tonnes of unrecyclable plastic was used up and left behind at British weddings last year. That's the equivalent of 47 Blue Whales.
Food wastage is also staggering, with a study from Sainsbury's, the supermarket chain, revealing that on average, £488 (AED 2, 275dhs) is wasted at every wedding with just 15 per cent of guests eating only one or two of their three catered-for courses. Large chunks of cake are thrown away and almost 40 per cent of guests don't eat their edible wedding favours. The average family throw away roughly £700 (AED 3, 265dhs) in food per year – but a wedding can account for 65 per cent of that in just a few hours.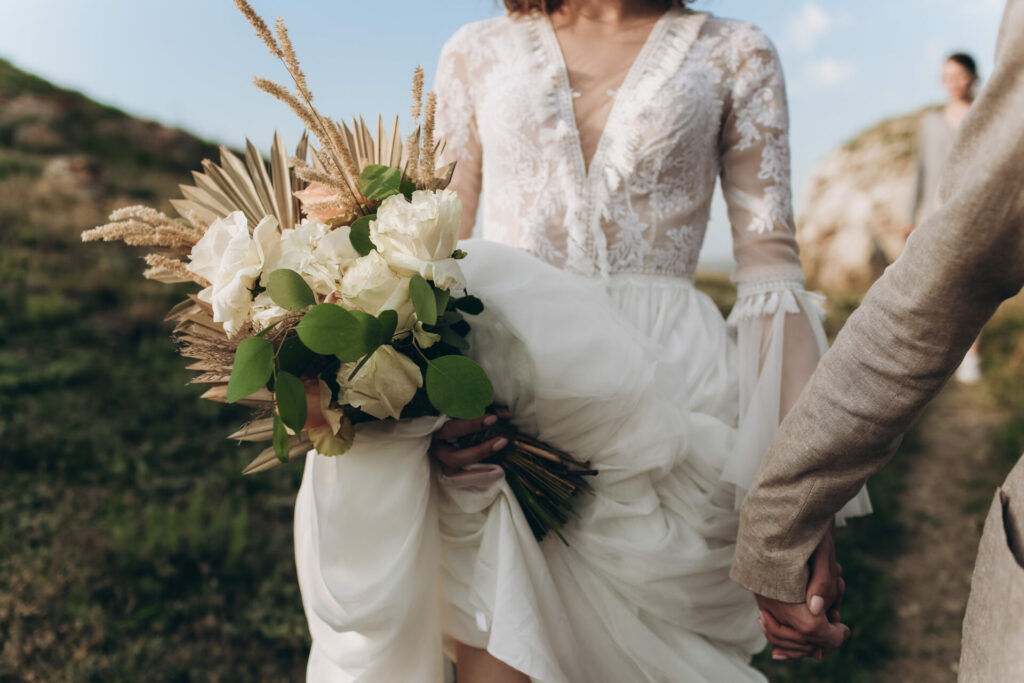 Still, love is in the air, right? You're on cloud nine, and it's lovely up there. What a shame that rising levels of carbon dioxide (CO2) will bring you back down to earth with a thud. Weddings contribute significantly to warm air getting trapped within the Earth's atmosphere – on average up to 14.5 tonnes of CO2, which is frightening, considering given annual carbon emission per capita in the UK is just 9.1 tonnes. Roughly 250,000 weddings take place there every year. That's a net result of 3,625,000 tonnes of gas being emitted.
At least the flowers are natural so that's OK, isn't it? Well not quite. Many traditional wedding flowers are grown for the purpose of being sold. They aren't nurtured in the most natural way and may require more water usage or energy to grow, especially if they are out of season or imported. Some vendors may be mass producing crops or using pesticides which pollute the soil.
In fact, flowers can have a large carbon footprint, too. Transporting exotic flowers that are native to other countries can create a lot of emissions, not to mention issues of exploitation. Colombian women reportedly work 15-hour days flower picking for just AED 115 (£24.59) a week.
But no one is telling you to call off the wedding – we're suckers for a bit of happy ever after. Just say 'I do' to an eco-friendly wedding. After all, what better way to enter into a happy marriage than with a clear conscience? And it's not as hard as you may think. Go vintage where possible, experiment with DIY, book a local photographer (or ask friends to take snaps to share) and read on to explore your sustainable options in more detail…
The Diamond
We all know that 'Diamonds are forever' but you want to ensure the precious stone you'll wear for the rest of your life has been sourced ethically. Research the jeweller and find out if they support initiatives which ensure the safe production of diamonds and precious gems. Speak directly to the supplier and ask where their diamonds come from. If you don't receive a clear answer, you might be best taking your business elsewhere. You won't be compromising on the quality of your ring.
Most counties have developed a fair and ethical production of diamonds, eschewing unethical practices, child labour and blood or conflict diamonds, and many retailers have made an ethical option a priority. However, some areas remain questionable, so avoid producers from Zimbabwe, Angola, DR Congo, Ivory Coast and Liberia. Choose lab-grown diamonds or conflict free gems, which really are a girl's – and the planet's – best friend.
The Dress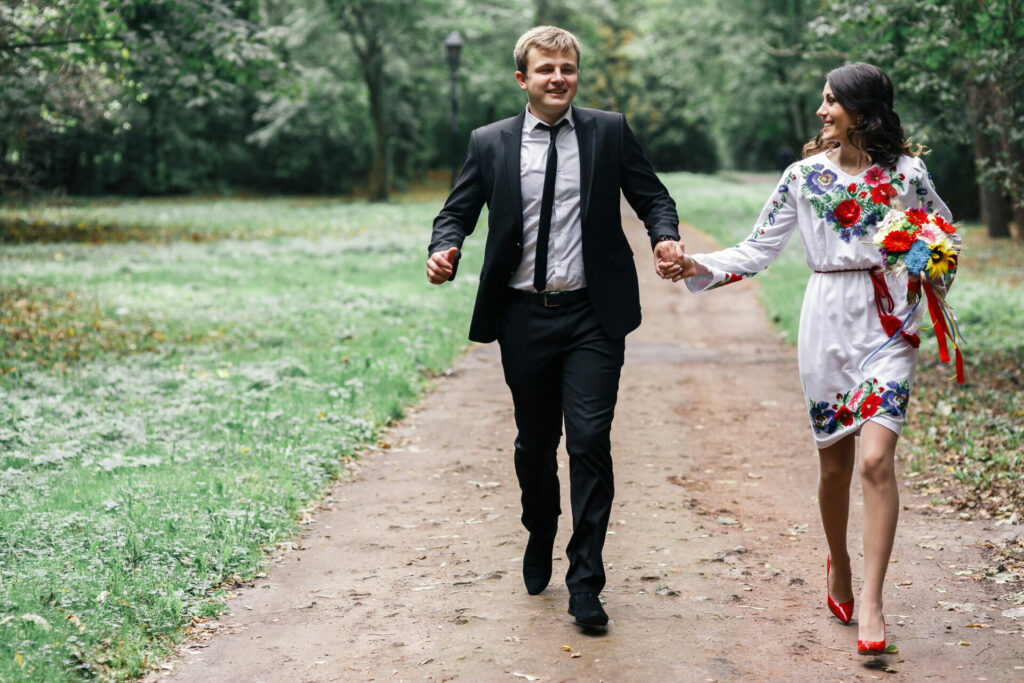 You might have been dreaming about your wedding dress ever since you were a child. Your wish can come true with array of eco-options, ensuring you not only look beautiful, but you feel even better from the inside out. Luckily, sustainable materials are easy to find these days if you want to wear something new. Or a rising popular choice these days is to rent, especially if you're after a designer label. Plus, you won't have to worry about where to store it after the big day!
An alternative suggestion is to listen to your authentic self and steer away from tradition. Dress in something your know is eco-friendly and compliments your true style. There are no rules, it's your wedding. You could even encourage your guests to do the same, for example, suggest that everybody wears a pre-loved outfit and have a vintage-themed day.
The Flowers
Thankfully, eco-friendly and conscious vendors are bringing flowers back to nature. Ask what flowers will be in season when your big day arrives, adding an extra something special. How local are they? How far do they travel? What does the florist do with flowers they cannot sell? Do they use floral foam or plastic? Search florists that use planet-friendly suppliers and processes.
Many local farms will grow their flowers without artificial chemicals. Native wildflowers are a perfect option, too, and dried bouquets are trending, as you can use out-of-season flowers. Conscious suppliers will have certifications such as LEAF, Sustainable Florist and Veriflora. Or, why not grow your own? Not only does this celebrate sustainability, but it cuts down emissions and potential harm. Take flower arranging classes with your partner – a potential date night idea?
The Frills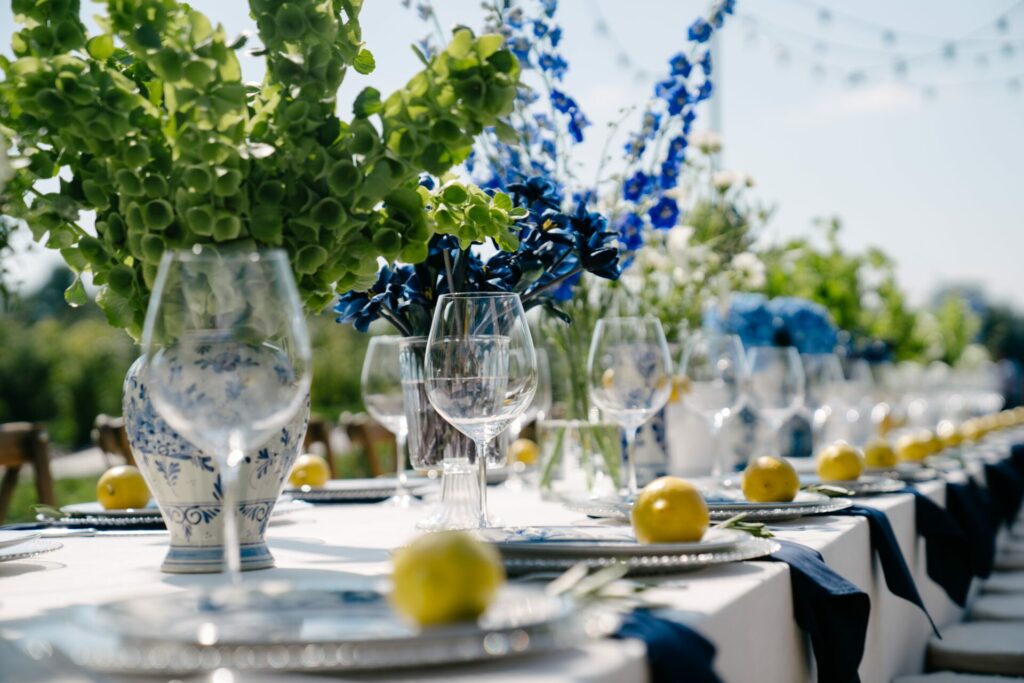 Eliminate the biggest wedding day offenders by saying no to plastic cups, water bottles, disposable decorations, fake confetti and wrapped table favours. The bin bags used for the post-party clear-up will remain in the ground until your 'stone' wedding anniversary – that's 90 years! Cut back by hiring crockery and glasses. Buy compostable bin bags and biodegradable streamers, and request that guests wrap gifts in recyclable paper. Scour local charity shops for glass water jugs. And replace plastic confetti with natural flower petals.
The Gifts
While it's popular for guests these days to give newlyweds some cash, a wedding registry of sustainable options is possible. If you're keen on an eco-friendly life beyond the wedding day itself, ask for gifts like solar panel chargers, bamboo toothbrushes, electric lights or even a compost bin.
Request homeware produced from sustainable ingredients by people living in third world countries, like rugs, cutlery and even tables on fairtrade websites such as Ten Thousand Villages. This could genuinely make a positive difference to the lives of the people making them as they take a healthy cut of all profits made on anything sold. Or, if you don't want to do a registry, ask your guests to purchase a gift locally and support small, local businesses. Investing in the community will mean there's far less fuel being burned to get your presents to you.
Give Back
If you're unsure about asking for gifts, you might want to consider casually requesting donations for a worthy cause instead. Or, collect funds by having a donations box or tips jar for the venue staff. If a cause is particularly close to you, consider decorating with their branding in mind. Encourage guests to follow this charity on social channels, and use banners to show them where they can donate directly.
The Food
The dietary needs of guests are always taken into consideration. But what about the needs of the planet? Source locally. This helps smaller farming communities to thrive and increases their visibility to others. Check that your caterer uses organically produced food and if they have a food waste policy. Most sustainable catering companies should offer food that hasn't been cooked to food banks or charities. Meanwhile, food that didn't get consumed can be turned into compost.
The Guest List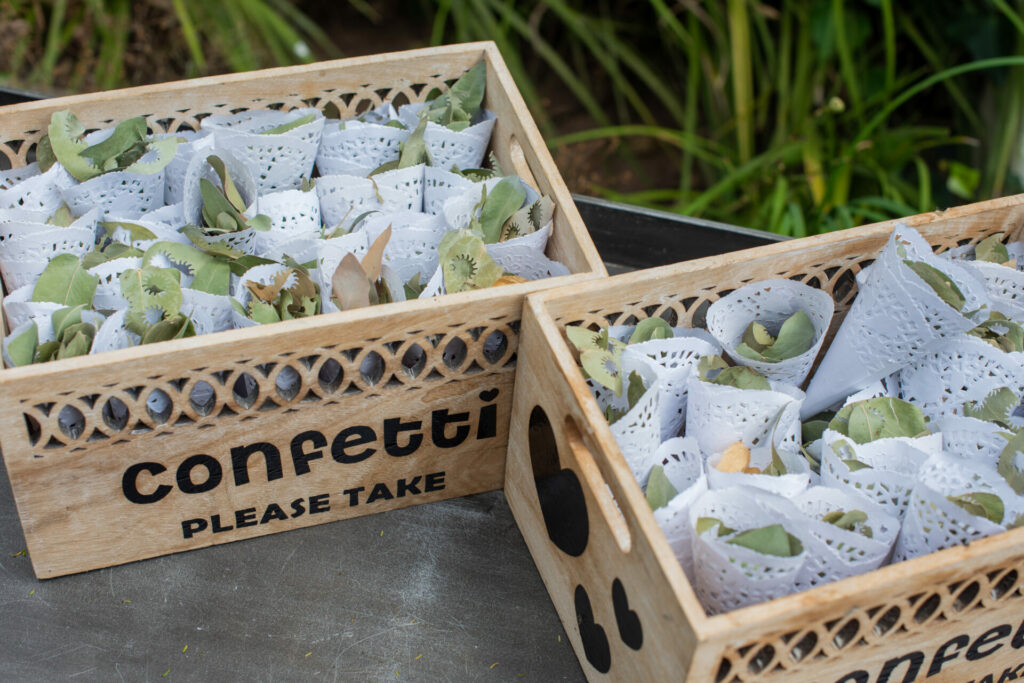 If you want to keep your CO2 emissions to a minimum, a small guest list is the answer. Of course, this might mean tough decisions, but with fewer people travelling to your event, you're going to naturally have a smaller impact on your carbon footprint. In this instance, less really is more. Choosing to get married during a season with warm weather means consuming less energy, too, with natural heat keeping guests comfortable. Organise group transport for your guests, allowing fewer cars on the road to lower the level of emissions.
Small steps towards sustainability will generate change for good. Your wedding day is going to be personal to you and your partner, and incredibly special. Keeping these eco-tips in mind will indeed be the truly-valued icing on the cake!