Most chefs with two-Michelin star restaurants are obsessed with French classics, flavours and creating art on a plate. Not Satwant Singh – 'Sat Bains' – whose eponymous eatery in Nottingham in England features a creative ten-course vegetarian tasting menu with dishes such as roast cauliflower, Ratte potato and Celeriac XO.
The winner of BBC hit show Great British Menu – who received three perfect 10 scores from trio of judges in the final – and has a cabinet groaning with accolades and awards including Chef's Chef of the Year (2009) and Which? Good Food Guide Chef of the Year (2011) – is more preoccupied with reducing food waste.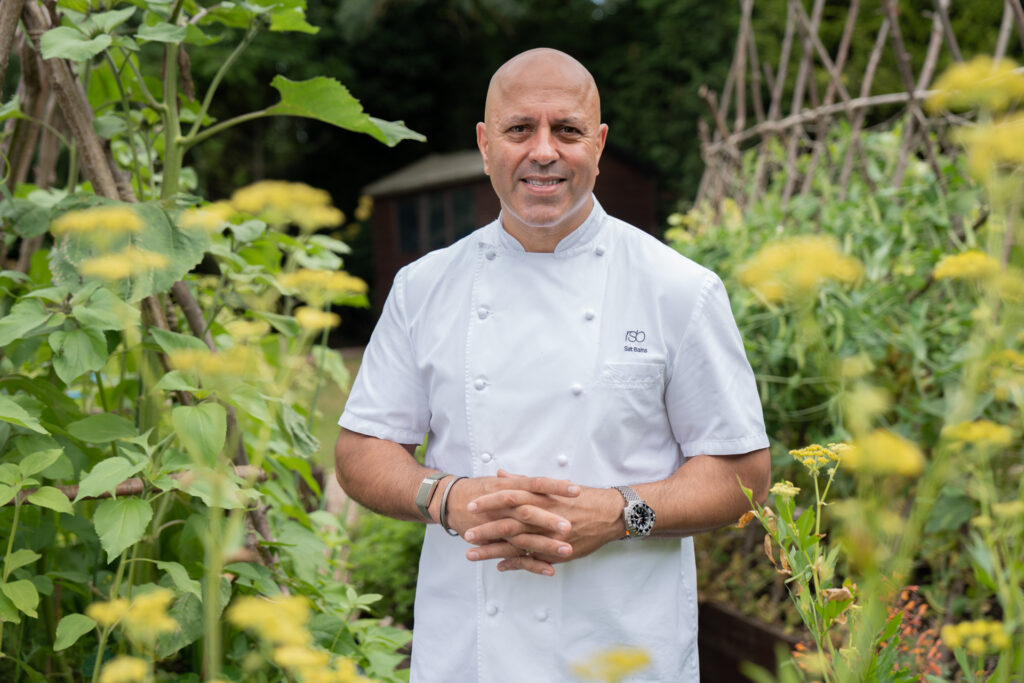 Sat has been chosen to represent the UK in The Why Waste? Project – a global challenge where three of the most influential chefs in the world have to transform food leftovers unjustly categorised as waste into delicious and imaginative dishes in a bid to inspire us all to reduce food waste.
Bains is accompanied by Césare Troisgros representing France, and the fourth generation chef at La Maison Troisgros which has held three Michelin stars since 1968. Representing USA is Dominique Crenn, the only female chef in the US with three Michelin stars.
 

The aim of the Why Waste? Project is to create engaging content to inspire people to adopt a more responsible behaviour to save food leftovers from being wasted by asking the question 'why is this waste?'
'I want to challenge people's perception of waste,' says Sat. 'We are a gastronomic community sharing ideas for the greater good.'
Less Leftovers
The project is the brainchild of chef Massimo Bottura, whose three-Michelin star restaurant Osteria Francescana, in Modena, Italy, has been listed in the top five of The World's 50 Best Restaurants Awards since 2010.
He has also been busy cultivating a cultural movement to save food from waste while addressing long-term food security and food system sustainability serving as a United Nations Environment Programme (UNEP) Goodwill Ambassador.
And to show he means business, Masssimo started the Refettorio – meaning to remake – project opening 12 restaurants across nine countries, where chefs create dishes from unwanted ingredients, and leftovers, for the homeless and others in need. Since the first one opened in Milan in 2015, they have rescued more than 955 tonnes of food from waste and served over 2.1 million meals.
'Approximately 17 per cent of food is wasted at the consumer-level while 10 per cent of the world goes hungry,' Massimo says. 'In our kitchens, at home, we can make a significant difference, starting with simple habits that save food from waste. As chefs you see leftovers as ingredients that have the potential to be something special. The goal of this is to inspire you and show you how to create amazing recipes for you and your family.
'The format brings attention to the mission of [nonprofit organisation highlighting global food waste] Food for Soul and Refettorio projects around the world, where daily culinary teams divert food surplus from landfill, transforming the otherwise wasted ingredients into nourishing meals and hunger relief served with hospitality to those most socially vulnerable.'
In the challenge, Massimo gave each chef different ingredients to make into an innovative dish to inspire people to look at leftover food differently. Sat transformed leftover vegetable trimmings into tutti frutti ice cream complete with a cone, candied veggies and red syrup made from beetroot scraps.
'When looking at leftovers steer away from soups,' advises Bains. 'Vegetables contain lots of natural sugars so why not make something surprising and fun.'
Follow his very simple recipe below and you can also watch the video hosted by https://finedininglovers.com/whywaste who helped develop the #WhyWaste project in support of Food For Soul.
Leftover Vegetable Peelings into Tutti Frutti Ice Cream
Vegetable leftovers and peelings
Caster Sugar
Water
Beetroot peelings for syrup sauce
Vanilla Ice Cream
Take your leftover vegetable peelings – naturally sweet veg are best such as beetroot, parsnip, peppers, carrots, celery – and candy them by boiling them in equal weight of peelings, caster sugar and water.
Once softened and sticky, lay them on greaseproof paper and dry them in an oven at 60 degrees celsius until crispy. Cut and add to vanilla ice cream.
Tip: You can boil the beetroot peelings separately with equal parts sugar and water and make syrup to drizzle over.
For more vegan and vegetarian recipes, head to our FOOD section