Food is power. Not only does it sustain you but it feeds your soul – and these healthy vegan recipes are more than just sustenance. These dishes, from the head chef of SHA Wellness Clinic, can support your body, giving you strength and all the nutrients you need, while teasing your tastebuds.
Andrés Moran has evolved the concept of healthy gastronomy at SHA, applying the latest in nutritional research to curate cuisine that does not use dairy products or derivatives, eggs, margarines, sugars and refined flours nor artificial colours or preservatives.
Melon Balls with Mint and Lemon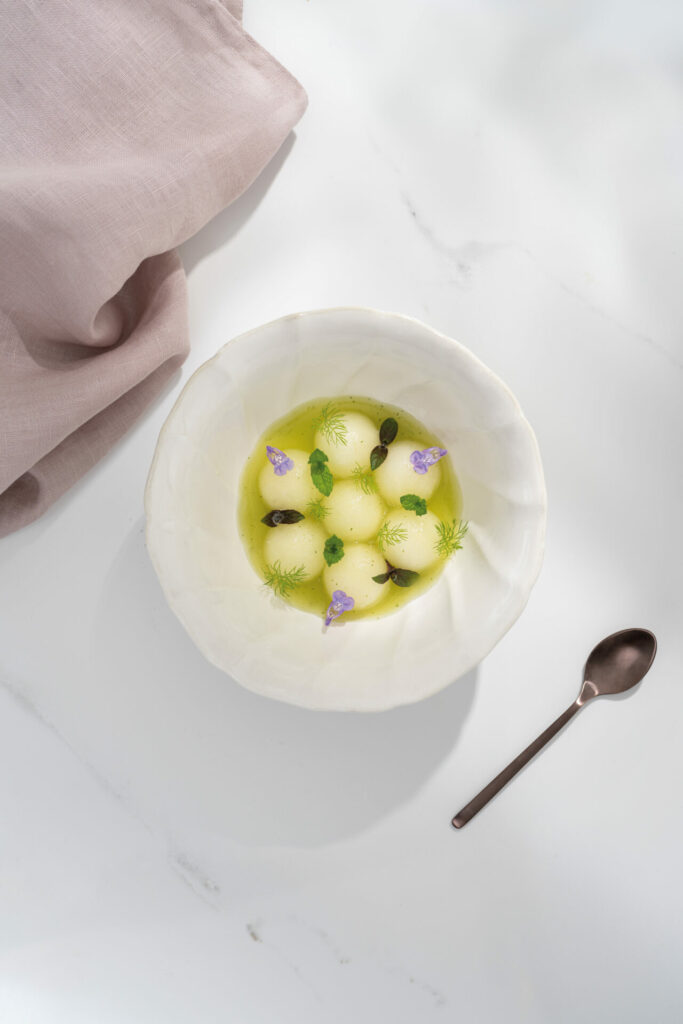 Prep: 15 mins Serves: 2
½ piel de sapo melon
Mint leaves, handful
1 lemon or lime
Peel the melon and remove the seeds with a spoon. Make balls using an ice cream scoop.
Blend leftover melon with the mint and lemon (or lime) using a hand blender. Add the melon balls to the mix and leave them to rest for a few minutes in the fridge before serving.
Baked Pumpkin with Basil Pesto and Vegan Parmesan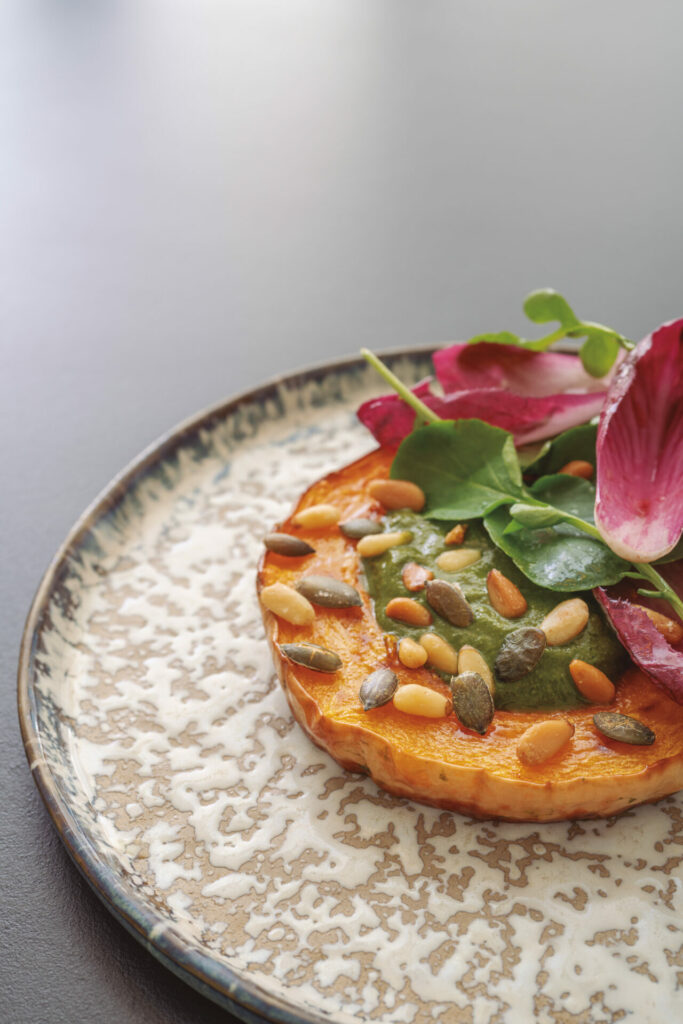 Prep: 15 mins Cook: 45 mins Serves: 4
1 medium pumpkin
2 garlic cloves, chopped
Sea salt to taste
1 sprig of rosemary
1 sprig of thyme
Extra virgin olive oil, drizzle
Basil leaves, for decoration
2tbsp pine nuts
1tbsp pumpkin seeds
60g of basil
30ml of extra virgin olive oil
Sea salt to taste
For the vegan parmesan
100g of almond flour or ground almonds
3tbsp nutritional yeast
½ tsp garlic powder
1 tsp sea salt
Wash and peel the pumpkin. Cut into quarters, place on a baking tray and put to one side. Add the chopped garlic, salt, rosemary, thyme, and a little olive oil to taste. Let it marinade for 10 minutes.
Bake at 160C for 30 minutes, depending on the size of the pieces, Check that they are cooked with the tip of a knife and keep them at room temperature.
Toast the pine nuts and pumpkin seeds (separately on the same tray) at 165C for 8 minutes and allow them to cool. Put the basil, olive oil, a pinch of salt, and the toasted pine nuts and pumpkin seeds into the hand blender and blend until the desired texture is achieved. Adjust with salt if necessary and refrigerate.
To make the vegan parmesan put all ingredients into a small bowl and mix with a fork until you get the texture of grated parmesan. Adjust with yeast until you achieve a cheese flavour and refrigerate. Serve with basil leaves as decoration.
Vegan Paella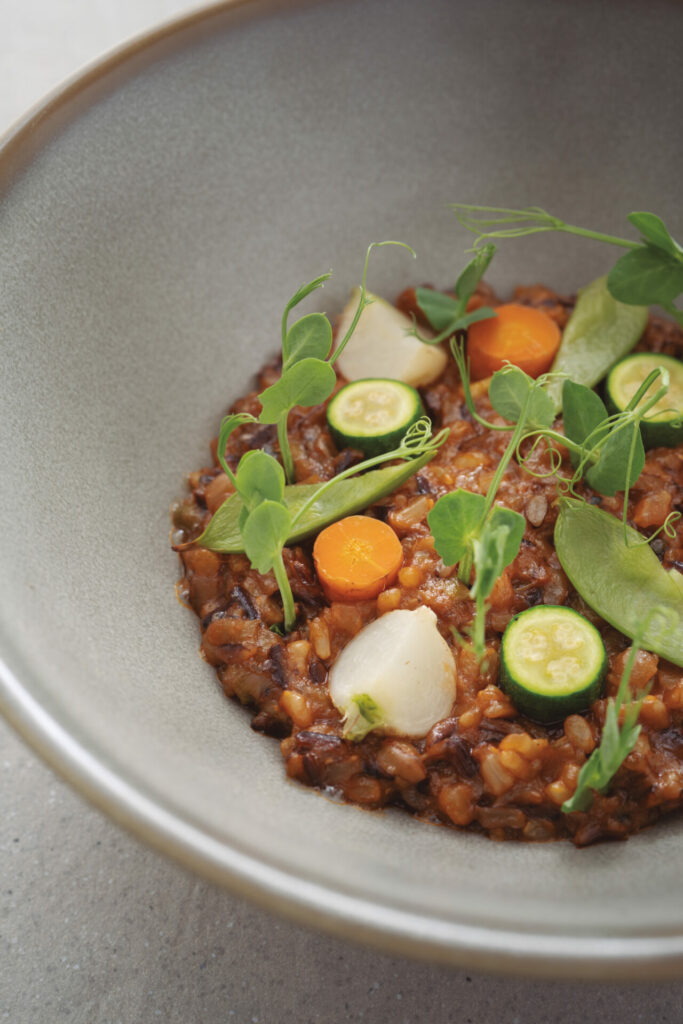 Prep: 15mins Cook: 60 mins Serves: 2
70g brown rice
200ml vegetable stock
Salt to taste
1 piece kombu seaweed
2 garlic cloves, chopped
Vegetable oil, drizzle
1 leek
3 mushrooms, chopped
¼ broccoli, stem removed
3 asparagus, chopped
½ tsp paprika
1/3 tsp turmeric
1 tbsp tamari
Wash the rice thoroughly and cook it for about 25 minutes in the vegetable stock. Add a pinch of salt and a piece of kombu seaweed. Set aside.
In a separate pan, fry the chopped garlic in oil until translucent. Add the leek and let it cook for a few minutes until it is transparent. Add a pinch of salt. Add the chopped mushrooms. Cook until tender.
Add the broccoli florets, the asparagus and stir. Add the paprika, turmeric and stir. Add the rice, and tamari. If it looks dry, add water. Let it cook for another 20 minutes with the lid. Turn off the heat and leave it to rest for 10 minutes and serve.