Food waste plays a big role in feeding the current climate crisis. Globally, a third of all food produced is lost or wasted, which makes a whopping 10 per cent of total greenhouse gas emissions.
In the UK alone, 6.6 million tonnes of food waste comes from our homes each year, at a cost of £14 billion – that's the equivalent of eight meals per household each week going straight in the bin.
Environmental charity WRAP has worked out this food waste is responsible for 14 million tonnes of CO2e – as much greenhouse gas produced as flying from London to Perth more than 4.5 million times.
Recent research from WRAP show that while 81 per cent of people in the UK said they are concerned about climate change, less than a third – 32 per cent – see a link between it and food waste. More than 50 per cent blame aviation for climate change when, in reality, more greenhouse gas emissions are produced from wasted food than all commercial flights.
So what better way to make a difference than by reducing waste? And who says that waste-free food can't taste delicious? These recipes, inspired by The Complete Book of Vegan Compleating, make use of often-overlooked parts of vegetables to create tasty waste-free and plant-based dishes.
Sweet or Savoury Roasted Squash or Pumpkin Seeds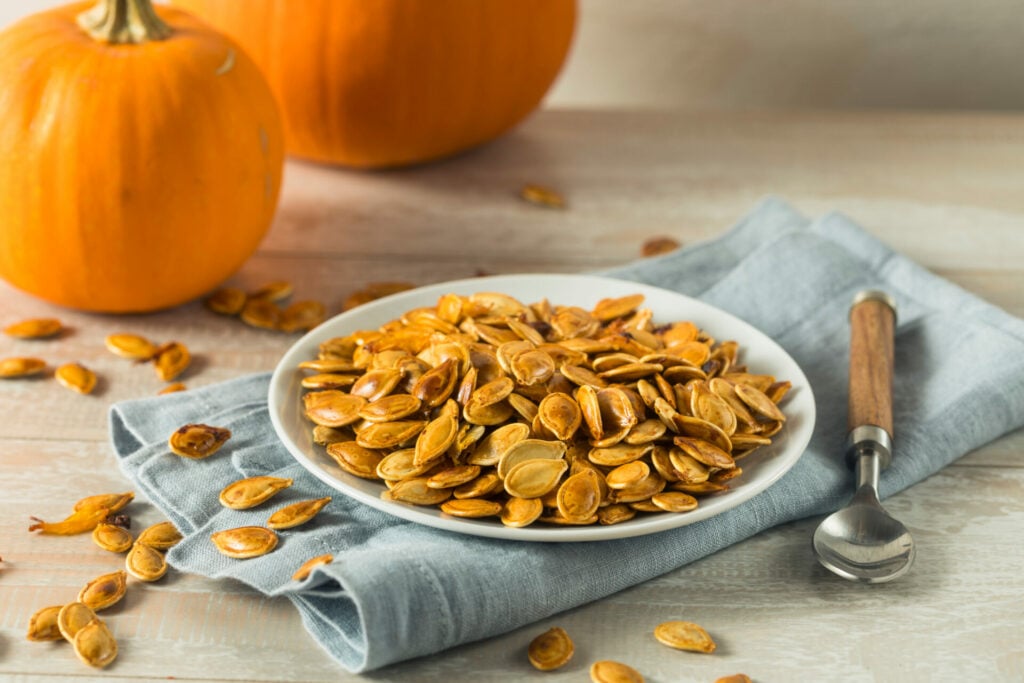 Squash seeds are rich in fibre and protein. They can be roasted as a snack or to top a dish such as spicy squash soup or salad, or sweet pumpkin pie or granola. Roasted without seasoning, the seeds can even be blended into a pesto or no-nut-butter, as a waste-free alternative to using nuts or dairy.
Try roasting squash and vegetable skins in a similar way to reduce waste and make full use of these tasty and nutritious parts of your produce. Pumpkin and squash seeds can also be rinsed, dried completely and stored in an envelope to grow your own plants.
Serves 4 Prep Time 10 mins Cooking Time 10 mins
Handful of seeds from your pumpkin or squash
2 tsps rapeseed oil
For a sweet flavour:
• 2 tsps ground cinnamon
• Sprinkling of light brown sugar (optional)
For a savoury flavour:
• 2 tsps smoked paprika
• Sprinkling of salt
Separate the seeds and rinse well in a strainer under the tap. Remove any pulp or debris. Shake dry to remove any excess water.
In a mixing bowl, combine the seeds with your choice of seasoning and mix well.
Spread the coated seeds evenly on a baking tray and roast in the oven at 180°C/350°F/gas mark 4 for 10 minutes until warm and crunchy. Best served fresh but these can also be stored for a couple of days in an airtight jar.
Smoked Carrot Lox Brunch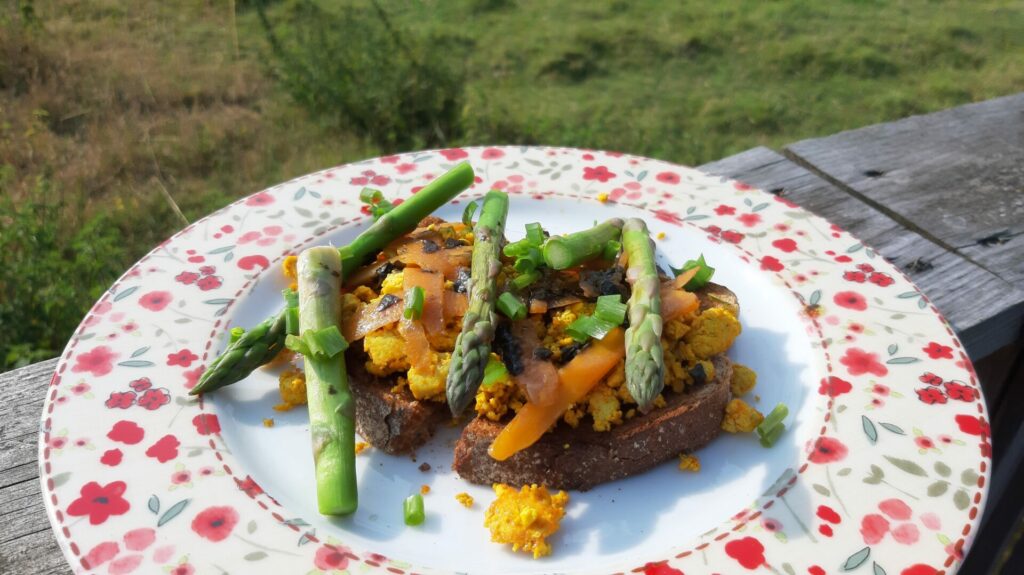 Turn a carrot and its peel into vegan salmon-style lox, perfect for serving on breakfast muffins with cream cheese and a squeeze of lemon juice. There's no need to peel your carrots ­– simply give them a good scrub and rinse. Carrots are a great source of vitamin A, and the peel also contains added fibre.
If you can source them or grow your own, the green leafy carrot tops are also edible and taste similar to parsley. These are delicious blended into a pesto as a waste-free alternative to basil. Also try chopped carrot tops mixed through a tabbouleh or salad or as a garnish for delicious vegan dishes.
Serves 2 Prep Time 20 mins Cooking Time 15 mins
1–2 carrots
2 tbsp olive oil
4 tsp light soy sauce
2 tsp liquid smoke
1 tsp of brine from a jar of capers
1 tsp lemon juice
1 sheet of sushi nori, crumbled
½ tsp sea salt
A little black pepper
Muffins, bagels, crackers or bread to serve
Using a peeler down the length of one to two medium carrots, including the peel, create carrot ribbons. Place the carrot ribbons in a pan of water and bring to the boil. Simmer for five minutes before straining and running under a cold tap. Set aside.
Now make the marinade. In a small ovenproof dish, combine the rest of the ingredients. Add the carrot ribbons and mix well. This can be left to marinade overnight or used immediately.
Once ready, cook in the oven at 170°C/325°F/gas mark 3 for 10–15 minutes. Serve with plant-based cream cheese on toast, muffins, crackers or bagels. Top with a squeeze of lemon juice and a few capers and an optional sprinkling of chopped carrot top leaves.
Roasted Butternut Squash & Aquafaba Ravioli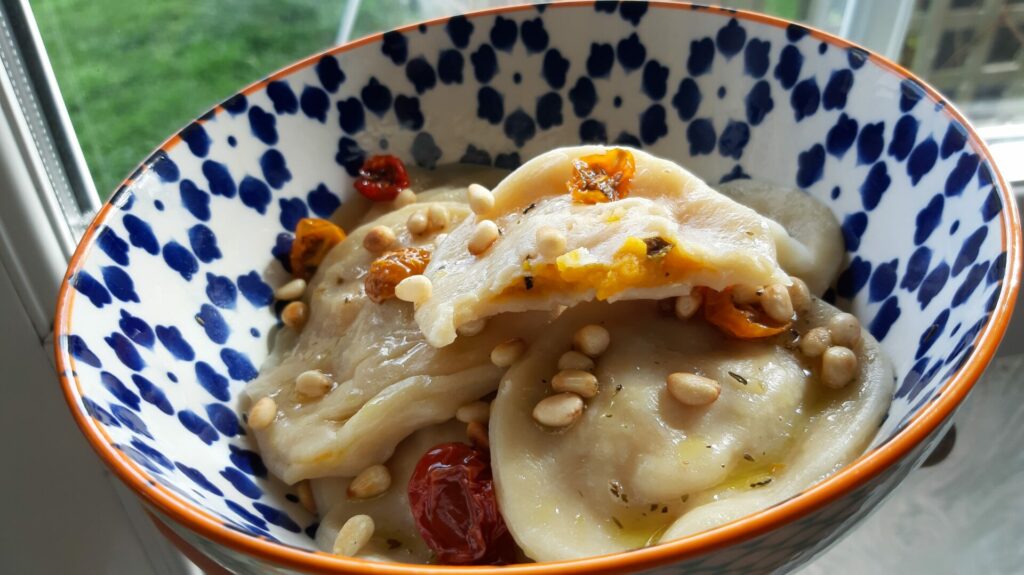 Filled with roasted butternut squash, this ravioli is deliciously creamy and satisfying. Butternut squash contains vitamins A, C and B6, and the skin and seeds are also edible and nutritious.
In place of the eggs traditionally found in fresh pasta dough, this recipe uses the liquid from a can of chickpeas, known in cooking as aquafaba. Simply strain the can, saving the aquafaba liquid, and use the chickpeas for another dish. An amazing and waste-free ingredient, aquafaba can also be used to create vegan mayonnaise, hummus, mousse or meringues.
Serves 4 Prep Time 20 mins Cooking Time 45 mins
For the filling:
500g/1lb 2oz butternut squash
4 garlic cloves
Handful of fresh sage or 1 tsp dried sage
1 tbsp rapeseed/canola oil
Salt and black pepper
For the dough:
• 260g/9oz/2 cups plain/all-purpose flour, plus extra for dusting
• 1 tsp salt
• 150ml/5fl oz/scant 2/3 cup aquafaba
• 1 tsp olive oil
To serve:
Your choice of oil
Toasted pine nuts, sundried tomatoes or olives (optional)
Prepare the butternut squash by removing the seeds (save and roast if you wish) and chopping the flesh into small chunks. You can leave the skin on or remove. Place the squash in an ovenproof dish with the garlic cloves and sage. Coat in the oil and season with salt and pepper. Mix well and roast in the oven at 180°C/350°F/gas mark 4 for 30–40 minutes until roasted and softened. Set aside to cool.
Whils the squash is roasting, prepare the dough. In a bowl, combine the flour and salt using a hand whisk. Pour in the aquafaba and olive oil. Knead for 5 minutes to form a ball of dough. Add a little more flour or aquafaba if needed. The dough should be smooth and not too sticky. Cover the bowl with a damp kitchen towel to prevent the dough from drying out. Set aside for 30 minutes.
In a food processor, blend the cooled roasted squash ingredients to a fairly smooth consistency with small chunks.
Flour your worktop, a rolling pin and the dough. Roll the dough out as thinly as possible to just a few millimetres thick. Using a small round cookie cutter or a glass, cut the dough into rounds. To fill the ravioli, place a round of dough in the palm of your hand and place 1–2 teaspoons of the filling in the centre. Have a bowl with a little water to hand. Run a wet finger around the edge of the dough and place another round of dough on top. To seal, pinch around the edges.
Repeat until you have used all the dough, rerolling any offcuts. Any excess dough which is too small to make a ravioli parcel from can be rolled into little sausage shapes and cooked with the ravioli as pasta pieces.
Bring a large pan of lightly salted water to the boil and allow to simmer. Carefully drop the ravioli into the water. Don't overcrowd the pan and allow space for the pasta to move around. You might need to cook in a few batches, depending on the size of your pan.
After around 5 minutes, the ravioli is ready. It should float to the top of the water. Using a slotted spoon, carefully remove the ravioli from the pan. Serve in bowls, drizzled with your choice of oil and extra toppings.
WRAP's Shocking Facts About Food Waste:
If food waste was a country, it would have the third-biggest carbon footprint after the USA and China.
If every UK household stopped wasting food for one day, it could do the same for greenhouse gas emissions as planting 640,000 trees per day (around 230 million per year).
We throw away the equivalent of 3.1 million glasses of milk every day. If we used every drop, we could do the same for climate change as planting nearly 6 million trees per year.
Every day 4.4 million potatoes go to waste in UK homes. If these were used, it could do the same for greenhouse gas emissions as planting 5.4 million trees per year.
Around 20 million slices of bread are thrown away at home in the UK every day. If they were saved, it could do the same for greenhouse gas emissions as planting 5.3 million trees per year.
70 per cent of food waste (post-farm gate) in the UK comes from households. But the good news is everyone can make a difference.