Move over Airbnb. While there are plenty of gorgeous places to rent all over the world on the well- known property site how many of them offer style and sustainability? And we've all heard horror stories of turning up to the 'dreamy desert des res' or 'chic urban apartment' only to find it full of tatty, dirty furniture, mould or in the most dubious of areas where uber or the local taxi service won't even venture.
Now those of us looking for uber stylish and sustainable properties don't need to worry as a collection of the world's top one per cent of exceptional – and eco-friendly – homes are available for luxury travellers to stay in.
From a chic eco cabin on a five-acre desert estate in Joshua Tree, California to incredible vistas overlooking the rolling hills in Byron Bay, Australia, and a rainforest treehouse, these exquisite, sustainable properties guarantee the most memorable holiday for all the right reasons.
Brazilian Rainforest Treehouse
Itacare, Bahia, Brazil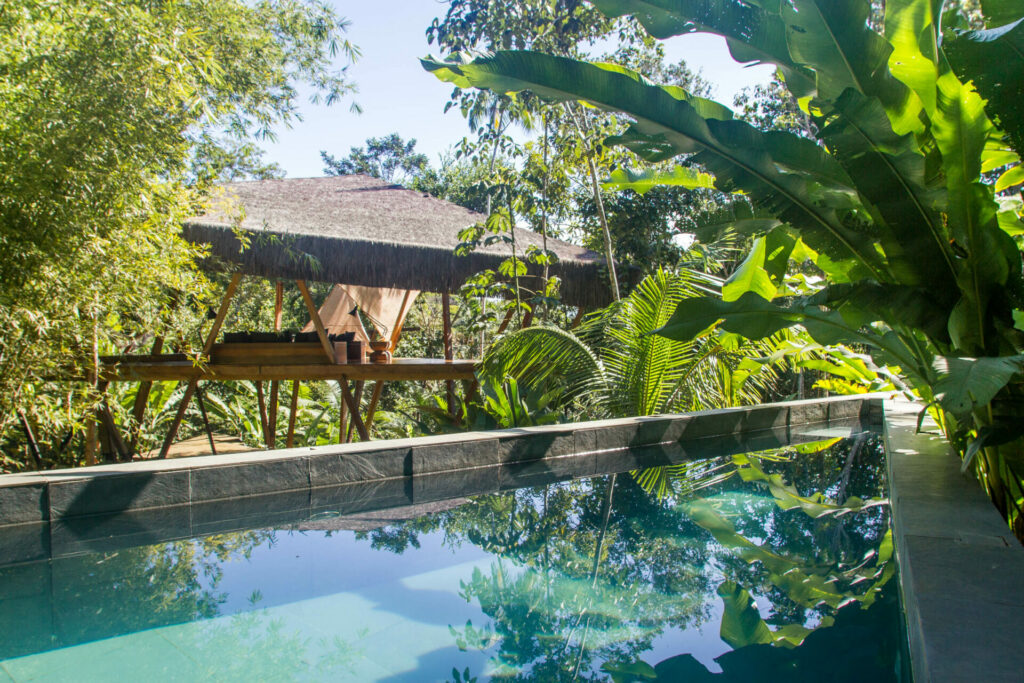 This one-of-a-kind loft villa in Brazil's Bahia State has been crafted with the environment in mind, built solely from 60–year-old naturally felled timber. Inside, the treehouse is contemporary and open plan, featuring a yoga deck and private pool.
It's the perfect honeymoon romantic hideaway or sustainable escape close to Brazil's Cocoa Coast, where surf and hippy culture reign and 'environmentally friendly' is the unashamed motto.
Sleeps: 2 guests (1 bedroom)
Price: From £230 per night
Chic Eco Cabin
Yucca Valley, Desert Cities, California, USA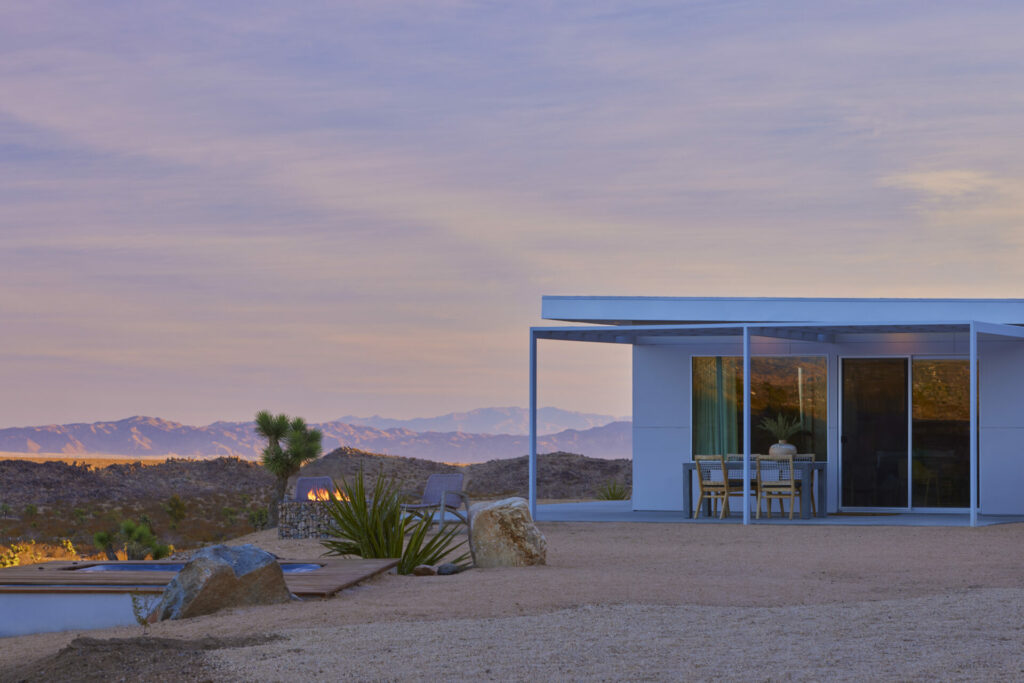 Situated in the heart of a five-acre desert estate in the rocky hills of California, this home offers the ultimate escape for solitude-seeking couples. The cosy cabin is powered by solar panels and has its own electric vehicle charging station.
Located within ten minutes of the Joshua Tree National Park, guests can take advantage of the spectacular landscape or head into the charming nearby town to peruse the local shops and restaurants before returning to the desert to take in the glowing sunsets.
Sleeps: 2 guests (1 bedroom)
Rates: From $594 – $750 a night (USD)
Safari Villa Retreat
Maasai Mara, Narok County, Kenya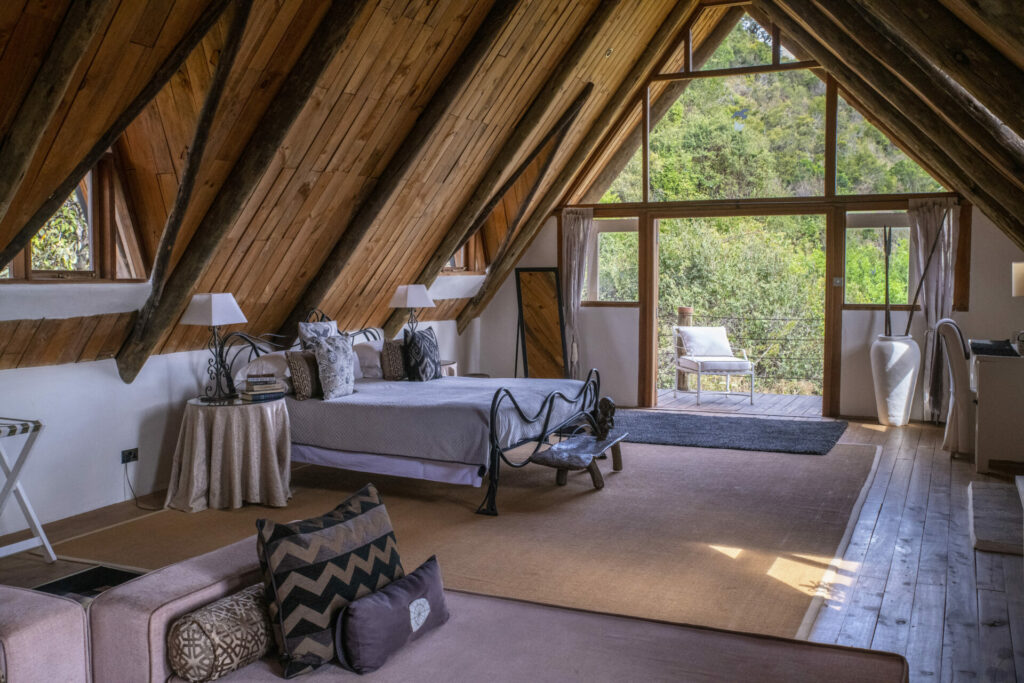 Experience the natural wonders of migrating animals in one of the most magnificent settings in Kenya. Bordering the Massai Mara and the Serengeti, this is the ideal location for animal-loving, eco-conscious travellers who appreciate the finest in sustainable properties. This villa has won the World Travel Award for Africa's Leading Luxury Private Villa and is Global Eco-sphere accredited.
Watch wildlife roaming through the rugged landscape or revel in the villa's natural beauty, built by hand with environmentally-friendly materials, against the backdrop of the Okderskesi Hills, with stunning views of the savannah.
Sleeps: 10 guests (5 bedrooms)
Rates: From $7,500 – $13,000 a night (USD)
Off-Grid Villa
Byron Bay, New South Wales, Australia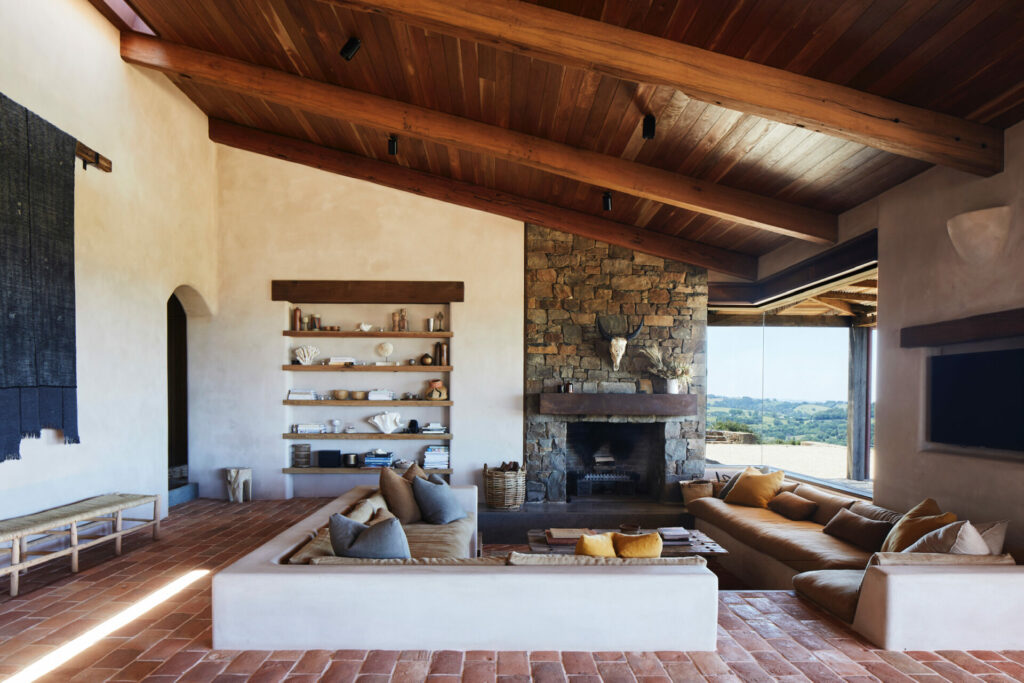 Rolling hills and sweeping views over the famous Byron Bay set this stunning private villa apart. Predominantly off-grid and self-sufficient, this property captures rainwater with the capacity to hold 220,000 litres in its own tank that is then used to irrigate the extensive gardens.
Wind and solar power are used to heat and cool this home while solar panels provide electricity including large battery banks that operate when the weather is overcast providing back-up power. In 2020, the owners made a commitment of planting 50,000 native trees to off-set their building portfolio footprint.
The estate emphasises the natural surroundings while blending perfectly into the landscape. A macadamia orchard and expansive lawns make up the grounds along with an outdoor terrace that's perfect for al fresco dining. There's also an outdoor fire pit, swimming pool and chic interiors made from recycled materials.
Sleeps: 12 guests (6 bedrooms)
Rates: From $8,500 a night (AUD)
Sustainable Sanctuary
Cannes Area, French Riviera, France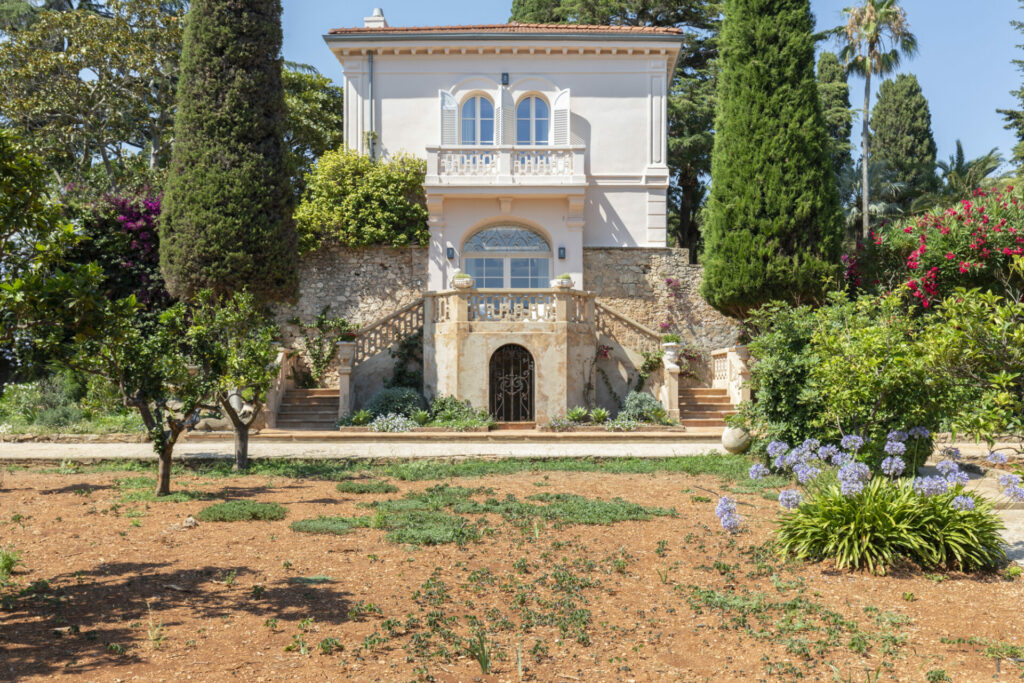 A hidden sanctuary, this 13th century property in the Cote d'Azur offers historical charm and modern, eco-friendly amenities. It's nestled on the very chic island of Saint Marguerite, and offers privacy with an ancient fortress overlooking the property.
Arrive by boat to this stunning home – one of the world's most stylish sustainable properties –where the owners and are committed to offsetting environmental impacts and have created sustainable initiatives that blend seamlessly into the historic property. They have partnered with a tree-planting NGO to aid carbon offsetting, planting a tree for each guest that has stayed here.
The expansive terrace and pool are maintained using completely natural products to protect local wildlife. Additionally, the estate's Chef prepares meals with a farm-to-table ethos with organic vegetables from the estate's own garden. The property uses high-energy reduction plans, with sensors placed in each room with lights automatically controlled to ensure optimal energy efficiency, especially when the house is empty between guest stays.
Electric vehicles are used on the property with each vehicle solely available for local journeys to encourage guests to take shorter trips, reducing local pollution.
Sleeps: 24 guests (12 bedrooms)
Rates: From £35,000 a night
Bioclimatic Beach House
Orkos Beach, Paxos, Greece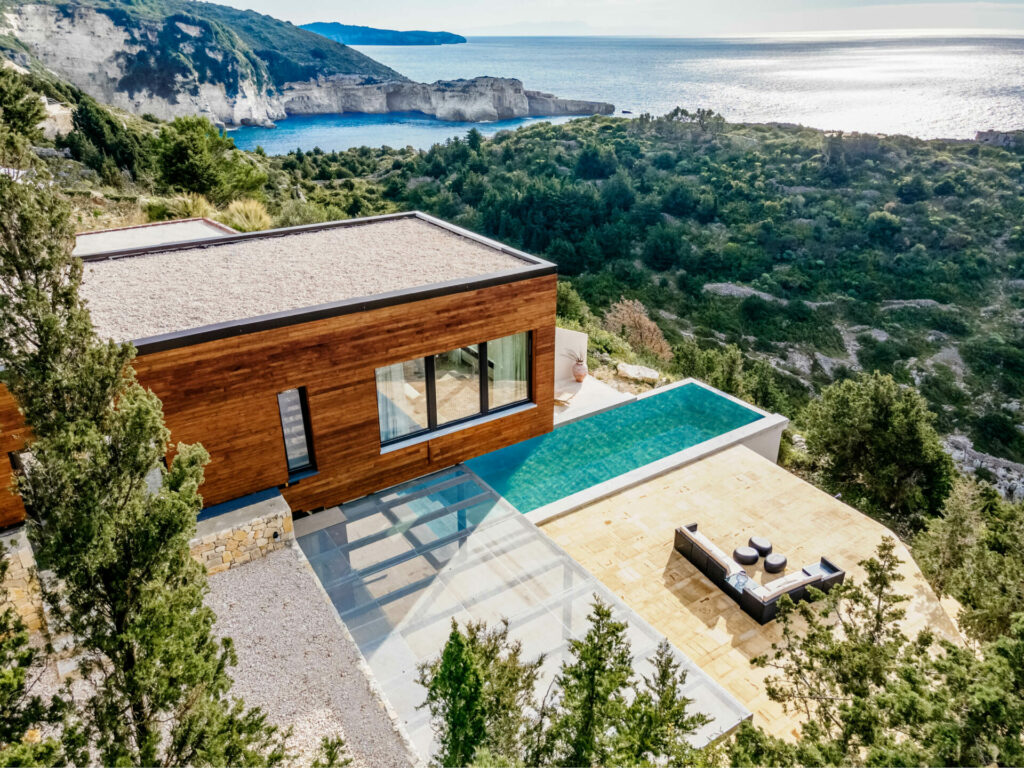 This newly constructed, bioclimatic home on the Greek island of Paxos offers guests stunning views of the Ionian Sea. Tucked into the hills of one of Greece's most popular destinations, this eco-friendly villa offers uninterrupted views of the rugged pine tree filled landscape.
This home is strategically designed to utilise the surrounding environment's microclimate that allows for natural ventilation and light, as well as passive heating and cooling. This reduces the homes' environmental impact on the surrounding area while blending into the natural surroundings. Inside, it is spacious and has a contemporary design with natural wood, high ceilings and large glass windows with incredible views.
Sleeps: 5 guests (2 bedrooms)
Rates: From £518 per night
Rural Finca
Ibiza, Spain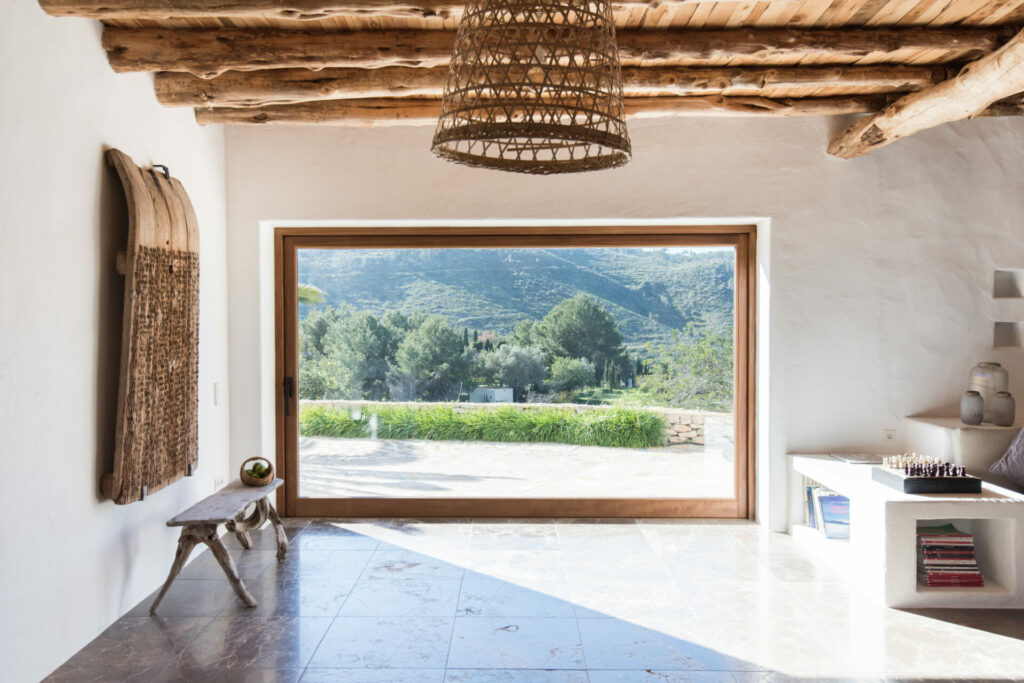 Known as the party island, guests can escape to this eco-friendly hideaway as well as the clubs in Ibiza. Entirely off-grid and nestled within a national park, this 300-year-old finca creates its own electricity from solar panels.
Eco-architect Thor Fogelberg has renovated the finca with integrity, maintaining the home's heritage using local materials including stone floors originated from the San Antonio region. Situated in a 'pueblo' in a northern valley of the island of Ibiza, this is an ideal location for guests seeking the excitement of the Mediterranean island as well as the solace of a hidden oasis. Unwind in a wood-fired hot tub with sea views after spending the day exploring in the warm Spanish sun.
Sleeps: 9 guests (5 bedrooms)
Rates: From £600-£1,400 a night
Eco-Beach Resort
Grândola, Comporta, Portugal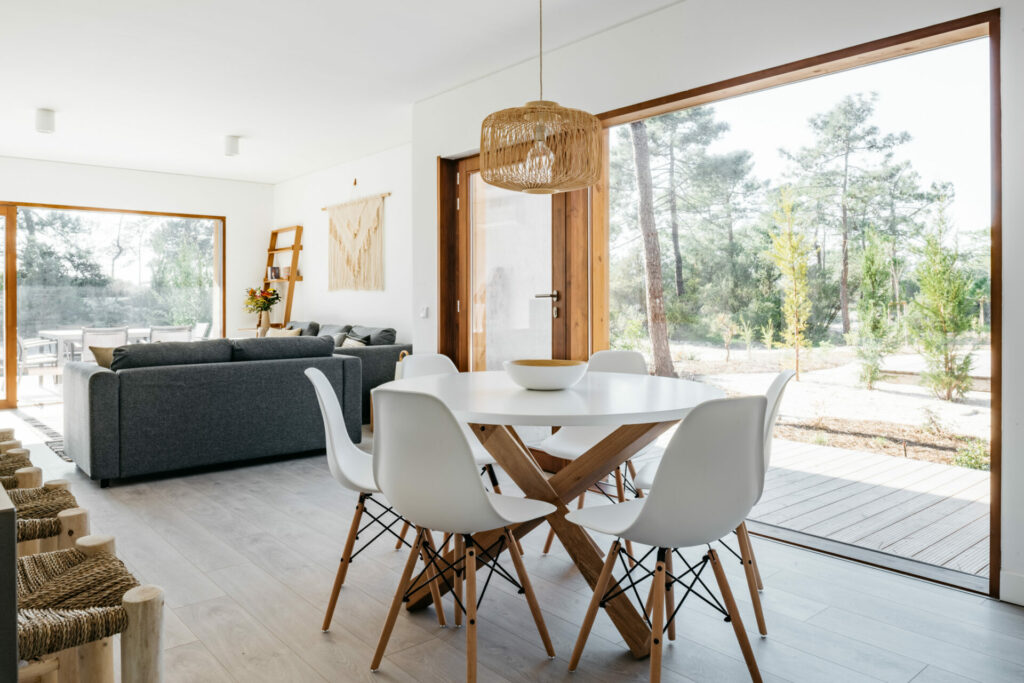 Get back to nature in this eco-beach resort villa in the hillside of Comporta in Portugal. Just ten minutes from Troia, this is the ultimate eco des res with stunning views and a spacious pool.
Bicycles are offered to get around so there's no need for a car and after exploring all day, sink into the the sauna and spa amenities available. Exclusive access to the beach is offered for guests at the resort's sustainable properties to take in every opportunity to appreciate the natural beauty surrounding this eco-resort.
Sleeps: 6 guests (3 bedrooms)
Rates: From€300 – €510 a night (EUR)
All sustainable properties can be booked through StayOne
For more of our eco travel visit our TRAVEL section