Mango Yogurt Smoothie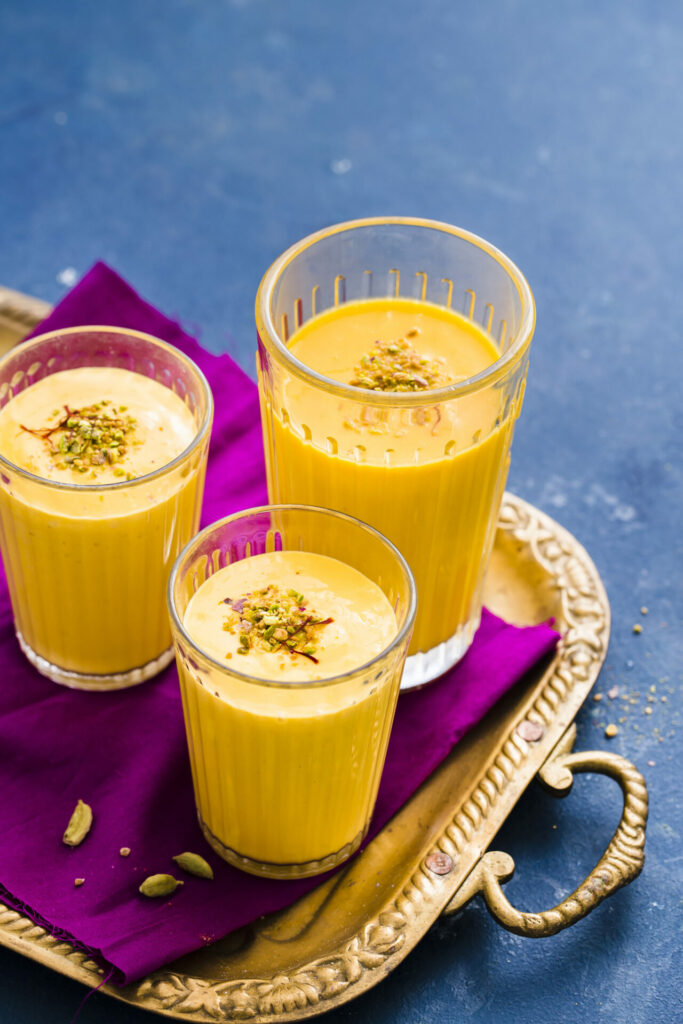 The perfect welcome drink for the ultimate delicious and veggie Diwali, this is the starter to a delightful menu from a food group who are supporting the Born Free Foundation to rescue lions and other animals from captivity.
Prep Time 5 mins Ready In 5 mins Serves 3-4 
240ml Laila Mango Pulp
120g yogurt of your choice (we recommend a natural/Greek style yogurt)
30g sugar
10g crushed pistachio, to garnish
Water, if required
Start by adding the Laila mango pulp and yogurt to a blender, and mixing until you achieve a frothy and velvety-smooth mixture. Once blended, you can tailor the consistency to your liking by adding a little bit of water. Try the smoothie and add a touch of sugar to sweeten if required. Top with the crushed pistachios and enjoy.
Veggie Diwali One pot Pav Bhaji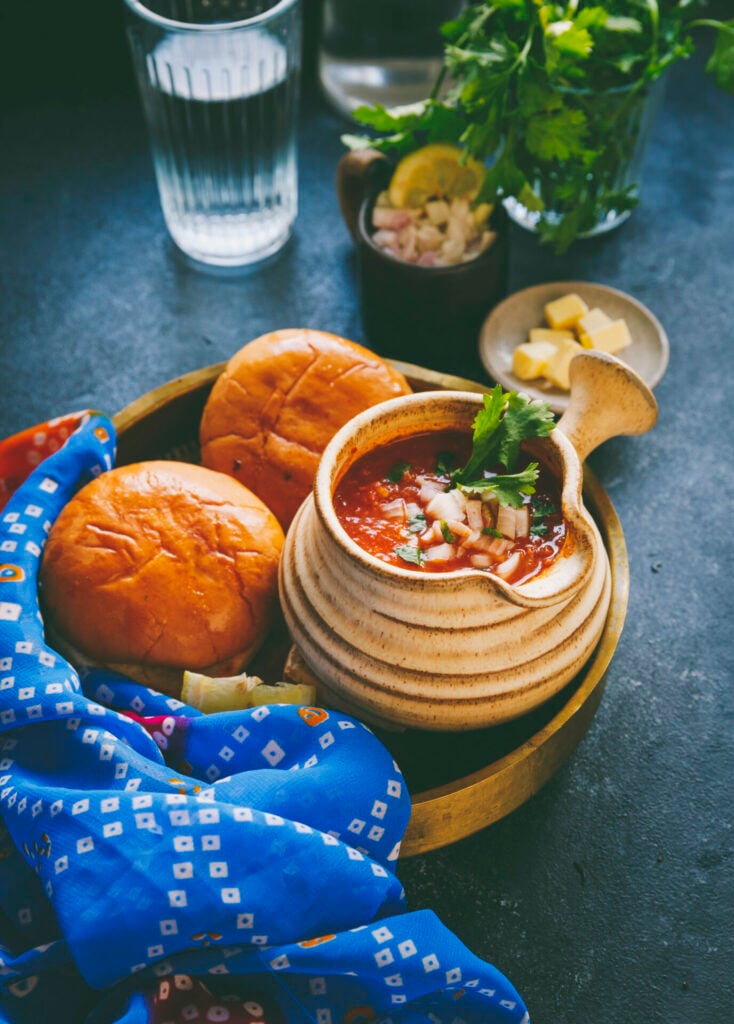 An iconic Indian street food, Pav Bhaji  – mashed Vegetable Curry with Bread Rolls – is full of spicy charm. The one-pot version is a delicious and easy recipe for a veggie Diwali
Prep Time 30 mins  Cook Time 25 mins  Serves 3-4  
for the Bhaji 
3 tbsp salted butter
2 tsp oil
1 tsp cumin
150g finely chopped onion
¼ tsp turmeric
½ – 1 tsp chilli powder
1-1½ tsp Kashmiri chilli powder (for colour)
2-3 tbsp pav bhaji spice blend basis taste
1 tsp Laila Ginger Garlic Paste
2 tbsp coriander leaves for garnish
400g Laila Chopped Tomatoes
100g green peas
120g green pepper, sliced
350g potatoes, peeled and chopped in half
100g cauliflower florets
100g carrot, chopped
150-200ml water
10ml lemon juice
Salt to taste
for Pav – the bread rolls
6 bread rolls of your choice
½ tsp butter
In a lidded pot, over a low to medium heat, melt 2 tbsp butter and then add 1 tbsp of oil. Add the cumin seeds and chopped onion, cooking until the onions turn golden brown.
Add the turmeric, chilli powder, Pav Bhaji spice blend, Kashmiri chilli powder, Laila Ginger Garlic Paste, and 1 tablespoon of fresh coriander leaves into the pot.
Once the onions are cooked and spices are fragrant, add the canned Laila Chopped Tomatoes and cook for five minutes.
Add the peas and capsicum to the pot and let it cook for five minutes and then add all the remaining chopped vegetables to the pot, allowing them to cook and soak in the flavour and spices for five minutes. Pour in the water and allow the mixture to cook for 15 minutes until the vegetables are cooked.
Once cooked, mash the vegetables in the pot and squeeze in the lemon juice for a perfect tangy taste. Add the remaining butter for extra creaminess.
For the Pav (buttered rolls), melt ½ teaspoon of butter in a pan, cut the bread rolls in half and toast until they are warm and slightly crisp.
To finish the dish, garnish your bhaji with the remainder of the fresh coriander leaves, serve alongside the Pav and enjoy.
Red Lentil Curry with Laila Jeera Rice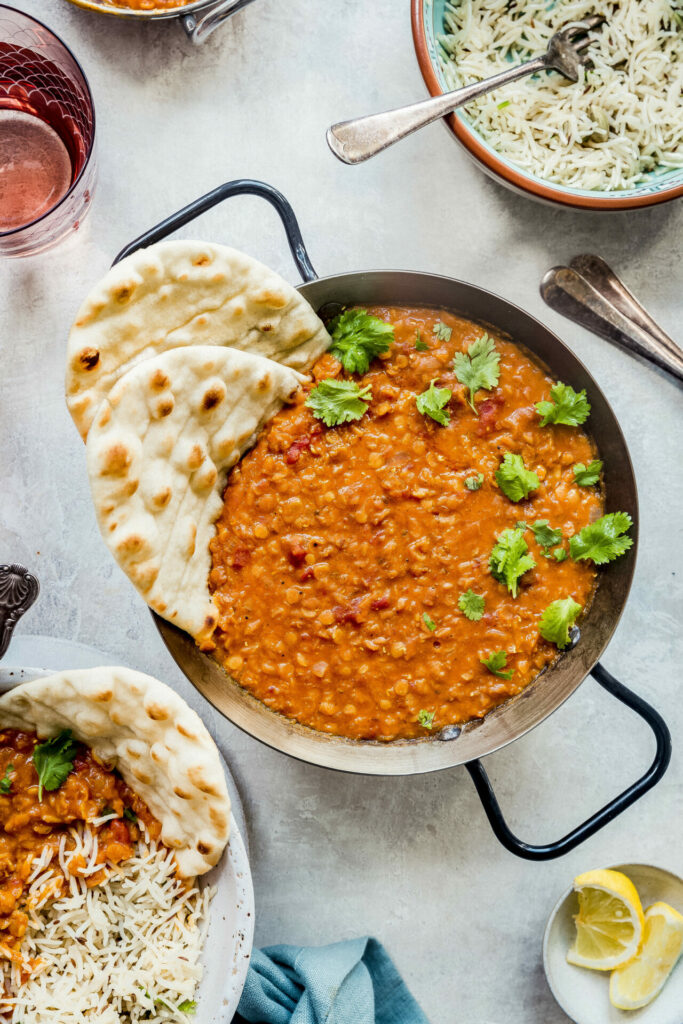 A comforting curry for veggie Diwali with a bowl of rice
Prep Time 20 mins Cook Time 30-40 mins for Dal, 20 mins for Rice  Serves 3-4 people 
for the curry
200g Laila red lentils
2 tbsp Laila Pure Butter Ghee
1 tsp cumin seeds
150g finely chopped onion
1 tsp Laila Ginger Garlic Paste
200g Laila Chopped Tomatoes
½ tsp turmeric powder
½ tsp chilli powder
1 tsp garam masala
½ tsp ground coriander
Salt to taste
400-500 ml of water
2-3 tbsp coriander leaves to garnish
10ml lemon juice
for the rice
200g Laila Gold Superior Long Basmati Rice
2tbsp Laila Pure Butter Ghee
1 tsp cumin seeds
400ml water
Salt
Before using Laila red lentils, rinse them two or three times before soaking in water for 20 minutes.
In a pan, on a low temperature, heat the Laila Pure Butter Ghee before adding the cumin seeds. Allow them to heat through until they sizzle and pop.
Add the finely chopped onion and Laila Ginger Garlic Paste, sautéing for about a minute until they turn translucent. Add the Laila Chopped Tomatoes and sauté.
Incorporate the remaining spices – turmeric powder, chili powder, garam masala, and ground coriander. Add salt to taste if required. Allow the spices to cook thoroughly with the onions and tomatoes for 2 minutes.
Add the red lentils to the pan along with 2-3 cups of water and let everything cook for about 20 minutes, or until the lentils become tender, and the curry thickens.
While the curry is cooking, you can start preparing the rice. Rinse Laila Gold Superior Long Basmati Rice in cold water until the water runs clear. This helps remove excess starch and prevents the rice from sticking together.
In a separate pan, heat Laila Pure Butter Ghee over medium heat. Once the ghee is heated through, add the cumin seeds (jeera) and allow them to sizzle for 30 seconds until they start to release their aroma.
Drain and rinse the rice once more, before adding to the pan. Stir the rice and cumin seeds together for about 1-2 minutes to lightly toast the rice. Now add the water, and any salt to taste if required.
Bring the rice to a boil. Once boiling, reduce the heat to low, cover the pan with a tight-fitting lid and let it simmer for about 15-20 minutes or until the rice is tender and the water is absorbed.
Once cooked, fluff the rice with a fork and let it rest for a few more minutes before serving.
Serve the red lentil curry and rice together in a bowl and garnish with fresh coriander leaves. You can also add a few drops of lemon juice if you'd like to.