An incredible journey to the Land of Thunder Dragons – so called for the dramatic thunderstorms that can strike the valleys from the peaks of the Himalayas – began while still in the air. Up here not even the most sophisticated in-flight entertainment system could compete with views of the snow-capped Himalayan range that stretches across the borders of Nepal, Tibet and our final destination, Bhutan.
'Ladies and gentleman, if you look out of the left hand windows you can see Everest,' the Royal Bhutanese Airways pilot announced with pride.
And there it was – the highest mountain on Earth at 8,850 meters, its glacial peak piercing through the drifting cotton candy clouds, beckoning for its picture to be taken.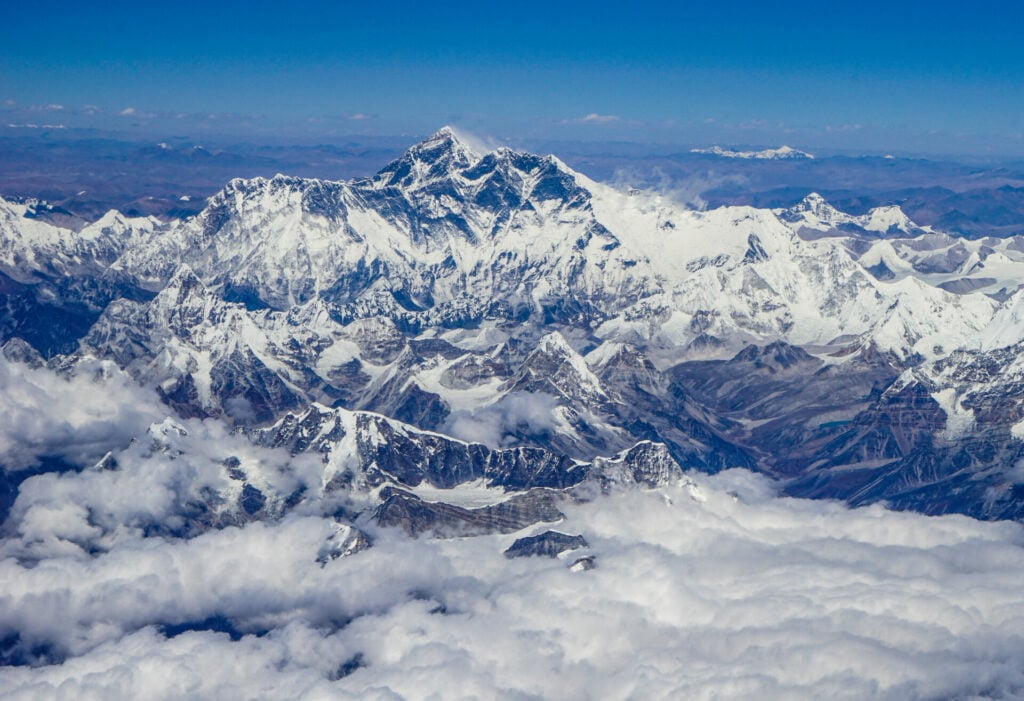 Moments later, the white mountains turned to endless greenery. Bhutan – a carbon negative country that absorbs more carbon dioxide that it produces – has a visionary leadership which insists that 60 per cent of the country remain covered by forest, sustainability is entrenched in the constitution and all visitors are required to pay a $200 daily tax used to preserve the landlocked land's biodiversity.
Thimphu
Majestic mountains tower either side of the crystal-clear emerald Paro Cho river that keeps pace with the 50-kilometre stretch of winding road from the airport to Bhutan's capital city, Thimphu. On one side the terrain is beautiful in its starkness, bare and rocky with occasional thin patches of forestry. On the other, endless blue pine trees and wild white rose bushes line the hairpin road.
After an hour mesmerising scenery, we arrive in the bustling city of 70,000 inhabitants and one of the highest capitals in the world at an altitude of 2,600 metres.
The greatest touristic draw here is the Great Buddha Dordenma, an enormous 52 metre statue of Buddha that also houses more than 100,000 smaller Buddha statues inside the temple.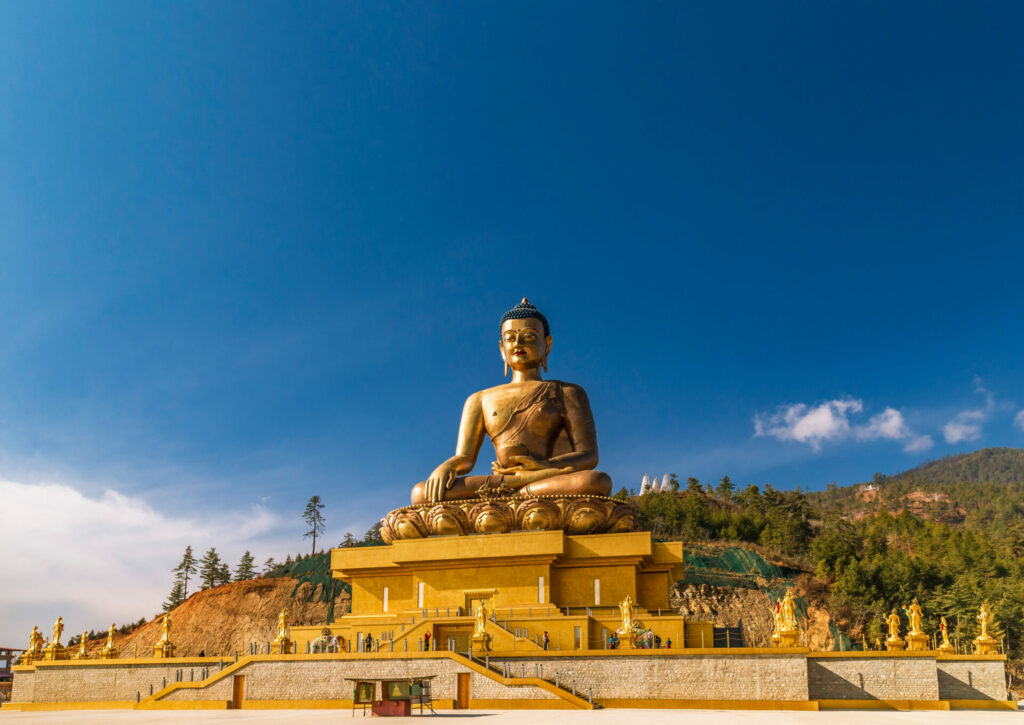 The winding road that leads to the temple is bedecked with colourful prayer flags and looks over the Kuensel Phodrang reserve, a 943-acre forest of blue pine.
No trip to Thimpu is complete without a visit to the Motithang Takin Preserve – the home of Bhutan's national animal. This strange looking creature is of half yak, half goat descent, and has a shaggy coat, golden stripe and weird but wonderful growl.
While keeping animals in enclosures goes against Buddhist beliefs, this sanctuary was created collaboratively with the World Wildlife Fund after attempts to set the animals free failed. Instead of roaming nearby forests, the animals refused to venture away from the reserve so after a month it was decided they could stay. Now the 15 Takins, listed as vulnerable, can roam the eight acres of forest along with a few dozen sambar and barking deer.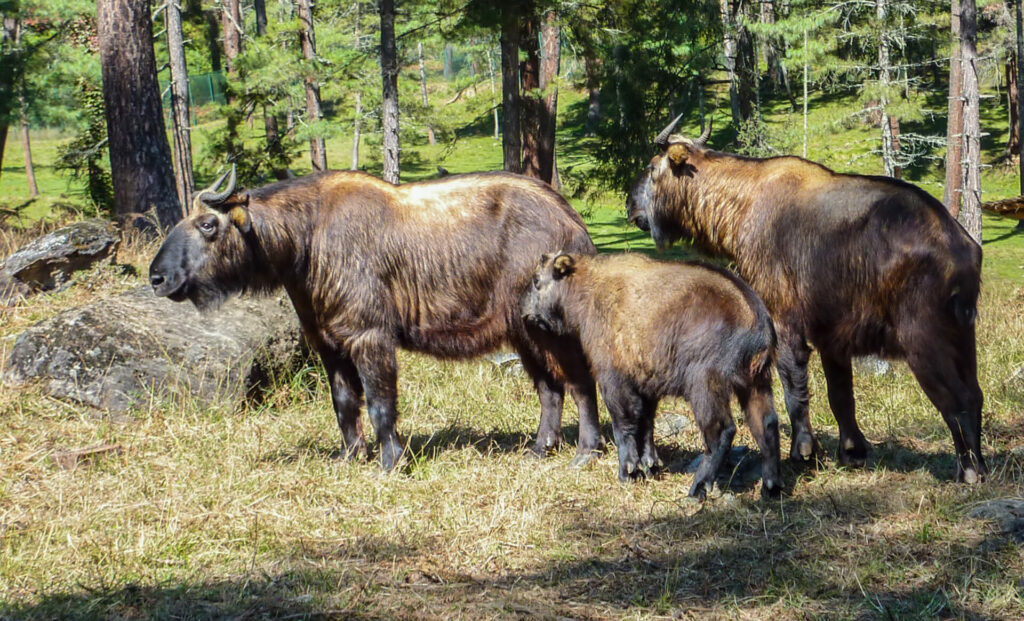 After feeding them plant treats – approved as safe by my fabulous guide Pelden Dorji – we headed off to see locals hand-making eco-friendly paper created from the daphnia plant, a prolific tree in Bhutan. It is fascinating to watch them soak the bark, boil, powder and mix with plant-based glue before draining the paper and hanging up large sheets to dry.
A quick stop at the gift shop is a must to pick up beautiful handmade scrap books and note pads.
An incense tour of a small family-run factory is equally captivating. From crushing local spices including azalea, juniper, black cardamom and cypress harvested at 5000 metres above sea level to rolling, cutting, and creating incense sticks that smell divine, it is artisanal work at its finest.
Where to Stay in Thimphu – Six Senses Thimphu
The stunning Six Senses Thimphu is an inspiring testament to local design, culinary expertise and sweeping vistas. Nicknamed the Palace in the Sky, thanks to a water feature that encircles the resort's main building, the hotel is nestled on a mountain side overlooking a valley with the Great Buddha Dordenma in the distance. Swiss style chalets dot the resort's periphery where rewilding has allowed pollinator- friendly plants to thrive.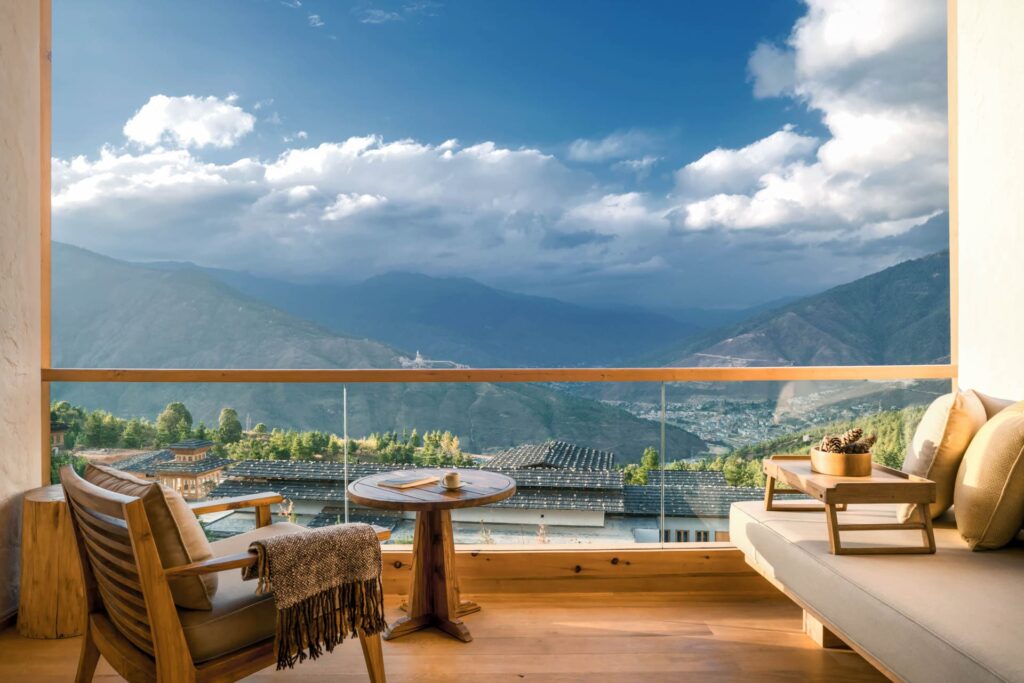 Made from fully certified local pine, this impressive luxury resort has sustainability at its core. From growing local culinary produce to an on-site water bottling plant and glass crusher, the efforts to reduce environmental impact are obvious at all stages of your stay.
Sustainable activities include a hike with a picnic of locally-made delicacies and soap making or you could indulge in sound-healing and Buddhist chants while having treatments in the world class Six Senses spa.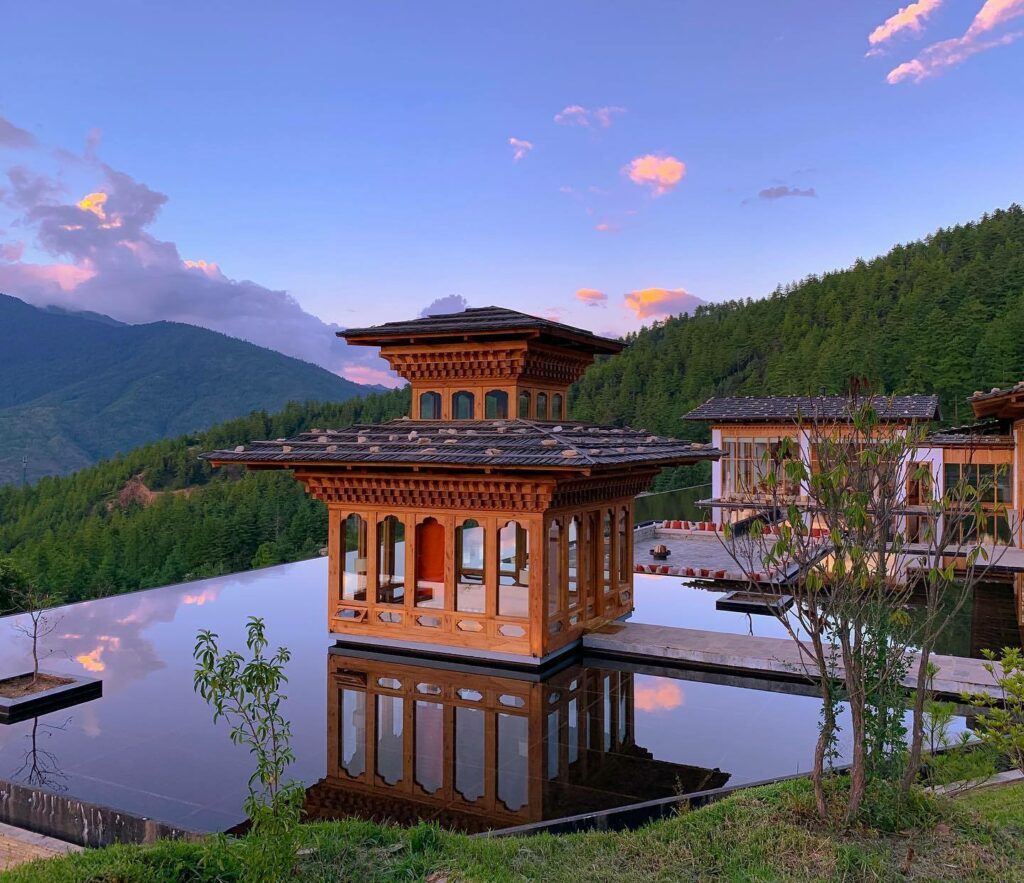 Upper Lodge Suite: Offering floor-to-ceiling windows, private over-sized decks and striking views of Thimphu Valley, guests can stay at Six Senses Thimphu for approximately AED6,000 per night.
Punakha
Some 70 kilometres from Thimphu, along another long winding highland road lies the former capital, Punakha. Keep your window down to take in the smell of fragrant pine wood and say hello to grazing cows wandering freely along the verdant banks. This is a country where as many as 60 per cent of the locals still own their own cow for milk. Thanks to Buddhist beliefs, there are no mass farms in the country nor any slaughterhouses. Here killing any animal is strictly forbidden.
We stop at the Dochula Pass, some 3,100 metres above sea level, where on a clear day, the Himalayan range with its snow-capped mountain peaks can be seen some 500km away. With its 108 white small stuppas – Buddhist religious monuments – built by the queen in 2006 to represent the 108 years of Bhutan's monarchy, it's a beautiful place to enjoy locally brewed coffee and treats.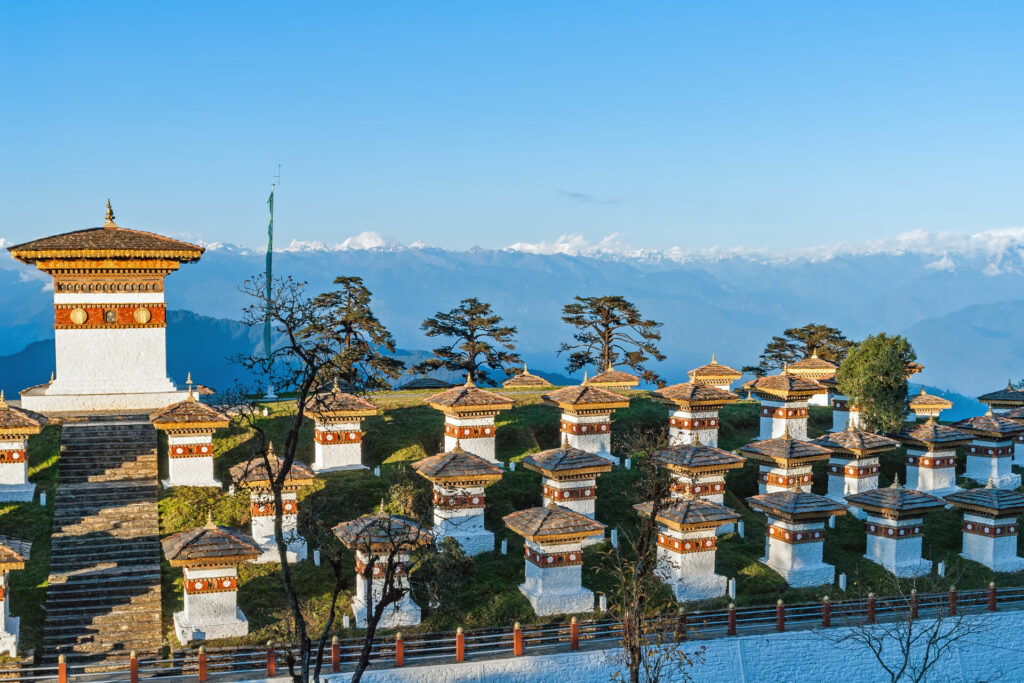 From there it's an hour to the Punakha valley, another breathtaking landscape dotted with paddy fields and farmland for crops including potatoes, cauliflower and the country's much-loved chillies – expect to find a spicy kick in almost every national dish.
Cut through farmland to the Fertility Temple dedicated to Chimi Lhakhang, also known as the Divine Madman, who, according to legend used his phallus to defeat demons. Couples hoping to conceive visit the small, popular temple but even without this desire, it makes for a curiously interesting visit.
Punakha lies on the confluence of the 'male' and 'female' rivers, where adventurous visitors can opt to go white water rafting on the cloudy turquoise waters. On the male river lies the impressive Punakha Dzong, a monastery and fortress built in 1637 and celebrated as one of Bhutan's oldest, largest and most striking fortified monasteries.
Climb some spectacularly steep steps to enter the impressive temple where thousands of hand-painted buddhas line the walls and hundreds of glass cases hold small golden statues of Buddhist lamas and deities. The story of buddha is painted along the walls which my well informed guide willingly walked me through.
A short walk from the Punakha Dzong is the country's longest suspension bridge decorated with prayer flags that flutter wildly in the wind. The bridge is 180 metres of iron that crosses the babbling Po Chhu (male) river and while sturdy, it does bounce in the middle. Not for the faint hearted, you'll be rewarded with stunning views of the river, mountains and valleys.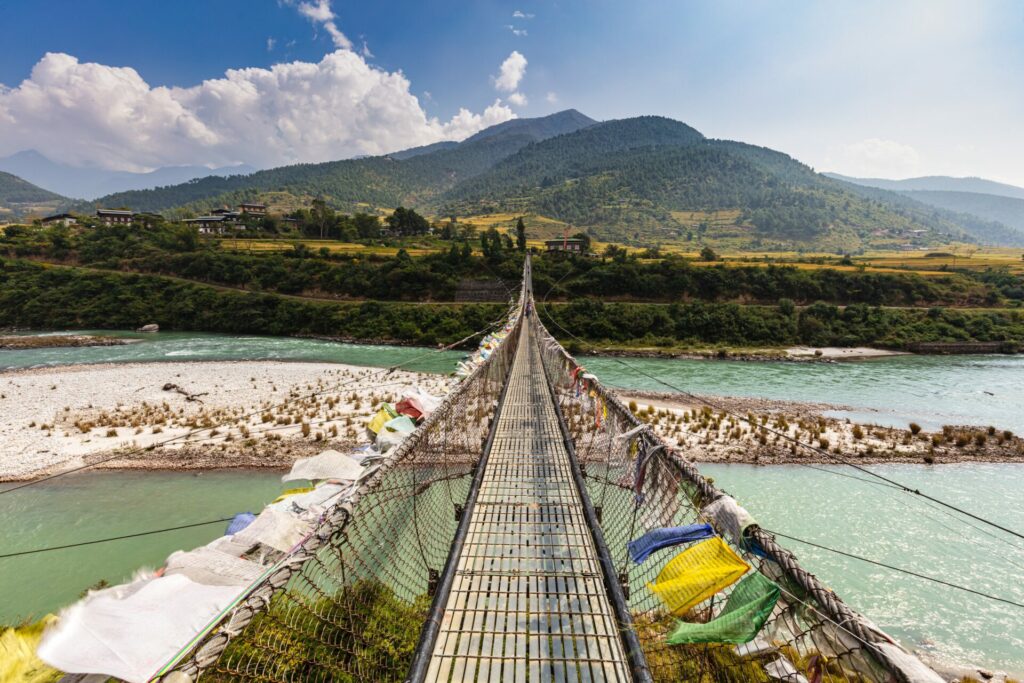 Where to Stay – Punakha: The Como Uma
The Como Uma is a boutique, luxury hotel nestled in the heart of the Punakha valley with views of lush green forest, paddy fields and the roaring alpine river that can be seen and heard from your private balcony.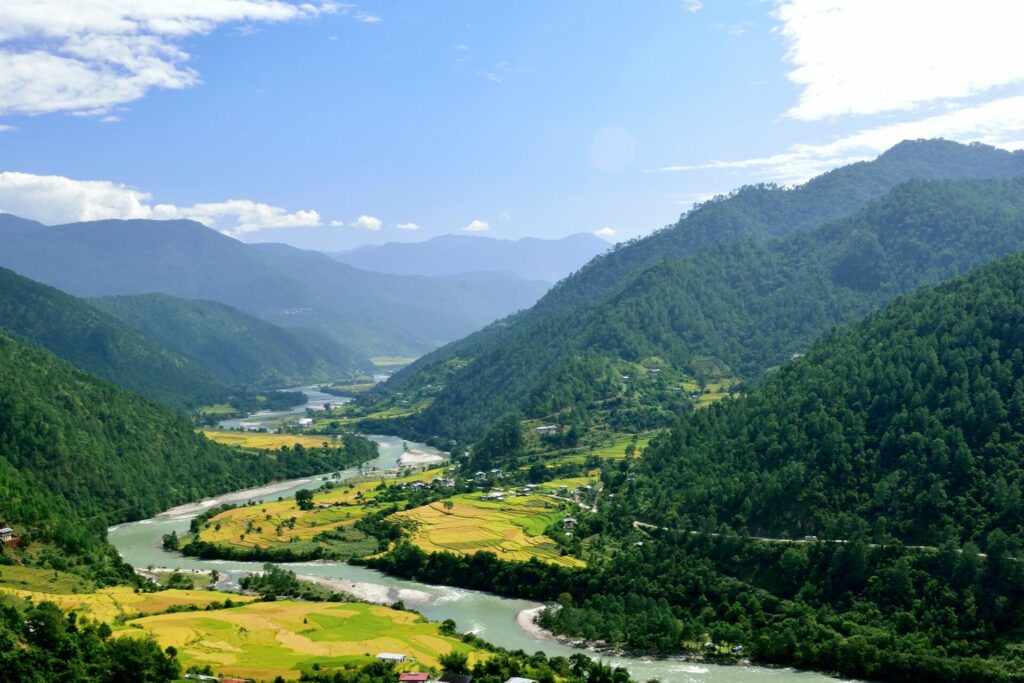 While facilities are few at this lodge, a trip to the spa for a Como Uma signature massage is essential. Healing bowl chimes, a heavenly mix of essential oils, long strokes, Tibetan chimes and the sound of the river just below will send even the hardiest of spa aficionados into a deep slumber
Dine on a six-course vegetarian Bhutanese tasting menu on the hotel veranda to the accompanying chirrup of crickets and possibly the most breath taking views in Bhutan.
A valley view room which ensures views of the Mo Chhu river for your morning coffee on its private balcony comes in at approximately AED 1,400 per night.
Paro
If there's one reason to ensure this small yet charming town is on your Bhutan itinerary, it's the Tigers Nest Monastery. While you can certainly take the time to stroll around the fascinating Bhutanese museum, or visit the market for local herbs, spices and traditional medicines, the real reason so many people descend on Paro is for the bucket list hike.
Get up early to have the six-kilometre climb to yourself. The pathways were recently improved after a fire engulfed the monastery in 2005 necessitating a complete renovation. Now where you may have had to face the rocks and hope for the best, today a 600-step staircase has been created with railings, allowing the fit, the unfit, the young and the elderly, the chance to set eyes on this mesmerising tribute to Buddhism.

The walk to the monastery – an ascent of 500 metres – in just 3 to 5 hours depending on your pace, can be challenging at times but it's worth the extra effort for the jaw-dropping views of mountain peaks, lush valleys and forests.
At the last view point for the Tigers Nest Monastery hikers have a refreshing 300 step descent to a waterfall before ascending another 300 final steps to the monastery.
Bags and phones must be handed in at the entrance and don't forget to wear suitable clothing that covers shoulders and knees. As this 16th century monastery was built on a steep cliff edge, expect more steps once inside. In total there are eight temples to visit, each one offering various blessings such as health, wealth and good fortune. Be advised to take in some small change to donate in each room – if, of course, you want all your wishes to come true!
Where to stay – Paro: Bhutan Spirit Sanctuary
This all-inclusive wellness sanctuary sits overlooking the Paro valley. You'll be welcomed with a local herb tea to alleviate any altitude sickness you may have garnered from your hike while absorbing the dramatic valley views from the floor to ceiling windows.

The suites boast four-poster beds, enormous bathrooms and private balconies with beautiful views. The spa offers treatments which begin with a consultation from the in-house Chinese/Bhutanese medicine practitioner who advises which treatment would be best suited to your individual health requirements.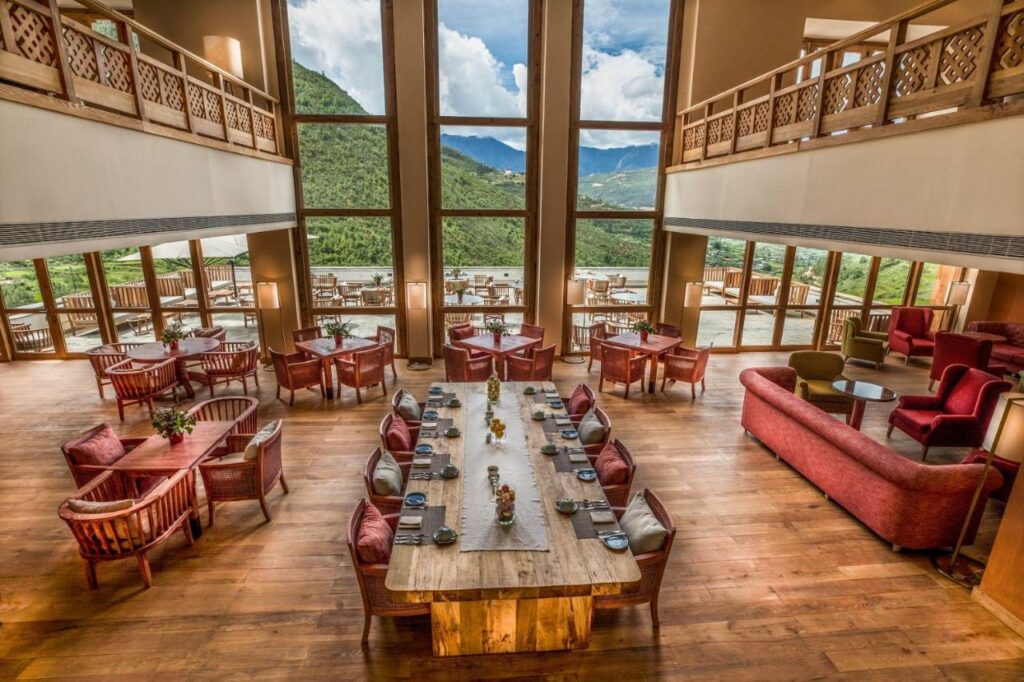 A fitting post hike treatment is the deep tissue signature massage which incorporates acupuncture to alleviate sore muscles. Soak in the swimming pool overlooking the valley before heading up to a farm-to-table dinner – a set menu of six courses – along with local grape and hops included in the overall price.
A double room with balcony with spa treatments and dining included, costs approximately AED1,800 per night.
The government of Bhutan has put steps in place to prevent large amounts of tourists from entering the country at any given time by introducing the daily $200 sustainability tax. It is just one of the ways in which they hope to conserve the country' environment and remain one of the only countries in the world that are carbon negative. Having fewer tourists who are happy to pay the tax to ensure the country remains unspoiled, will help Bhutan maintain their impressive track record as a carbon sink. Today the country absorbs roughly seven million tonnes of carbon dioxide annually and only produces around two million tonnes.
While it may be costly, Bhutan is an eco tourism bucket list experience not to be missed. Visit now and discover the beauty of this tiny nation before it receives the inevitable global attention it deserves.
Bhutan Travel Details
Important Info: All visitors to Bhutan require a visa which can be applied for in advance online. It's also best to organise your trip via a local travel agent (all listed on the official Bhutan travel website here) as all visitors must be accompanied by a guide throughout their stay in the country. Knowledgeable and accommodating, government approved guides will ensure you experience everything you may have on your itinerary wish list. Our guide was Pelden Dorji and he was a fountain of knowledge!
Getting there: From the UAE fly to Bhutan via Nepal, India or Thailand. Nepal is the shortest flight at one hour with a sighting of Mount Everest included!
Fly Dubai: DXB – Kathmandu Return: AED1,100
Royal Bhutan Airlines/ Druk Air: Kathmandu – Paro Return: AED2,000