No one wants to add to the mountain of food waste created every Christmas – so we've come up with the perfect three-course zero waste feast for Boxing Day that uses up all your leftovers and makes them into something delicious.
Watercress and Mushroom Sliders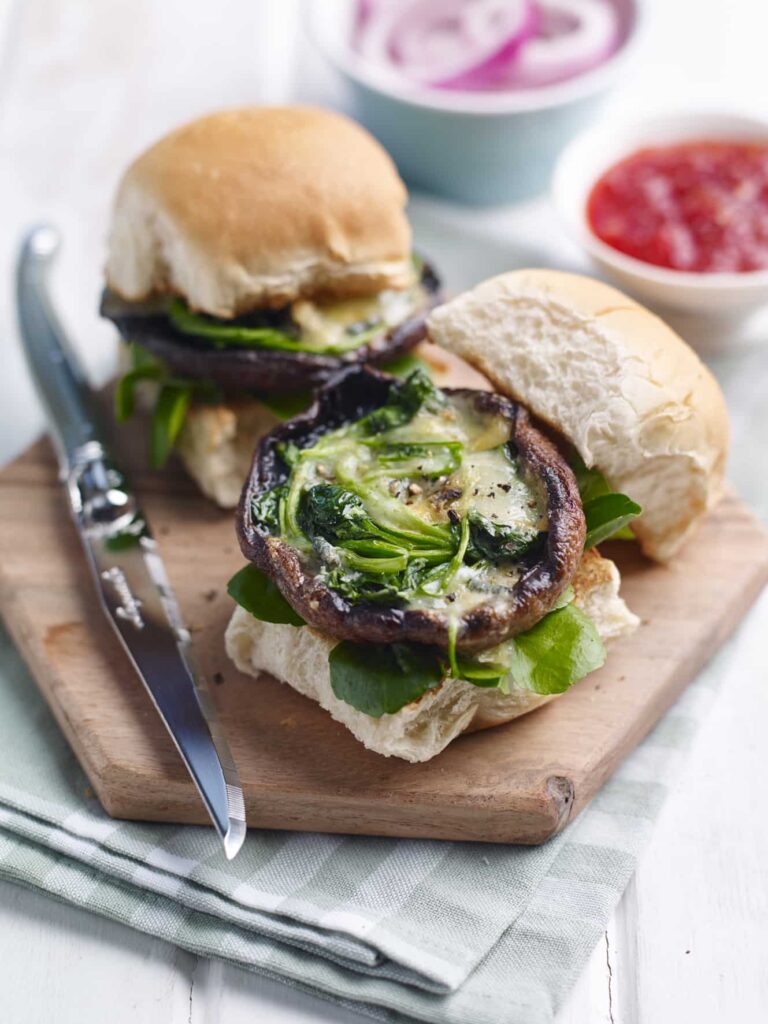 Serves: 4 Prep time: 5 mins plus 1 hr marinating Cooking time: 15 mins
2 tbsp olive oil
2 tbsp balsamic vinegar
1 clove garlic, crushed
Salt and pepper
4 Portobello mushrooms, stalks trimmed (use any leftover mushrooms from Christmas Day)
85g watercress
100g creamy blue cheese such as Gorgonzola
6 small rolls, sliced horizontally
Your choice of lettuce, tomatoes, onion etc to serve
Mix the olive oil, balsamic vinegar and garlic together with salt and pepper. Pour half into a dish that will hold all of the mushrooms (use leftovers if you have any). Place in the mushrooms and drizzle over the remaining dressing. Cover and leave to marinate for an hour, basting them twice with the dressing to make sure they're coated.
When ready to cook, heat the grill to medium and place the mushrooms on a shallow baking tray gill side down. Grill for 5 minutes, then turn and cook the other side for 2 minutes.
While they are cooking, place the watercress into a bowl and cover with boiling water. Leave for 1 minute until wilted, then drain.
Once the mushrooms are cooked, fill each one with watercress and top with the cheese. Return to the grill along with the rolls, cut side up.
Toast the rolls. When the cheese is bubbling, place a mushroom inside each roll to make the burgers and serve immediately with your choice of fillings – use any leftovers to make it extra tasty.
Crimbo Limbo Curry with Stuffing Kofta
Serves: 4-6 Prep Time: 30 mins Cooking Time: 1h 30 mins
The tomato sauce base of this delicious curry is spiced with classic Christmas flavours and the stuffing kofta balls and brussels sprouts provide body and texture. You may think it's weird to put stuffing in a curry but these balls aren't a far cry from traditional Indian kofta – small spiced potato patties used in many vegetarian dishes. The veg listed here are just a suggestion, you can use any you wish, and this is a great dish for using up leftovers.
For the curry sauce
1 tbsp vegetable oil
2 large cinnamon sticks
2 large onions, finely diced
4 cardamon pods (seeds only)
2 tsp cumin seeds
1 tsp coriander seeds (ground)
1 tsp black peppercorns (ground)
1 star anise
4 cloves of garlic, peeled and crushed
Thumb-sized piece of ginger, peeled and roughly chopped
1 red chilli (or 1 tsp hot red chilli powder), finely chopped
3 tbsp tomato paste
1 tbsp soy sauce
1 tin chopped tomatoes (400g)
½ tbsp brown sugar
1 tbsp garam masala
Salt (to taste)
1 pack of vegetarian stuffing mix
Vegetables
If your vegetables are already cooked simply give them a blast in the hot oven before adding them to the curry sauce. It's good to try to crisp up the veg a bit as it adds a good texture
Large pinch of fennel seeds
Pinch dried chilli flakes
250g butternut squash, peeled and roughly diced
Drizzle vegetable oil
300g brussels sprouts (with outer leaves taken off)
250g parsnips. Peeled and cut into batons
Large pinch cumin seeds
Salt
Pre-heat you over to 180 degrees (fan) Heat a tablespoon of vegetable oil in a large heavy-based frying pan or shallow casserole dish.
Add the cinnamon sticks. Add the onions and fry until soft and golden brown.
While the onions are cooking, heat a small frying pan and add the remaining whole spices. Toast until golden and fragrant. Place in a spice grinder/small blender or pestle and mortar and grind to a rough powder. Put aside.
Peel and chop/crush the garlic and ginger. Place in a blender/spice grinder/pestle and mortar with a generous splash of water and blend until a thick paste is formed.
Once the onions are cooked, stir in the spice mix followed by the ginger/garlic mix and chilli. The added water should keep the spices from burning but if they begin to catch, add another splash of water.
Stir well until everything is cooked through, then add the tomato paste and brown sugar.
Leave everything to cook for at least 15 minutes. The tomato paste needs to cook through and absorb the flavours of the spice mix. Keep checking the pan, adding water if necessary.
During this time you can start to prep the stuffing balls. Follow the packet instructions, which usually involves adding boiling water to the dry mix and leaving it to stand for a while. While the stuffing is standing toast the fennel seeds in a dry pan until golden. Add them to the stuffing with the chilli flakes.
The curry base will now be ready for the chopped tomatoes – pour them into the pan then fill up the empty tin with water and add to the tomatoes. You can do this twice, perhaps more depending on how thick a sauce you want.
Add the soy sauce and leave the sauce to gentle simmer away for at least 20 minutes (ideally longer – the longer you leave it, the better the flavour).
While the sauce is bubbling away, you can get your stuffing and veg cooked. Create the stuffing balls by scooping up a small amount of the mix with your fingers and rolling between your palms until a ball is formed. The smaller the balls the crisper they will be. It's good to have a crispy outside and soft middle so don't make them too small.
Lay the balls out on a greased baking tray and roast in the oven for 20-30 minutes until they are a deep golden brown.
Put your butternut squash cubes on a baking tray with a drizzle of oil, a generous pinch of salt and the cumin seeds. Make sure the squash is well coated then roast for around 30 minutes until soft and a bit dark around the edges.
It's a similar process for the sprouts – drizzle them with a bit of oil followed by a pinch of salt and the chilli flakes. Roast for 15 minutes (if you're cooking them from raw). You want them to still be slightly crunchy on the inside – no one like a soggy sprout!
When all the veg is cooked add to the curry sauce with the garam masala. Stir well. Taste the curry, adding more salt/sugar if necessary. Serve with rice.
This recipe is from Grace Regan, Founder of SpiceBox
Celebration Dessert Trifle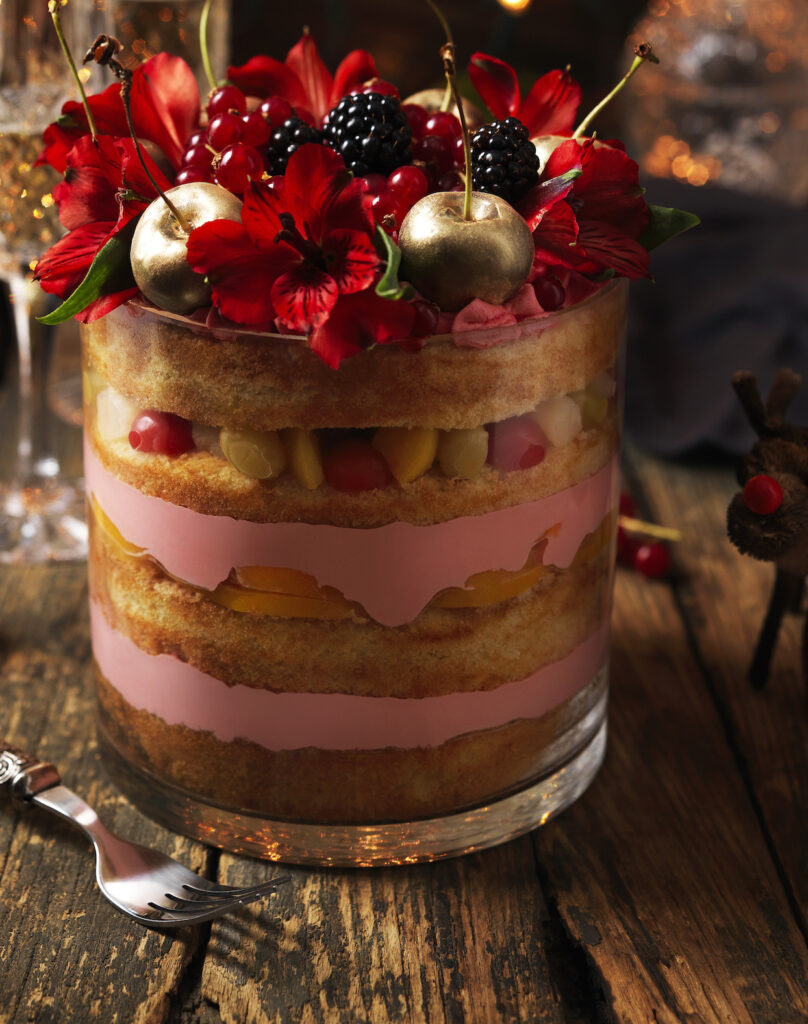 Serves: 10-15 Prep time: 45minutes Cooking Time: 1 hr 30 mins
To make the vegan cake (or you can buy readymade from store):
400g plain flour
400g (7 oz) caster sugar
2 teaspoon bicarbonate of soda
1 teaspoon salt
7 tablespoons vegetable oil
2 teaspoon vanilla extract
2 teaspoon distilled white vinegar
500ml water
Elderflower cordial
Handful of fresh cherries (stalks on)
100g raw/vegan chocolate, chopped
Edible gold dust / desiccated coconut / hundreds and thousands (optional)
400g Soya Custard (shop bought or you can use leftover custard from Christmas Day)
Pink food colouring or 2tsp crushed, freeze dried raspberries (optional)
For the vegan buttercream
50g vegan butter
150g icing sugar, sifted
1 tsp vanilla extract
1 x 415g can Del Monte® Fruit Cocktail in Juice (well drained) or use leftover fruit
1 x 415g can Del Monte® Peach Slices in Juice (well drained) or use leftover fruit
Berries & edible flowers for decoration
Preheat oven to 180 C / Gas 4. Lightly grease a 2 x 20cm round cake tins
Sieve together the flour, sugar, bicarbonate of soda and salt. Add the oil, vanilla, vinegar and water. Mix together until smooth.
Pour some of the mixture into prepared tin and bake at 180 C for 45 minutes. Remove from oven and allow to cool. Use the remaining cake mix and repeat this process for more cake layers. (Usually makes 4 or 5 cake layers)
Soak the sponge cake by pricking the surface with a fork and gently drizzling with elderflower cordial.
Prepare cherries for decoration by melting and coating in raw chocolate. Once set, brush with gold dust (optional)
Add colouring or freeze dried raspberries to shop bought soya custard.
Make your vegan buttercream by adding your icing sugar, vegan butter and vanilla extract to a mixing bowl and beat using your electric mixer, start at low speed, gradually increasing speed until perfectly smooth.
Now it's time to assemble your trifle! Gently place the first layer of soaked sponge cake into the base of your trifle bowl.
Top the cake with a layer of Del Monte® Peach Slices. Then add a layer of pink soya custard and another layer of cake. Top this with a layer of Del Monte® Fruit Cocktail. Then add a layer of pink soya custard and another layer of cake.
Repeat this pattern as many times as your bowl allows, ensuring you finish with a final layer of sponge cake.
Using a piping bag, pipe the top layer with the vegan buttercream with extra dabs piped in a circle around the edge of the trifle.
Place your decorated cherries where you have piped your dabs and decorate with fresh berries and edible flowers or anything you like, arranged in a suitably celebratory design!