Wabi Sabi, created by Saudi entrepreneur Abeer Almutlaq, launched in 2019 in Riyadh, as the country's first vegan dining concept. The restaurant, which now also has a branch in Dubai's Al Quoz district overlooking the park, specialises in fresh, healthy, vegan produce.
The name Wabi Sabi, which means appreciating beauty in nature that is 'imperfect, impermanent, and incomplete' perhaps references the imperfection of fruits and vegetables that feature in their inspired dishes … but that seem quite perfect to us!
While Wabi Sabi aims to showcase food as the body's best medicine, it's also laid back with an unrestrictive vegan menu. Take a look at the below recipes Abeer has supplied and see for yourself.
Wabi Sabi Caesar Salad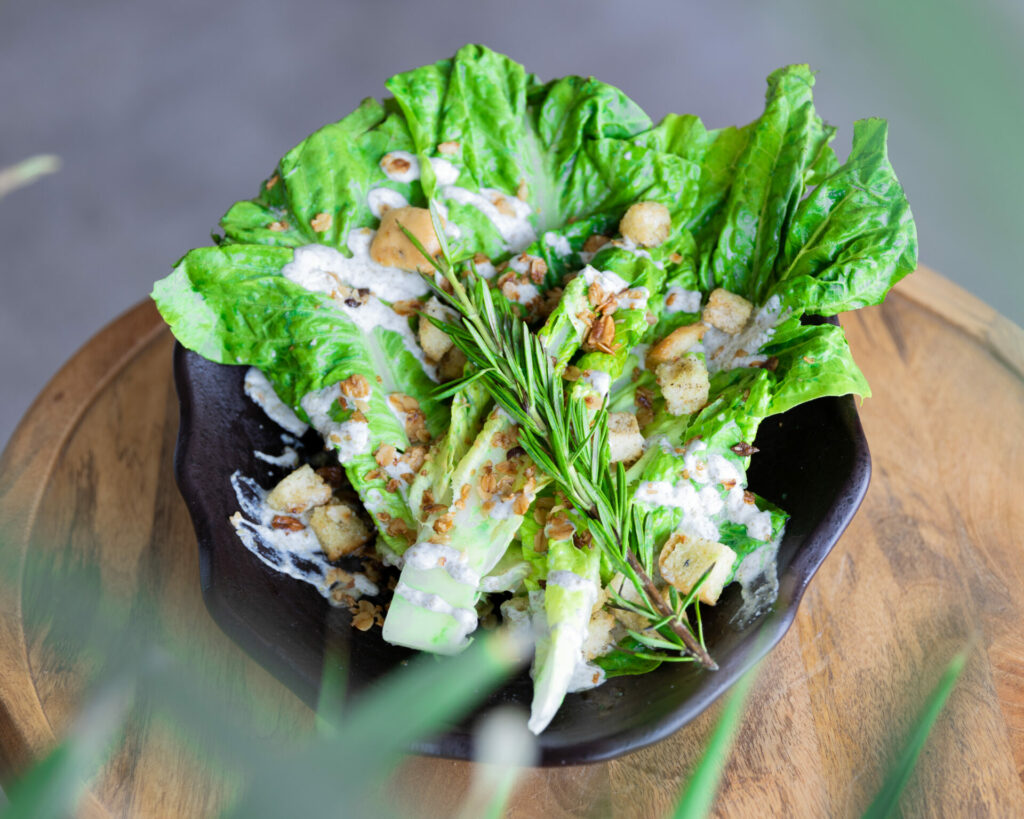 Serves 2 Cooking Time 25 mins
FOR THE OATMEAL CROUTONS:
2 cup rolled oats
4 tbsp sunflower seeds
4 tbsp almonds
4 tbsp diced pecans
4 tbsp maple syrup
3 pcs garlic cloves (sliced)
1/2 cup olive oil
1/2 tsp salt
Dash of black pepper

VEGAN CAESAR DRESSING
½ cup cashew nuts
2 tbsp lemon juice
4 tsp nori (dried seaweed)
2 tbsp olive oil
1 tsp salt
Sprinkle black pepper (ground)
10-12 Inner leaves of a Romaine Lettuce
2 tbsp Vegan Parmesan Cheese

Method: Pre-heat the oven to 150C while you prepare the salad ingredients.
Wash and soak the lettuce in an ice bath for 10 minutes and then remove and drain.
Make sure to completely dry the lettuce before using in the salad.
For the oatmeal croutons: mix all the ingredients into a bowl and mix until well
combined. Place on a baking sheet and roast for 10-12 minutes at 150C degrees. Take out
and let them cool at room temperature.
For the dressing: in a blender place all the dressing ingredients and blend until
incorporated. If it's too thick, add a little bit of water and adjust the seasoning as per your
taste.
Arrange all the lettuce, top it with the oatmeal croutons, dressing and finish with a
sprinkle of vegan parmesan cheese.
Tip: No vegan parmesan cheese? No problem! Mix crushed cashews with nutritional yeast to create your own in a few minutes.
Land and the Tramp Spaghetti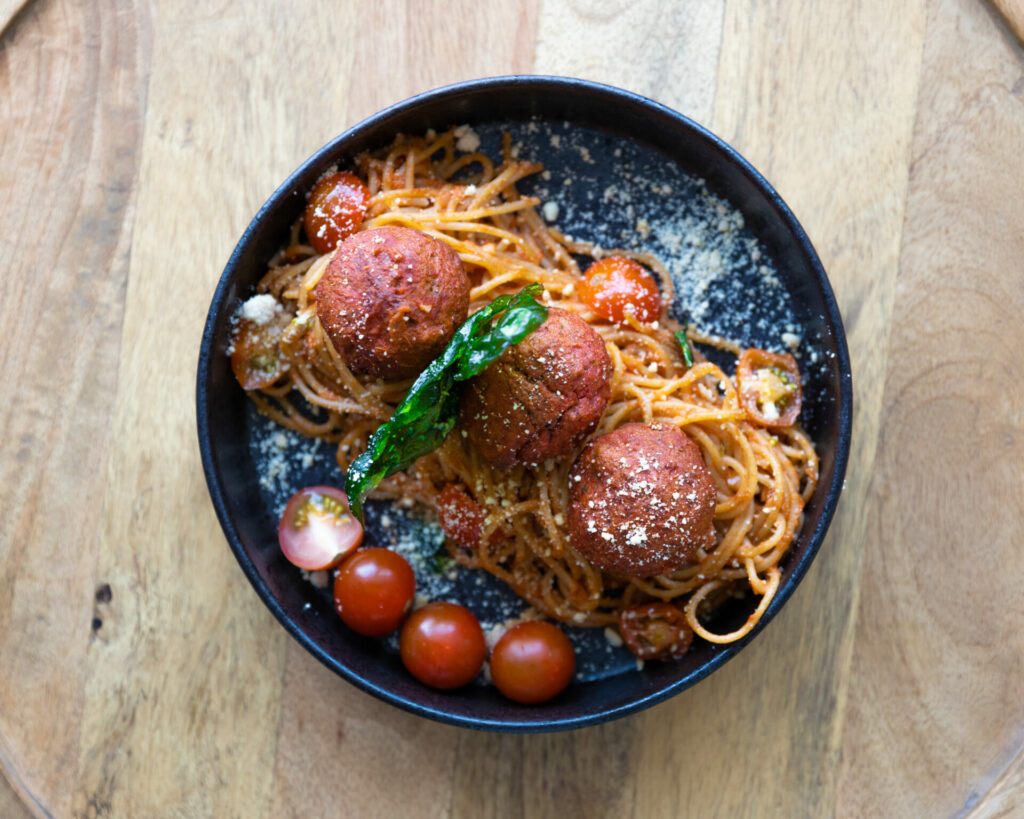 Serves 2 Cooking Time 30 mins
300g wholewheat spaghetti
50g olive oil
200g cherry tomatoes
10g garlic (blanched and minced)
20g shallots (minced)
30g fresh basil,
1/3 tsp salt
1/3 tsp black pepper
160g tinned tomatoes
30g vegan parmesan cheese
6 Vegan Meatballs (optional)
Method: In a pot with boiling water cook the pasta as per instruction on the packaging.
In a hot pan add the olive oil and sauté the shallots, garlic, and cherry tomato for at least 2
minutes. Add the tinned tomatoes and basil leaves to the pan and season with salt and pepper. Let it
simmer for 5 minutes. Add the pasta and vegan parmesan cheese to the pan and toss to combine all the flavours.
Transfer to the serving plate, adorn with fresh basil and a dash of vegan parmesan cheese
et voilà!
Optional: You can add vegan meatballs to the dish. Cook your choice of vegan
meatballs as per the instructions and toss them with the pasta just before serving.
Over Night Chia Pudding
Serves 2 Prep Time 5 mins
160g Black chia seeds
800g Soya milk (unsweetened) or other non-dairy alternative
60g Blueberry jam
100g Strawberries sliced
40g Blueberries halved
60 grams Peanut butter
To Garnish:
Edible Flowers
Chopped almonds
Method: In a bowl, mix the chia seeds and soya milk and keep in the fridge overnight. Tip: Add a
little milk on top for a creamier pudding. Before serving, add the pudding in serving bowl of your choice and decorate with the jam and peanut butter before garnishing with berries and flowers.
You can visit the Dubai restaurant at Al Qouz Pond Park. Find the details here.