The coolest soup can be served chilled or hot and these soup-er suppers, which are packed with fresh vegetables, are delicious either way.
Mop up the last bits in the bowel with herby focaccia instead of traditional garlic bread – a red hot combination on the balmiest of nights but these recipes will also see you through winter and are fabulous all year round.
Rustic Minestrone Soup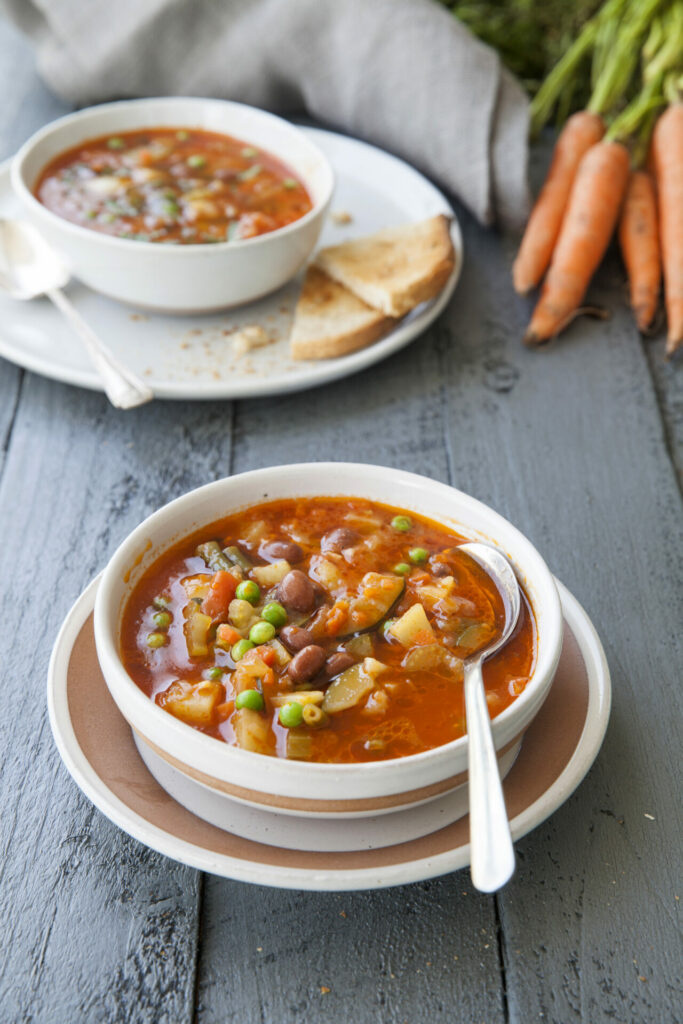 Serves 4 Prep Time 10 mins Cooking Time 45 mins
2 tbsp olive oil
1/4 white onion, finely chopped
1 garlic clove, finely chopped
1 carrot, washed and cubed
1 celery stick, chopped
100ml passata
1 ½ – 2 litres cold water or vegetable stock
100g garden peas
100g canned borlotti beans, drained and rinsed
1 courgette, chopped
1 medium potato, peeled and cut into cubes
50g French beans, trimmed and cut
80g Parmesan cheese, grated
Place the olive oil in a large saucepan over medium heat. Add the onion and garlic and saute until translucent. Next add the carrot and celery and stir until softened, making sure the vegetables don't stick to the bottom of the pan.
Pour in the passata, stir and then add the cold water or vegetable stock. Bring to the boil, cook for about 20 minutes and then turn down the heat to reduce. Add the remaining vegetables and leave to cook for 15 minutes.
Ladle the soup into bowls and serve hot with rustic bread and sprinkled with Parmesan cheese.
Watercress Gazpacho with Manchego Croutes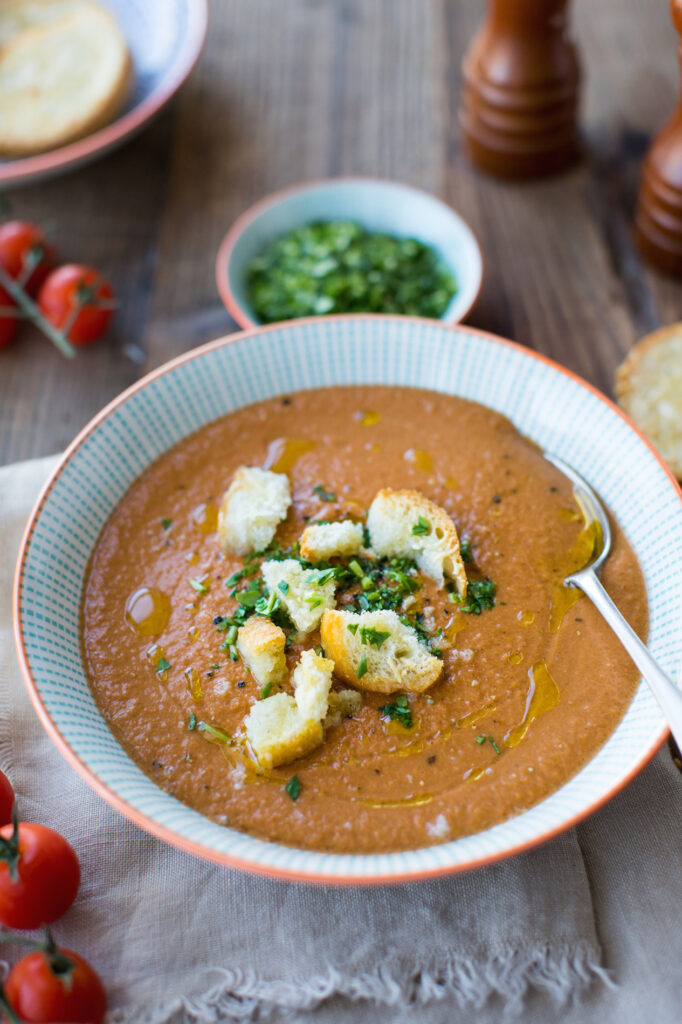 Serves: 4 time Prep Time: 45 mins plus marinating and chilling time Cooking time: 10 mins
For the gazpacho
1kg ripe plum tomatoes, cored and chopped
1 cucumber, peeled and chopped
1 red pepper, deseeded and chopped
1 green pepper, deseeded and chopped
2 cloves of garlic, crushed
2 spring onions, finely chopped
75g stale crusty bread, chopped
2-2.5 tsps sherry vinegar
50g watercress
2-3 tbsps extra virgin olive oil
For the croutes
50g Manchego cheese or parmesan, finely grated
1 small baguette, thinly sliced
Olive oil, for brushing
Place all gazpacho ingredients in a large bowl. Season with salt and pepper. Mix everything together, pressing down firmly to squeeze out the juices. Cover and leave to marinate in the fridge for at least 30 minutes or preferably overnight.
Put the mixture into a blender and blitz until smooth. Check the consistency, adding more olive oil if the soup is too thick. Taste and adjust seasoning if necessary. Cover and refrigerate again until thoroughly chilled.
Preheat the oven to 180®C. Make the croutes by thinly slicing the baguette. Brush the slices with olive oil and sprinkle grated Manchego or parmesan on top. Bake for 6-8 minutes or until crisp and golden brown.
To serve, ladle gazpacho into bowl. Sprinkle with chopped watercress, drizzle with olive oil and serve with the croutes on the side.
Classic Gazpacho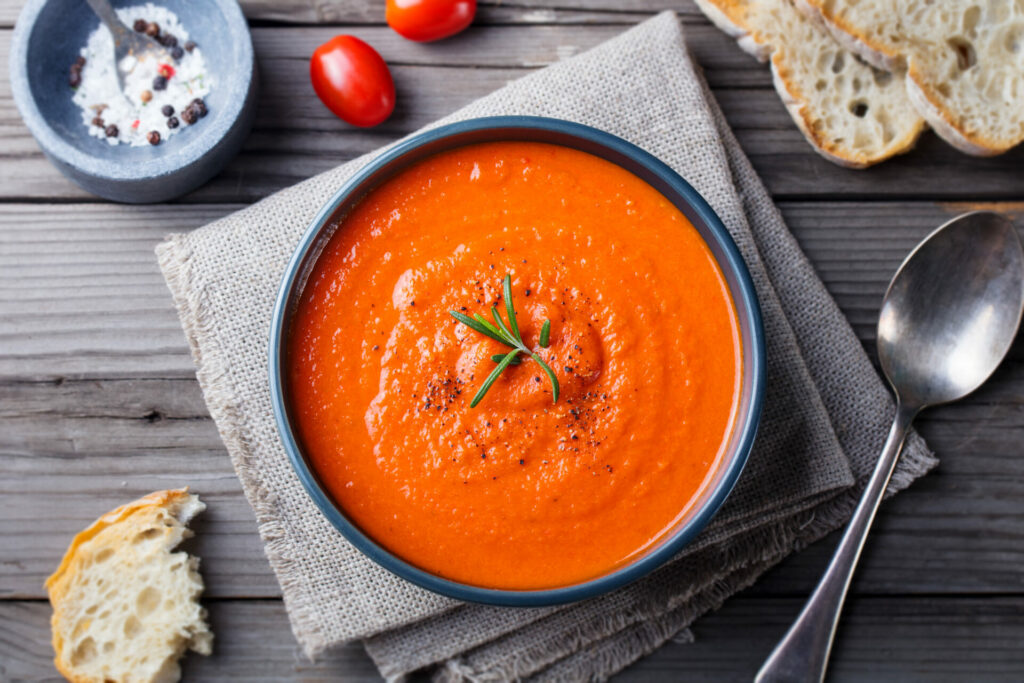 Serves: 4 Prep Time: 20 mins Cooking Time: 30 mins plus 2 hours chilling time
50g breadcrumbs
125ml (1/2 cup) water
1kg ripe tomatoes, roughly chopped
Cucumber, deseeded, diced
1 large red pepper, deseeded, roughly chopped
2 garlic cloves
125ml extra virgin olive oil
2 tbsp. balsamic vinegar
1/2 teaspoon salt, or to taste
1/2 teaspoon sugar, or to taste
1 ripe tomato, deseeded, diced, to serve
Extra virgin olive oil, extra, to serve
1 tbsp. sumac
2-3 tbsp. home-made pesto to serve if desired (optional)
Place the breadcrumbs in a small bowl and pour the water over. Set aside for 5 minutes to soak. Drain the water and reserve the breadcrumbs.
Add the tomatoes, cucumber, pepper and garlic to the bread and process until well combined and almost smooth. Add the oil and vinegar, and process until well combined. Taste and add salt and sugar to season.
Pass the soup through a sieve into a bowl and use a wooden spoon to press firmly to extract all the liquid. Discard the pulp. Cover and place in the fridge for 2 hours or until well chilled.
Ladle the soup into small bowls, top with the extra diced tomato and drizzle with a little of the extra oil. Sprinkle with sumac. Drizzle with the pesto. Serve immediately.
Herb Focaccia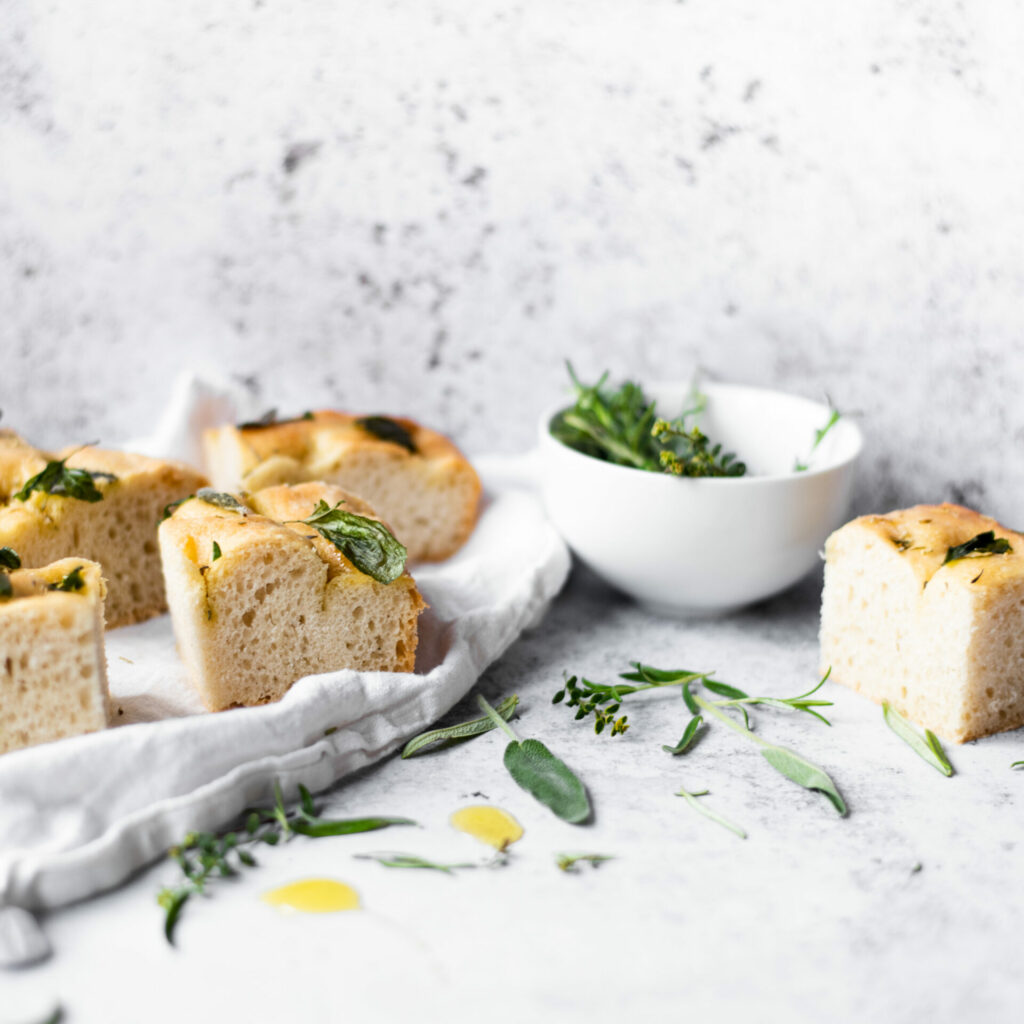 Prep Time: 2h30m Cooking Time: 35 mins
For the Dough
500g Allinson's Strong White Bread Flour
7g Allinson's Easy Bake Yeast Sachet
1 tsp unrefined Golden Caster sugar
2 tsp salt
300ml warm water
50ml olive oil
For the Topping
12 sage leaves
5 Thyme or oregano sprigs
5 Rosemary sprigs
1 tsp sea salt
For drizzling: olive oil
Mix the flour, yeast, sugar and salt in a big bowl. Mix the water and oil together, then stir in with a cutlery knife. Tip onto a lightly flour dusted surface and knead for 10 minutes (or use the dough hook attachment on your mixer).

Lightly grease the mixing bowl with some oil. Put the dough back in, cover the bowl with a clean tea towel and leave to rise until doubled in size.

Push the dough into an oiled, roughly 22cm x 32cm baking tin. Cover the dough again with a clean tea towel and leave to prove until doubled in size again. Preheat your oven to 200°C (fan 180°C, gas mark 6)
Scatter the dough with the herbs and sea salt, pulling the thyme and rosemary into smaller sprigs. Press your fingers all over the dough to make dimples. Drizzle with a little more olive oil and bake for 30-35 minutes until golden.