While rattling up the rocky country road on the back of a local Thai truck, I desperately hoped the location to which we were headed would be as charmingly authentic as the journey itself. We had been on the road just over an hour since setting off from Chiang Mai, and had already reached deep into the tropical Thai wilderness of Doi Inthanon National Park. No cars, vans or even rickshaws had passed us in miles, just the occasional wandering buffalo and farmer on foot. The last of the village huts were scattered in the distance and, just as we thought we truly were where no man ventures, Chai Lai Orchid Sanctuary appeared, unassuming but beautiful, nestled into the trees of this northern Thai forest.
What we hadn't anticipated was to see resident host Seavoy, a 72-year-old rescue elephant roaming the reception area. Upon our arrival, she glanced at the latest newcomers to her camp, approached calmly, touched my arm with her trunk and plodded heavily, but gracefully, on by. It was a welcome like no other, where time stood still, and I knew from that very first moment that Chai Lai Orchid would be etched into my memory forever.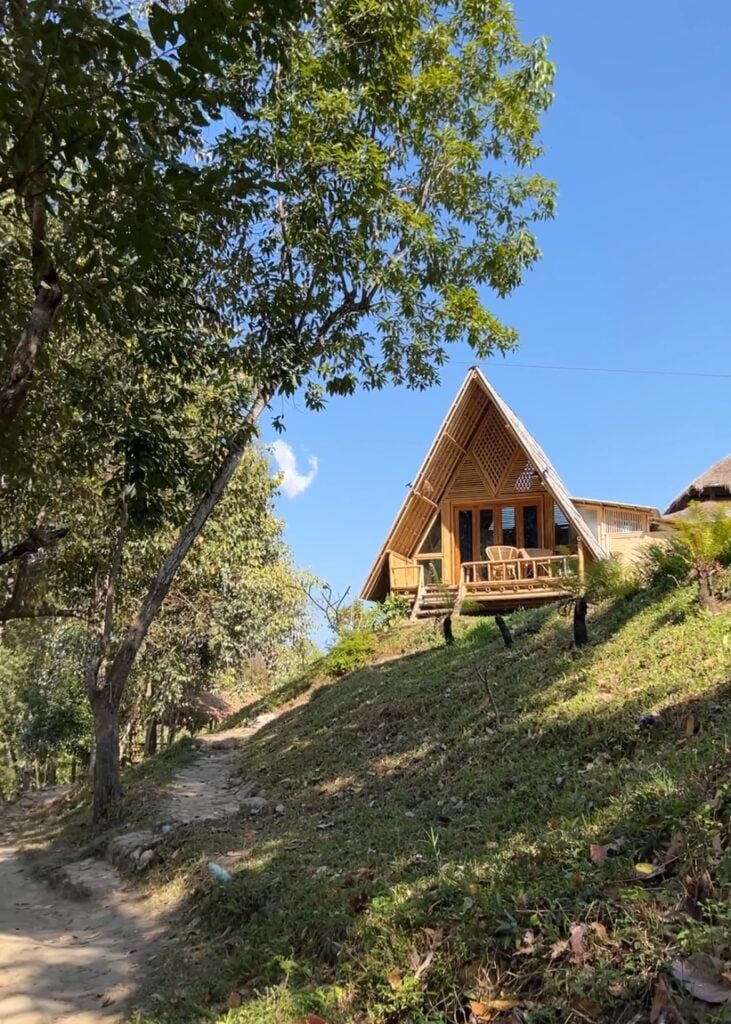 It's difficult to prepare yourself for such interactions with these incredible animals even if it has been a bucket list wish for decades. Weighing in at approximately 3000kg and towering an average 2.4 metres high, the largest land mammals on earth can be overwhelming when standing within arm's length. The brain naturally screams "run", but somehow their aura and almost ethereal presence makes the heart whisper "stay". Their eyes fixate you, full of wisdom and so you remain rooted to the spot. As Chai Lai Orchid's inspiring founder, Alexa Pham, told us: 'You don't expect something so enormous, to be so cute.' Despite their size these elephants most certainly are cute and as we will learn, also mischievous.
Just one hour away from the city of Chiang Mai, in the foothills of the Himalayas, homeland of the Pga k'nyau (also known as 'Karen') indigenous people, Chai Lai Orchid Eco Lodge and Sanctuary is a home for approximately 15 rescued elephants ran by a passionate community-based team.
Although it has been running for nine years, its most recent accolade from the Village Monde Label – a non-governmental organisation that promotes a network for sustainable tourism in unexplored destinations – officially makes Chai Lai Orchid an internationally recognised eco-hotel.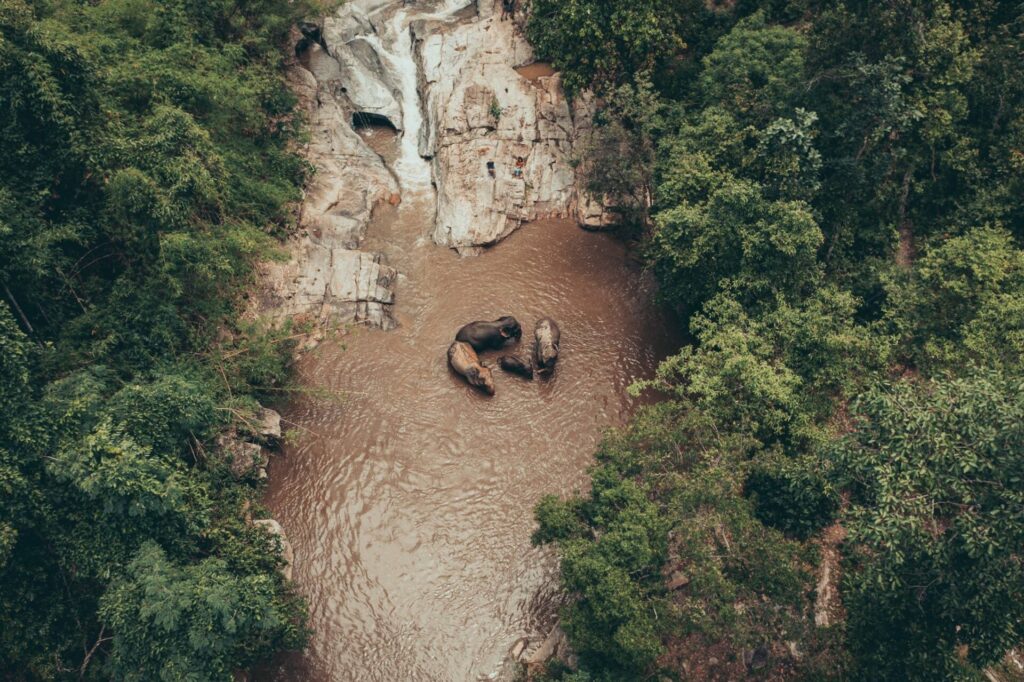 The three-acre forest grounds of Chai Lai Orchid are made up of 20 glamping-style bungalows dotted around the mountain and waterside locations along on the Mae Wang river, around which elephants roam freely with their Mahout – a local 'Karen' hill tribe handler, who lives around the clock with their elephant – even passing right by balconies to say hello or steal some treats.
A quick scout around the thatched bamboo hut showcases luxury I wasn't expecting: a comfortable, four-poster bamboo bed, an open-air ensuite bathroom equipped with hand-woven fabrics and a large open terrace with breath-taking valley views. As I settle down to admire the surroundings, it quickly turns from quiet mountain-scape to private safari as three elephants meander into camp a stone's throw away from my terrace.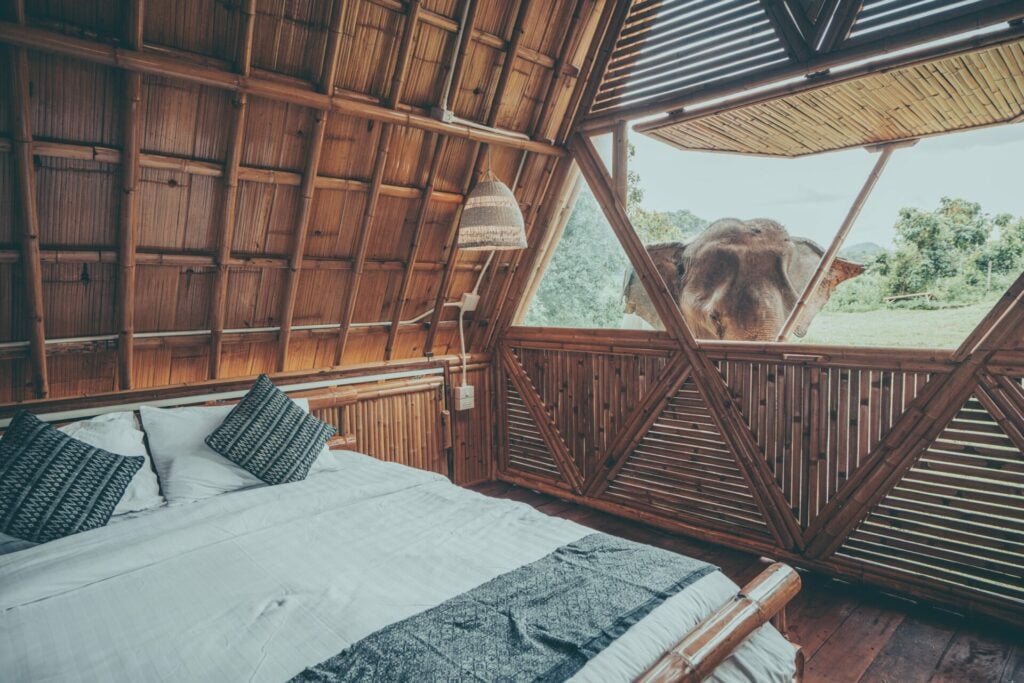 All happily walking alongside their dedicated Mahout, with a noticeable absence of leads or training sticks, a surreal conversation between man and mammal was taking place. A direction uttered in their native language was executed, or ignored by the mischievous herd. He wanted her to go one way, she wanted to go the other. Like parent and child, a plea was made, and rejected, then the banana-shaped bribe came out and the request was accepted.
The Tourism Toll
Asian elephants, found in isolated pockets of South and Southeast Asia, are endangered according to the International Union for the Conservation of Nature. There are a little over 3,000 wild elephants in Thailand and as many as 3,800 in captivity – more than anywhere else in the world.
Since their foundation, the team at Chai Lai Orchid have rescued 15 Thai Asian elephants from the surrounding villages and towns of northern Thailand. The elephants were freed from years of tourist-related activities including giving them rides, swimming with tourists, street begging, and other abusive practises.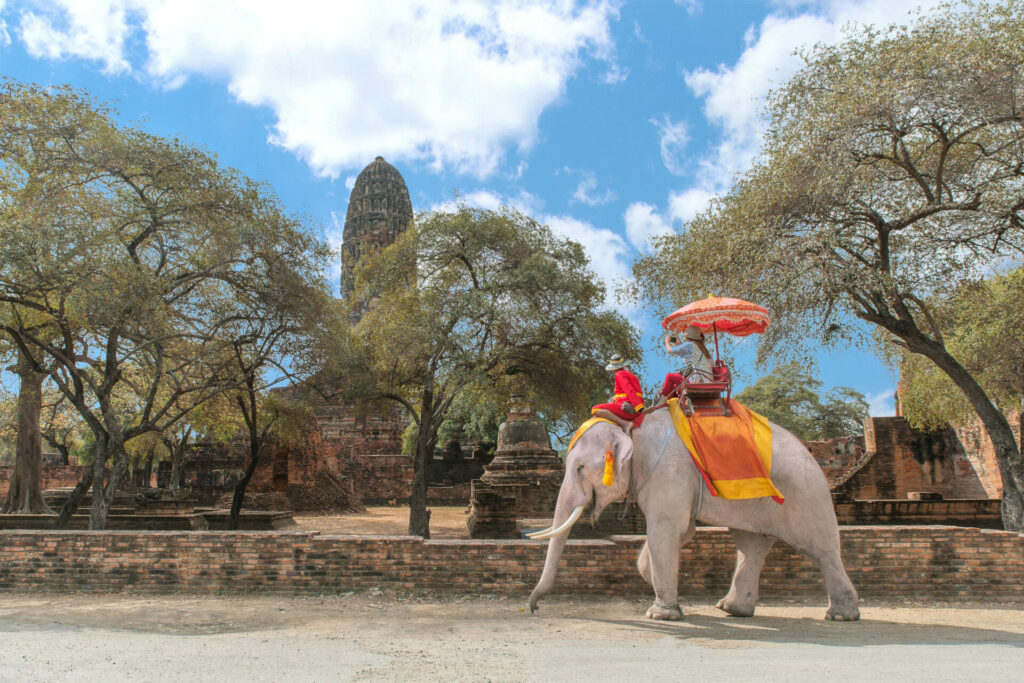 Before the pandemic, the elephant tourism industry generated between $581 million to $770 million each year, according to a 2020 report by World Animal Protection, a UK-based animal welfare charity. While countries such as Sri Lanka and India have come under criticism for poor animal welfare practices, experts say the situation is particularly poor in Thailand which is home to nearly three-quarters of Asia's tourist elephants. One study from 2015 showed that 86 per cent of the country's captive elephants live in inadequate conditions. The Pandemic and its effects on the tourist industry only exacerbated an already dire situation.
Chai Lai Orchid has a unique way of helping these gentle giants. Instead of purchasing abused elephants from their owners for the usual sums exceeding $60,000 – which allows the abuser to purchase a new elephant often trafficked from the wild – they have broken the buy/sell cycle by renting the elephants, allowing the owner to continue earning a living while the elephant lives happily at the sanctuary.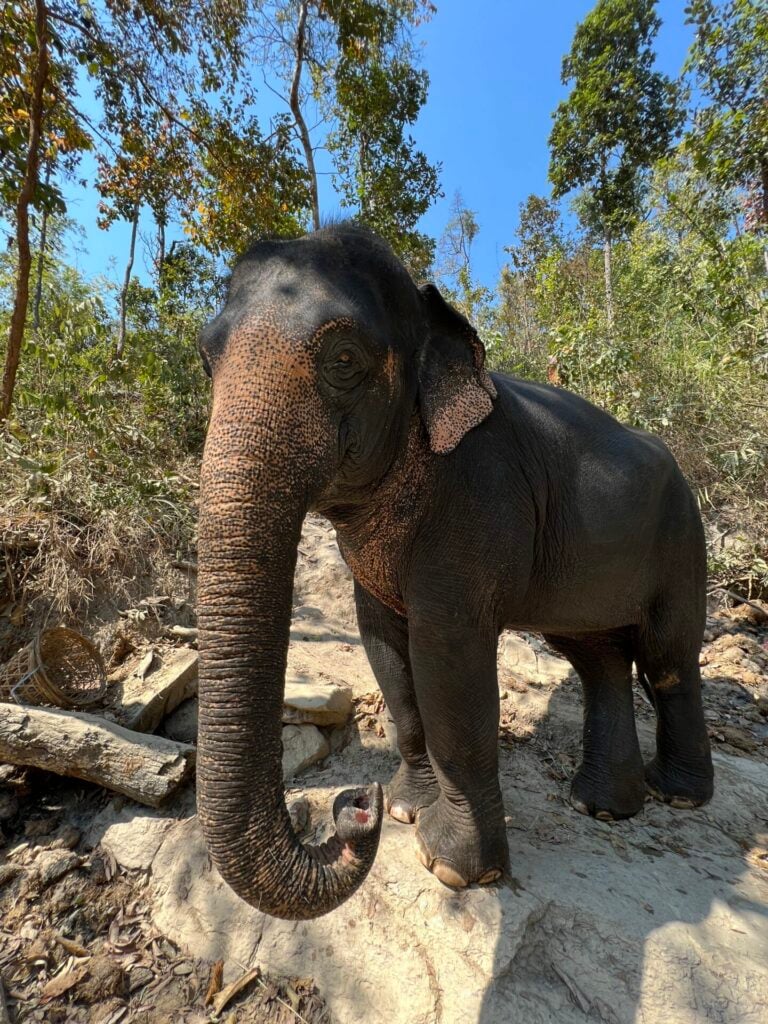 Are the elephants wild in their natural territory at Chai lai orchid? The answer is no. However, unlike Africa, there is little wild habitat left in Thailand for Asian elephants. Over the course of the last century – particularly in the 1970s and 80s – humans have deforested huge swathes of the country's jungles reducing forest cover from 70 per cent in 1950 to just 25 per cent today. 
Home once to over 300,000 elephants, forests have been systematically chopped up and flattened into development projects for villages, cities and road with chunks sold off for industrial agriculture including to grow casssava intended for export to Europe as a feed for cattle, pigs and poultry.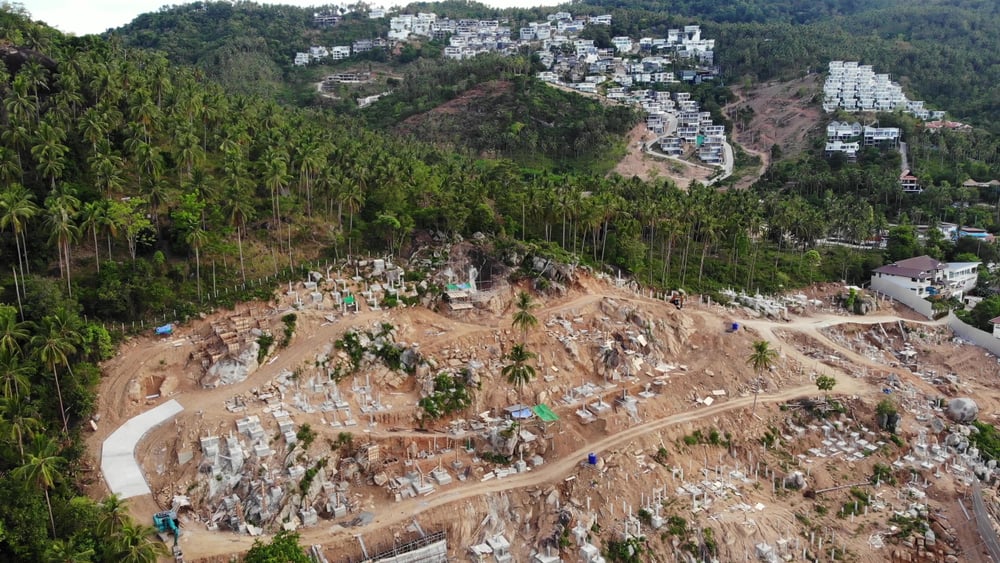 The majority of elephants in Chiang Mai have livestock classification, similar to cattle, buffalo and oxen, so it is, in fact, illegal for them to be free in the jungle. If the elephants were left to roam unattended, they would be susceptible to poachers or could be hit by vehicles, electrocuted by fences, injured or even killed in human animal conflict due to the potential to destroy neighbouring farmland.
For most Thai elephants, well-managed ethical tourism is the only way for them to be safe, fed, cared for and in the worst case, avoid extinction. Sanctuaries are also needed so that elephant education can survive. It is hoped that with the correct knowledge and training, people can learn about, and help keep this beautiful species alive and protected.
Ethical Elephant Tourism
At Chai Lai the youngest elephants in camp were all conceived and born on-site (there is currently, another baby elephant on the way) where they can roam the land, play and bathe in a clean river, sleep in a thriving bamboo forest and have a devoted Mahout love and care for them. It is clear that the elephants at this sanctuary, with tails forever swishing like an excited pup, are happy.
Given that one elephant alone requires around 160kg of food every day, and the sanctuary also financially supports the local community through employment, income has had to be generated via stays and ethical tourism to keep the system running.
But it is not just elephants – many of the local people have also found safe refuge in the sanctuary that ensures all its profits go directly back into the community.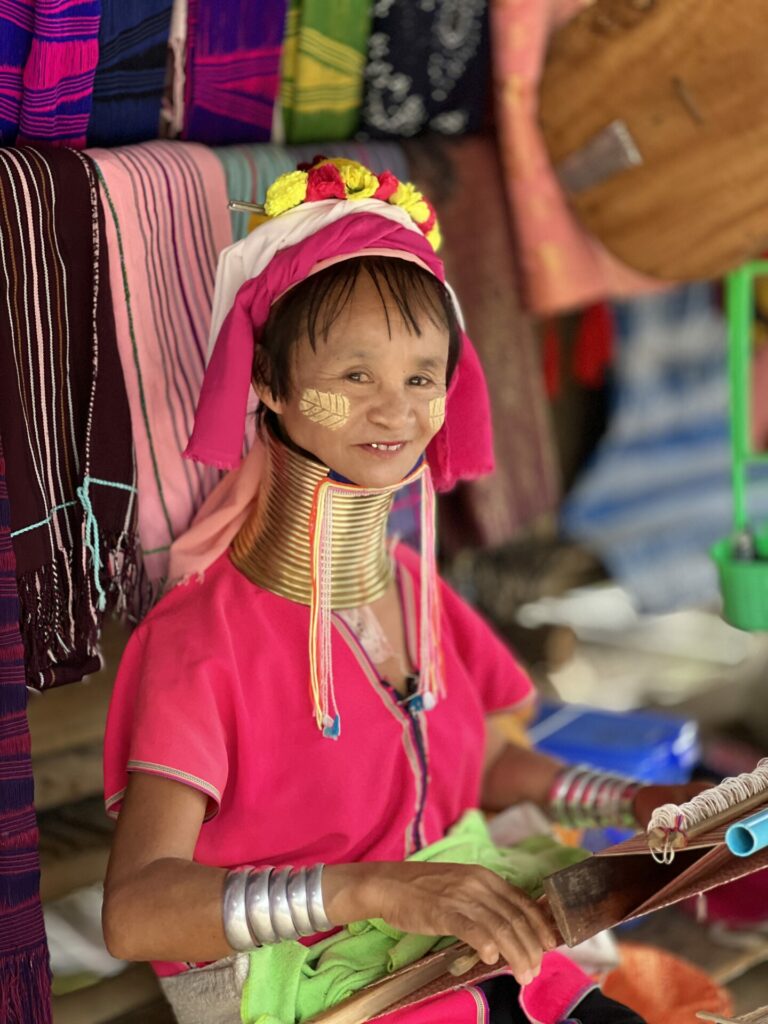 With a leadership team that is 90 per cent female, they provide paid work, free learning opportunities, shelter and food for local ethnic minority women from the Karen tribe communities and refugees fleeing civil unrest in neighbouring Myanmar. Many women who leave to live as internally displaced people in the border forests are vulnerable to trafficking and it is for this reason that Chai Lai Orchid founder Alexa also founded anti-trafficking organisation, Daughter's Rising. While we were staying at the lodge, a city lawyer hosted a gender equality presentation outlining the laws and rights to local women, something that is close to Chai Lai Orchid's heart.
Activities offered to residents include visits to local tribes and the opportunity to buy their handicrafts. One such trip is a visit to the Long Neck Kayan Village, another hill tribe native to the region, where women weavers wear traditional long brass cuffs around their necks. Happy to talk about their culture, they explain that this is to prevent the precious metal from being stolen and that they can only remove them every three years to then be put back on.
It seems that Chai Lai Orchid is much more than just an elephant sanctuary – it is a family working together on a multifaceted ethical mission, to preserve the beauty of their native home and people.
Activities
Should you want to have a holiday of a lifetime getting up close and personal with elephants, Chai Lai Orchid has created a menu of ethical experiences alongside local guides and Mahouts that allow you to do exactly that. If you would love to learn more about the local cultural heritage and sustainable way of life, there are activities, too. If you would rather just relax and swim in the natural waterfalls and indulge in a Thai massage, Chai Lai Orchid has it all. Depending on how long you choose to stay, we have rounded up our top 5 favourite activities to do at this heart-warming location.
The One Day Private Elephant Jungle Expedition
For stay-in guests, or daytime trippers only, this full day adventure is not to be missed. Starting at 9am, you will be allocated a professional English-speaking local guide who will take you on a short trail through the surrounding jungle teaching you about native forest plants and their medicinal and edible qualities. Upon reaching a breathtaking waterfall, you pitch up for a picnic cooked over an open fire and eat from crockery that has been extraordinarily whittled for you by your guide from bamboo canes passed on the trek.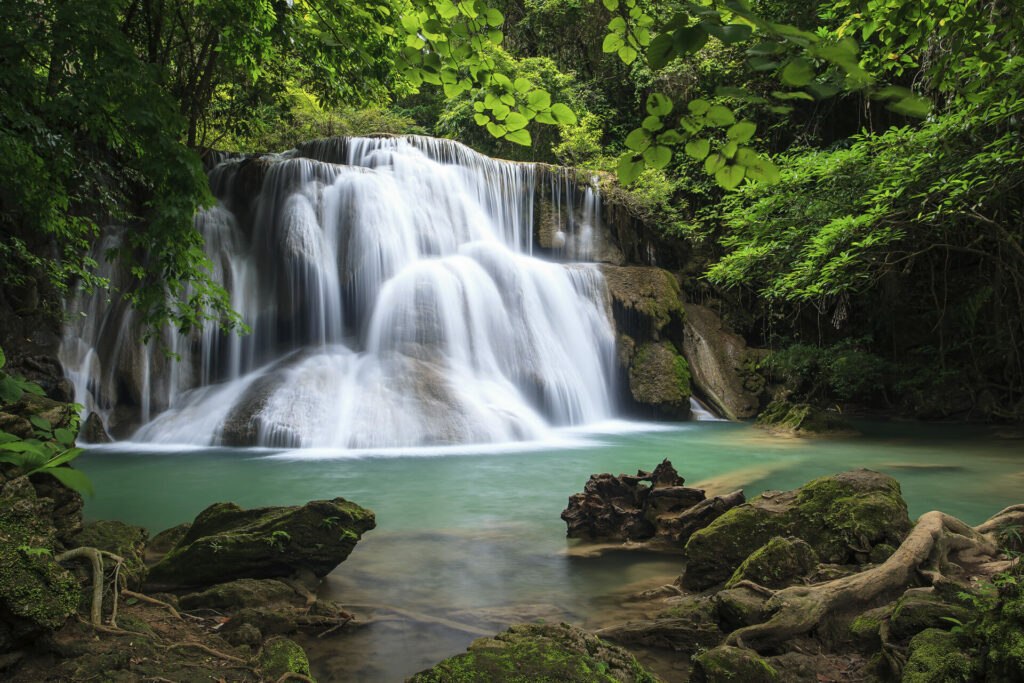 After your spectacular Thai lunch (vegetarian options too) you will be treated to "bath time" with one or two of the elephants, who casually stroll to the river voluntarily every afternoon for a routine dip. Once they have had enough, you can follow them back through the forest ending back at the nursery for some afternoon sugar cane treat.
For a wonderful end to a picturesque day, you can complete the afternoon with traditional bamboo rafting down the Mae Wang River and a wander through the Karen Hill Tribe Village, where you can talk to the local people and learn about their indigenous way of life.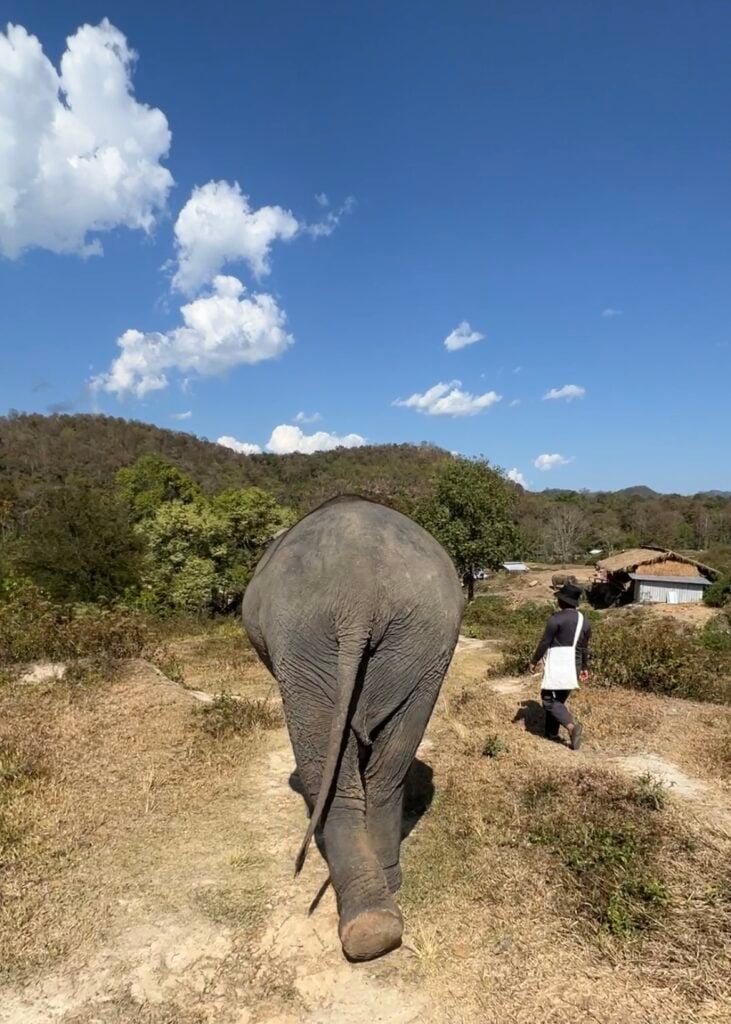 Not only does this private full-day activity include a substantial lunch and refreshments, but it also includes transfer to and from Chiang Mai for non residents. Our top tip: If you plan to stay at Chai Lai Orchid, book this adventure on Day 1 so your transfer to the property is included.
360 AED per person, for a full day private trip
The Two-Day Jungle Wisdom Trek
For nature enthusiasts who have opted for a longer stay, there is a specially curated two-day Jungle Wisdom Trek that will see you hike through unspoilt jungle, passing multiple waterfalls, and seeing abundant rice fields and farms along the way. The lunch stop is positioned next to a swimmable waterfall, where you can cool off and enjoy an alfresco lunch over an open fire. You will learn how to cook with, and inside, bamboo canes and try some delicious local recipes.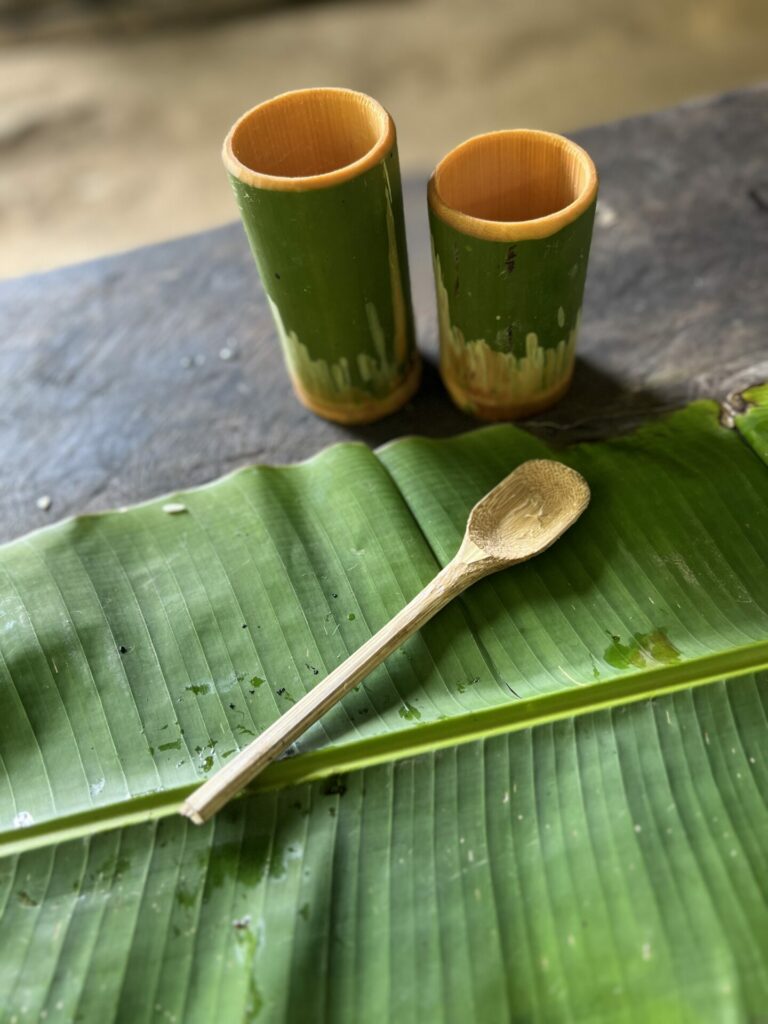 As with the one-day 'Elephant Expedition', you will learn to forage for medicinal herbs, you may even spot some coffee plants, and get to make the freshest cup of coffee from preparing, grinding, and roasting the beans in situ. Your first day will complete with an authentic stay in a comfortable, bamboo Karen homestay with local hospitality like no other. There's no mobile data so the night will involve playing cards, talking and laughing over a night-time bonfire. Here you will also get a little Karen cookery lesson and you will taste the best green curry you'll have in Thailand.
After a peaceful night's sleep, you wake to the roosters and your final jungle trek back to where the elephants are resting in time for feeding. You'll probably be sporting a sunhat made from leaves by your guide by now and can indulge in some one-on-one time with the herd. To complete the last afternoon, you will get to have a swim in the nearby waterfall with the elephants, help the Mahout's wash and bathe them, and finally sit down to a stunning late lunch back at Chai Lai Orchid's open-air café. All your meals, refreshments, stay, essentials, your personal guide, elephant food and your transfer back to the city is included for this private two-day adventure.
475 AED per person, for a two-day private trip
Elephant Room Service and Breakfast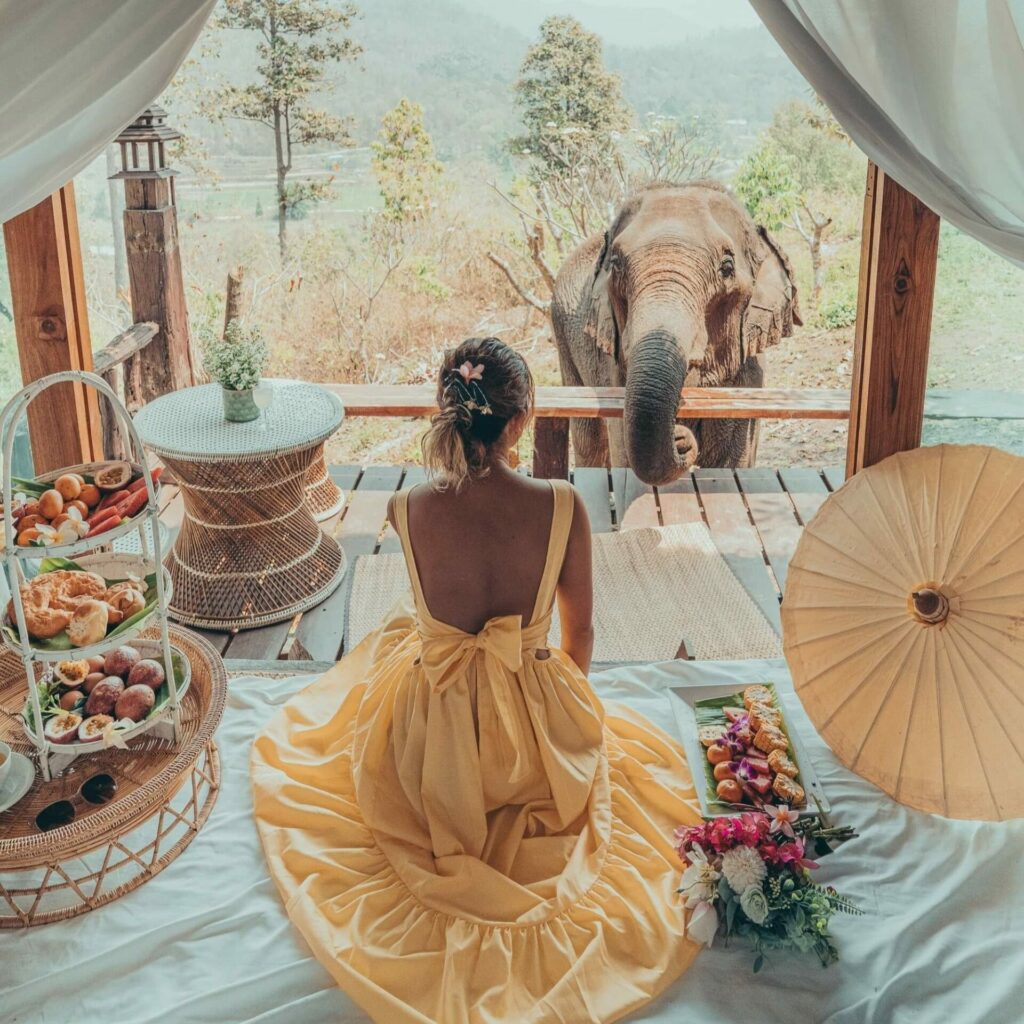 For those that want to meet the resident elephants but don't want to take part in any hikes, the 'Elephant Room Service and Breakfast' is the best option. A delicious 3- tiered tray breakfast service will be delivered to your terrace with a special visit from an elephant and their Mahout. You will be given a breakfast basket for your elephant and the lovely Mahout will gladly take some candid snaps for you. We would highly recommend though, adding on from the 'A La Carte Activity Menu' a photography session here, so that the incredible professional photographer on site can capture your time with your elephant. Note that once the sugar cane treats are over, your elephant will gladly take herself off in search of the next basket…
126 AED Elephant Room Service and breakfast
347 AED (starting price) for Photography session
Street Food Eats Half Day Tour
For the foodies, Chai Lai Orchid offers a 2-3 hour street food tour of the hidden gems of Northern Thailand where you can eat like a local. You will be taken by your guide to the local Bankad Farmers Market and will enjoy 6 different delicious tastings of dishes from mango sticky rice to rustic Khao Soi. We recommend extending your trip with an additional drive to a Long Neck Kayan Village to meet the local ladies there weaving traditionally on looms and carrying the traditional brass cuffs around their neck. They'll willingly tell you their story and of their heritage, and you'll most likely want to purchase a handmade souvenir or two. An enriching cultural exploration that will leave you in a contented food coma.
From 100 AED per person, for half day trip
Thai Massage
Lastly, if rest and relaxation are on the menu for your vacation, you can zen out in the privacy of your own bungalow with views of the valleys and complete your sanctuary experience with an in-room 'Hot Oil Massage' from the traditional local masseuse. The massage will last an hour, but the relaxation will last longer. At this bargain price, you may as well book one every day!
84 AED for one hour Hot Oil Massage
Chai Lai Orchid truly offers the best experiential tours at affordable prices while hand in hand giving back to a community in need. You would be hard pushed to not have a holiday of a lifetime in this pocket of paradise, and in the process, may even tick off a bucket list wish or three.
For availability, booking and more information contact Chai Lai Orchid
One night stay at Chai Lai Orchid: From 300AED incl. breakfast
Follow @watchourworld for more eco travel inspiration.
For more slow travel articles visit our TRAVEL section