An estimated 300 million people are set to tune in to watch Britain's new green king Charles III's coronation on Saturday May 6, 2023 making it one of the biggest global celebrations in years – and a reason to party. 
But how do you celebrate if you don't have a ringside seat at Westminster Abbey in London? UK residents have been given an extra day's holiday to create a long weekend in which to hold street parties with friends, neighbours and family with many hosting gatherings at home, too, all of which involves food.
Barbecues will be lit, picnic menus fixed in advance and bunting put out while here at The Ethicalist we're happy to bring you the ultimate coronation recipes for a royal feast from the very Queen of baking herself, TV presenter, chef and global culinary icon Mary Berry, who was made a Dame by the then Prince Charles at Windsor Castle in 2021.
The British National Treasure said she was 'absolutely overwhelmed' to receive the honour from the eco-forward thinking royal at the time. Buckingham Palace has even shared one of Mary's quiche coronation recipes as its official dish for the event – and she has created a veggie picnic version of the coronation recipe here. Enjoy!
Balsamic Glaze Mushroom Galette Decorated with a Crown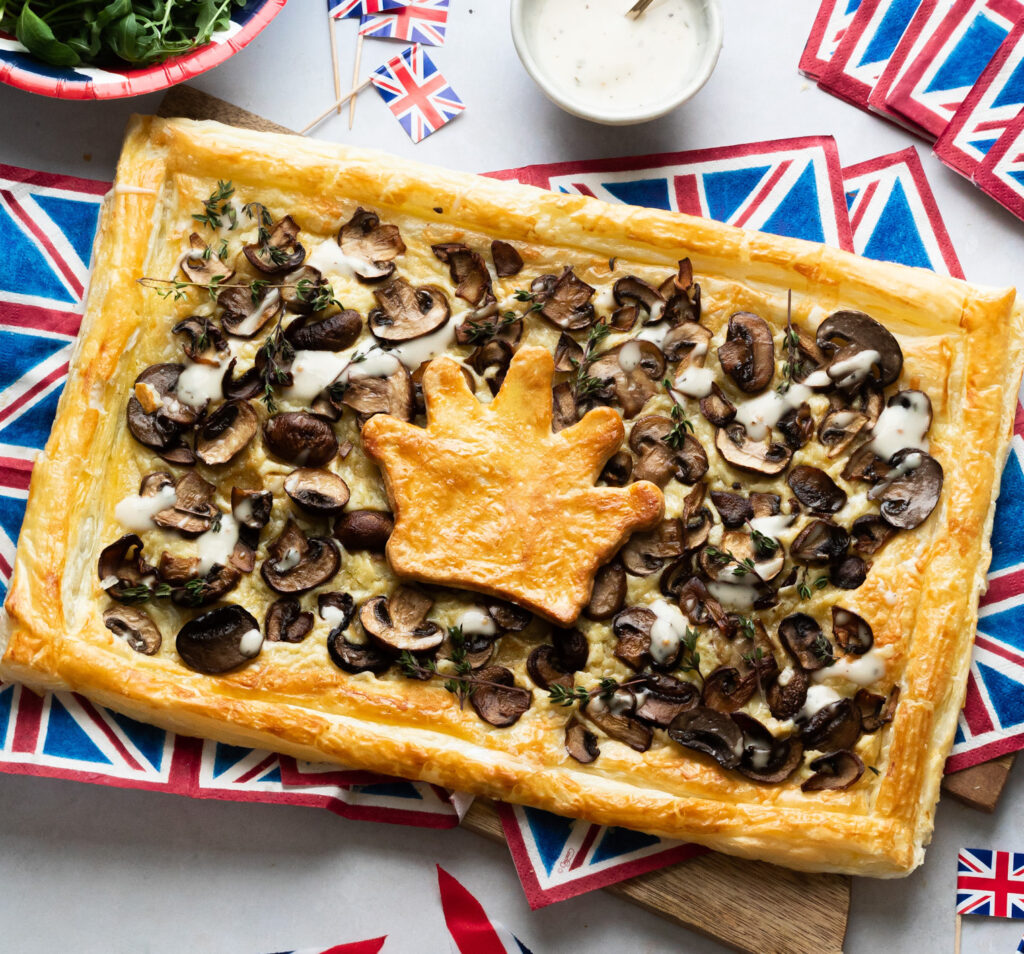 Prep time: 10 mins Cooking time: 25 mins Makes: 6-8 servings
This is the ultimate coronation recipe which comes complete with a pastry crown for a truly royal celebration – serve hot or cold, it's delicious either way!
1 tablespoon butter
250g mushrooms cleaned and roughly sliced
1 clove garlic minced
1 teaspoon thyme leaves
1 tbsp Mary Berry's Light Salad Dressing, plus extra for serving
Salt and pepper to taste
1 teaspoon balsamic glaze
2 sheets ready to roll puff pastry
150g grated Gruyere cheese
3 tablespoons milk
Sprig Fresh thyme
Preheat oven to 180°C. Heat the butter in a frying pan and add the mushrooms, garlic, and thyme. Cook for a few minutes until the mushrooms are soft and darkened.
Stir in the Mary Berry's Light Salad Dressing and season with salt and pepper, gently mix. Sizzle with some balsamic glaze over and set aside.
Unroll the pastry and score a 1⁄2 inch border around the sheet. Pile the grated cheese followed by the mushrooms into the centre. Cut out a crown shape from the second puff pastry roll. Carefully place the puff pastry crown on the top of the tart.
Brush the edges and the crown with the milk and sprinkle with some fresh thyme. Bake for 20 minutes until the pastry is golden.
Serve warm with a side salad.
Union Jack Style Salad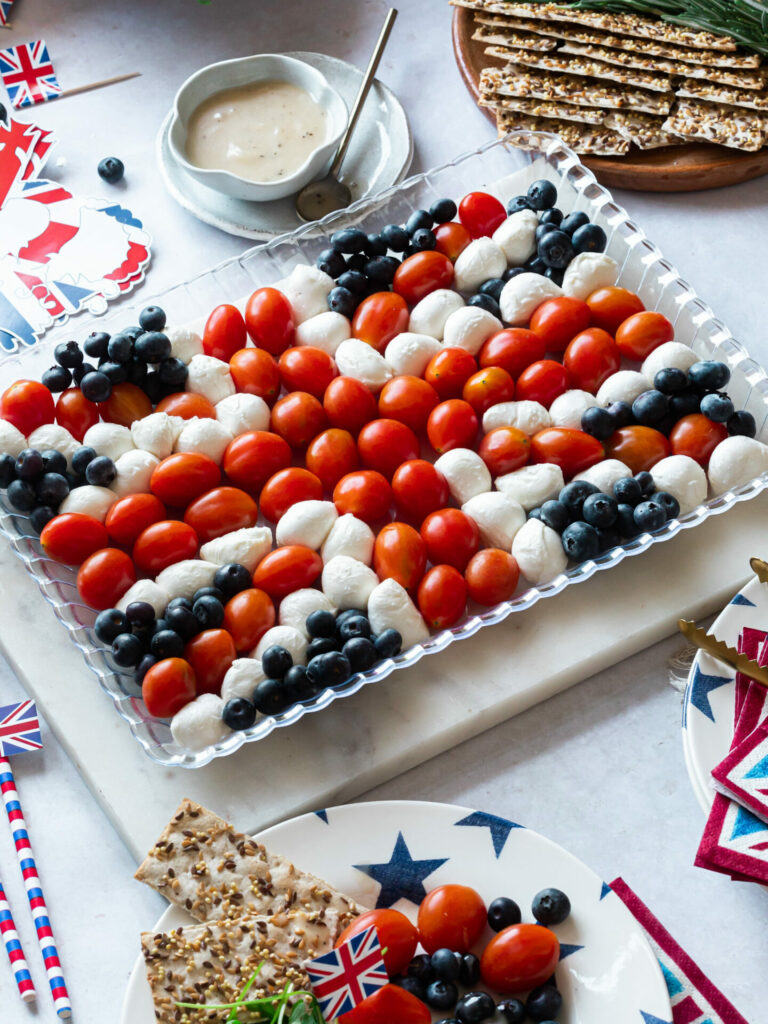 Prep time: 5 mins Assembly time: 15 mins Makes: 6-8 servings
Visually stunning, this is a no cook coronation recipe – now what could be better than that?
500g mozzarella pearls
660g cherry tomatoes
300g fresh blueberries
To serve:
Green salad
Crispy bread or breadsticks
Mary Berry's Classic Salad Dressing
On a large rectangular tray assemble mozzarella, tomatoes and blueberries in the shape of the Union Jack.
Serve with some green salad, bread sticks, and a drizzle of Mary Berry's Classic Salad Dressing.
Picnic Quiches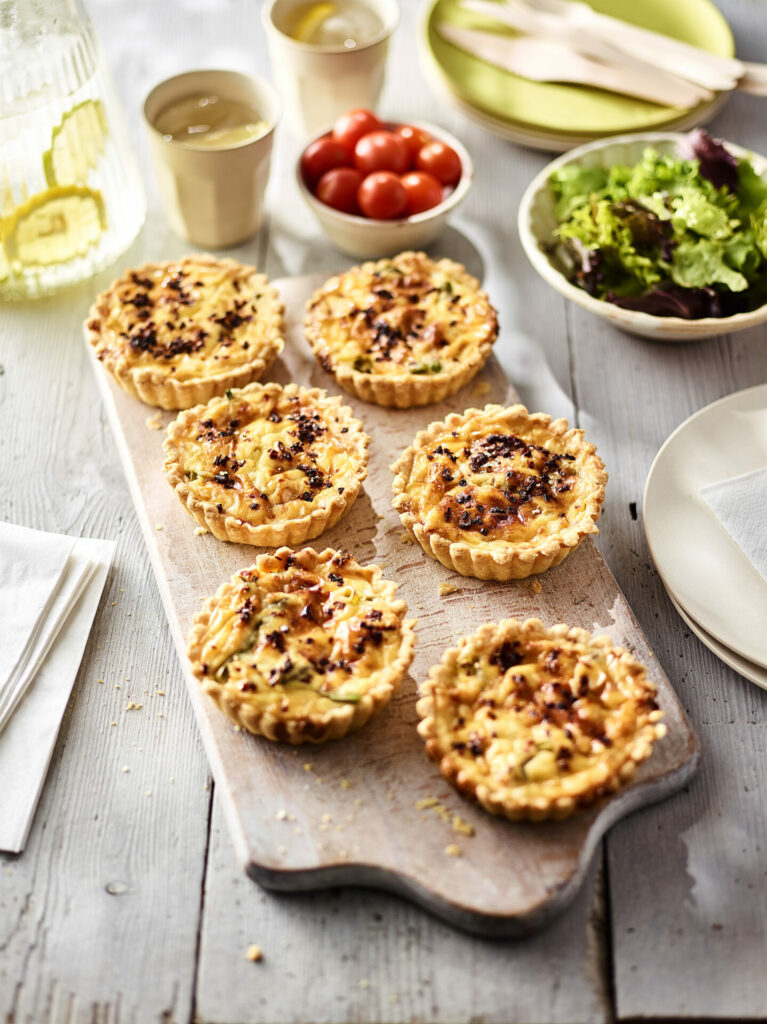 Prep time: 25 minutes plus chilling | Cooking time: 25 minutes | Makes: 6
This is a mini veggie version of Mary Berry's Quiche Lorraine which Buckingham Palace tweeted as its official Coronation dish!
For the Pastry:
175g plain flour
100g butter, diced
1 medium egg yolk
2-3 tbsp water
For the Filling:
100g asparagus tips, cut into thirds
150ml double cream
2 medium eggs plus 1 medium egg yolk
100ml Mary Berry's Blue Cheese Dressing
4 spring onions, sliced
50g Gruyere cheese, grated
1 tsp red bell pepper flakes
Preheat the oven to 200oC, gas mark 6. For the pastry, place the flour and butter in a food processor and blitz until it resembles breadcrumbs. Add the egg yolk and 2-3 tbsp water and pulse to form a soft dough. Knead lightly, wrap in clingfilm and chill for 20-30 minutes.
Divide the pastry into 6 and use to line 6 x 10cm deep fluted tins. Line with foil and baking beans and bake for 10 minutes, remove the foil and beans and cook for a further 5 minutes.
Meanwhile, blanch the asparagus in boiling water for 2 minutes, drain and cool. Whisk together the cream, eggs, egg yolk and blue cheese dressing in a large jug, season. Place the asparagus and spring onions in the pastry cases followed by the cheese. Pour over the sauce, sprinkle with pepper flakes and bake for 25 minutes until golden. Allow to cool slightly before removing from the tins.
Tasty Union Jack Tart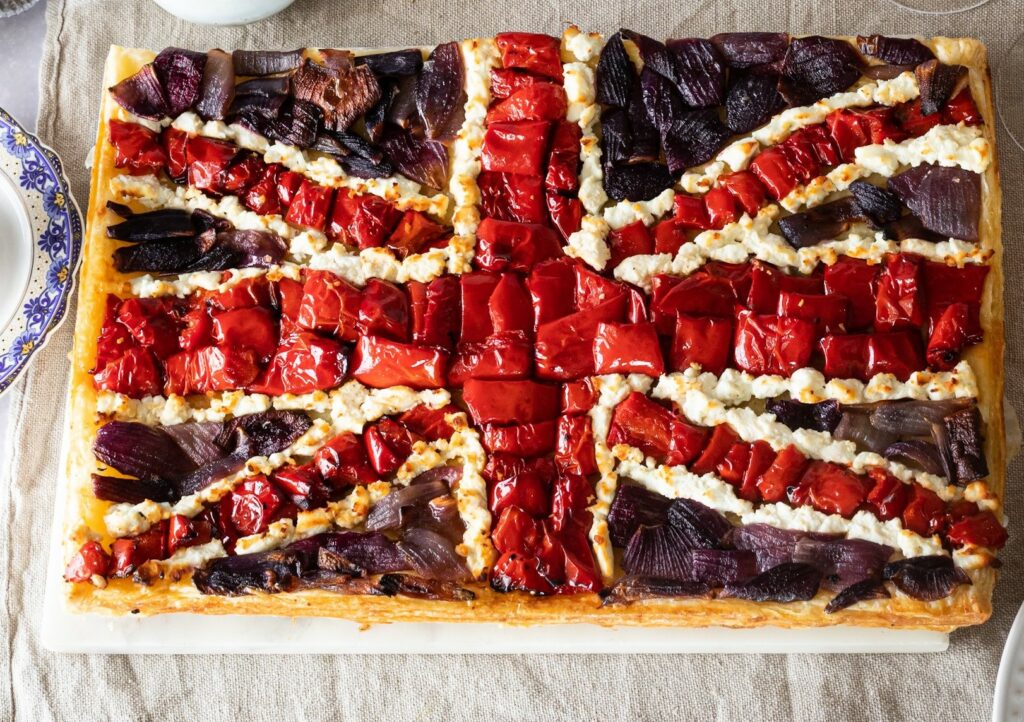 Prep time: 10 mins | Cooking time: 50 mins | Serves: 6
A patriotic pastry dish perfect for a royal knees up for the coronation!
3 red peppers
4 red onions
Olive oil, drizzle
Honey, drizzle
1 pack ready to roll puff pastry
180g soft goat's cheese
1 egg for glaze
Green salad
6 tbsp Mary Berry's Honey & Balsamic Vinaigrette
Preheat the oven to 180 ̊C. Chop the red peppers and red onions into medium size chunks (approx. 3cm x 3cm). Place on a baking tray, each on its own side. Drizzle both with olive oil and the onion side with some honey too. Cook for 20-25 mins until softened.
Meanwhile, prepare the pastry. Line a flat baking sheet with baking parchment and unroll the puff pastry sheet onto it. Prick all over the inside of the rectangle with a fork. Then arrange the filling – we love the union jack! Add the grilled peppers, onions and goat's cheese and brush the sides of the pastry with beaten egg.
Bake for 15-25 minutes, until the pastry is golden and crisp. Toss the salad in Mary Berry's Honey & Balsamic Vinaigrette and serve.
For more delicious vegan, vegetarian and plant-based recipes visit our FOOD section