In a few weeks time UAE residents will start to resurface from life indoors as the stifling heat subsides, ready to once again enjoy perfect winter weather and the great outdoors. And while we all know prioritising sunscreen should be a routine come rain or shine, once the winter months set in and we are subject to the sun's (gentler) rays with far more frequency, there's no excuse to shirk the best skincare there is out there.
But not all protective creams are created equal and from coral reef safety to benefits and risks, to caring for our skin and health, there's a lot to absorb. Over-the-counter sunscreens still contain some scary common chemicals that researchers believe can be harmful to both human and aquatic life. Here at The Ethicalist we break down what the main three mean and recommend some tried and tested botanical alternatives so that you can tan knowing that you and the planet are being protected.
Sunscreen Nasties
Octinoxate: This is a frequently used UV filter that protects from UVB rays – associated with sun burn and cancer – but not UVA rays, which are associated with ageing. While studies are not clear cut about the effects of this controversial additive on humans, evidence seems to support some health and safety concerns. Once inside your body, octinoxate can mimic the hormone estrogen which can lead to complications in thyroid function and cardiovascular disease.
Researchers have been able to prove its harmful effects on coral reefs prompting bans in places such as Hawaii and the Pacific nation of Palau. Not very encouraging for something we are meant to use all over our bodies…
Oxybenzone: This ingredient is often found in broad-spectrum suncreams. As sunscreen is absorbed into the blood via the skin, researchers say this chemical is present in the blood after application at levels that would, under current US Food and Drug Administration guidelines, trigger a requirement for further safety testing. As a consequence, it's being dropped by many brands with only 30 per cent of chemical sunscreens now containing the ingredient.
Proven to be responsible for coral bleaching and harmful to aquatic life, Hawaï banned oxybenzone back in 2018 so, even if it is just for environmental reasons, it is best to avoid this ingredient.
Homosalate: A common sunscreen ingredient that is widely used in chemical sunscreens. It absorbs UVB rays to prevent direct skin exposure but the hormones estrogen, androgen and progesterone have all been found to be disrupted when the body is exposed to it. You can still find SPFs with concentrations of this ingredient as high as 15 per cent despite a European Commission finding last year that it was only safe in concentrations no higher than 0.5 per cent due to its potential hormone-disrupting effects. The EU is expected to place a restriction on homosalate by next year.
Tried & Tested Alternatives
While the sun is setting on toxic SPF ingredients thanks to growing consumer awareness, clean beauty brands are picking up where the nasties left off. Read on to find the reef-safe, chemical-free alternatives that we have taken a shine to!
Hello Sunday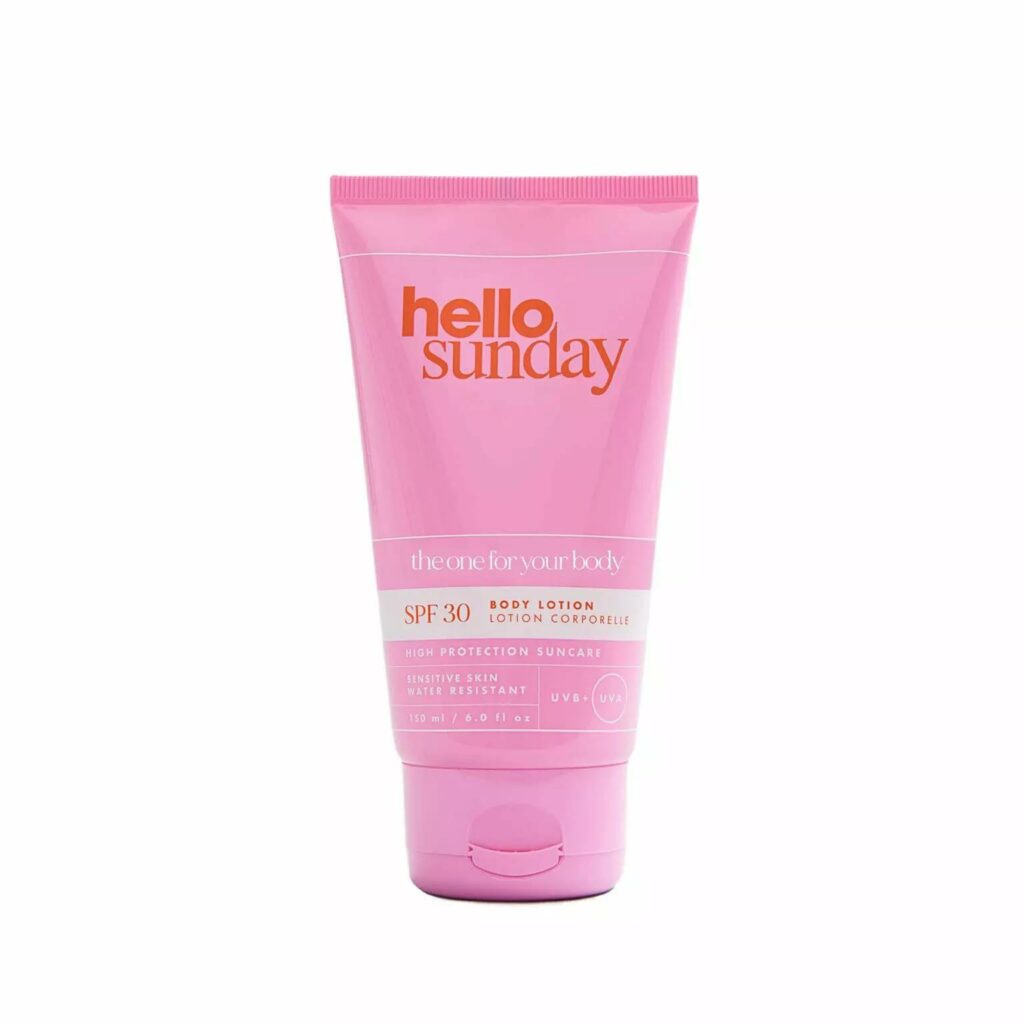 Touted as skincare meets SPF, this award-winning beauty brand, that is encapsuled in 15+ protective products, is sea-friendly, sustainable, cruelty free and 100 per cent vegan. Their range of serums, creams, sticks and drops – which are all certified in the EU – prides itself on offering multi-faceted protection for your skin. It's not just an SPF but a series that contains the kind of ingredients you're not accustomed to seeing on the bottles you take to the beach: think hyaluronic acid and probiotics.
Created to offer solutions for all skin types, from sensitive to oily, skin concerns from acne to dark spots, and for all seasons, Hello Sunday has also, helpfully for us, positioned itself as affordable for all. Slather them on we say!
Ranges from AED30-AED100 – Shop here
Sunkiss Unscented Broad Spectrum SPF 30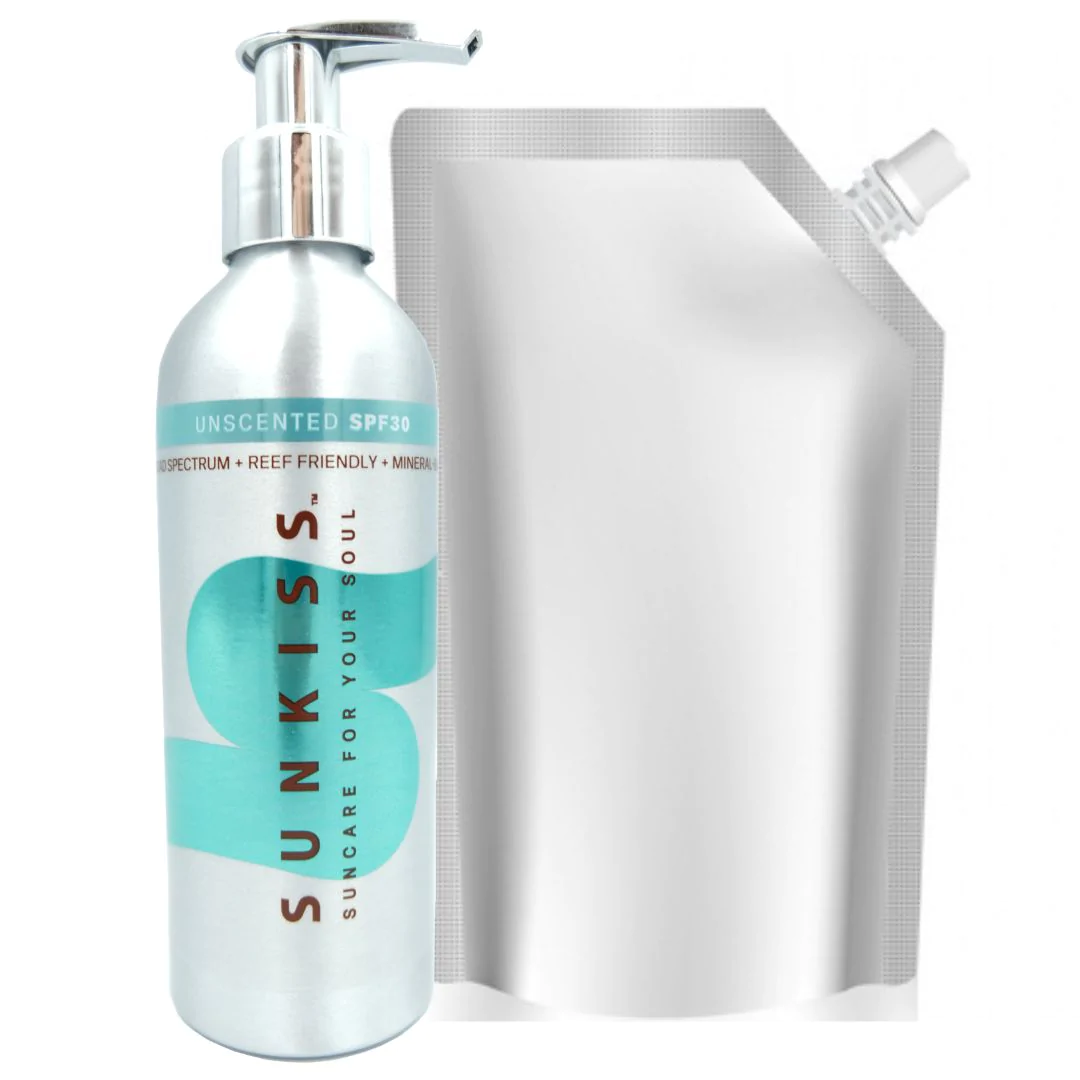 From conscious creams, sprays to oils and after sun, Sunkiss is a ray of sunshine to the clean sunscreen market. Born in Dubai, this vegan, reef-safe, and sustainable sun protection has passed the toughest test: it is capable of protecting your skin against the UAE's harsh summer heat! Offering broad spectrum UVA & UVB protection, Sunkiss is mineral-based so the lotion sits on top of your skin, rather than being absorbed, where it acts like thousands of tiny mirrors to deflect the sun's rays.
Oxybenzone and octinoxate free, this range has been formulated to comply with Hawaii's stringent regulations to help protect marine life and replaces toxic chemicals with botanical ingredients such as Shea Butter, Jojoba and Red Raspberry Seed Oil. Unlike natural sunscreens of the past, this cream won't leave a chalky residue on your skin and, to top it all, their unique aluminium bottles are 100 per cent recyclable!
AED 140 – Shop here
Ixora Ultimate Protection Sunscreen SPF40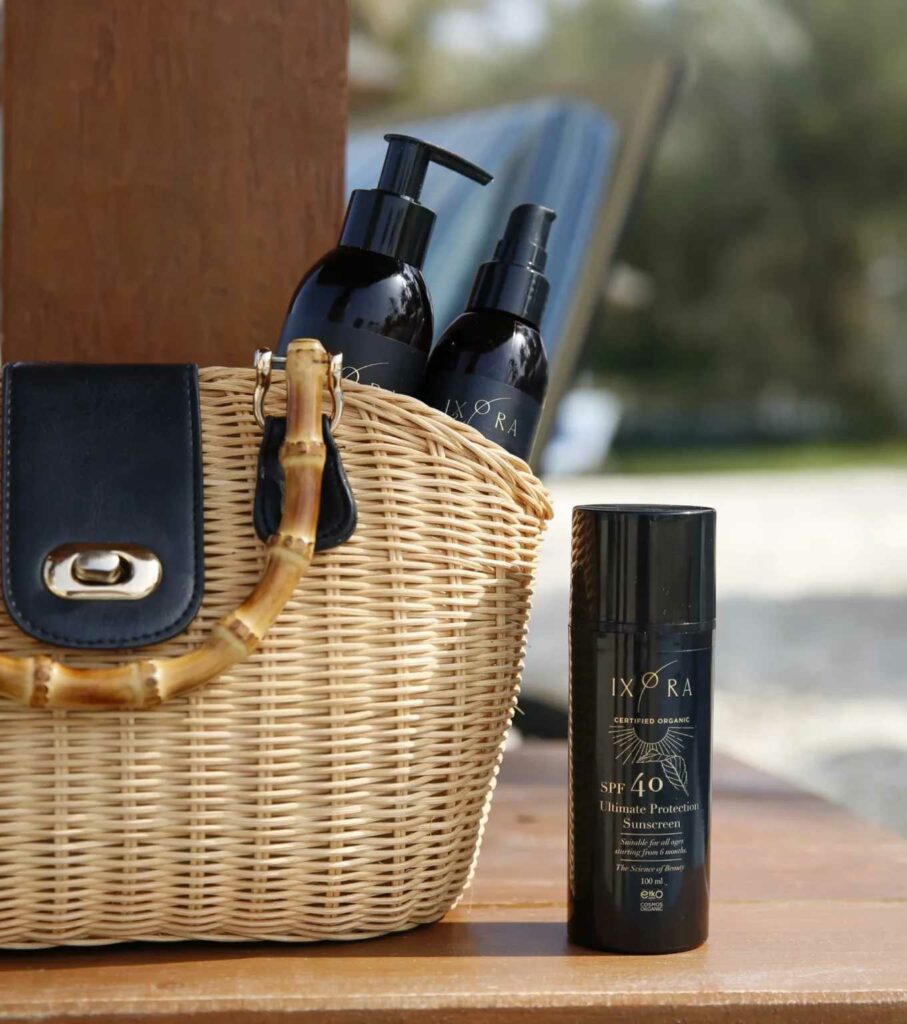 Reduce the amount of sun cream containers you cart to the seaside with this vegan all-rounder which is safe for the whole family. Made up of pure natural ingredients and free from any harsh chemicals, it's perfect for everyone including babies from six months old. Offering paraben-free, botanical protection against UV rays thanks to naturally derived Zinc Oxide, the Aloe Vera in it also helps keeps the skin smooth and hydrated. Keep your beach days stress-free by applying the sunscreen 10 minutes before any sun exposure to remove all fear of getting burnt.
AED199 Shop here
Vitamin Injections London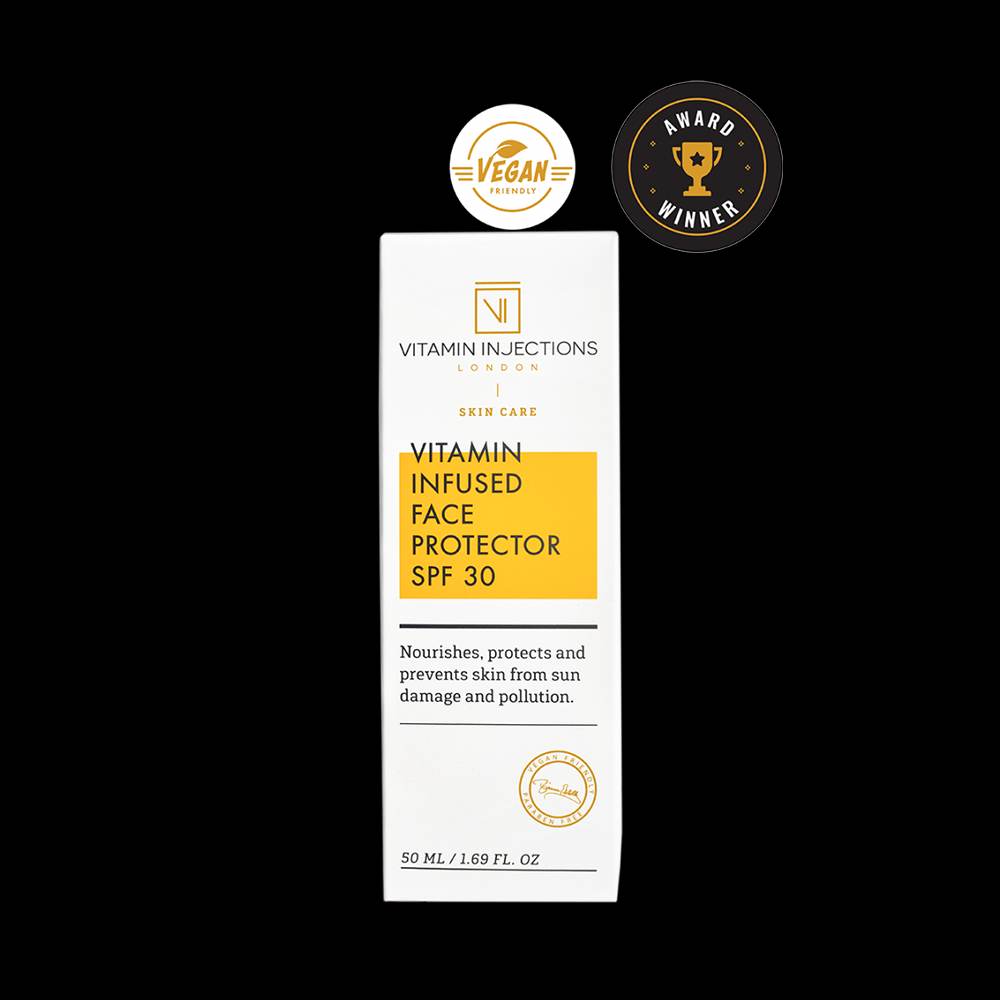 Multi-award winning and loaded with natural ingredients, the Vitamin Infused Protector SPF 30 face cream is a must have in your beach bag. This 100 per cent vegan SPF works to both nourish and protect, thanks to ingredients such as Vitamins C & E, Aloe Vera, and Hyaluronic Acid that possess natural antioxidant and anti-ageing properties. A lightweight serum, you'll not only be protected from the sun's damaging rays while topping up that tan but will also be improving your fine lines while you're at it… Oh and all this clean beauty brand's products are packaged in recycled materials too. What's not to love?
AED150 – shop here