An Asian elephant named Chhouk, who lost a foot to a poaching snare when he was just a year old is able to walk, run and swim again after successfully being given a prosthetic limb.
Chhouk – meaning Lotus – who is now 15 years old, had his foot amputated when he was caught in a trap in Srepok Wilderness Area in Mondulkiri Province, Cambodia, when he was just one year old.
He was discovered severely malnourished with a dangerously infected wound.
'As soon as I saw the little elephant I wished I was somewhere else,' recalls Nick Marx, programs director at Wildlife Alliance who was called to assist when the calf followed another elephant into a WWF patrol back in 2007.
'He was in a bad way and seemed sure to  die. He was badly injured and so very thin. It seemed only  his fighting spirit was keeping him upright.'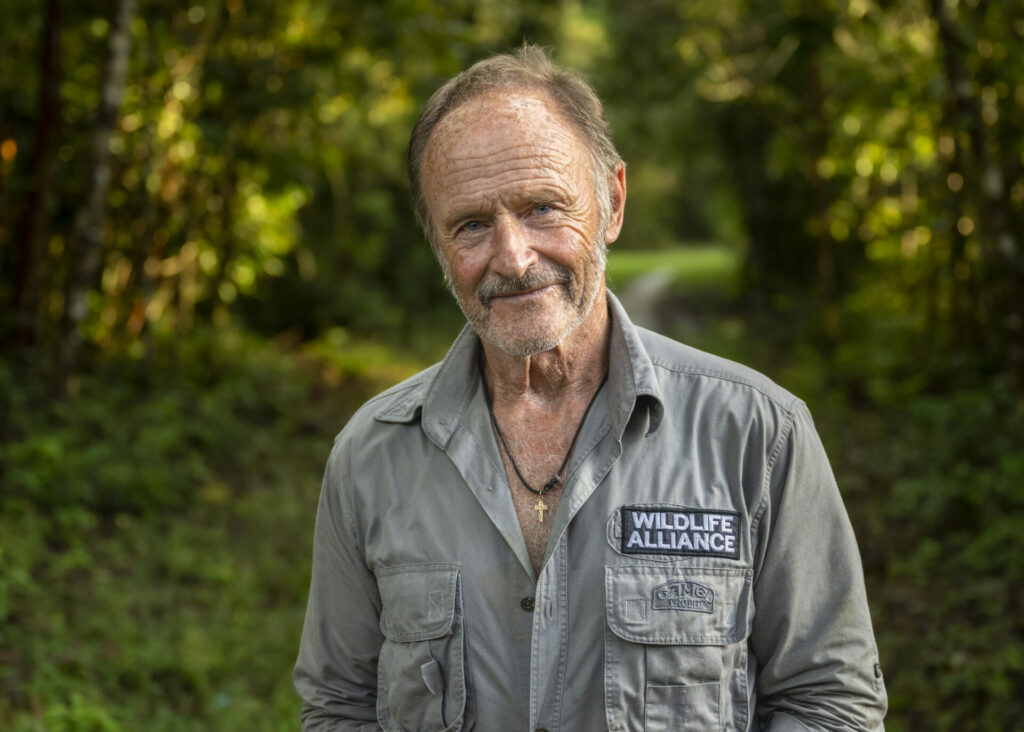 Nick stayed with him for 10 days sleeping in a hammock and hand feeding him nutritious foods to ensure he was in reasonable condition to transport him to Phnom Tamao Wildlife Rescue Centre for what would be a long process of healing.
'The healing powers of wild animals can be amazing,' says Nick. 'Each week when we undressed the leg …we could almost see the skin re‐growing down the leg and around the under side of the remaining stump until it was  completely healed, with the skin finally covering the entire area once again. However the job was only part‐done, as unfortunately we could not "re‐grow" the missing limb.'
The team approached the Cambodian School of Prosthetics and Orthodics to build a foot for Chhouk. Using the same techniques they would use to fit a human with a prosthetic and feeding him a steady supply of treats to keep him happy, they were able to make a mold of his leg, and successfully created Chhouk's first prosthetic foot.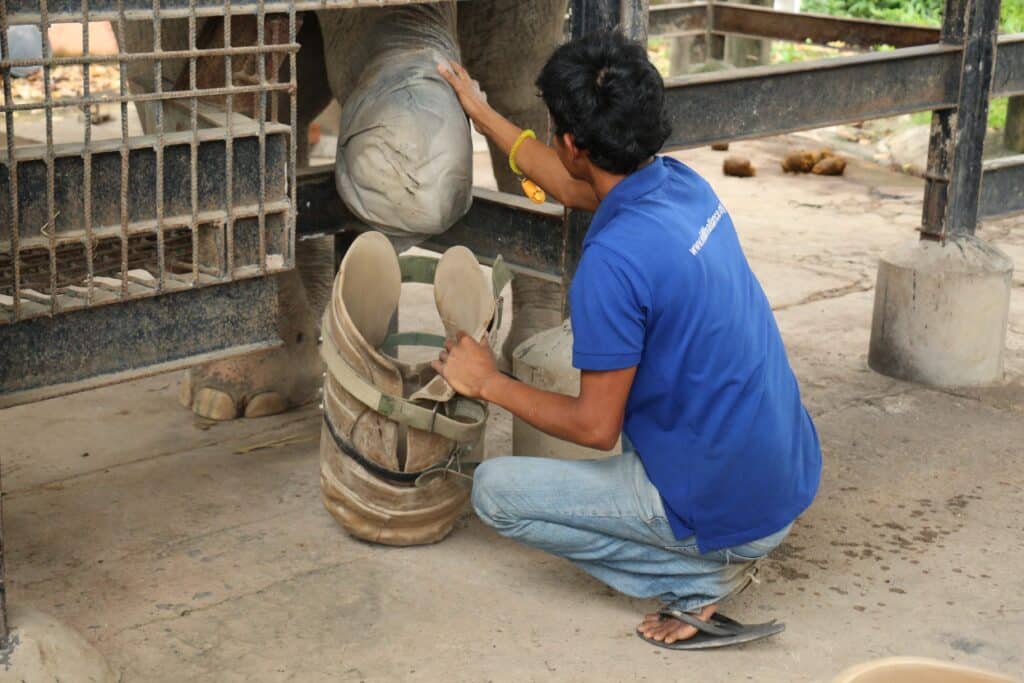 It is made from recycled tires, plastics and foam is added for comfort.
As a growing elephant he needs to be fit with a new shoe twice a year at a cost of up to $1000 a shoe. Elephants grow until they are around 20 to 25 years old.
Initially the 20kg limb was sponsored by Bridgestone tyres but in the latest move Wildlife Alliance has partnered with UK-based group, Paradise Wildlife Park, to fund the prosthetic foot.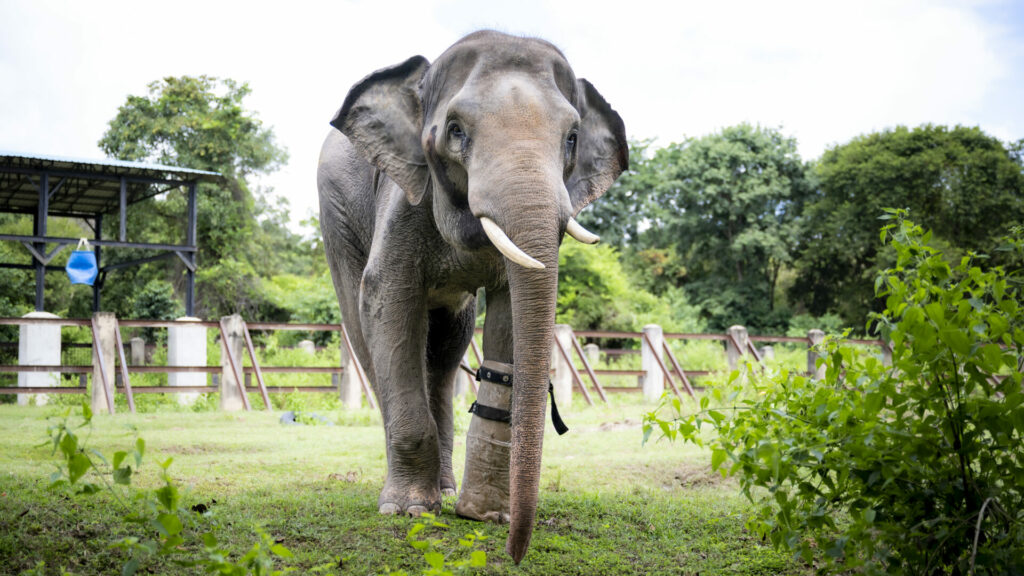 Cam Whitnall, who runs Paradise Wildlife Park and Big Cat Sanctuary with his family said: 'It's amazing – you can't help but smile. It's a really special moment, to see what we're helping to conserve and help, not just Chhouk but all over the world. It's the best feeling in the world to help animals.
'Not only did he lose his foot to a poacher's snare, but it was also infected and he was severely malnourished. It was a miracle Chhouk was able to be saved and the use of the prosthetic foot has given him a life that wouldn't have been previously possible.'
A video of Chhouk recieving the new limb has already reached 3.7 million views.
Changing the prosthetics is no easy task for park rangers, Whitnall explained, saying they have to use food as a bribe to get him to wear it.
'They use food and a clipping mechanism to get him to turn and adjust his body and are then able to give him a thorough look over to make sure there are no issues,' he explained.