It's hot and while salads are great in the summer, sometimes we crave something different. Step forward light, Asian-inspired dishes that are easy to make and packed with flavour. 
Full of watercress, with its powerful peppery kick and more than 50 vital vitamins and minerals, along with ingredients including chilli, ginger, turmeric and coriander that actually cool the body, these mouth-watering dishes are perfect for warm days and summer evenings.
Veggie Miso Butter & Watercress Udon Noodles with Chilli Oil
Prep time: 10 mins Cook time: 10 mins Serves: 2
1 pack your favourite noodles, we used udon
50ml Olive Oil
1tbso Chilli flakes
1 clove garlic, crushed
1 carrot, cut into matchsticks
3 spring onions, sliced or cut into ribbons
Sesame oil
60g watercress, chopped
1tbsp butter
1tbsp white miso paste
Cook the noodles per the pack instructions – usually they require about 5-10 mins in hot water.
To make the chilli oil, gently heat the olive oil and chilli flakes in a small pan over a low-medium heat and allow to infuse – a few minutes should be perfect. Add the garlic at the end, cook for 30secs then remove from the heat. Be careful not to burn the chilli flakes or garlic as this will make the oil bitter.
To a wok, add the carrot & 2/3 of the spring onion with a little sesame oil to soften. Then add the noodles and watercress and toss to combine.  Add the butter to the wok and allow it to melt before adding the miso paste – give everything a good stir to ensure it is combined.
Serve in a bowl with the chilli oil drizzled over and sprinkle with remaining spring onions.
Vegan Smoked Soy Spicy Rice Bowl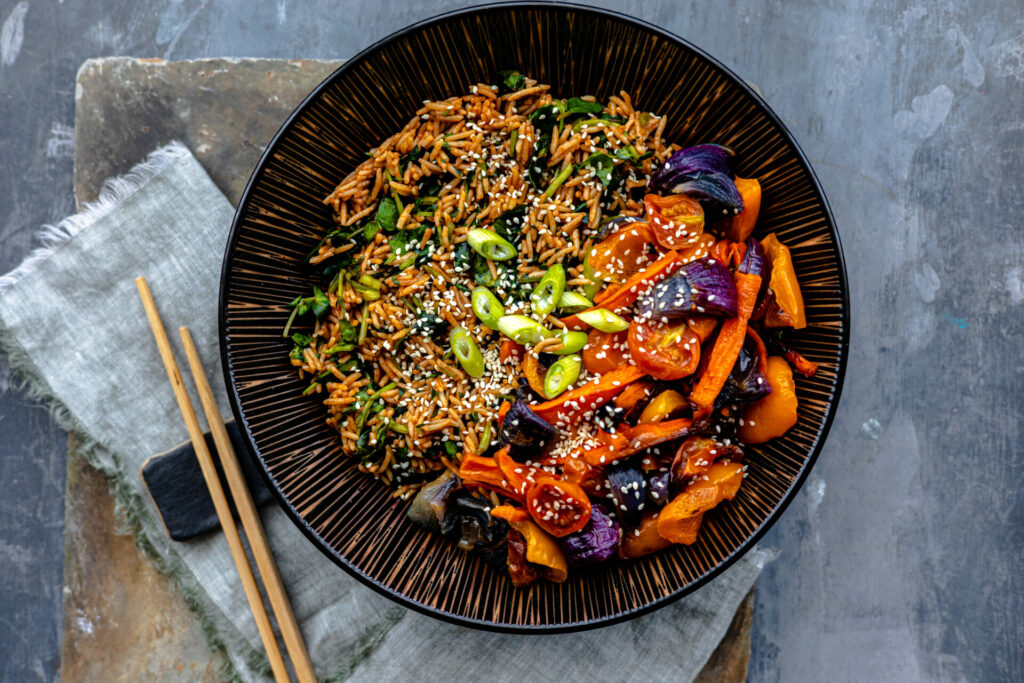 Prep time: 10mins  Cook time: 30mins Serves: 2
2 carrots, cut into batons
Olive oil, drizzle
Salt and Pepper
1 bell pepper, sliced
1 red onion, chopped
200g cherry tomatoes
250g white rice, we used basmati
Sesame oil
1 tbsp smoked soy sauce
2tsp tomato puree
1tsp cayenne pepper
60g watercress, chopped
Sesame seeds and Spring onion ­– optional, to serve
Heat the oven to 180°. On a baking tray, arrange the carrots and drizzle with a little olive oil salt and pepper, roast for 7 mins alone, then add the rest of the veg* to the tray with the carrots and roast for 20mins
Cook the rice per pack instructions. In a wok, heat a little sesame oil before adding the rice, soy sauce, tomato puree and cayenne pepper. Toss to coat the rice completely, then add the chopped watercress and cook for 30 seconds. 
Serve the rice in a bowl and top with the roasted vegetables. Sprinkle with sesame seeds and sliced spring onion, if using.
 *You could use whatever vegetables you have; mushrooms and squash would also be great with this spicy Asian-inspired rice recipe.
Vegan Asian Shitake Mushrooms Salad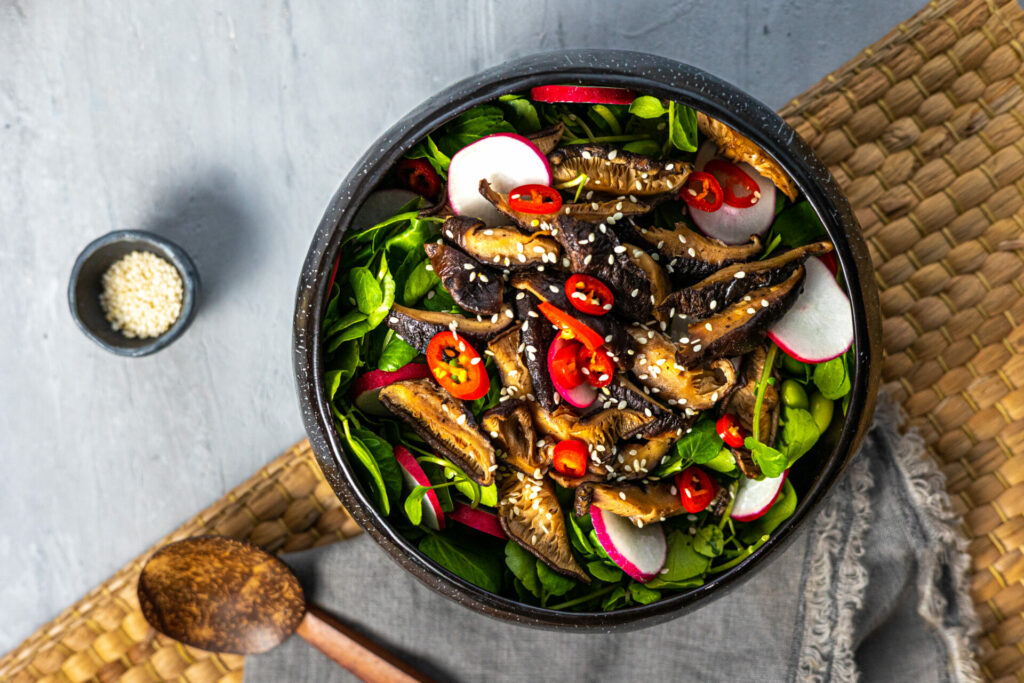 Prep time: 15 mins Cook time: 10 mins Serves: 2
25-30g dried shiitake mushrooms, rehydrated (available from www.thewasabicompany.co.uk)
Sesame oil
1tbsp soy sauce
80g watercress
175g edamame beans
3 radishes, sliced
1 chilli, finely sliced
Sprinkle of sesame seeds
For the dressing:
2tbsp soy sauce
2tbsp vinegar – white wine or sake vinegar
1-2tbsp honey
1tbsp fresh ginger, grated or minced
1tsp sesame oil
Mix the salad dressing Once the mushrooms are rehydrated as per the pack instructions, finely slice them and pan fry with a little sesame oil and the soy sauce until cooked.
Arrange the watercress base with all the other components on top, including the mushrooms. Finish with a sprinkle of sesame seeds for flavour and crunch