Before it gets too hot, let's dine al fresco with a healthy, fresh three-course vegetarian dinner that can be made in just 20 minutes. 
Watercress is one of our favourite mouth-watering ingredients that is bursting with flavour and nutrients. Grown in flowing spring water, watercress is packed full of over 50 vital vitamins and minerals. Gram for gram it contains more vitamin C than an orange, more folate than a banana, more vitamin E than broccoli and more calcium than milk, and it's also high in Vitamin A and rich in iron.
What's more, its distinctive peppery flavour caused by a compound called Phenethyl isothiocyanate (PEITC) is a powerful antioxidant that has been shown to prevent DNA damage. This doesn't just mean watercress can protect against certain chronic diseases but also against daily wear and tear which is good news if you're planning a game of tennis or rounders before the barbie!
Watercress Panzanella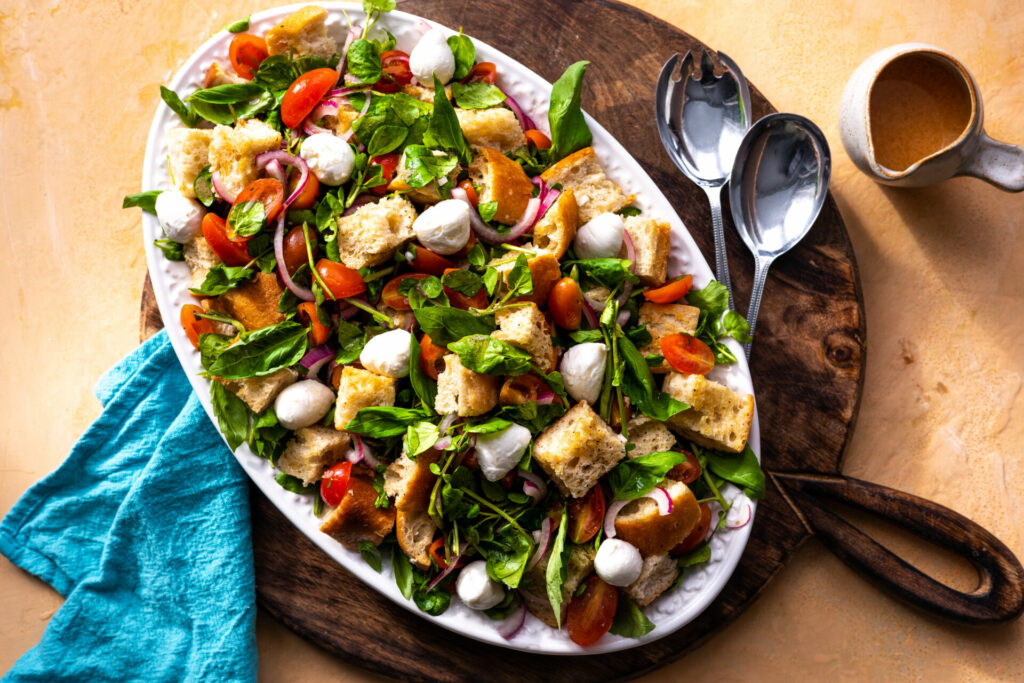 Serves: 4-6 Prep time: 20 mins Cook time: 10 mins
1 loaf Ciabatta, cubed
Olive Oil
Salt & Pepper
500g Mixed Tomatoes, halved
1 small red onion, finely sliced   
50g watercress, big stalks removed
Fresh basil bunch, torn
Mozzarella pearls 
For the vinaigrette:
2tbsp red wine vinegar
2 garlic cloves minced
1tsp Dijon mustard
Just under 1/4cup olive oil
Preheat the oven to 180°C. Toss the ciabatta cubes in a little olive oil, salt and pepper and toast them in the oven (or on the BBQ) for around 10 minutes, until golden and crisp.
Place a colander over a mixing bowl and put the tomatoes and a generous pinch of salt in. Sit for 10 minutes while the salt extracts the juice from the tomatoes into the bowl below.
Remove the mixing bowl from under the colander and add the red wine vinegar, garlic, Dijon mustard and olive oil. Whisk to create your vinaigrette.
In a large bowl, toss the bread, tomatoes, red onion, watercress with a little salt and pepper and arrange on a large serving platter. Add the basil leaves and mozzarella pearls, then drizzle with the vinaigrette and serve.
Japanese Cauliflower Burgers with Watercress & Wasabi Aioli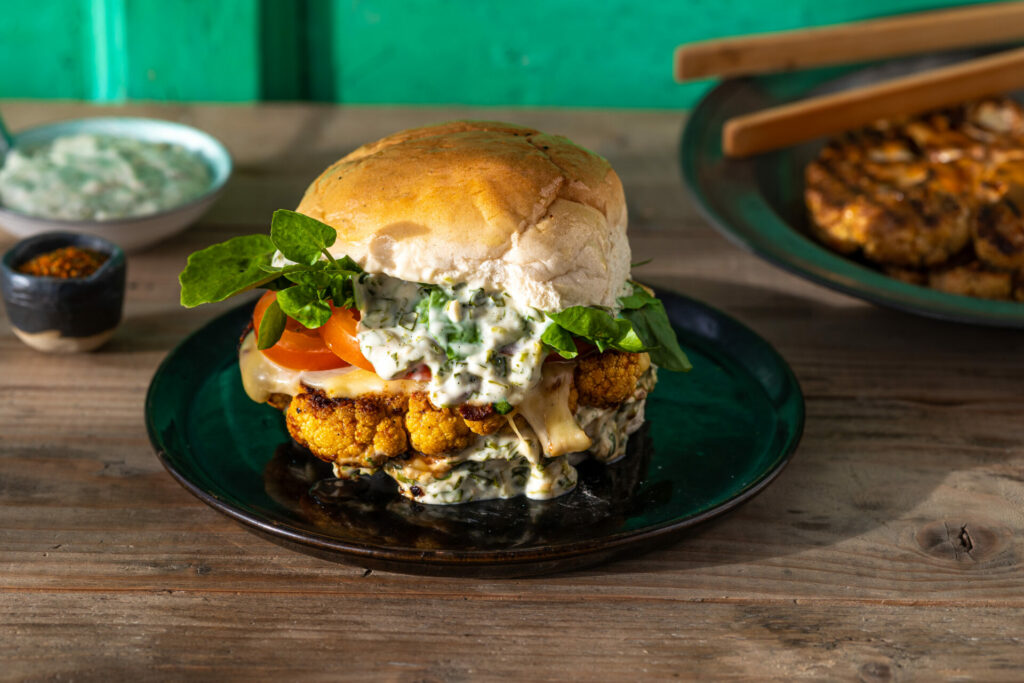 Makes: 3-4 burgers per cauliflower Prep time: 20 mins Cook time: 20 mins
Marinade, per cauliflower steak:
1tbsp tonkatsu sauce (or BBQ sauce)
1tsp sesame oil
Optional: togarashi shichimi or chilli flakes
For the aioli:
150g mayo*
1tsp wasabi mustard (available from The Wasabi Company)
60g watercress, chopped
2 garlic cloves, minced finely
2tbsp yuzu juice
To serve:
Burger Buns
Tomato, thickly sliced
Your favourite cheese slices*
A handful of watercress
For the aioli, simply blend all ingredients together and set aside.
Slice the cauliflower into chunky steaks – don't discard the ends as these can be used for other recipes. Trim the central stem if it is too big.
Combine the marinade ingredients in a large bowl, using enough of each for however many steaks you have. Use a pastry brush to evenly coat all sides of the cauliflower, not forgetting the edges.
In a griddle pan over a medium heat, brush a little oil and grill the steaks for 5-6 minutes on each side. You can do the same over a hot barbecue.
To assemble your burgers, coat each side of your bun with a generous amount of the aioli, lay a cauliflower steak on top, followed by a slice of cheese, some tomato and a pinch of watercress.
You can brush the tops of the buns with butter after assembling and bake them in the oven for a browned top and really melted cheese.
*This recipe could easily be vegan by swapping the mayonnaise and cheese slices for your favourite vegan alternatives.
Savoury Strawberry Tart with Watercress, Basil, Feta and a Hot Honey Sauce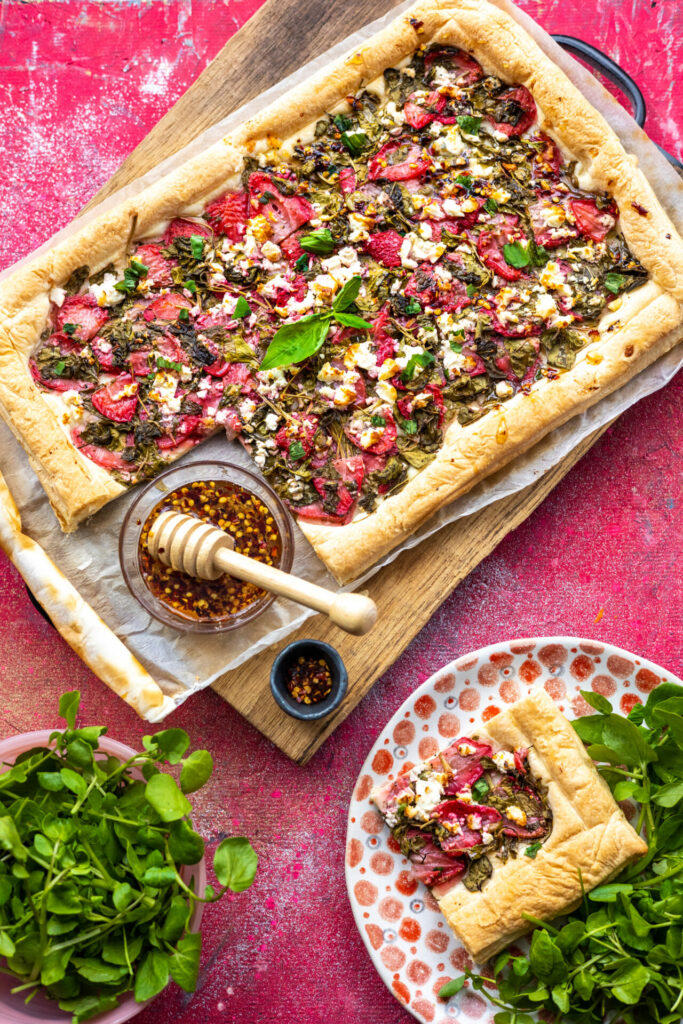 Serves: 4-6 Prep time: 15 mins Cook time: 20 mins
1 sheet ready to roll puff pastry
1 punnet strawberries, sliced
80g watercress, big stalks removed & chopped
Fresh basil bunch, torn
Juice & zest of a lemon
100g feta, crumbled
¼ cup honey
1tbsp Chilli flakes
Black Pepper
Salt
Preheat the oven to 180°C. Unravel the sheet of pastry and gently score a border, around a finger's width, on each edge.
In a large mixing bowl, toss the strawberries, watercress, most of the basil (keep a little bit back), lemon juice & zest and half of the feta. Arrange this mixture on the pastry before sprinkling with the remaining feta. Bake in the oven for 20 minutes, until the pastry is golden brown.
Meanwhile, in a small pan over a gentle heat, combine the honey, chilli flakes, generous pinch of black pepper and salt. Stir to combine and gently warm, so the honey is infused with the chilli flavour, but be careful not to boil it. Remove from the heat after about 5 minutes and allow to cool.
Once the tart is fully cooked, drizzle it with the spicy honey and top with the remaining basil leaves.
For more recipe inspiration go to www.watercress.co.uk or for vegan and vegetarian food and recipes visit our Food Section