Travel is back in full swing with airports around the world bustling with people. But the industry is not what it once was. People are going back on holiday but doing so with sustainability in mind. According to Booking.com's 2023 Sustainable Travel Report, 76 per cent of travellers want to make their holiday more environmentally friendly. Eco retreats are on the up. A nice pool, sandy beach and picturesque views no longer cut it.
This shift in priority hasn't gone unnoticed by the hospitality sector. Resorts are now attracting guests based on their eco-friendliness as well as their star rating and most are consciously working on aspects of their offering, from the design, to the operation, to the food to ensure that the guest experience not only remains fulfilling but also does little to harm the environment.
So, with this in mind, we've scoured the globe to find some eco retreats that are not only ahead of the game, but will leave both you and the planet feeling revitalised.
Middle East: Six Senses Zighy Bay, Oman
Located on Oman's Musandam Peninsula the magnificent mountainside hideaway is a gem of a getaway. Guests here can relax in the Middle East's largest salt-water pool surrounded by a mountainous oasis of trees and wildlife. The immaculate villas offering a private terrace and pool, are built using natural stone and timber with organic sheets on the beds.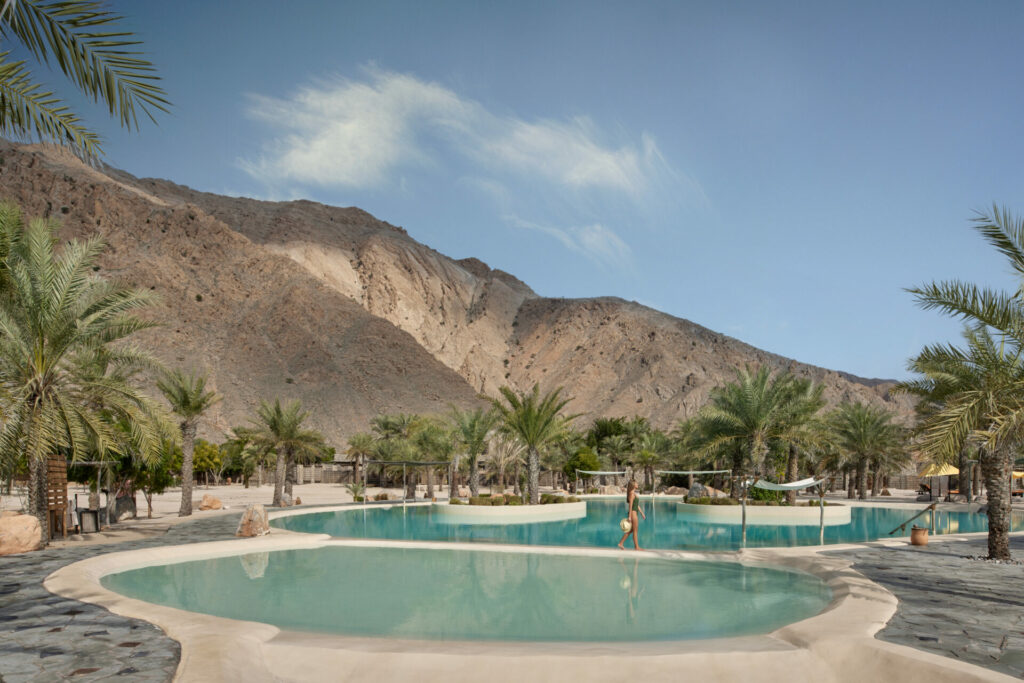 Guests dine on food from the local Dibba Farm, grown especially for the resort's fine dining restaurant. Already this year close to six thousand organic eggs have been served, along with over 2,500 kg of fresh fruit and vegetables from the farm.
A new waste management programme has also been put in place so that food waste, glass, paper, cardboard and electronic waste from the hotel can be sent for recycling. The resort has already eliminated 80 per cent of its plastic use – including swapping a staggering 300,000 plastic bottles for glass ones – en route to its Net Zero target.
A new sustainable fishing programme was recently launched to protect and release sea turtles and rays caught in nets around the Musandam Peninsula. The eco retreat also partakes in under water clean ups – the most recent of which collected almost a ton of fishing nets, so you can enjoy the natural beauty of this idyllic hideaway the way nature intended.
North America: True Blue Bay Boutique Resort, Grenada
The Caribbean is a bucket list destination for many of us, and an eco retreat run by a family of environmentalists makes a trip even more appealing. Not only are you treated to stunning views of the bay, you're immediately made to feel part of the community, which does its utmost to ensure sustainability remains at the forefront of your stay.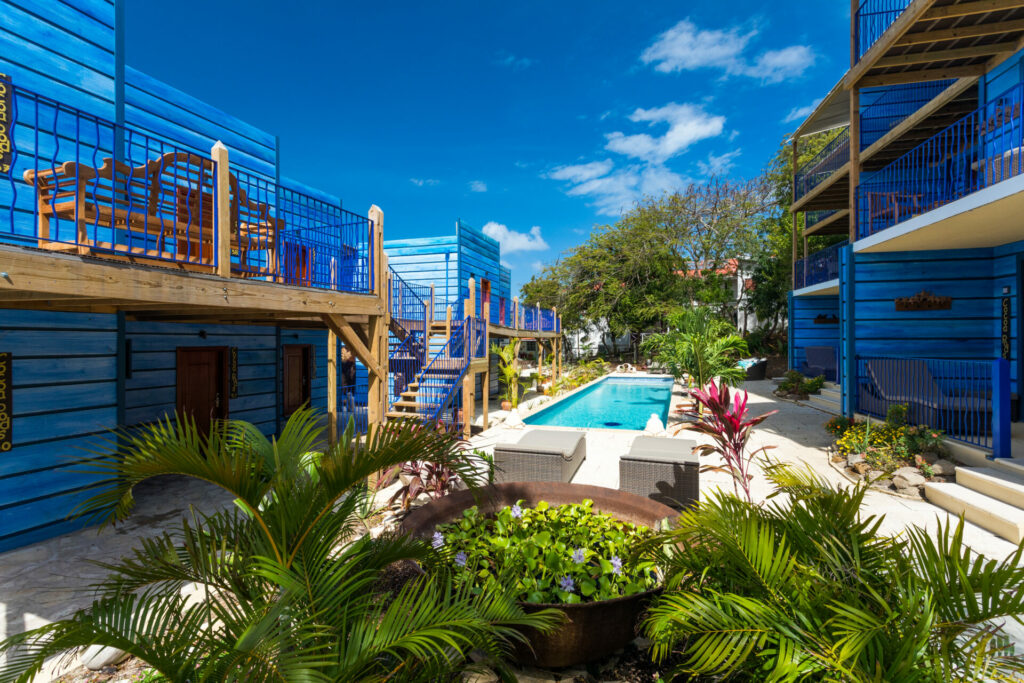 A biogas system cleverly converts kitchen waste into gas that is then used in the onsite bakery. True Blue Bay also proudly operates Grenada's first climate smart hotel rooms using solar power and furnishings made with sustainable materials. Even the rainwater on the rooms' rooftops is harvested.
Food plays a big part is anyone's vacation and here chefs cook up delicious meals from the kitchen garden that supplies fresh fruit, vegetables and herbs. Any leftovers from the restaurant are given to local farmers for their pigs, so nothing goes to waste. Guests are also encouraged to try local cuisine at the weekly 'Street Food Night' where locals sell dishes.
Elsewhere around the resort, electric buses transport guests, no plastics are used, the swimming pools are chemical-free and regular beach clean ups are organised. True Blue Bay also helps restore the island's mangroves and reefs and funds a local library. So what are you waiting for?
Asia: Amilla, Maldives
Luxury holidays can be guilt-free for environmentalists, just ask this pioneering eco retreat in the Baa Atoll. Following the pandemic, Amilla upped its sustainability efforts to be greener, and has since won awards for its on-going efforts. 30 sustainability projects have been launched on the island earning the hotel a silver certification from EarthCheck – the world's leading scientific benchmark certification for sustainable travel and tourism – earlier this year.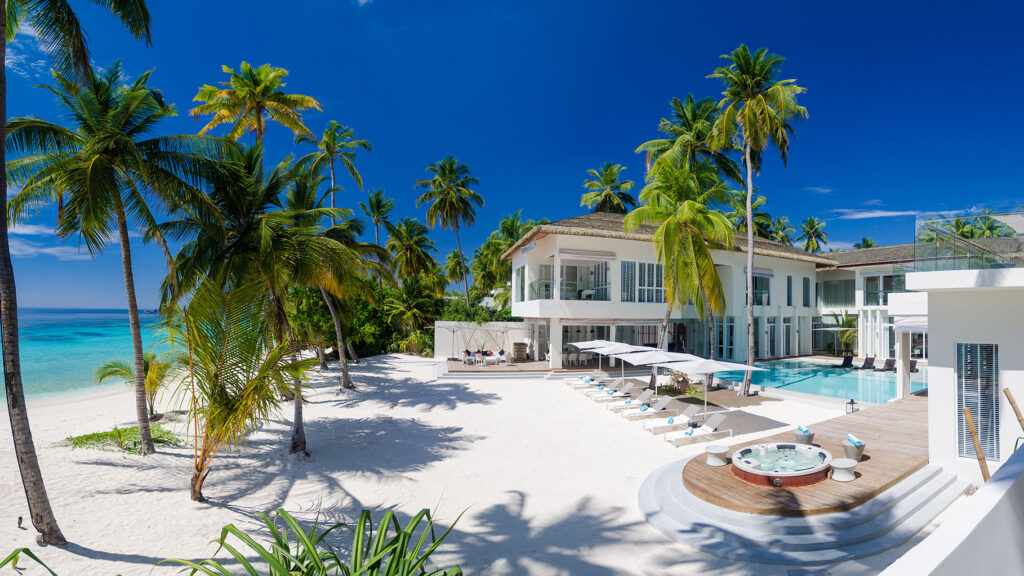 Waste and packaging have been greatly reduced. A sustainable coconut facility makes coconut oil, milk and cream, with everything else recycled. Eggs are laid daily in the island's chicken coup and fresh produce, such as yoghurt, jam, bananas and sweet potato is made or grown in the gardens. Drinking water comes via the island's bore, and is desalinated before bottling.
The hotel has also partnered with 'Parley for the Oceans' to combat plastics heading for the sea by using ceramic containers in the bathrooms, only ethical coffee pods are found in the rooms and of course, plastic straws are nowhere to be seen. Plastic waste is used to make clothing for guests and coral reefs are also repaired – and grown – to protect the UNESCO Biosphere Reserve status the Baa Atoll has.
Luxury is not compromised either, as the 59 private villas at this luxury eco retreat each serve as a paradise within a paradise. The floating lagoon villas are all five-star residences with out-of-this-world ocean views that'll help you relax – guilt-free – in no time.
Europe: ACRO Suites, Crete, Greece
Sustainability literally starts from the ground up at this five-star wellness resort. Local designers were entrusted with using local, natural materials to create the tranquil cliff-side hotel. Inside all sheets and fabrics are made with organic materials and food is sourced locally from the island's small farms, providing the organic kitchen with plenty of vegan and vegetarian meals. All furniture is custom-made from Crete wood or stone so you can enjoy the spectacular sea views.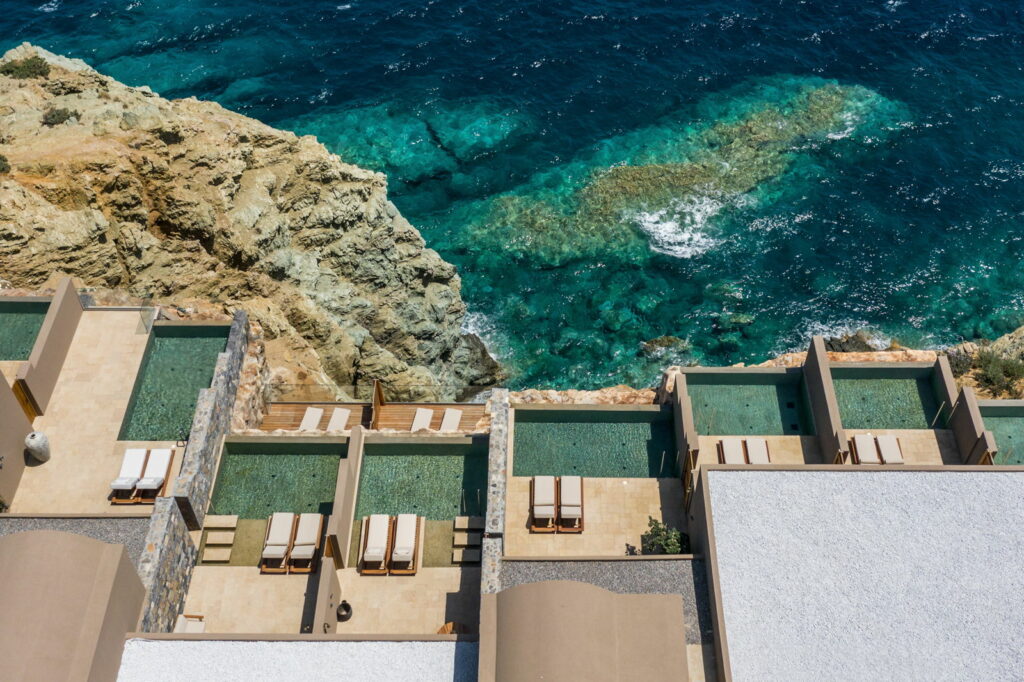 The hotel has been designed in such a way that the inside temperature is stable year-round so no air conditioning or heating is required, thus dramatically reducing the resort's carbon footprint – on of the many factors that helped ACRO Suites pick up Greek Hotel of the Year award 2022 for it's eco-friendliness. Not to mention one of the most unique elements of this stunning eco retreat, the bamboo-made yoga studio where guests can enjoy guided mediation and relaxation sessions.
ACRO Suites is located near to the Psiloritis mountain range, listed as a UNESCO Global Geopark, which guests can hike for the best views of the island.
Europe: Whitepod Eco-Luxury Resort, Monthey, Switzerland
The only footprints you'll be leaving at this sustainable haven are in the snow. Geodesic domes – spherical structures which are constructed out of interconnecting lines rather than out of curved surfaces – require 30 per cent less energy than regular buildings and use a fraction of the materials to construct. In fact the angles, or lack thereof, help maintain the airflow keeping it at a stable temperature without heating. Around the picture-perfect eco retreat, a sustainable heating system, powered entirely by renewable sources, keeps guests warm.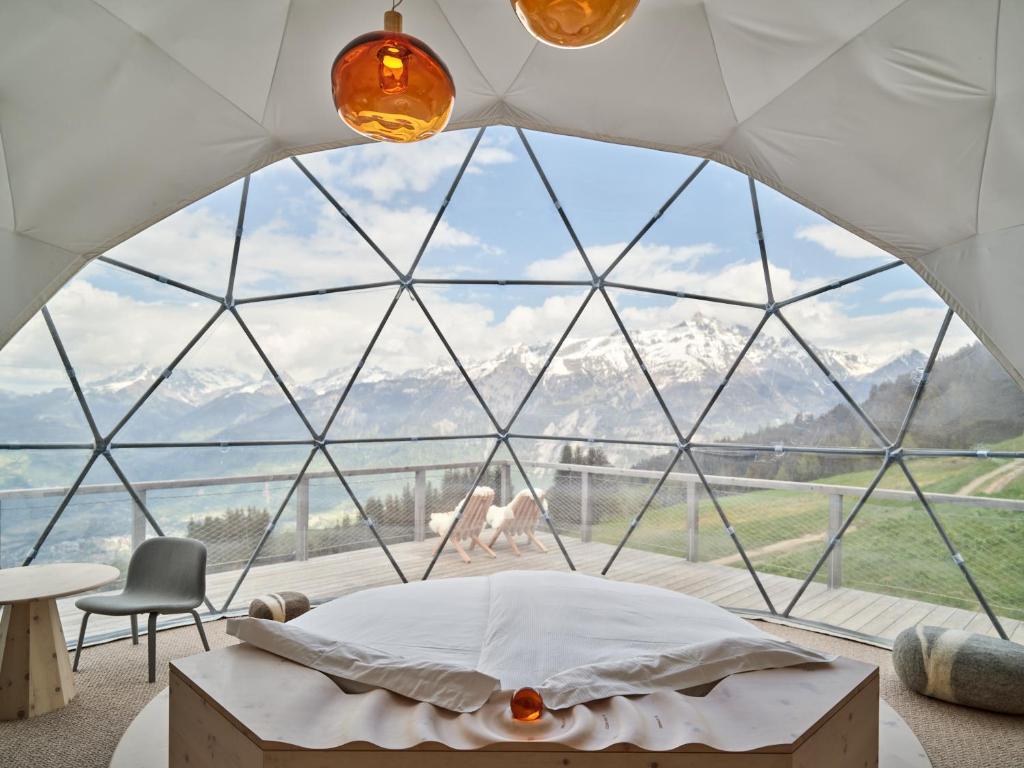 Water-saving devices are fitted on all taps so you never use more than required, while transport to and from this stunning eco retreat is kept to a minimum, no vehicles are used to get around the resort either so guests can get their exercise in while doing their bit for the environment.
Guests can feast on locally selected food, where the menu follows the seasons and can also opt to purchase products in bulk, reducing the amount of packaging needed.
As you'd expect from an eco retreat, there's plenty of activities to do during your stay from skiing to treasure hunts. When the sun goes down its time to relax in the onsite sauna and wellness centre. Those who are suckers for punishment can also take a dip in the freezing cold ice bath and for those looking for something different still – how about a hypnosis session?
Africa: Sussurro, Nhamabue, Mozambique
Stay one of just six waterfront bungalows surrounded by pristine nature at this peaceful eco retreat positioned on turquoise saltwater lagoon. Inspired by traditional architecture this barefoot luxury boutique hotel was built by Zimbabwean-born owners Adam and Sarah alongside local designers, builders and artisans. Celebrating local craft was pivotal to their vision and every item on site is 100 per cent African-made including woven baskets from Zimbabwe and lounge chairs handwoven on site.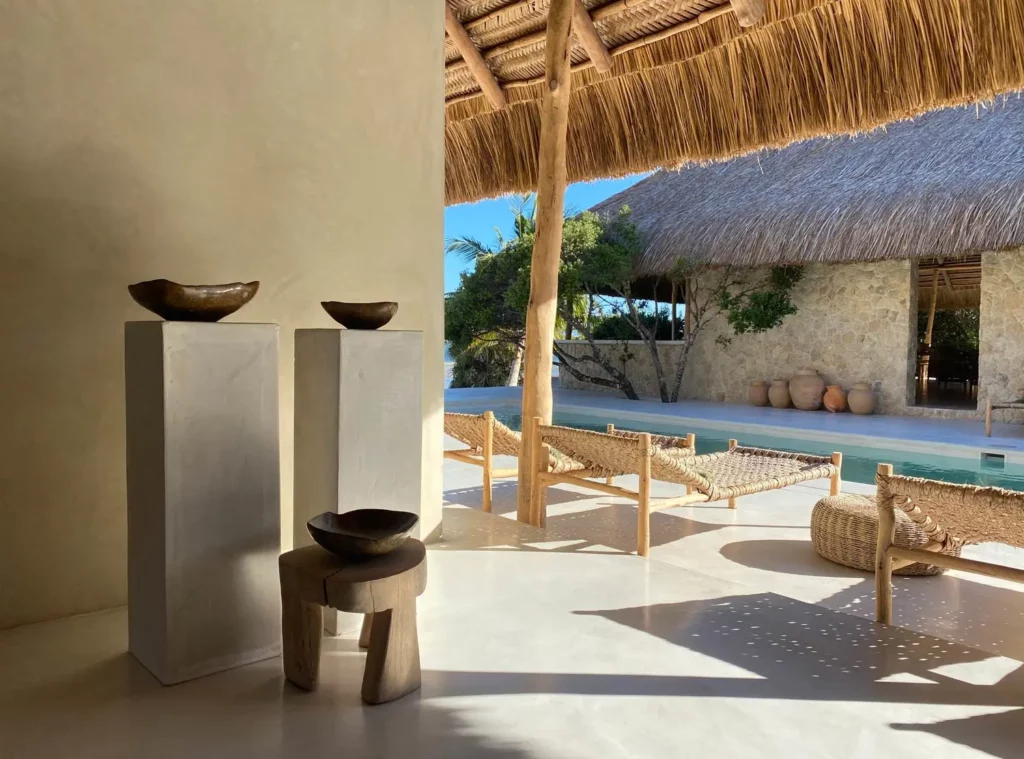 The off-grid property has some serious eco credentials to boot. Run on solar energy, there are zero single-use plastics, guests have access to an ocean-and-garden-to-table cuisine and can even get involved in a mangrove reforestation project for more meaningful travel. Other activities include bush experiences into the Gornogosa and Zinave National Parks or setting sail on one of Sussurro's traditional Mozambican dhows. A stay here ticks all the boxes: sea, seclusion and sustainability.