Barely a step away from bustling city life, weaves the peaceful water ways of Abu Dhabi's mangroves. The magnificent clash in landscape of natural wildlife wetlands to towering skyscrapers is mystical, but also necessary.
Mangroves are a vast forest of lush, green trees with intricate roots that grow in shallow subtropical coastal areas, and give some serious swamp vibes, but don't worry there are no pariahs or crocodiles swimming in these saline waters. Although you will find that the mangroves are home to a plethora of wildlife including flamingos, herons, mollusc, fish, and many types of crabs.
The UAE is home to over 60 million mangroves, and they can be found across 180 square kilometres of the coastlines within Abu Dhabi, Ajman, Umm Al Quwain, Sharjah and even in Dubai. Abu Dhabi grows nearly 75 per cent of the country's trees right throughout the capital city within The Mangrove Marine National Park as part of the Sheikh Zayed Protected area zone.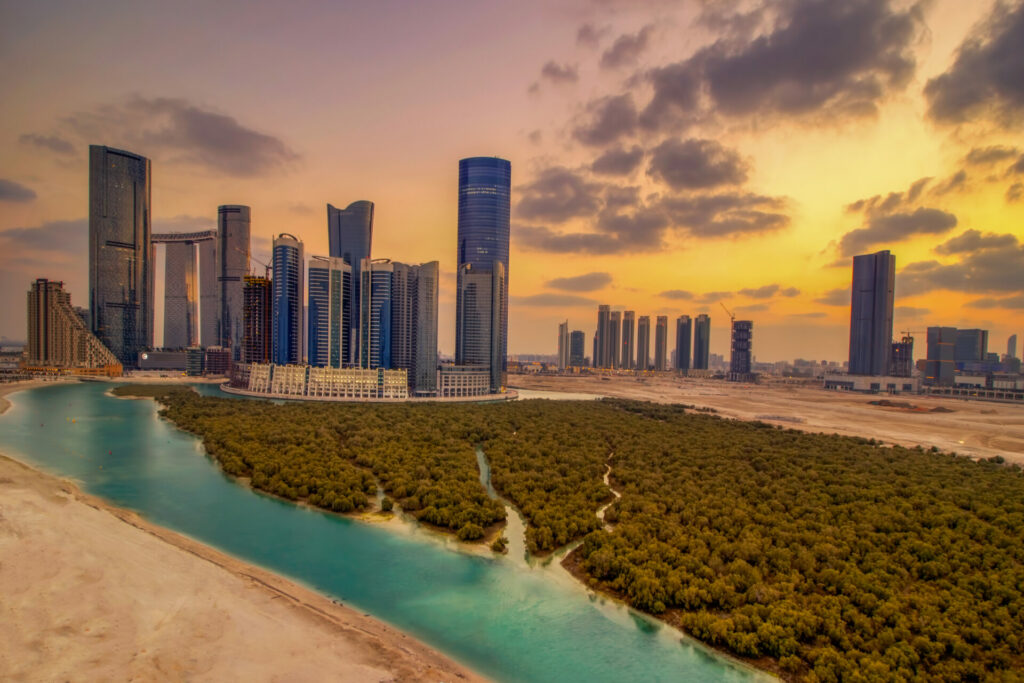 These shallow seawater forests help to prevent the erosion of coastlines, protect against surging tides and tsunamis, preserve many types of species who thrive in their nursery-like waters and are a natural carbon reservoir that keeps carbon dioxide from entering the atmosphere.
The UAE has pledged to plant an additional 100 million mangroves by 2030 to capture approximately 115,000 tonnes of carbon dioxide per year, strengthening the Emirate's blue carbon ecosystem, while protecting the coastlines against the effects of rising sea levels and storms.
Until 2015, deforestation was the biggest threat facing mangroves around the world, and the reason this day was started by UNESCO. Once a mangrove environment is destroyed, it can't be replanted easily, the ecosystem is gone.
Now it is our time to take care of them, so they can continue taking care of our planet. Here are a few sustainable ways to enjoy and give back to the capital's mangroves.
Jubail Mangrove Park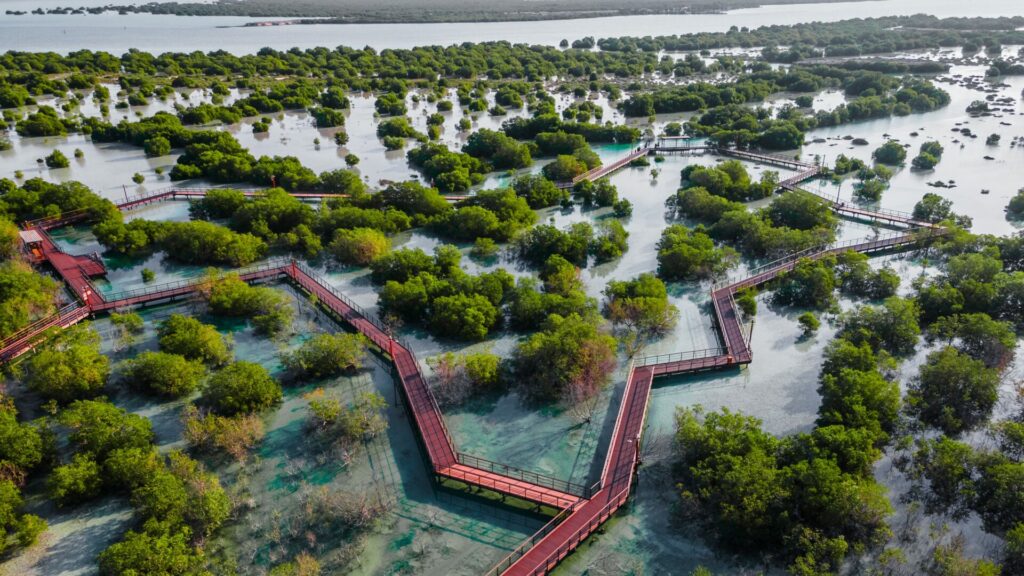 Jubail Island, situated between Saadiyat Island and Yas Island, is home to a peaceful mangrove sanctuary. Take in the wetlands at your own pace via a 2-kilometre boardwalk, reading educational boards along the way. There are options to book kayak tours during high tide at sunrise and sunset or you can explore the waters at night with their glow in the dark tours. Prices range from AED15 for the boardwalk to AED150 for kayaking.
Sea Hawk Tours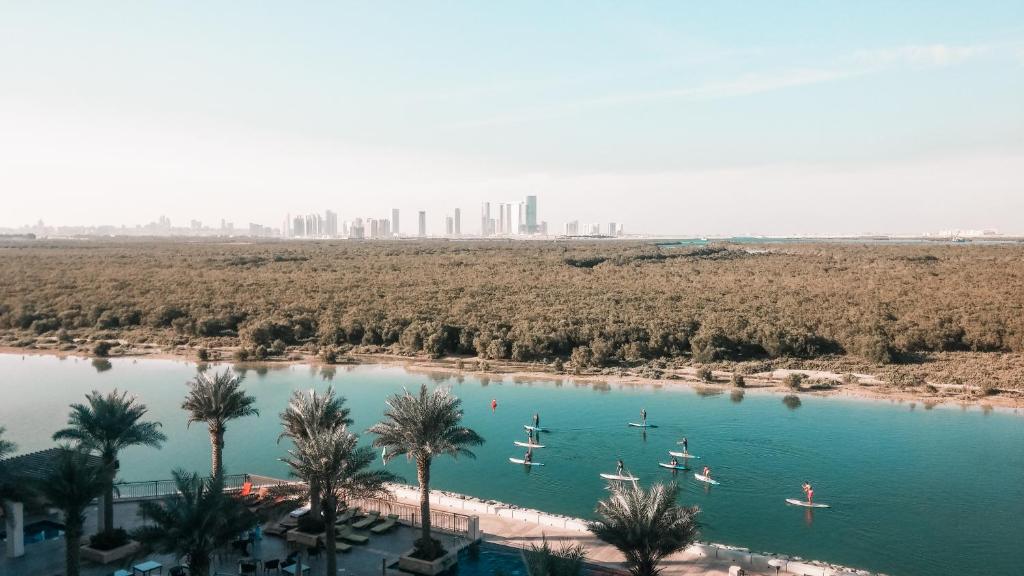 Only ten minutes from Abu Dhabi's city centre lies the Eastern Mangroves. Sea Hawk Tours are one of the ecotourism companies accredited by Environment Agency EAD for the 19 square kilometre national park located between Qasr Al Bahr lagoon and Mushayrib Island lagoon. The largest mangrove forest in the UAE, its shallow waters can be explored by kayak, or paddle boards. Get lost, floating deep into the salty forest for two hours during their sunrise kayak tour. Sea Hawk also boasts being pet friendly and their tour-guides frequently patrol the forests on clean-up duty to keep pollution at bay. Located on the water's edge behind award-winning sustainable hotel Anantara Eastern Mangroves Abu Dhabi.
Noukhada Adventure Company
Noukhada Adventure Company is also approved by the EAD for its low-impact expeditions of the mangrove forests. As an ecotourism company you can book a regular tour of the mangroves or a more extensive informative ecotour which focuses on the mangrove ecosystem. They also offer high tide, mid tide, and low tide tours on different routes. Located in the Eastern Mangroves marina, prices range from AED130 to AED220 for kayak and paddle board tours.
Emirates Nature WWF
Emirates Nature WWF is an environmental federal charity established to drive positive change and conserve the nation's natural heritage. One of their many projects is restoring and preserving the UAE's mangroves. You can become a member of this charity and contribute to their many conservation projects, more specifically by assisting in planting mangrove trees.
Emirates Marine Environmental Group, Companies for Good and Connect with Nature also all offer ways to give back to the mangroves through group activities such as clean-ups and tree planting.
The most important way to help the guardians of our coastlines and atmosphere is to remember that our daily personal choices impact our immediate environment, careless overuse of water and energy, single-use plastics, and transportation have a direct impact on their delicate ecosystem. So, spare the mangroves a thought, and join them in reducing harmful greenhouse gas emissions.
Did you know? That a village in Tamil Nadu, India had planted 80,000 mangrove plants around their village just along the coastline. When the 2004 tsunami hit, the neighbouring areas were flooded but the village remained practically unscathed.