Before the mercury gets too high, it's time for residents and tourists alike to make the most of the beautiful beaches, mountain escapes and mood-lifting sunshine in the UAE. But what about our four legged friends? 
Whether it's finding a suitable pet-sitter, or simply not wanting to be separated from your furry friend, dogs, pets can restrict owners from going away for the weekend.
But there are lots of hotels in the UAE that cater for cats and dogs too, so now everyone can enjoy the holiday vibes.
Here are The Ethicalist's favourite pet-friendly hotels…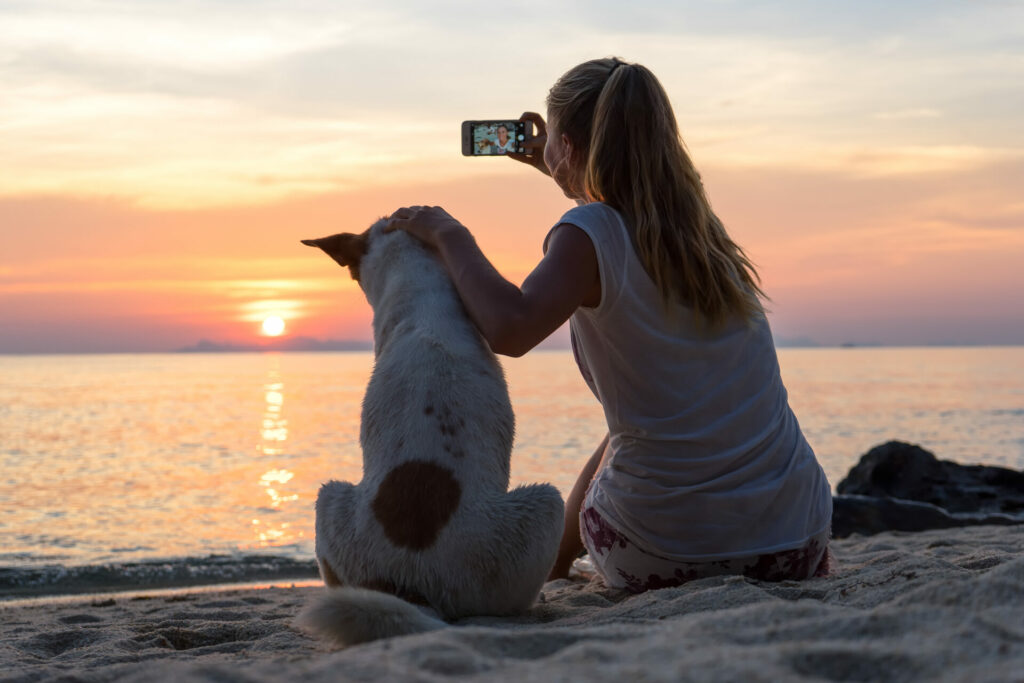 25 Hours Hotel Dubai One Central
This trendy pet-friendly hotel, in Dubai's Trade Centre Area, opened in 2022 and is a modern spot for those wanting a city break without leaving their pet behind. With incredible views of Museum of the Future, it has a stunning backdrop and there are a range of restaurants to choose from too, plus cool nightspot Monkey Bar. Pets of up to 12kg are welcome and it will cost an extra AED650 for them to stay.
25hours-hotels.com
BM Beach Resort
This sandy seaside resort in Ras Al Khaimah covers a 500m stretch of private beach with views of Marjan Island. There are chalets and cabanas to stay in, and the resort is dog-friendly – in fact it was the first resort in RAK to welcome dogs. There's a special dog-friendly accommodation block, along with outdoor areas, no-leash zones and a pet-friendly bar with treats for humans and animals. It's AED200 to bring your dog and services including grooming and pet-care are available, and there's even a dedicated dog beach for them to run free.bmhotelsresorts.com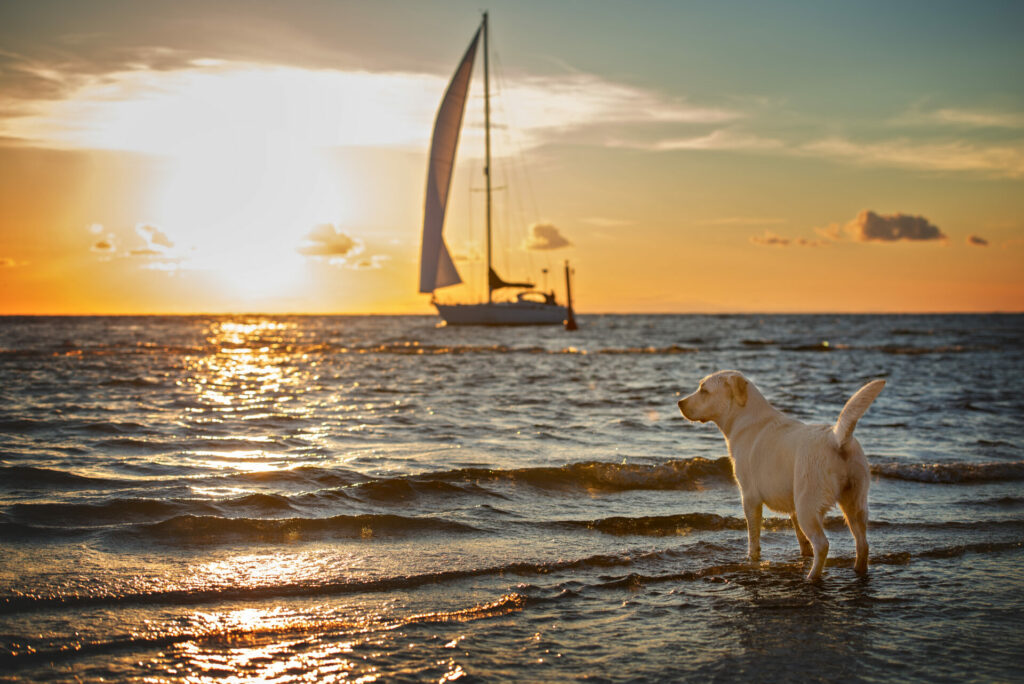 W Dubai – The Palm
A very trendy hotel on Dubai's Palm Jumeirah, this property is probably best known for its party brunches and Michelin-starred restaurant Torno Subito. But it's not just for humans, 'party animals' are welcome to stay over and with amenities such as pet beds, toys and a special in-room dining menu for pets, it's one for pampered party pooches. The pet-friendly hotel accepts dogs up to 18kg, but only one per room. It's AED350 extra for the pet to stay, plus a further AED50 per night.
marriott.com
Hotel Indigo Dubai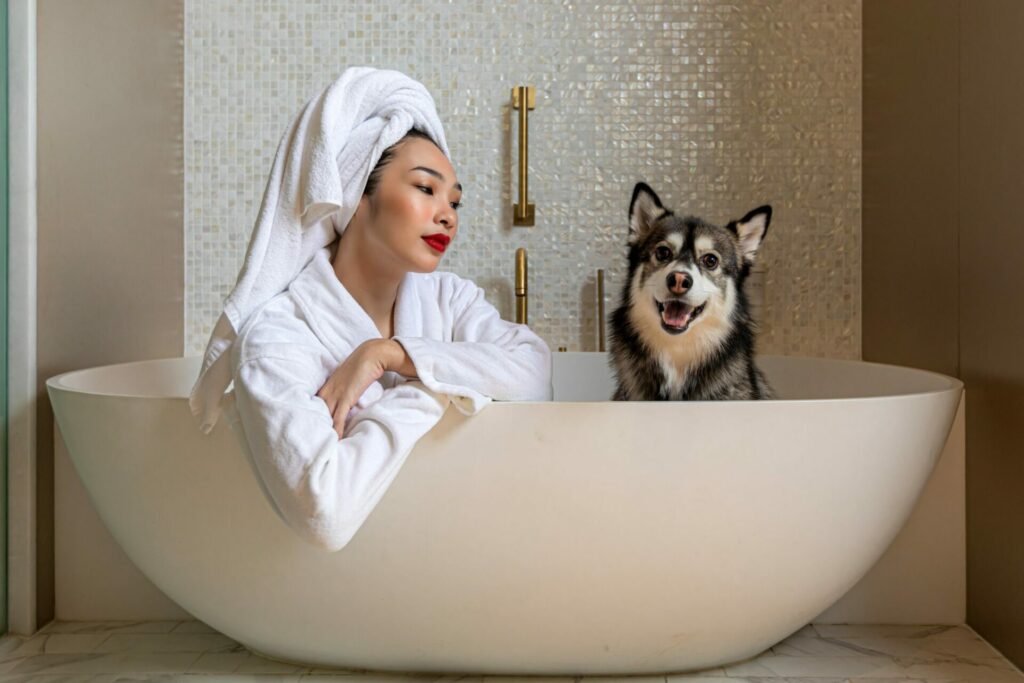 This hotel in Business Bay welcomes four-legged guests, both dogs and cats, with one pet allowed per room, and two pets in a suite. It's AED200 extra per pet, and they can be up to 20kg. Pets must always be on a lead, and they can be in the entrance, lobby, parking, lifts and rooms on designated pet floors. Guests don't need to leave their pet behind while they dine, either, as they're allowed in the outdoor seating areas of Open Sesame restaurant as well as Orange Feels bar.
hotelindigodubai.com
JA Hatta Fort Hotel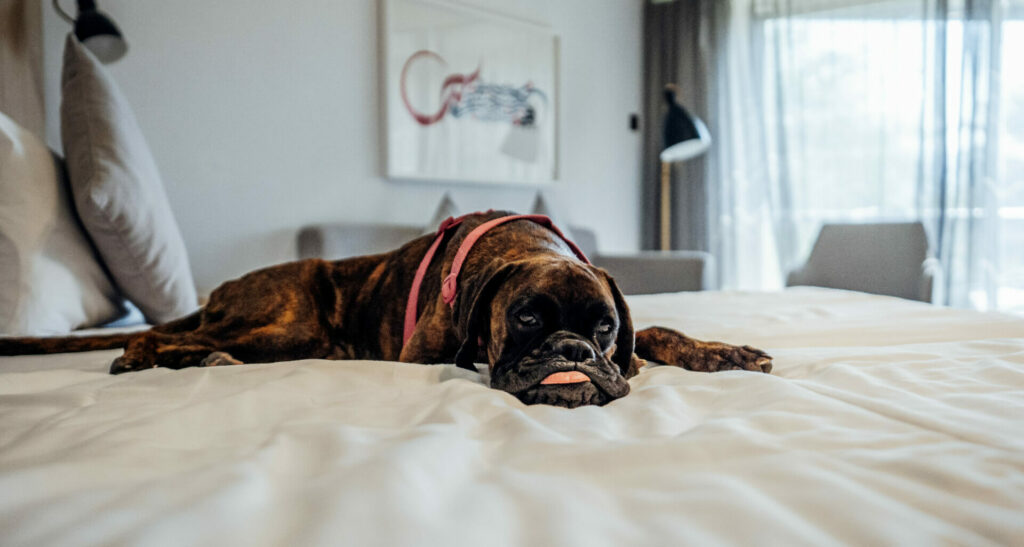 This family pet-friendly hotel in Hatta has long been a popular spot for tourists from all over the UAE, thanks to its position in the mountainous area. Overlooking the famed Hatta sign in the mountains, the hotel has several swimming pools and plenty of games (snooker, air hockey, pétanque and more) and plenty of green space to run around in, for both kids and four-legged members of the family. Dogs of all sizes are welcome, in specific pet-friendly rooms, and it's AED150 to check in, and an extra AED50 per day.
jaresortshotels.com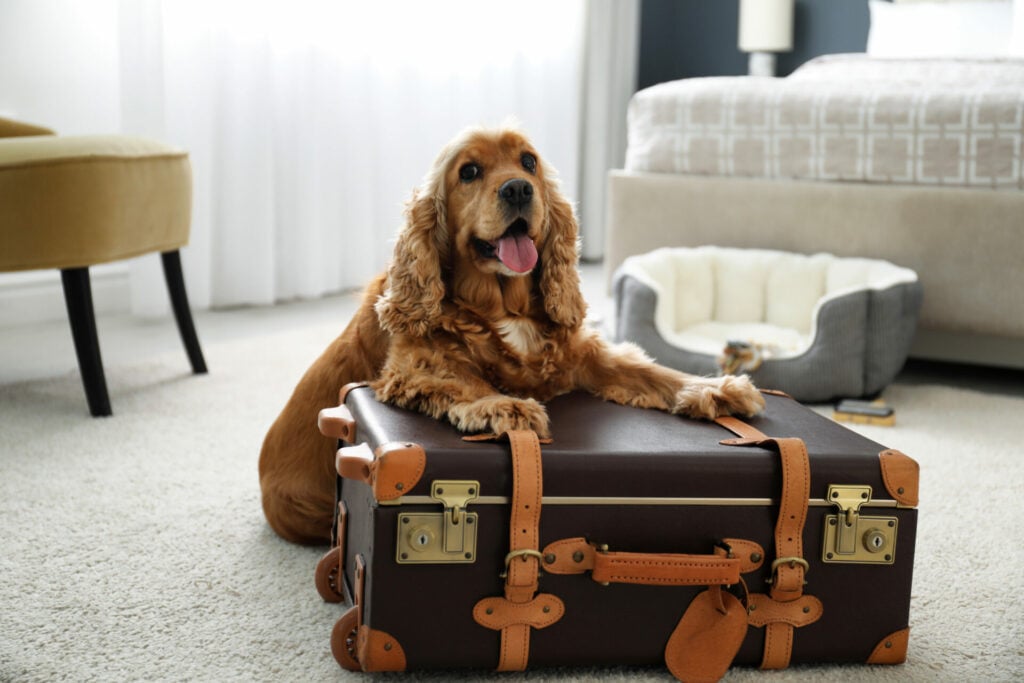 Radisson RED Dubai Silicon Oasis
This boutique-style hotel in Dubai's Silicon Oasis is one of the most pet-friendly hotels in Dubai. Not only are pets welcome in the restaurants, they are treated like a member of the family, too. Canine guests are welcomed and rooms are equipped with pet beds and food bowls. And it's not just dogs – cats are able to stay, too. Pets are welcome at the hotel's Oui Bar & Terrace where they'll also get free treats. All pet-friendly rooms are on the first floor, and pets can even have animal-friendly ice cream. A refundable AED500 deposit is taken at check-in.
radissonhotels.com
Hilton Beach Resort Ras Al Khaimah
The resort has eight dog-friendly rooms with direct access to a 500m-long private back beach area. Dogs are allowed access to Sunset Bar, if they're on a lead, and are provided with beds, blankets and dog bowls, as well as access to a special 'Bone Appetit' room service menu with dishes including grilled boneless chicken with white rice and beef and veggie stew. Two dogs per room are welcome, with a combined weight of 25kg. Stays start from AED1,350.
hilton.com
VIDA Beach Resort Umm Al Quwain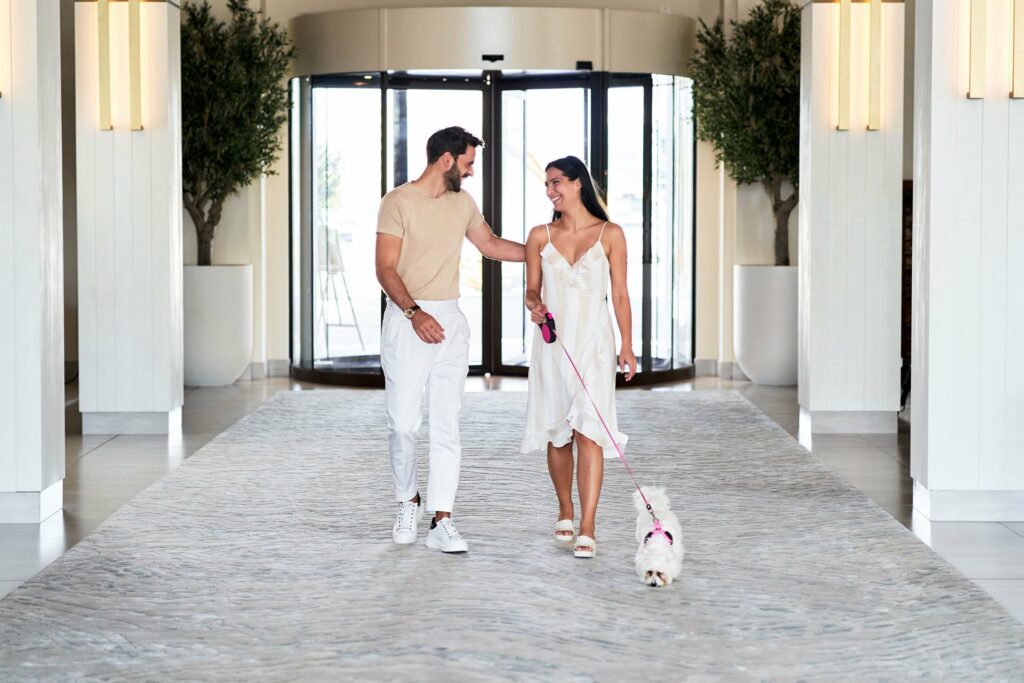 Well known for having dog-friendly beaches, pet-owners in the UAE will be familiar with Umm Al Quwain, and if they're looking to upgrade from camping, then this beach resort welcomes all travellers – dogs included. Pets are only allowed in specific pet-friendly rooms, floors and public spaces and it's an additional cost of AED150 to check them in, and AED50 a day for dedicated cleaning. Pets can stay for a maximum of 14 days, with two pets per room and they must be under 10kg.
vidahotels.com
VIDA Emirates Hills
Overlooking Emirates Golf Club, VIDA Emirates Hills also accepts dogs. The same rules as for Umm Al Quwain apply in this Dubai property and the hotel provides beds, bowls and toys to keep them occupied, and there's a dedicated pet playground at this location, too.
vidahotels.com
W Abu Dhabi – Yas Island
One of the most famous spots in the UAE capital, it might be surprising that W – Abu Dhabi is pet-friendly. The pet policy is PAW (pets are welcome) and it's AED350 to check them in and AED70 a night. This hotel is a bucket-list place to stay thanks to the F1 track that runs through the centre of it.
www.marriott.com
For more eco travel go to our TRAVEL section