On May 23rd, we 'shellabrate' World Turtle Day and remember our friend, the turtle. Turtles have a lifespan of about 40 years and the warm ocean waters of UAE and Oman are home to five of the seven sea turtle species; Green Turtle, Loggerhead Turtle, Hawksbill Turtle, Olive Ridley Turtle, and the Leatherback Turtle.
While most don't know the important role our loggerheaded mates play in the marine life environment, they are in fact key to the oceanic ecosystem. They help maintain crucial seagrass meadows, via grazing which contributes to good oxygen levels in the ocean and provides a safe nursery ground for other marine life.
Their diet aids in controlling the jellyfish population which is vital to keeping smaller fish alive and they protect coral reefs when they eat the overgrown sponges. With their big shells these floating reptiles also provide habitats for barnacles, algae and small creatures that come to live on them.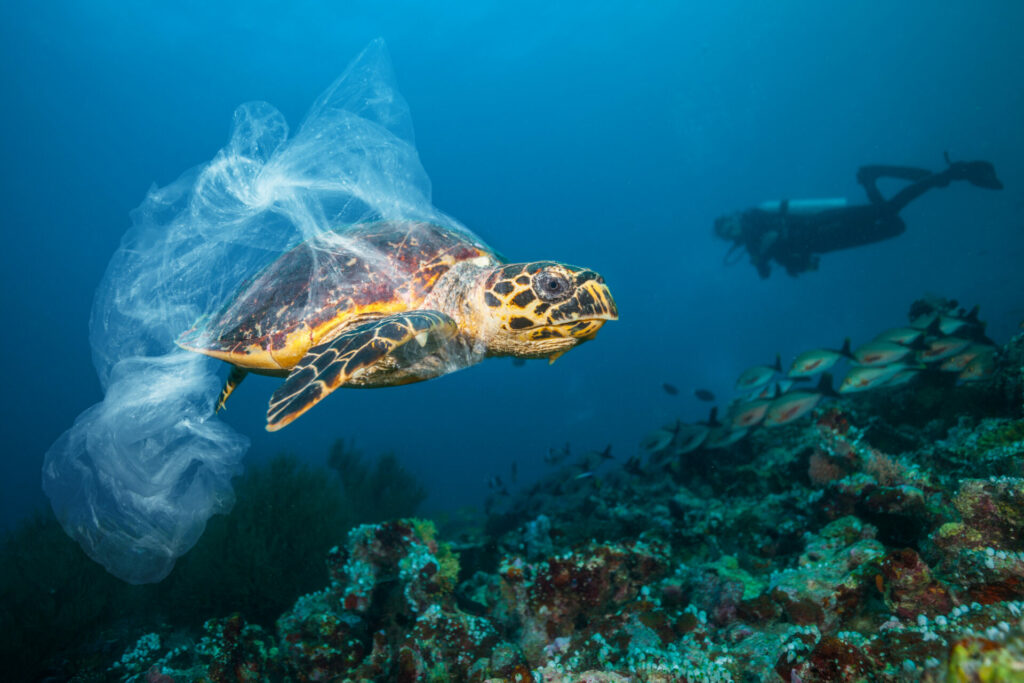 Sadly, every one of these turtles are endangered. Human impact is the greatest risk to these gentle giants due to the direct result of the climate crisis, overdevelopment of shorelines, overfishing and the biggest one: pollution.
Researchers state that in the gulf, the majority of sick or dead sea turtles are found with plastic in their stomachs: plastic bags, bottle caps, straws, fishing nets, shrivelled balloons, and other single use plastic items. And like many other sea creatures, are found tangled in nets and discarded through commercial fishing practises.
There are about 200 turtle nesting sites on our coasts and nesting season is between April and September. The pregnant mothers drag their heavy shells up the shore at night, digging deep holes to lay about 100 eggs. She covers them and returns to sea before sunrise. The eggs take two months to hatch, and the little hatchlings make a mad dash to the ocean; hoping to avoid crabs, foxes, and seagulls.
Many of these sites are now private, protected by the UAE government providing safe passage to the 20,000 turtles that come home to nest each year.
There are a few turtle sanctuaries and rehabilitation centres however in the UAE and beyond that lets us observe these beautiful creatures, and their reintroduction into the wild, up close.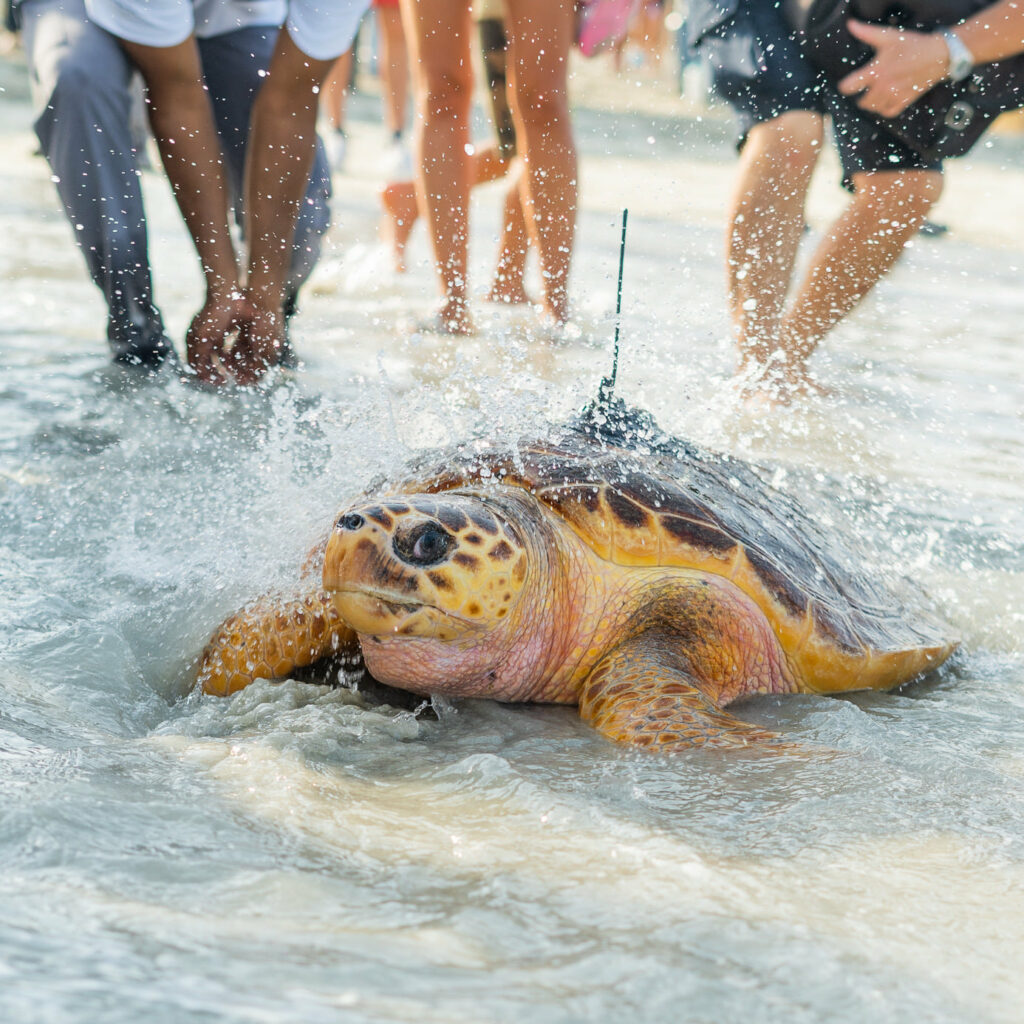 Jebel Ali Wildlife Sanctuary
This is the only site in Dubai that the critically endangered Hawksbill Turtle comes to nest. The protected shores of the Jebel Ali Wildlife Sanctuary are home to many other endangered marine life creatures. There are currently less than 8000 nesting Hawksbill females left in the world, and ensuring the safety of their eggs is very important to the reserve. If you contact them directly on +971 54 455 5515 during nesting season, Mr. Ali will call you the morning when eggs hatch, and at sunset you can help release them into the ocean. (Free)
Jumeirah Al-Naseem Turtle Rehabilitation centre
The Dubai Turtle Rehabilitation Project has rehabilitated over 2000 turtles, releasing them back into their natural habitat. After their initial treatment at Burj Al Arab Jumeirah's Aquarium, they recover at Jumeirah Al Naseem Turtle Rehabilitation Lagoon. The centre rescues, rehabilitates and releases them when they are ready. You can meet the turtles at the gulf-fed lagoon which is open to the public daily. Join a feeding session at 11am and learn all about the important part they play in our oceanic ecosystems. (Free)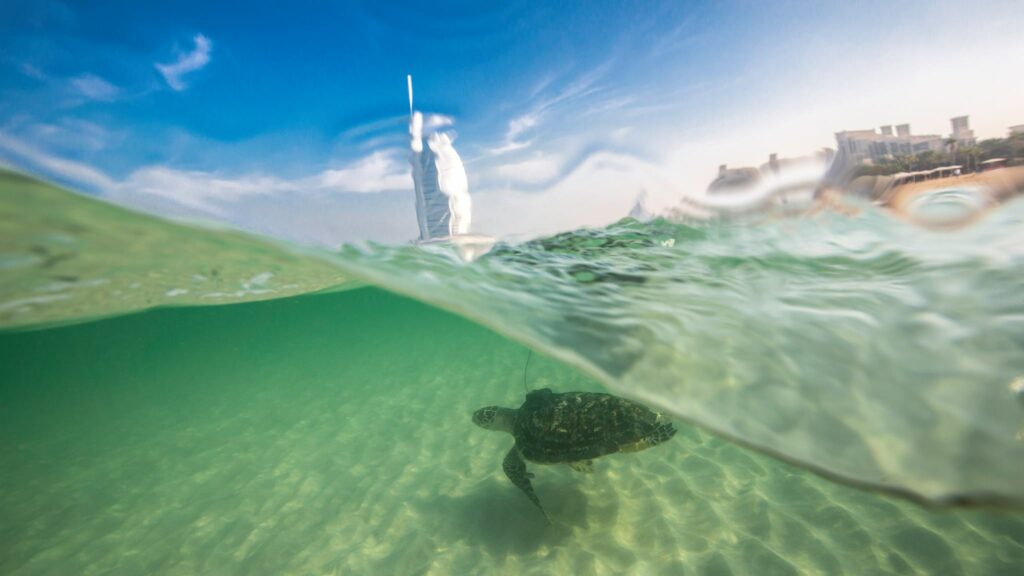 National Aquarium
There are three places in Abu Dhabi that oversees the rehabilitation of turtles and the protection of their nesting sites. The National Aquarium in Abu Dhabi has a Wildlife Rescue team in partnership with the Environment Agency – Abu Dhabi (EAD) and they rehabilitate many sick or injured marine creatures found on the shores of UAE. You also can visit Amal (Woody) their permanent resident Loggerhead turtle who was found entangled in a fishing net and left stranded. She was nursed back to health but is unable to survive in the wild as she is missing a flipper and remains at the aquarium.
Louvre Abu Dhabi
You can stop to view recovering turtles in the waters of The Louvre, Abu Dhabi where they are in the final phase of recovery before heading back into free waters. (Free)
Saadiyat Island
Saadiyat Island hosts Volunteer Turtle patrols, special hatchling release tours as well educational workshops through Connect with Nature group, you can join their activities by registering through their website. (Free)
Ras Al Jinz Turtle Reserve – Oman
The Ras Al Jinz Turtle Reserve was established to help conserve the nesting practices of the Green turtle; visitors can stay in the hotel, or walk-in as a guest to observe this magical experience. Turtle view tours happen after 9pm or at 5am, the guides are very knowledgeable; the safety and uninterrupted privacy of the turtles is their main concern. (Free with hotel stay)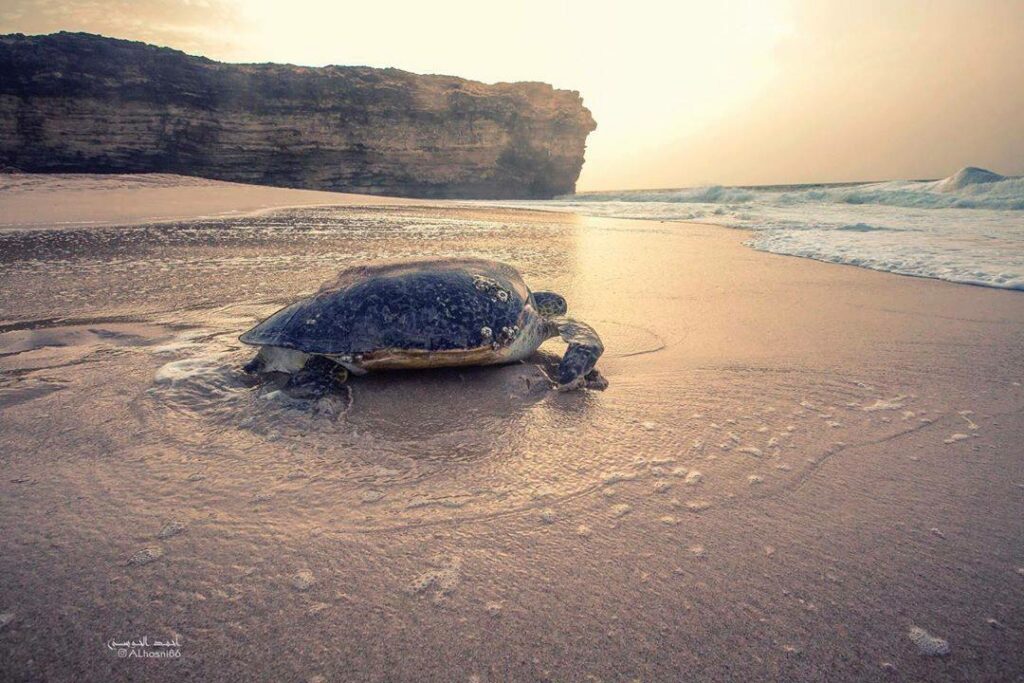 Other Ways to Help
There are many ways that each of us can help protect sea turtles; it is important to stop using single use plastic items and recycle – reducing landfills is key to everyone's future. You can also help with beach clean ups or join volunteer turtle patrols, reporting nesting sites so they are not disturbed. Lastly, but most importantly – immediately report any sick, weak, or dead turtle directly to EAD* by calling 800 555 or 800TURTLE in Dubai.