A farmer doing a roaring trade in lion meat who says he will 'eat and sell anything' has been condemned by PETA who say feasting on 'exotic' animals is a 'sick and callous indulgence.' 
Former vegetarian Anshu Pathak sells meat from vulnerable animal species at his Exotic Meat Market in the Californian town of Perris with lion flesh fetching $49,999 (183,615 Dhs) per 1b slab.
Other sick items up for sale include bear tenderloins for $1,000, boneless turtle meat for $1,250 per 25lbs and $99 for a python gallbladder.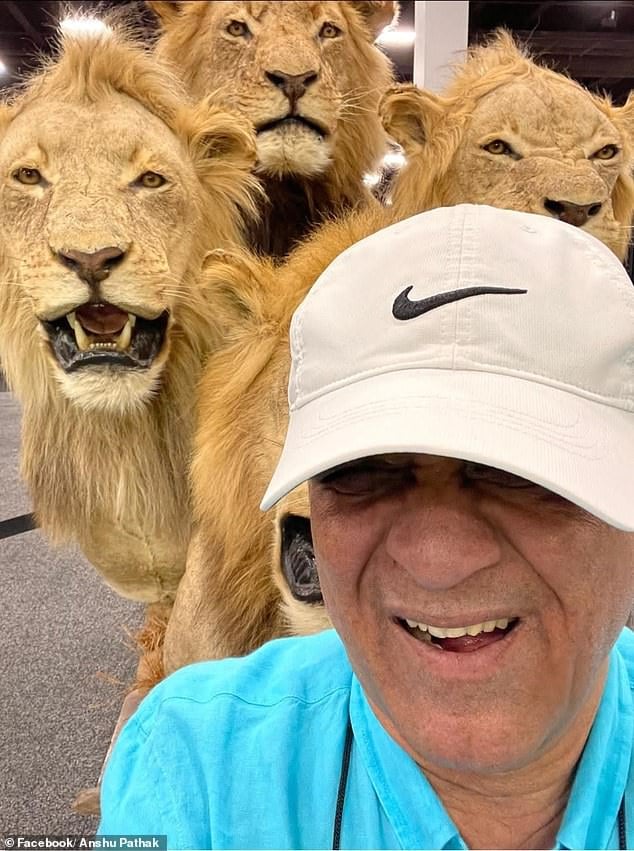 But People for the Ethical Treatment of Animals (PETA) has condemned the trade saying that the money spent on buying these products should be invested in environmental habitat protection and ending trophy hunting.
PETA Vice President of UK Programmes and Operations Elisa Allen told The Ethicalist: 'An ounce of compassion costs nothing, and the $50,000 per pound (£18,260 per kilo) paid by those who wish to consume lion meat, as a sick and callous indulgence, should be donated to efforts to save lions' habitat and ban trophy hunting instead. 
'Lions are thoughtful, clever living beings who do not deserve to end up in some vulgarian's overstuffed stomach. And let's extend our outrage at the slaughter of "exotic" animals to all animals killed for their flesh and do our part to help them by choosing plant-based meals over any animal's corpse. It has never been easier to go vegan and show kindness and respect for who animals are.'
Lion Meat Listing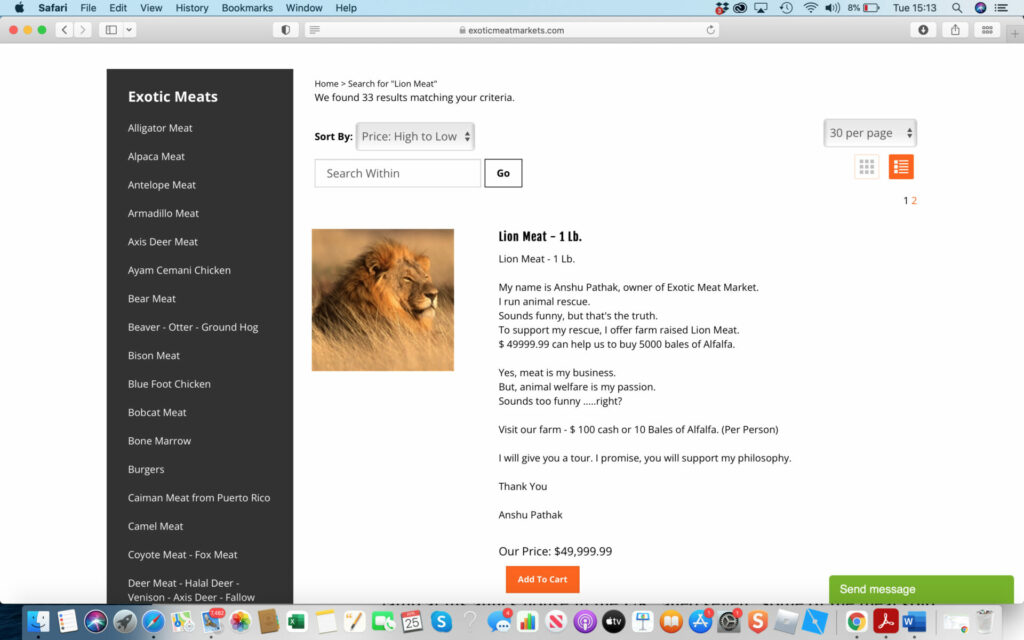 The backlash from animal welfare groups and conservationists came after UK media highlighted the range of flesh harvested from vulnerable animal species available from farm owner Pathak – who claims lion meat is like Donald Trump:'always popular'.
The US Food and Drug Association rules all game meat – including lions – is legal to sell so long as it is not classified as from an 'endangered' species. Lions are currently listed as 'vulnerable' by the African Wildlife Foundation.
'Lion meat is like Donald Trump – it will always be popular,' Pathak – who says he sells everything from 'A to Zebra'- told UK news site Dailymail.com.
Pathak, 66, said: 'All meats I offer are popular because immigrants come from all over the world to the US. And the US has all the meats available as most of the exotic animals are raised by ranchers and hunting outlets.
'I will eat and sell anything and everything which is legal as per the laws of the United States.'
His 13-acre farm is home to alligators – whose blood he was once videoed drinking – rattlesnakes, squirrels, ostriches and water buffalo.
Vegetarian Turned Blood Drinker
Pathak was raised a vegetarian, but switched his diet after tasting lamb at his aunt's house in the UK, aged seven. Some of the meat sold comes from his own animals but the lion flesh, he says, is sourced from other US farms.
The Exotic Meat Market was founded in 1989 and Pathak also owns Gourmet Meat and Seafood of San Bernardino Inc which ships the products all over the world.
In January 2020, animal rights activists cut away a section of fence at the farm and backed a trailer into the gap. They took away 30 llamas and 160 ostriches which had been inside along with emus, lambs, goats, alpacas and geese. No trace of them has ever been found.
However animal control officers and sheriff's deputies later discovered about 50 additional llamas and emus had escaped. Another emu was found the next day wandering near a busy highway.
The raid came after unfounded allegations that Pathak was keeping livestock in inhumane conditions. He has always denied this, and has the backing of animal control officers who said they visited every day for weeks, and each inspection revealed no sign of neglect.
No one has ever come forward to claim responsibility for the break-in at Pathak's farm. But 10 days before it took place a Sherman Oaks non-profit group called the Animal Hope and Wellness Foundation issued a call for volunteers via Facebook.
It stated: 'We will be doing a mass rescue this weekend, and will need help from those local to Los Angeles. There is a place in Riverside, where over a hundred animals are being kept. These animals are suffering, and appear to be housed on an abandoned lot. Animal Hope and Wellness has been investigating the scene, and due to the horrifying conditions have chosen to take action.'
US regulators monitor the trade in wild animal meat – especially following the worldwide revelations concerning self-styled Tiger King Joe Exotic into the world of big cat keeping, which exposed widespread malpractice and criminal activity.