The wildfires raging across the Greek island of Rhodes are an 'undoubtedly a wake-up call' on the threat posed by climate change says a leading UK government minister.
The fires have brought chaos to the popular holiday island, with latest figures suggesting around 19,000 people have been forced to flee their homes and hotels.
In the weeks leading up to the fires, Rhodes experienced dry weather with daily temperatures in the mid to late 30s. This helped fires burn longer and rage more intensely as moisture was sapped from vegetation, turning it into dry fuel that aids in the spread of flames.
Foreign Office minister Andrew Mitchell told the BBC: 'Climate change is real. It is now. And it is essential that the world combats it.'
Speaking to Radio 4's Today programme he added: 'We had, just a couple of weeks ago, the hottest day, on (a) Monday, that the world has ever experienced. Those temperatures were then exceeded on the Wednesday for a second weekly record. And then on Thursday the third record in one week. The highest temperatures the planet has ever seen.'
Greek Wildfires Suspected Arson
The blazes sweeping across Rhodes had been confined to the mountainous centre but, aided by winds, very high temperatures and dry conditions, swept towards the coast on the central-eastern side.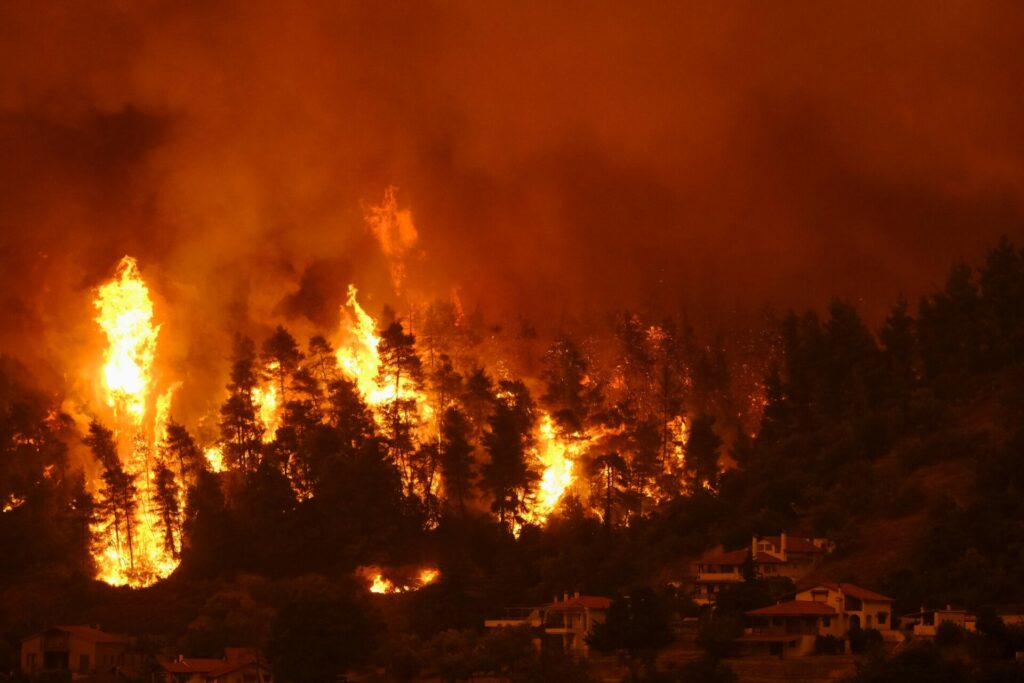 Despite ongoing evacuation flights, many tourists are still stranded across the island, sleeping in schools and other shelters, as well as in the island's airport.
While the initial cause of the fire has not yet been confirmed, local firefighters have suggested that it could have been arson.
Yiannis Artopios, a fire service spokesman, told reporters authorities are currently questioning suspected arsonists.
'Fires are not sparked on their own,' he told Greek television network Skai TV. 'They are triggered by the human hand, be it intentionally or not. We currently have several people being questioned in connection with their probable involvement.'
Many other factors can spark a wildfire including campfires, cigarettes, lightning, even sunlight.
But how far it spreads depends on the weather. By burning fossil fuels and destroying nature, humans have heated the planet by 1.2C – and Europe by 2C – above pre-industrial levels, making the hot, dry conditions in which wildfires thrive more common.
In its latest review of the science, the Intergovernmental Panel on Climate Change found that heat-induced fire weather in southern Europe will increase by 14 per cent if the planet heats by 2.5C. Current policies put it on track for 2.7C.
In it, scientists warned: 'Wildfires are becoming more intense and more frequent, ravaging communities and ecosystems in their path. Recent years have seen record-breaking wildfire seasons across the world from Australia to the Arctic to North and South America. With global temperatures on the rise, the need to reduce wildfire risk is more critical than ever.'