A life-size robot elephant is taking part in ceremonies at a temple in India after concern was raised about the welfare of animals used for traditional rituals.
The 10ft 6ins realistic-looking robot will be used instead of elephants at Irinjadappilly Sree Krishna Temple in the country's southern Thrissur district of Kerala to conduct ceremonies and take part in festivities in a 'safe and cruelty-free' way.
The robot, called Irinjadappilly Raman, was made locally and is sponsored by People for Ethical Treatment of Animals (PETA) India and Bangalore Days actress Parvathy Thiruvothu who want to stop the use of live animals in the 'cruel' tradition.
Elephant Cruelty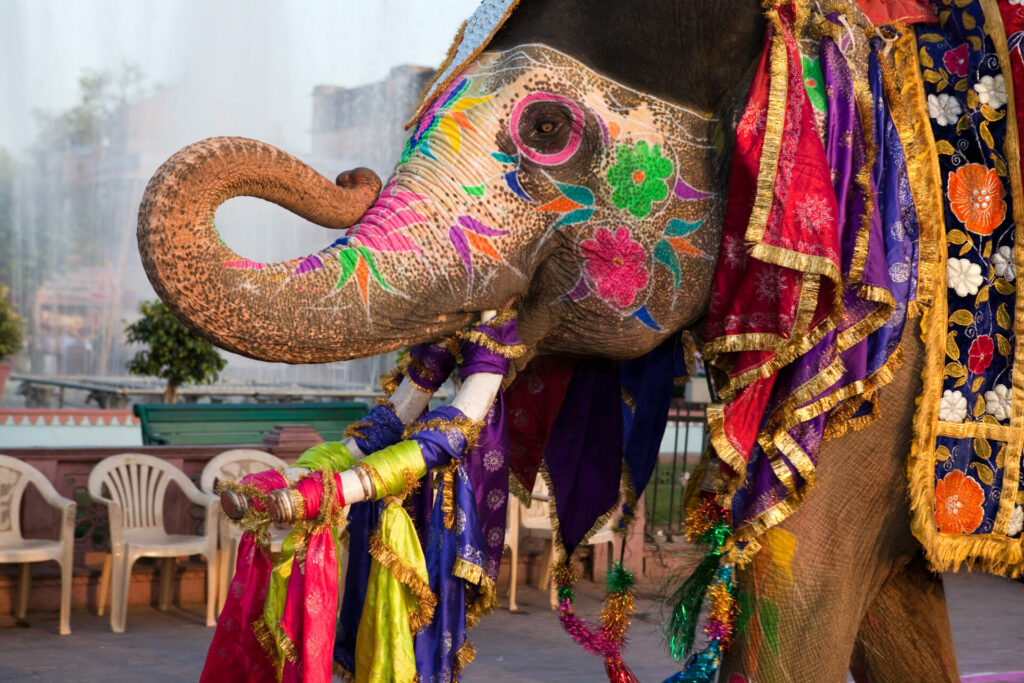 Chained, saddled and decorated in bright colours, elephants play an important part in temple festivals in Kerala, home to about a fifth of the country's approximately 2,500 captive pachyderms.
For years, animal welfare activists have expressed concerns about their treatment. Many are held illegally or have been moved to a different state without permission, PETA claims. They are often beaten with weapons with a metal hook and many sustain foot injuries after being shackled to concert for long periods of time, the organisation said.
Recently, The Centre for Research on Animal Rights wrote to the state's chief minister about the increased mortality of the mammal, saying a staggering 138 captive elephants had died in Kerala over just five years between 2018 and 2023.
PETA said that subjecting live elephants to extreme loud noises during festivals was cruel and urged all temples in the state to start using robot elephants instead.
'It's high time we made stronger and more impactful strides towards stopping such abuse and letting animals have respectful and dignified lives,' the organisation added.
Replacement Robot Elephant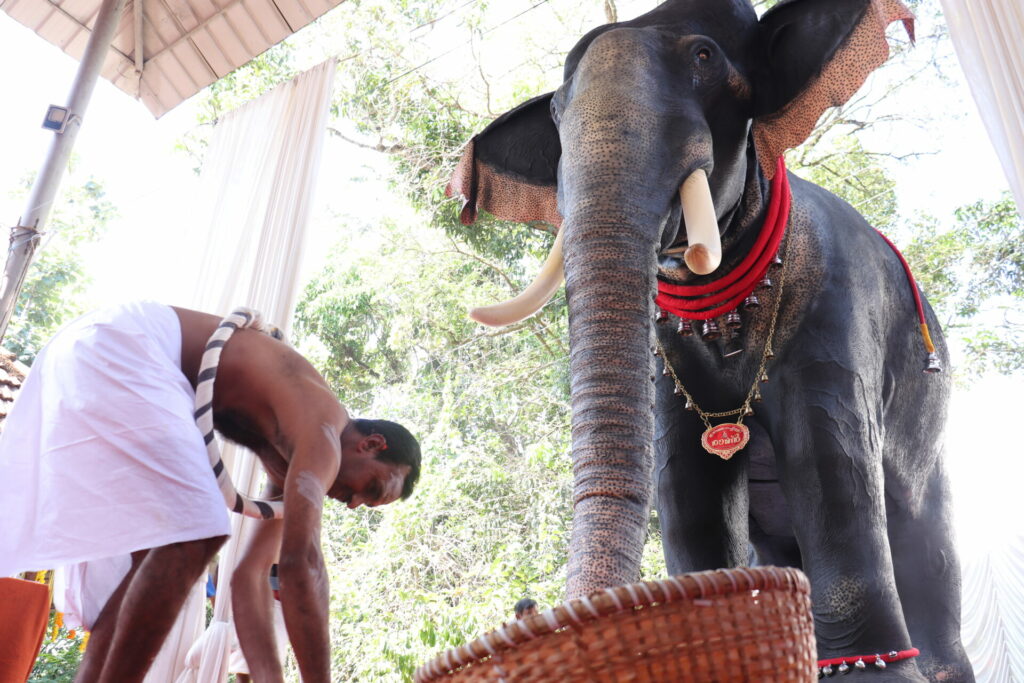 The replica elephant weighs 800 kg and is made of an iron frame. The robot's head, eyes, trunk, ears and tail all work on electricity and can be controlled by a switch but it can't move its legs. It was made by a group of artists in Thrissur, who have been supplying elephant statues for the Dubai Shopping Festival.
Community leaders carried out a traditional 'Nadayiruthal' ceremony – a ritual offering elephants to the deity in Kerala temples – to 'induct' the robot elephant into the temple where it was draped in the same cloth used for real elephants.
Temple priest Rajkumar Namboothiri said that he was happy to receive the mechanical elephant and called for other places of worship to adopt the same idea.
'We hope other temples will also think about replacing elephants with robot elephants for their rituals,' he said.
He added that the temple used to hire elephants for the festivals in the past. 'In the last few years, the temple has stopped that practice considering the high cost of getting a pachyderm and the growing incidents of elephants turning violent during festivals,' said Namboothiri.
'But when we heard that a group of artists had constructed elephant statues for Dubai we met them and asked to make one as per our suggestions and modifications. Then PETA India, which is working against cruelty towards animals, stepped in with sponsorship. We think more temples in Kerala would go for robotic elephants.'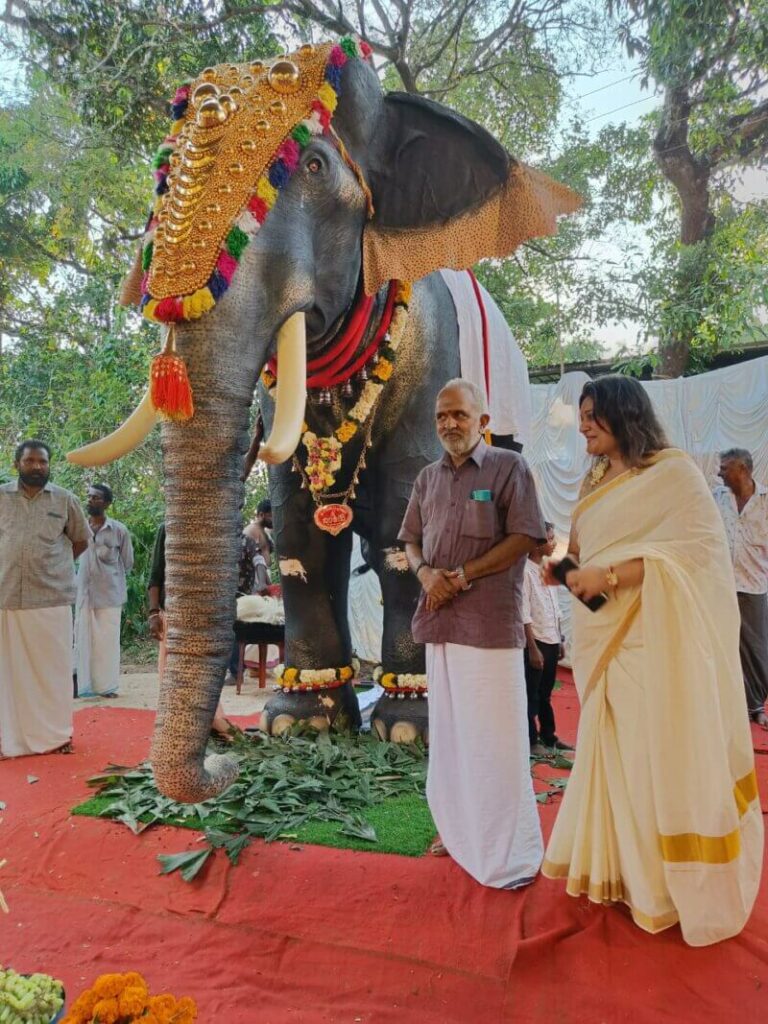 Elephants can display antisocial and even aggressive behaviour if they're deprived of food, water and care. Frustrated, hungry and thirsty elephants often try to break free and if they're successful they can harm humans, animals and property.
According to figures compiled by the Heritage Animal Task Force, captive elephants killed 526 people in Kerala in a 15-year period from 1997 to 2012. One, named Thechikkattukavu Ramachandran, who has been in captivity for about 40 years and is one of the most often used elephants in the state's festival circuit, has reportedly killed 13 humans and animals – six mahouts, four women, and three other elephants.
PETA said: 'Because elephants are wild animals who would not willingly obey human commands, when used for rides, ceremonies, tricks, and other purposes, they are trained and controlled through severe punishments, beatings, and the use of weapons with a metal-tipped hook.
'Many have extremely painful foot ailments and leg wounds from being chained to concrete for hours on end, and most do not get adequate food, water, or veterinary care, let alone any semblance of a natural life.'