While global travel has started to return to pre-pandemic levels one thing has changed for good: tourists have become increasingly conscious of the environmental impact of their holidays. Many travellers are now looking for resorts that offer the luxury they are accustomed to but with care for the planet as a priority.
A quick scout around the UAE reveals a host of retreats that fit the luxury-loving-yet-eco-conscious-traveller's (yes, there is such a thing!) bill. Reducing food waste, growing produce, sourcing from local communities and educating guests on the local environment are all part and parcel of a stay at one of these stunning luxury desert resorts. And naturally, this all takes place without compromising on the five-star experience.
Offering harmonious luxury experiences, the following five UAE retreats are leading the way when it comes to pampering you and protecting our planet.
Qasr Al Sarab Desert Resort by Anantara, Abu Dhabi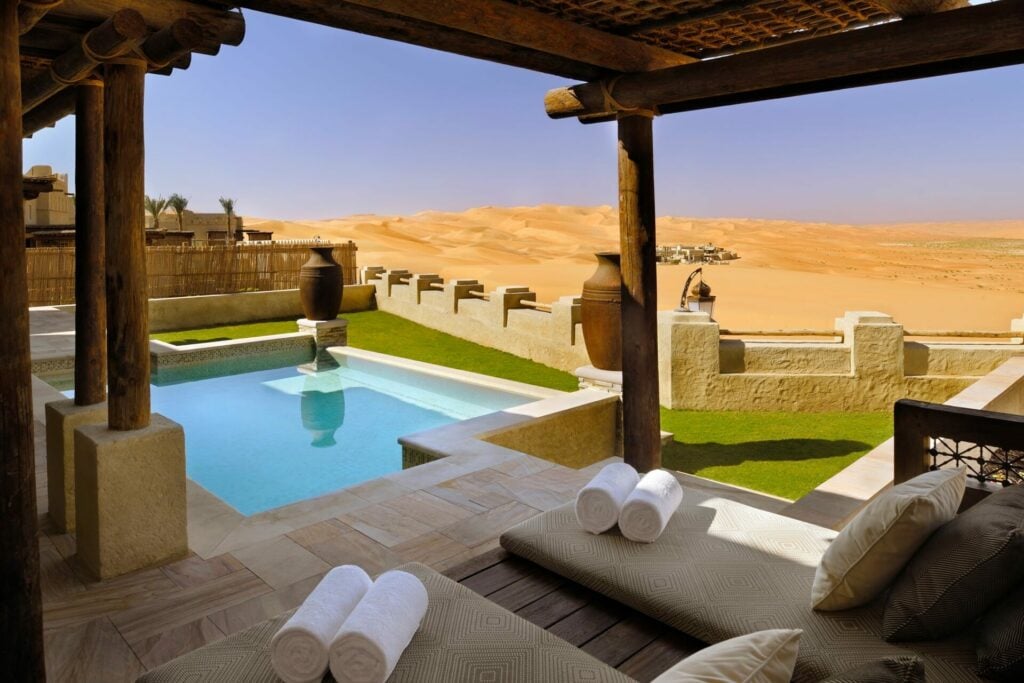 It is hard not to be impressed even before arriving at this accoladed luxury desert resort situated in the ethereal Rub' al Khali or Empty Quarter – a desert area that covers some 650,000 square kilometres between the UAE and Saudi Arabia. The long, winding road leading to this unique destination is enveloped by magnificent undulating dunes shimmering in the sun – a sight to make even the most seasoned traveller gasp. It's easy to see why this was chosen as the set for Star Wars: The Force Awakens and picked up Best Desert Resort in the Middle East at the World Travel Awards 2022!
Every aspect of this understated resort is five star. From the oversized bath tubs and rain showers nestled within sumptuous arabesque rooms and villas to a plethora of activities including star gazing, sand boarding, meditation, culinary masterclasses and discovering ancient cultural traditions such as falconry, no detail has been overlooked. Guests can also truly immerse themselves in the nature of this desert resort by looking out for wildlife such as the Arabian oryx that roam free in their natural habitat.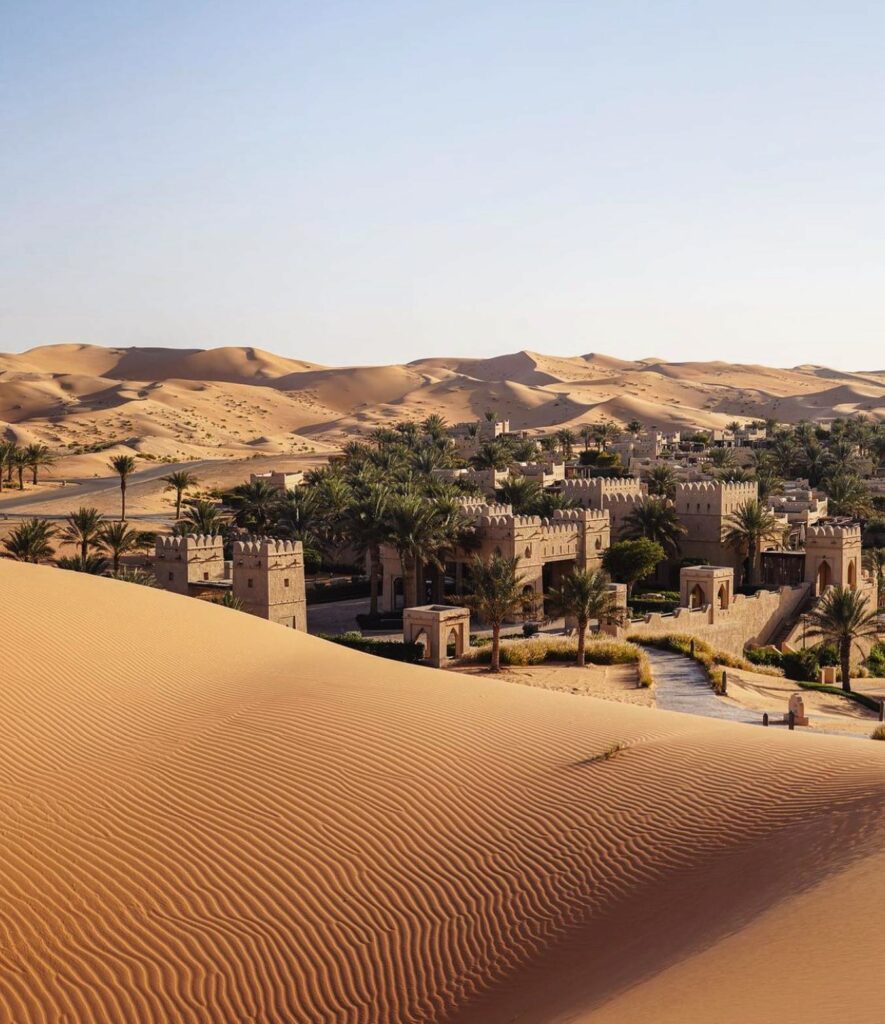 But it's the sustainable luxury ethos that makes Qasr Al Sarab stand out. From solar panels that heat the water and reduce the use of electricity by up to 80 per cent, to zero waste strategies in the kitchen that see leftovers composted and utilised as fertiliser for the onsite herb garden and vegetable greenhouse, the hotel seeks to be a green idyll. The hotel has completely phased out plastic bottles while cardboard, oil, paper, and bars of soap are all recycled. All these initiatives and more have earned the resort Gold status in the Green Growth Awards.
Qasr Al Sarab Desert Resort – Abu Dhabi. Book here
Al Maha, a Luxury Collection Desert Resort & Spa, Dubai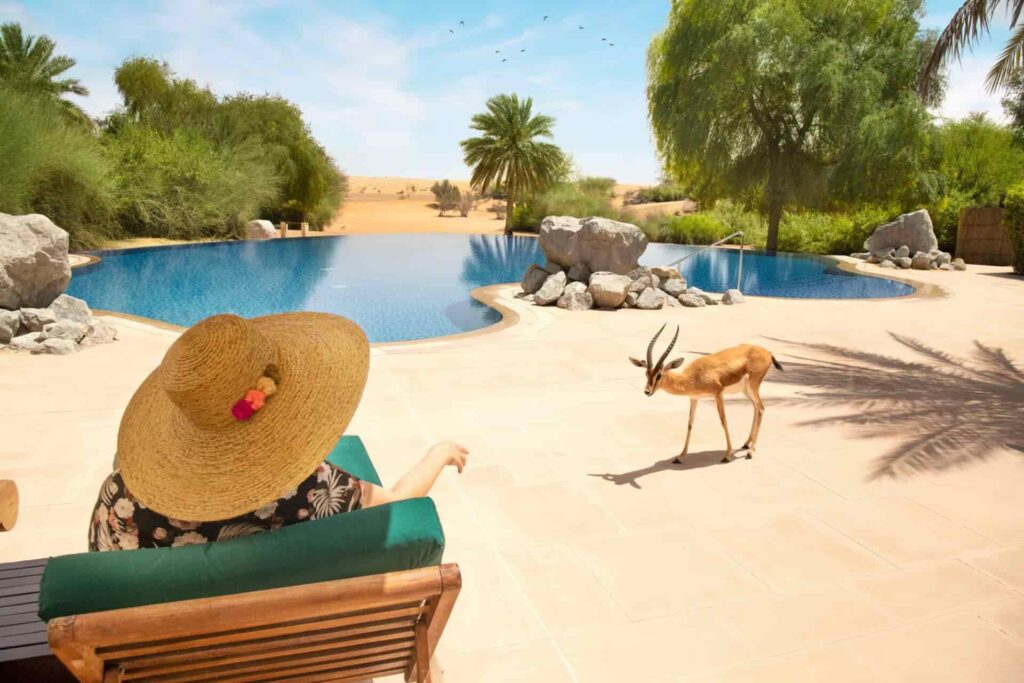 Situated in the beautifully preserved Dubai Desert Conservation Reserve, just a 45-minute drive from the emirate, the five-star resort – whose name Al Maha translates to 'the oryx' – offers guests a true glimpse into the local wildlife. This boutique desert resort has been protecting the region's flora and fauna for many years, even watching the 70 endangered Arabian oryx they reintroduced to the reserve swell to more than 400. Don't be surprised if you notice one of them approaching your secluded luxury suite for a sip of water from the private pool!
Dining options take place at the all-inclusive on-site restaurant and lounge, where guests are offered panoramic views of the magnificent landscape. Activities on offer include archery and nature drives with experienced field guides in battery-operated buggies instead of fuel powered, of course.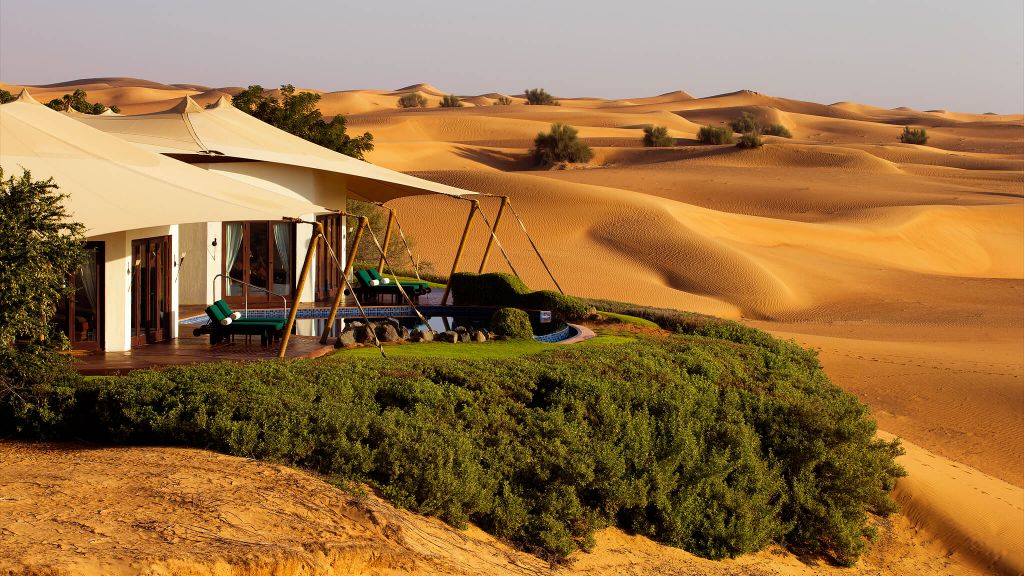 This unique retreat, that has been awarded the Green Key certification for its' eco efforts, offers guests a seamless and sustainable stay. A recent refurbishment saw the resort equipped with LED lighting, solar panels and sewage treatment plants, alongside introducing a sustainable water management system.
Dubai Desert Conservation Reserve Dubai – Al Ain Road Book here
The Ritz-Carlton Ras Al Khaimah – Al Wadi Desert, Ras al Khaimah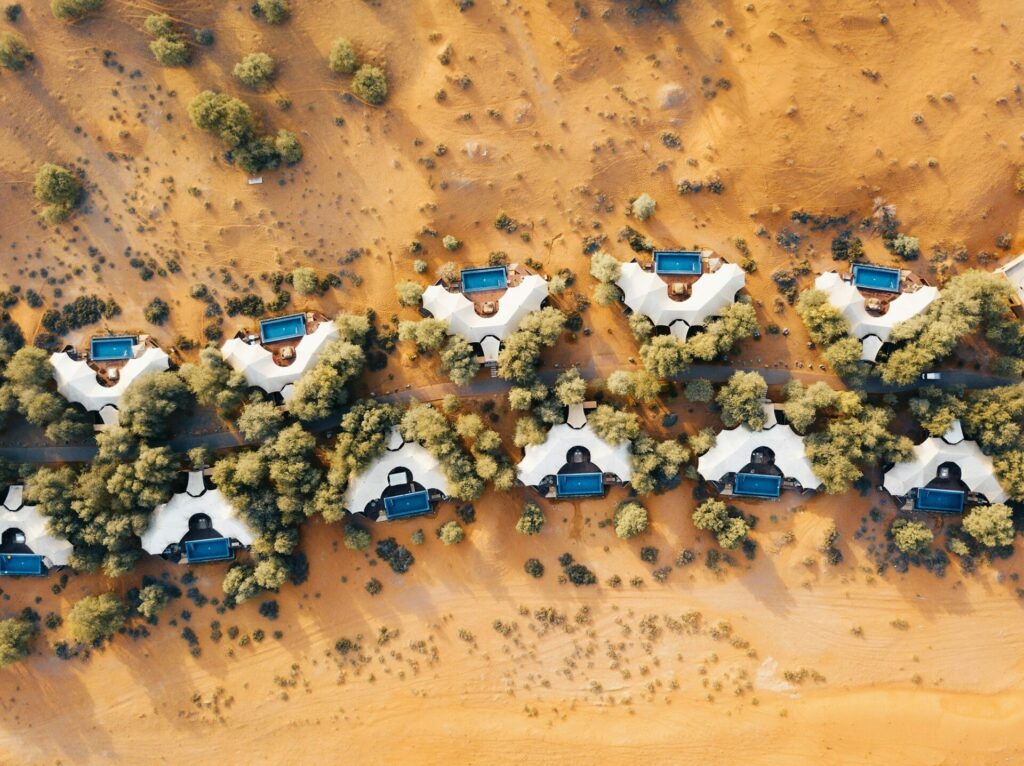 The Ritz-Carlton Ras Al Khaimah al Wadi Desert, nestled within the sanctuary of a protected nature reserve, is one of the most popular desert resorts in the UAE and it's easy to see why. Set to a backdrop of terracotta dunes and meandering wildlife, this oasis of calm offers secluded Bedouin- inspired tent villas, all with private pools and breath-taking desert views.
Spanning 500 hectares, the reserve is home to several animals, including the endangered Arabian oryx, Arabian gazelles, Arabian red fox and Arabian horned viper. Activities range from desert horse riding to falcon shows and a starlit safari that offers guests a glimpse of night creatures, including desert hedgehogs, foxes, and frog-eyed geckos.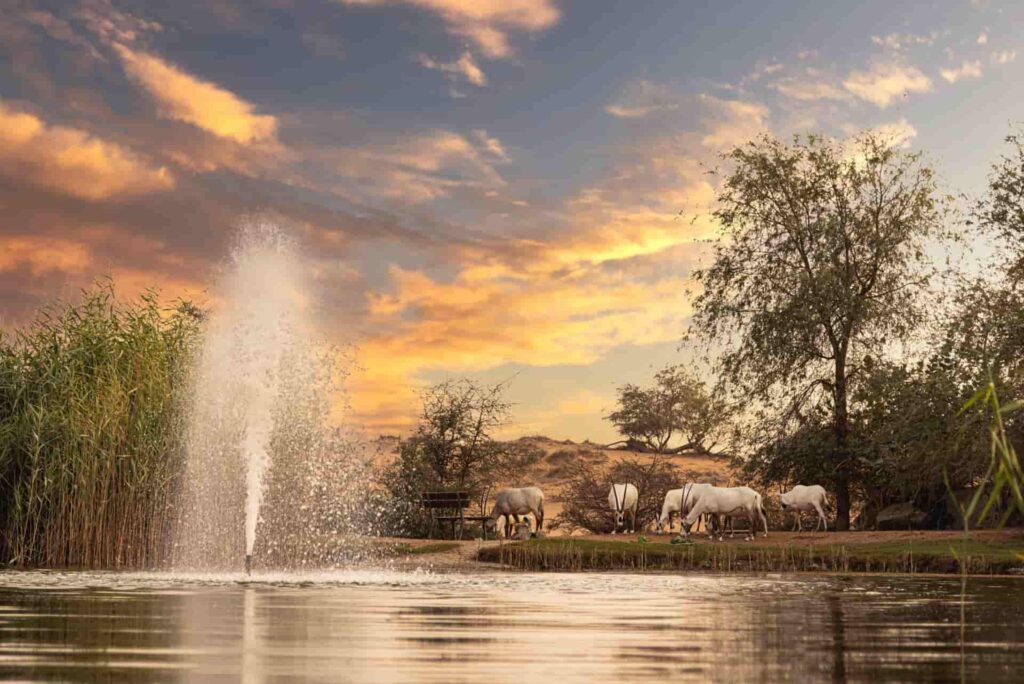 Back at the resort, recharge with a wellness itinerary at the sumptuously unique spa with its rainforest experience and 16 hydrotherapy options. Diners can expect locally and sustainably sourced dishes at the award-winning Farmhouse restaurant alongside seasonal, organic produce picked from the hotel's very own chef's garden. With a waste management system in the kitchens, organic waste is composted for the garden soil, allowing year round produce including aubergines, rocket, potatoes and pumpkins.
Wadi Khadeja, Ras Al Khaimah. Book here
Kingfisher Retreat by Mysk, Sharjah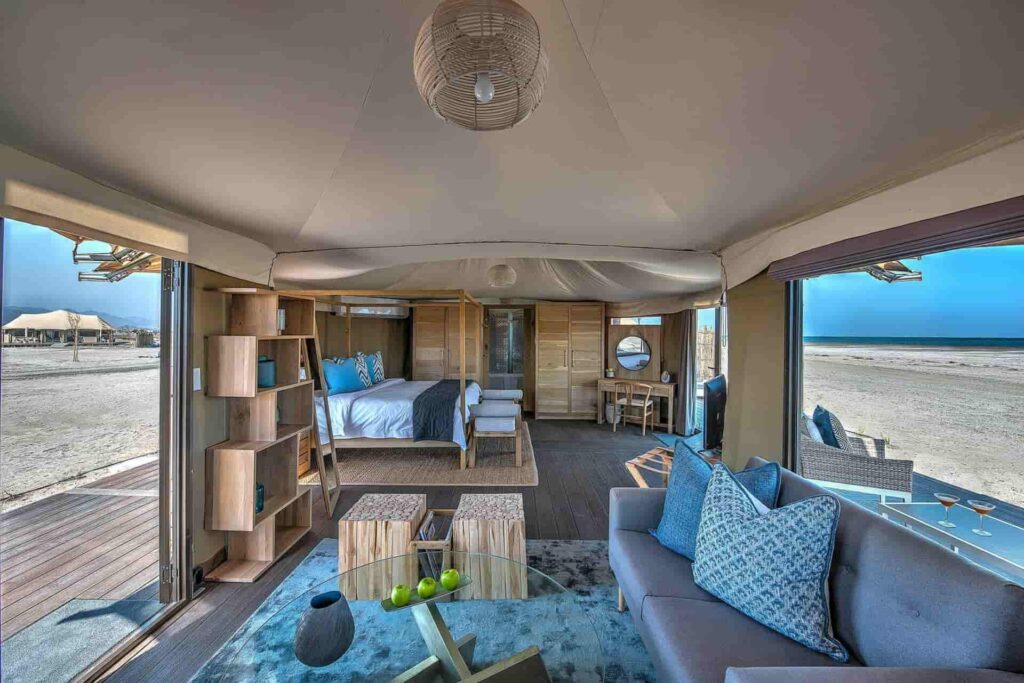 This sumptuous retreat, located on Sharjah's east coast in the protected Kalba Mangrove reserve, is a barefoot luxury getaway surrounded by the unique conservation of a wetland.
Featuring 20 stunning tents equipped with private pools, the eco desert resort – which picked up Best Luxury Eco Resort in Middle East 2021 at the Luxury Lifestyle Awards – offers a vast range of activities including yoga, mangrove kayaking, archery, bird watching, star gazing, hiking and beach clean ups.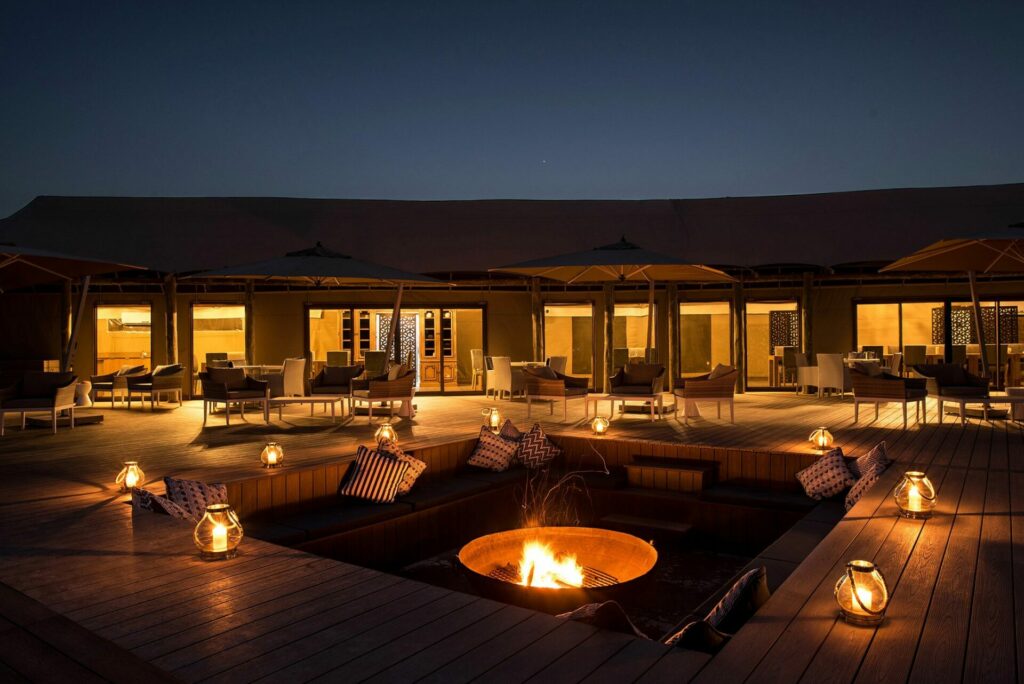 The boutique eco lodge resort is set between the rugged mountains and the pristine Indian Ocean, while the nearby mangroves are home to a turtle breeding area and many rare species of birds that thrive in the protected wetlands. A stay here will grant you free access to the mangrove conservation centre, too.
As for food, guest can enjoy culinary delights at the on-site restaurant with a shared fire pit where 80 per cent of the food served is locally sourced and organic. You won't find any plastic on site – including water bottles – with a policy for reusable cups and tableware only in place. And for a real feel good factor, rest assured that at least 10 per cent of profits from the resort are reinvested in the local community and sustainability.
Corniche Road – Sharjah. Book here
Anantara Sir Bani Yas Island – Al Sahel Villas, Abu Dhabi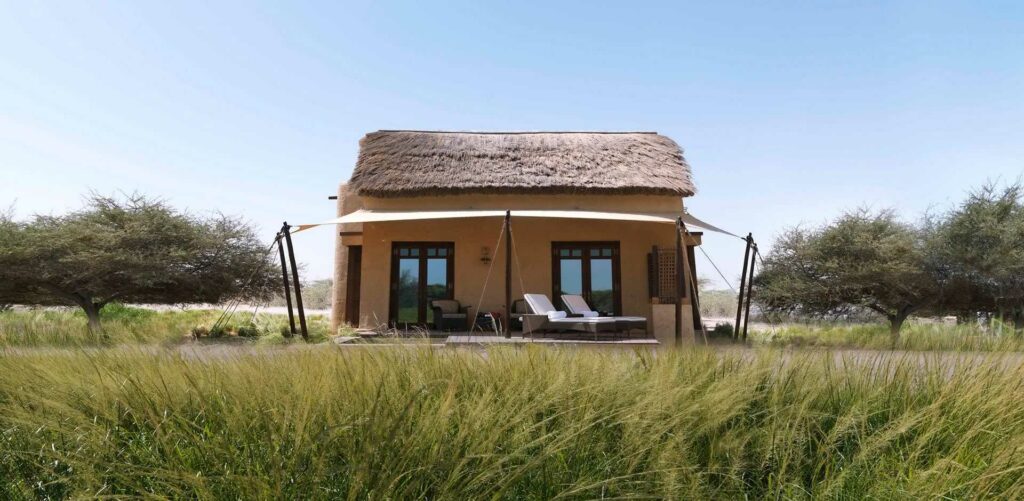 On the rich savannah of Sir Bani Yas Island – a designated conservation area inhabited by more than 17,000 free roaming animals – lies Anantara's Al Sahel Villas. This romantic retreat, set within a protected wildlife sanctuary, is a true luxury hideaway with eco credentials that befit its location.
Thanks to decades of conservation work, Sir Bani Yas Island is now home to thousands of large free-roaming animals and several million trees and plants, including rare species such as the thorn acacia and the gum tree. The 87 square km reserve was awarded the accolade of 'World's Leading Sustainable Tourism Destination' at the World Travel Awards back in 2014 – an award that it has picked up, alongside others, several times since.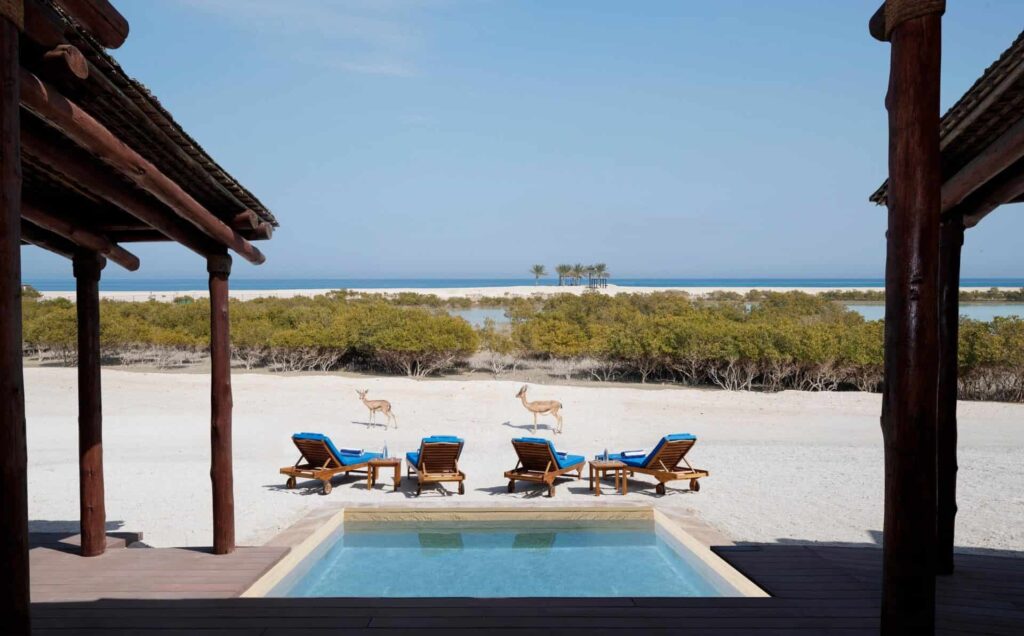 Guests at this desert resort wake to spectacular views of the lush savannah and salt-domed hilltops that began to form as long as 600 million years ago. After a healthy breakfast, they can embark on a wide range of eco activities that include nature trails, mountain biking and mangrove planting. For those culturally inclined, the island's Christian monastery, built between the sixth and seventh Centuries, is open to visitors.
The star attraction, however, is the game drives. Daily safari experiences allow visitors to witness a host of protected wildlife including the Arabian oryx, wildcats, Arabian tahr, sand and mountain gazelles, and the lesser Egyptian jerboa. After a full day of spotting creatures in their natural habitat, guests can spend the evening relaxing in one of the villa's personal plunge pools or dining under the twinkling Arabian stars.
Sir Bani Yas – Abu Dhabi. Book here