Are you ready to commit to New Year's resolutions to make 2023 not only better but healthier? New starts can seem unattainable and daunting but even if you didn't quite achieve all of last year's goals (hey, we get it), now's the perfect time to hit the refresh button.
Our tip? Start small with lifestyle choices that will not only make an impact on your health but also on the environment. And where better to begin than with lunchboxes? Whether to take to work or to ensure that the kiddos are getting on board with healthy, conscientious eating – it's all about taking baby (or bite-sized) steps.
Packing up lunch can be a good way to make sure that you and the kids are eating a balanced meal but it can be a real chore – especially when you have a billion things to do in the morning rush. It can also become expensive and unsustainable – an alarming amount of single-use packaging including cling wrap and plastic bags makes a frequent appearance in lunch boxes (we're talking sandwich bags, juice pouches, cereal bar wrappers and crisp packets for starters). In the US alone it's estimated that the typical American school kid creates 30 kilos of discarded lunch packaging waste per nine-month school year!
We want to help get you out of the sandwich and pre-packed snack rut. Why? Well not only because there's so much more to life than turkey and cheese between bread but also because conventional and processed foods not only create a lot of waste but are also packed with hidden ingredients that won't help little minds focus on schoolwork. Making sustainable choices doesn't have to mean hours in the kitchen, complicated shopping lists and extra stress. Invest in a few basics to start with and you're good to go. Here's how to get started…
Lunchbox Essentials
Swap the plastic for snack bags made of paper or waxed fabric. Beeswax wraps are a fab option and great for wrapping everything from crackers to veggies.
Invest in reusable lunch containers made from stainless steel or other non-toxic materials (we love the bento box style – and the kids love all the little compartments!).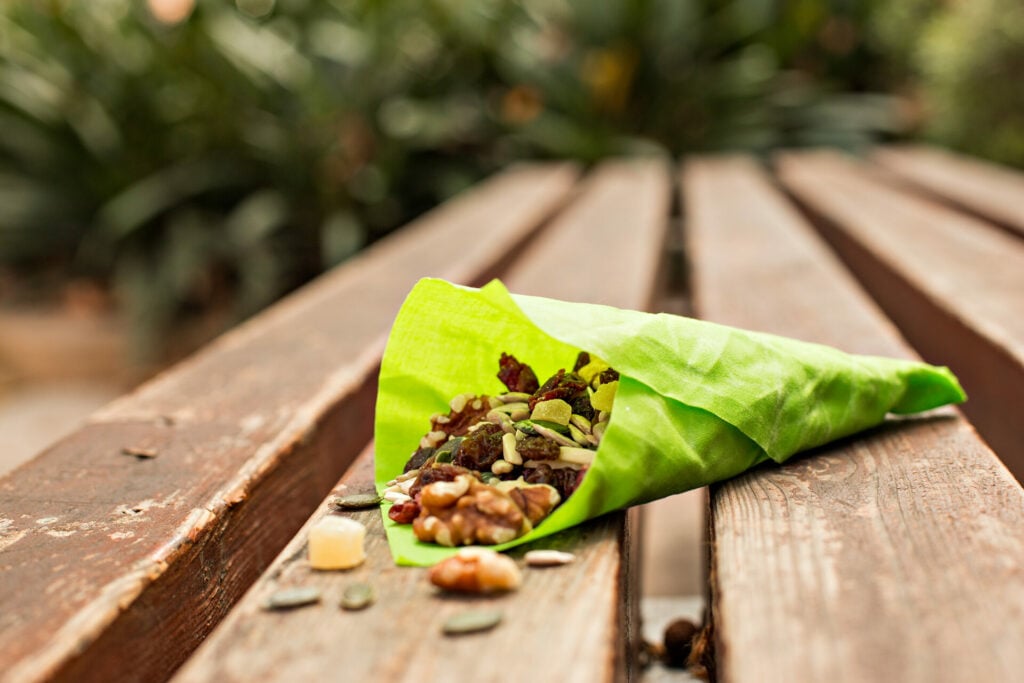 Get a reusable water bottle made from stainless steel which can be washed and used every day (plus keep liquids cool) – fill it with water or juice and encourage refills from water fountains.
From homemade sushi rolls to tasty treats that guarantee smiles without overloading on sugar, here's a week's worth of kid approved lunchbox ideas that are better for you, for your purse and for the planet too.
MONDAY
Main: Spring Caprese Pasta Salad
A mix of pasta, chopped baby tomatoes and chopped mozzarella – pack up a little pot of vinaigrette to pour over.
Top Tip: Opt for UAE tomatoes and mozzarella and locally grown herbs.
Dessert: homemade cookie
There are so many amazing recipes out there so get baking! Lots can be frozen too and then just popped in the lunchbox when thawed as required.
Snack: popcorn
Pop your own corn at home (use coconut oil for a lovely flavour and sprinkle with a little salt).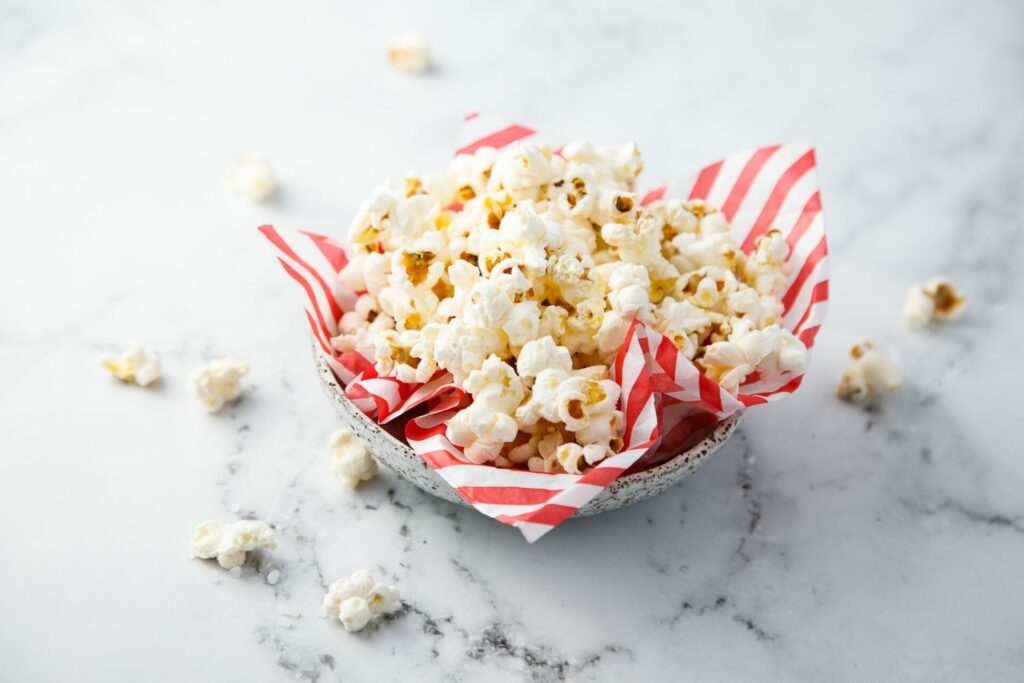 TUESDAY
Main: Egg muffins
Use your muffin tin to create some savoury bites – simply mix whisked egg with chopped onion, grated cheese, peas – whatever you like! Then pour into your muffin tin, cook and cool. Perfect for your little one's lunchbox!
Dessert: Yoghurt with toppings
Spoon natural yoghurt into a little pot and in another pot add anything from chopped dried fruit to chocolate chips, granola or fruit compote which can be added.
Snack: Homemade Arabic bread chips
Cut pitta or Arabic bread into little triangles, drizzle with a little oil, sprinkle with salt and add any dried herbs you might like – bake in the oven until golden coloured (giving them a shake halfway through).
WEDNESDAY
Main: Sushi rolls
This is one of the easiest meals ever to prepare (despite looking complicated!) and a great alternative to the boring lunchbox sandwich. Buy a sushi mat, sushi rice, seaweed sheets and a little rice vinegar – cook according to the instructions – add everything from cream cheese to cucumber slices, shredded carrot or avocado. And roll.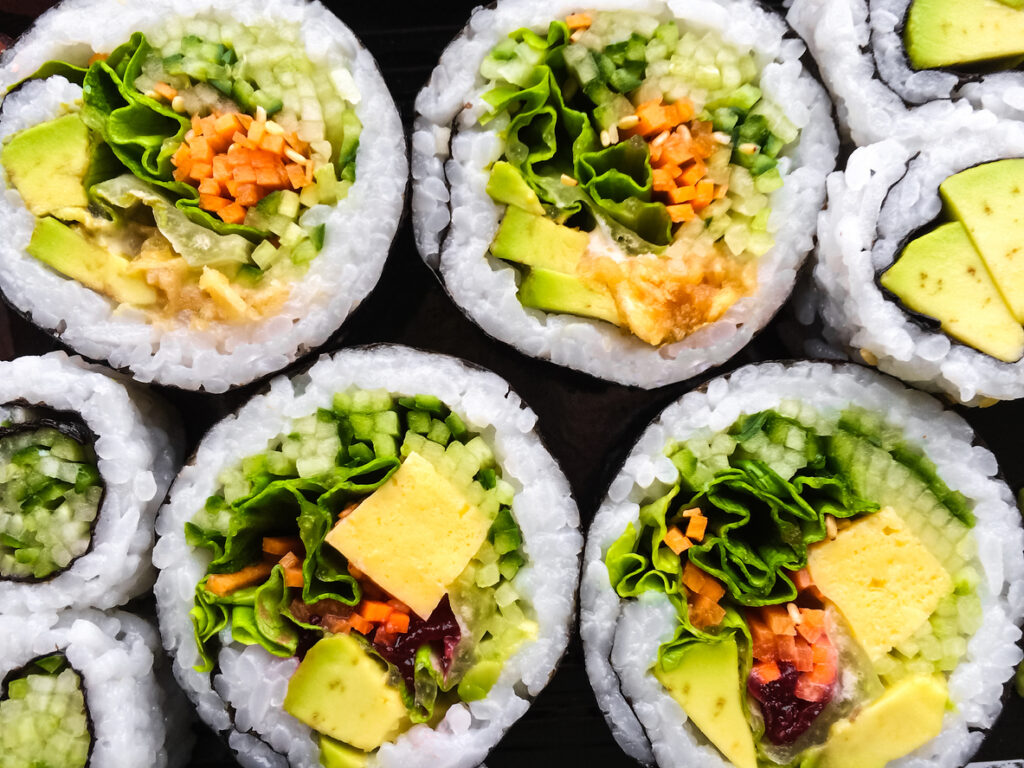 Dessert: Zucchini brownies
The Internet is choc full of recipes that'll get extra veggies and less sugar into your little people (without them even realizing!).
Snack: DIY trail mix
Mix pretzels, honeycomb cereal hoops, raisins, goldfish crackers and just a few mini smarties or m&ms's for colour.
THURSDAY
Main: Mini Deep Dish Pizzas
Cut tortillas and press into your lightly oiled muffin tin, top with tomato sauce, shredded cheese and – if you like – olives, Bake!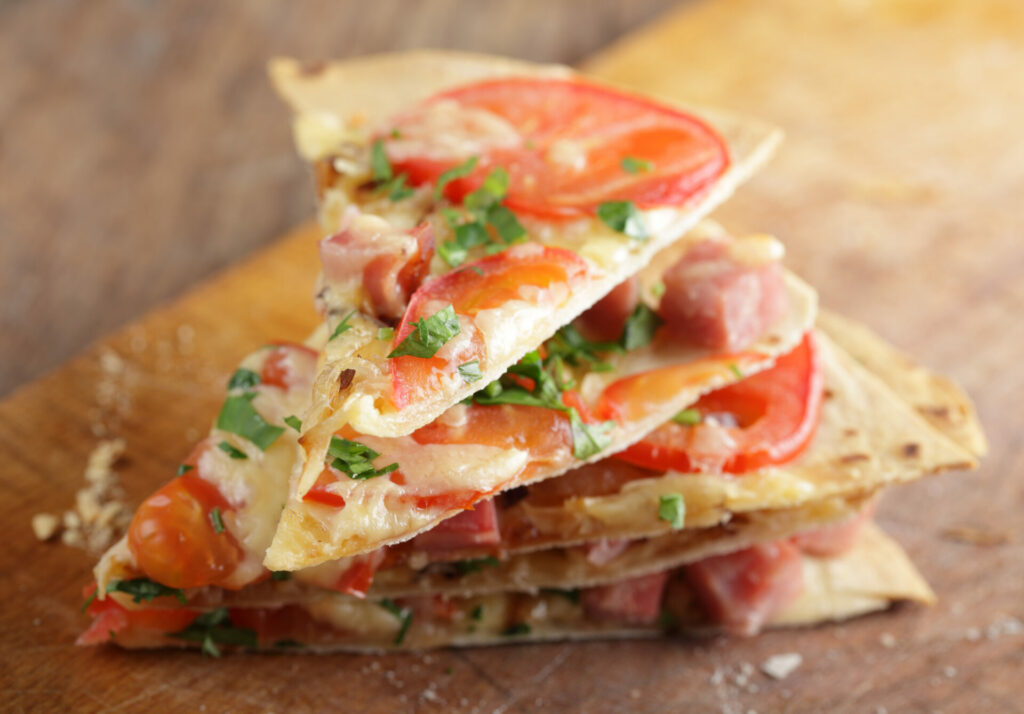 Dessert: Fruit Jelly Cups
Make jelly following the instructions – leave it to cool – pour into individual containers with lids, add chopped fruit and set in the fridge overnight.
Snack: Cinnamon Apple Chips
Core apples, slice into circles about ¼-inch thick, toss with cinnamon and sugar and bake for 2-3 hours until the apples soften.
FRIDAY
Main: Fun skewers
Using little cocktail toothpicks, skewer sliced cucumbers, mini tomatoes, avocado and cheese cubes.
Dessert: Blueberry muffins – homemade of course!
Top tip: frozen berries are much cheaper than fresh.
Snack: Parmesan Roasted Chickpeas
Rinse 2 cans of chickpeas, mix with olive oil and grated Parmesan cheese, pour onto a baking sheet and cook for 30 mins at high heat (tossing them halfway) until brown and crispy. Leave to cool and crisp up more!
So there you have it, a week's worth of inspiration for yummy lunchboxes that'll get you one step closer to a healthier and more eco-friendly 2023.