As more of us switch to vegan or vegetarian diets, the hunger for plant-based dishes grows – especially at Christmas.
Last year over a quarter of adults catered for vegan or veggie guests on Christmas Day, according to a report by UK supermarket Tesco, so why not get creative and make the ultimate Green Christmas menu with crowd-pleasing avocados?
This so called 'fruit of life' is packed with vitamins and minerals, fibre and healthy monounsaturated fats. Just as important – they taste delicious, too! Smooth and velvety, avocados are great in savoury and sweet dishes.
So whether you want to choose the super easy starter, create the show-stopping dessert or go out and make an avocado-with-everything Green Christmas menu, these dishes from The World Avocado Organization are guaranteed to impress your guests. Happy Christmas!
Guacamole Star Crostini with Caramelised Shallots and Feta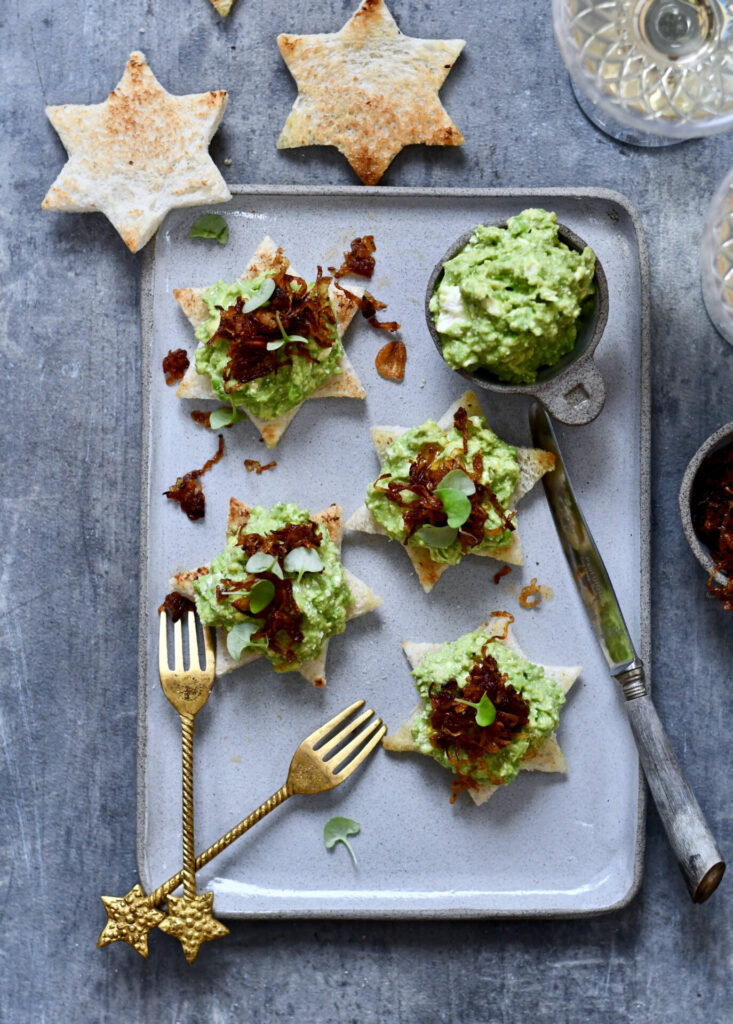 These festive canapes are a guaranteed party pleaser
Makes: 12 Prep Time: 20 mins Cooking Time: 40 mins
4 tablespoons olive oil
6 shallots, thinly sliced
4 cloves of garlic, minced
6 large slices of white bread
½ tablespoon of chilli paste
2 avocados
1 lime, juice and zest
70 grams of feta cheese (crumbled)
A small handful of watercress, to garnish
Heat the olive oil in a non-stick frying pan and add the shallots and garlic. Simmer on a low-medium heat for 30 – 40 minutes until the onions are fully caramelised, dark brown and slightly crispy.
Meanwhile, make the crostini stars. Using a cookie cutter, cut 12 stars out of the bread slices, then toast them.
Add the chilli paste to the shallot mixture and stir until mixture is completely smooth. Remove from the heat. Season.
In a separate bowl, combine the avocados (skins and stone removed) with the lime juice and zest, followed by the feta cheese. Season to taste.
Place a heaped teaspoon of the guacamole onto each star, followed by a slightly smaller amount of the onion mix. Garnish with watercress and serve.
Avocado en Croûte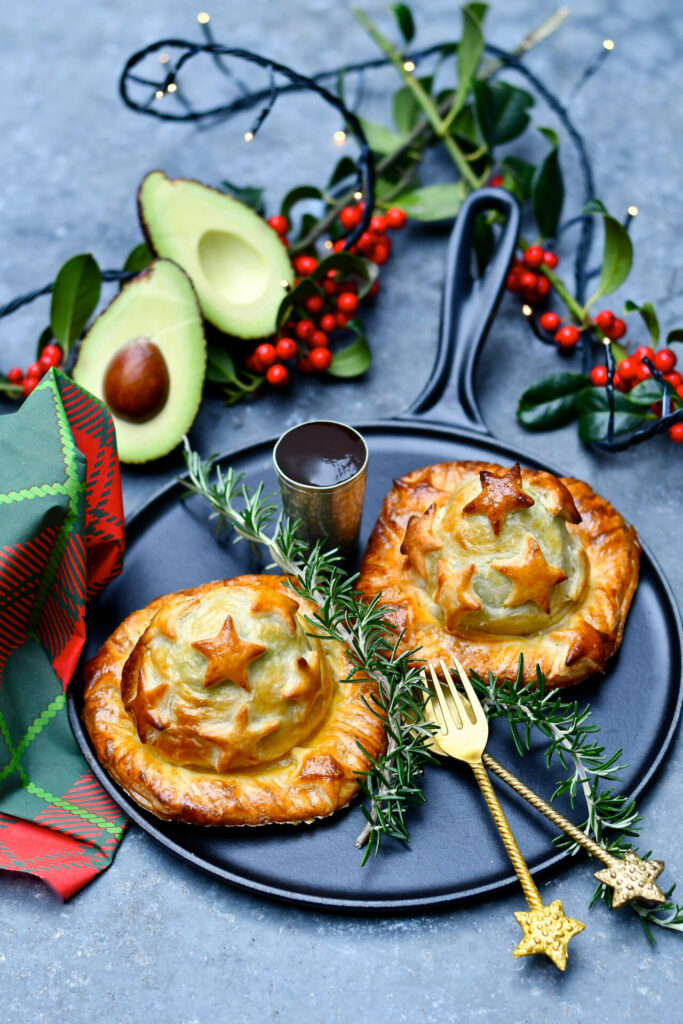 This recipe gives every guest their own pastry parcel stuffed with delicious, molten cheese, which can be swapped out for a vegan alternative
Makes: 4 Prep Time: 20 mins Cooking Time: 15 mins
4 avocados
100g cheddar cheese or vegan cheddar
8 small frozen puff pastry squares, ±12cm x 12cm, Defrosted (You can buy ready-cut pastry squares or you can cut the squares out yourself from a larger sheet of ready-rolled puff pastry)
For the spice mix:
2 tbsp. yellow mustard
1 tsp. curry powder
Sea salt and pepper
For the egg wash:
1 egg yolk (or a vegan aquafaba egg substitute)
1 tbsp. water
A pinch of salt
To serve:
200ml of your favourite homemade or store-bought gravy
Preheat the oven to 220°C/450°F/gas mark 8. Combine the spice mix ingredients together in a bowl, seasoning to taste.
Slice off 1⁄4 of the base of the avocado (the wide end) and remove the pit (stone). This is slightly complicated to do while retaining the avocado's shape so pierce the top with a skewer and push down on it gently so the pit comes out.
Peel the avocados and dust the flesh with the spice mix. Stuff the avocados with cheese, pressing it into the hole left by the pit.
Place each one cut side down on the centre of a pastry sheet. Layer over a second pastry sheet, tuck the avocado in and press it lightly to remove any air pockets and to ensure the 2 layers have formed a seal.
Cut off excess pastry to end up with a round pastry parcel. Using a sharp knife, create a pattern of your choice in the pastry. Repeat with the others.
Combine the ingredients for the egg wash together and brush over the avocado pastries. Place them on a lined baking tray and bake for 15 minutes until golden brown.
Heat the gravy. Serve right away, with gravy on the side.
Butternut-stuffed Filo Crackers with Truffle Avonaise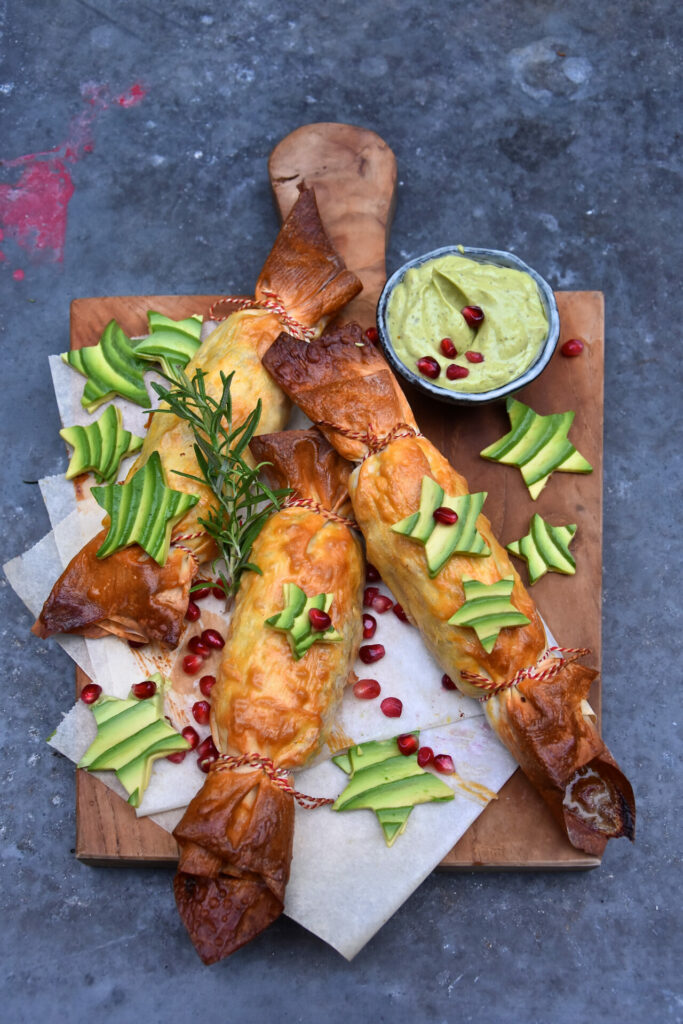 This veggie main is healthy but indulgent thanks to the generous lashings of truffle oil
Makes: 4 Prep Time: 20 mins Cooking Time: 45 mins
For the filo crackers:
500g pumpkin or butternut squash, diced into 5cm cubes
1 tbsp. truffle oil
1 small red onion, finely chopped
1 garlic clove, peeled and grated
1 sprig of fresh rosemary
1 400g can of green or puy lentils, 200g drained
A handful of black olives, pitted
200g feta cheese, crumbled (or vegan alternative)
8 sheets pre-made filo pastry (available in the frozen section of most supermarkets)
1 egg yolk
Sea salt and pepper
You will also need 8 pieces butchers twine (35 cm) to secure the crackers
For the truffle avonaise:
1 ripe avocado, pit and skin removed 4 tbsp. truffle oil
2 tsp. truffle tapenade
Sea salt and pepper
To garnish:
pomegranate seeds
1 sprig of fresh rosemary
Preheat the oven to 200°C/ 390°F/gas mark 6. Spread the pumpkin cubes onto a baking tray lined with baking paper and drizzle with 1 tbsp. of truffle oil. Bake for 30 minutes until soft.
Combine all the other ingredients together (except for the pastry, egg and truffle oil). Season. Stir in the roasted pumpkin and divide into 4 portions.
Place one of the filo sheets onto your cutting board, brush with water, then lay a second sheet crosswise on top of the first.
Spoon a portion off the stuffing into the centre of the pastry and roll it up. Twist the ends and use the twine to make a nice bow to secure them. Repeat until you have 4 parcels.
Whisk the egg yolk and truffle oil together in a small bowl and brush it over the parcels. Place on a baking tray lined with baking paper and bake for 15 minutes until golden brown and crispy.
While the parcels bake, thinly slice one avocado and use your cookie cutters to make stars.
Combine all the ingredients together for the truffle avonaise using a hand blender. Mix until super smooth and season to taste. If you don't have a blender, you can use a whisk but it will take a little longer. Mash the avocado beforehand until smooth before whisking.
Serve on a platter decorated with pomegranate seeds, stars and the sprig of fresh rosemary.
Green Eton Mess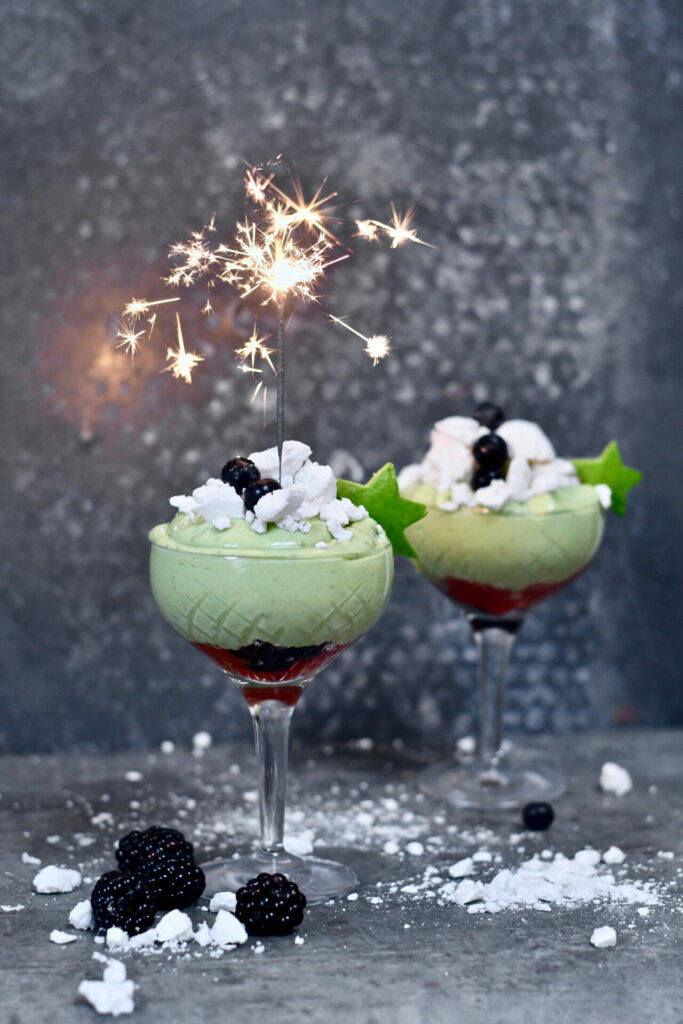 A novel take on the classic desert, this green Eton mess is a light and delicious way to round off a Christmas meal
Makes: 4 Prep Time: 15 mins (plus overnight freezing time) Cooking Time: 10 mins
2 bananas (frozen)
2 avocados (+ extra to make the stars)
1 lime, juice and zest
1 orange, zest only
1 tablespoon maple syrup
1 teaspoon vanilla extract
100 ml coconut cream
200 grams of fresh berries
100 grams of store-bought or homemade meringue (or vegan meringue)
Fresh Mint
The night before, place the bananas in the freezer. The following day use a sharp knife to remove the skins and slice the bananas.
Just before your guests arrive, blend the banana, avocado, lime juice and zest, orange zest, maple syrup, vanilla extract and coconut cream until smooth.
Divide the fresh berries between four of your prettiest glasses, followed by the mixture, then the meringue, broken into bits. Garnish with fresh mint and serve.
Avocado Tiramisu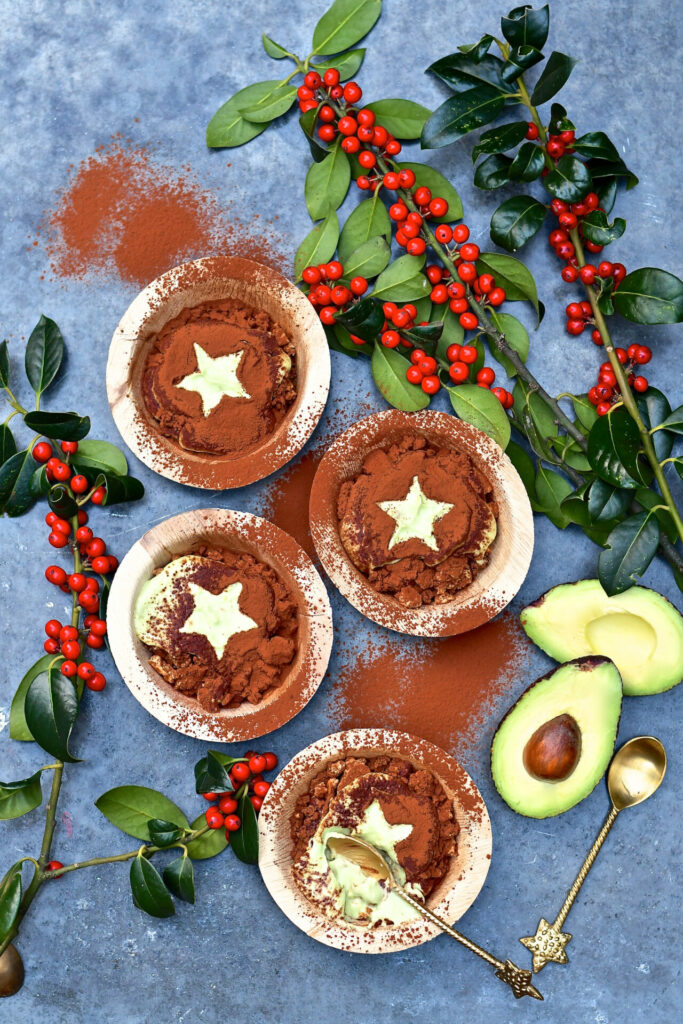 A festive twist on a timeless dessert, the delightfully creamy texture combines with the classic coffee kick perfectly
Makes: 4 Prep Time: 50 mins
For the cream:
1 avocado
Juice and zest of 1⁄2 lemon
1 tsp. vanilla extract
35g caster sugar
25g coconut oil, melted
150g coconut yoghurt
For the biscuit layer:
120g digestive biscuits
50ml espresso coffee, cold
15g cacao nibs
Cacao powder, for decoration
Combine all ingredients for the cream together in a food processor until thoroughly mixed and creamy. Let it set in the fridge for 30 minutes.
To make the biscuit layer, crush the biscuits into 1cm pieces. Mix them well in a bowl with the espresso and cacao nibs.
Assemble the tiramisu in 4 small bowls or glasses by alternating layers of biscuit and cream. Finish by sprinkling the top with cacao powder, using a small sieve.