Indian Premier League (IPL) cricket side Royal Challengers Bangalore (RCB) have won their 'Green Game' against the Rajasthan Royals which saw them ditch their usual jerseys for green, sustainably sourced tops.
The green shirts are made from recycled plastic bottles collected from RCB's home ground, and the annual move is to showcase the team's commitment towards environmental issues.
Held at the M Chinnaswamy Stadium, which is powered by solar and wind energy, the designed Green Game eco fixture was conceived in 2011 and since then the team have dedicated one home match to the initiative to spread awareness and need for a cleaner and greener environment.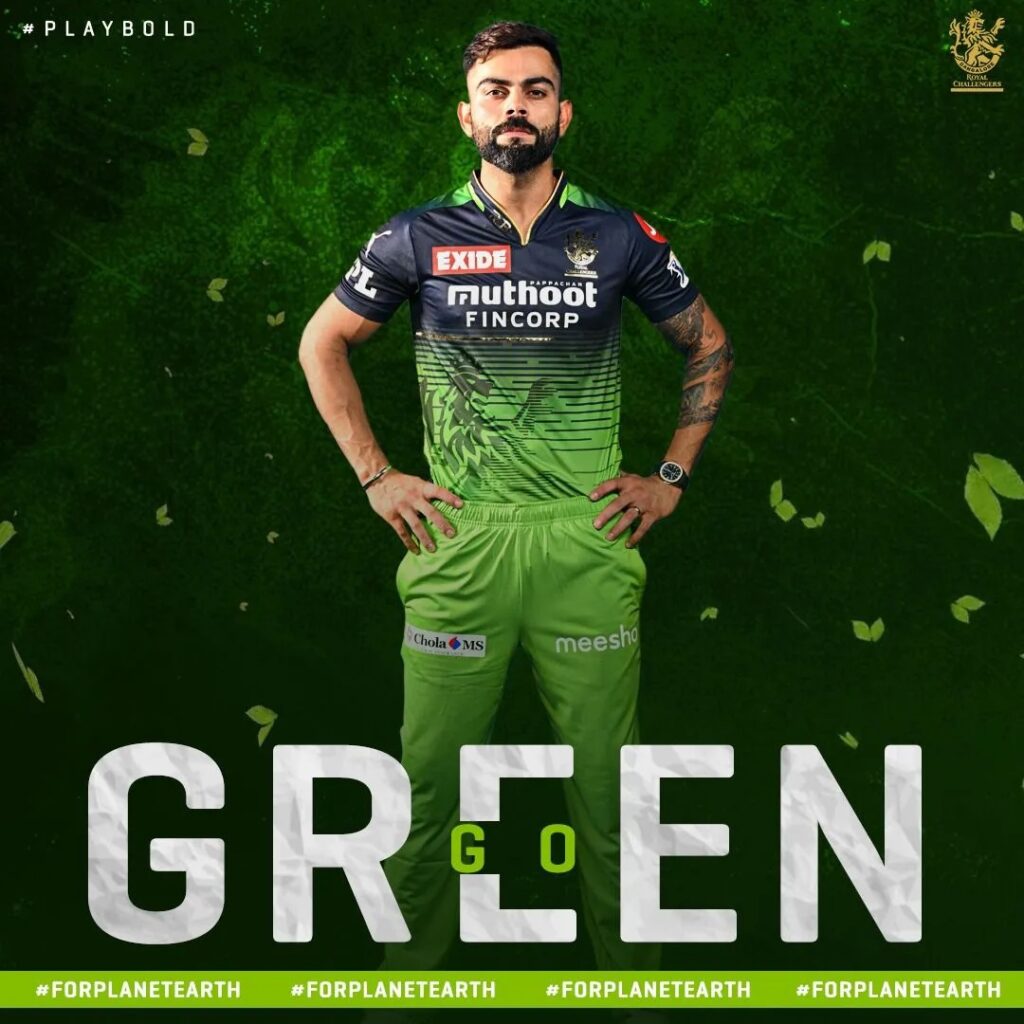 RCB have not had the best of records when they don green jerseys. Before this season out of 12 green games they they have only won only three. Their overall best performance in the green kit came in 2016 when AB de Villiers and Virat Kohli scored hundreds against Gujarat Lions and posted a double century partnership. 
But this year they fared well, beating the Royals by seven runs after compiling an impressive 189-9 in their 20 overs. Led by captain Faf du Plessis the team are currently battling for a place in this year's play-offs in advance of the IPL tournament final set for May 28th.
Rajesh Menon Head of Royal Challengers Bangalore said: 'RCB is the world's first carbon-neutral cricket team and the foremost cricket franchise in the world rallying behind a people's driven movement for a greener planet.
'Go Green is not just an initiative for us but an aspiring movement to seek behavioural changes, contributing to solving various challenges related to climate change. It transcends beyond cricket and connects fans at a much deeper level, an engagement with a purpose'.
IPL's Green Game
The team's season opener match alone generated 9047.6 kg waste in the stadium as 19,488 water bottles were used. An average of eight tonnes of dry waste, food waste, and other recyclable wastes are generated from the stadium after every match.
However, waste segregation practices have helped to gather dry food and non-recyclable waste and process them to further recycle and make recycled products like shirts and other sustainable goods.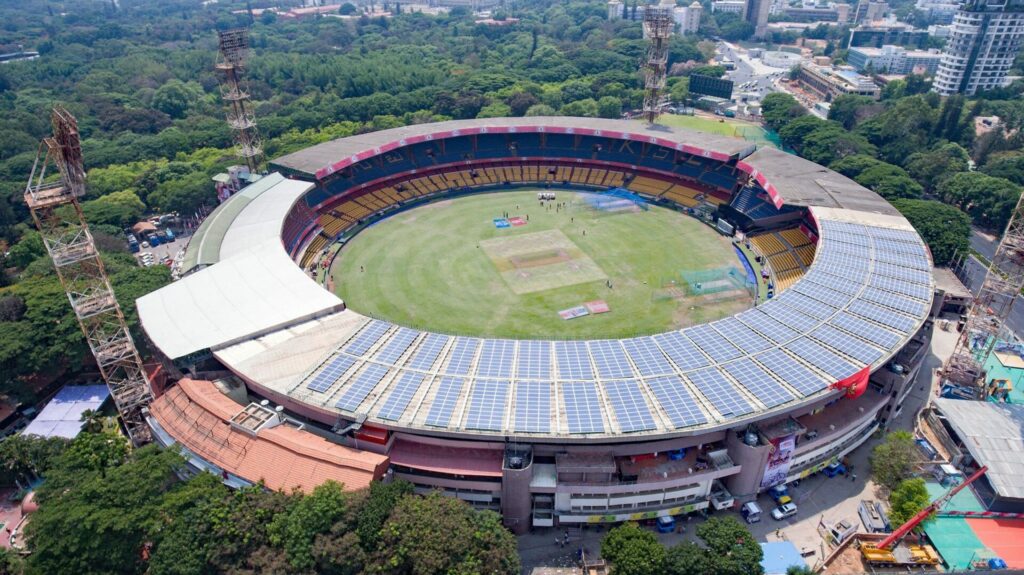 Royal Challengers Bangalore as part of their Green Initiative have also developed a Green Army, a sustainability group to keep the stadium premises clean.
Members ensure the cleaning of the stadium after matches and segregate waste which is then processed into clothing, paper and stationery.
A total of 1422 solar panels were installed in the stadium between 2014-15 which have the ability to produce an overall capacity of 400KW of energy.
As part of the project RCB's fan engagement has encouraged fans to switch to electric vehicles, adopt solar water heaters, and endorse carpooling to work.
Cleaning The Community
This year's efforts will also see the team restore two lakes in South Bengaluru covering 44 acres, removing weeds and planting indigenous fauna before handing them back over to the community.
Alongside this initiative close to 200 schools will take part in a Green School programme that gives the opportunity for young 'Green Warriors' to become part of the IPL club.
Menon said: 'As part of our year-long commitment, we will enable and encourage sustainability for the people, of the people, and by the people through a unique fan-driven model of carbon neutrality and rejuvenating and restoring the city lakes which were once the pride of Bangalore city.
'We also feel we need to begin early in life to start living consciously and therefore Green School is an initiative to involve future generations to be a part of the movement.'
In 2018, the IPL committed itself to zero-waste, also known as the Green Protocol. This put into place to reduce the amount of waste that reaches landfill from cricket stadiums in India. The protocol came into action due to an agreement between the Board of Control for Cricket in India (BCCI) and the United Nations Environment Programme (UNEP).