It sounds like the basis of an old but popular joke that starts 'waiter, there's a bug in my soup.' But while I may be sitting in a top restaurant with a reservation list longer than the table I'm at, there's no soup in the dish cooked especially for me by a celebrity chef. There are, however, plenty of bugs.
That's because tonight Sebby Holmes – master of Thai street food, author of best-selling cookery book Cook Thai, and restaurateur of London's award-winning Farang, where reservations are like gold dust, – has ditched the prawns and chicken that usually form the basis of his dishes and replaced them with crickets and grasshoppers.
It's not a menu for the faint-hearted but once a month the trendsetting chef, who has been awarded a Michelin bib gourmand, blazes a trail for one of the more unusual food trends gaining traction – and which might just help save the planet – with London's newest pop-up venture: an evening of insect dishes.
Insect Eating
For many people across the world, this would not seem particularly revolutionary and only slightly creepy. But from ants and beetle larvae eaten by tribes in Africa and Australia to the popular, crispy-fried locusts and beetles enjoyed in Thailand, it is estimated that insect-eating is practiced regularly by at least two billion people worldwide. They are widely eaten in 36 countries in Africa, 29 in Asia and 23 in the Americas.
Despite this, they remain a source of nutrition that the western diet has not only ignored, but has actively reviled. That could now be changing. In the US and Europe, insects are slowly crawling into mainstream diets, mainly in the form of high-protein milled flours added to products aimed at the health and exercise market. And as concern grows over the negative impact animal agriculture is having on the environment, conservationists are starting to realise that bug food could be the answer to a more sustainable, carnivorous diet.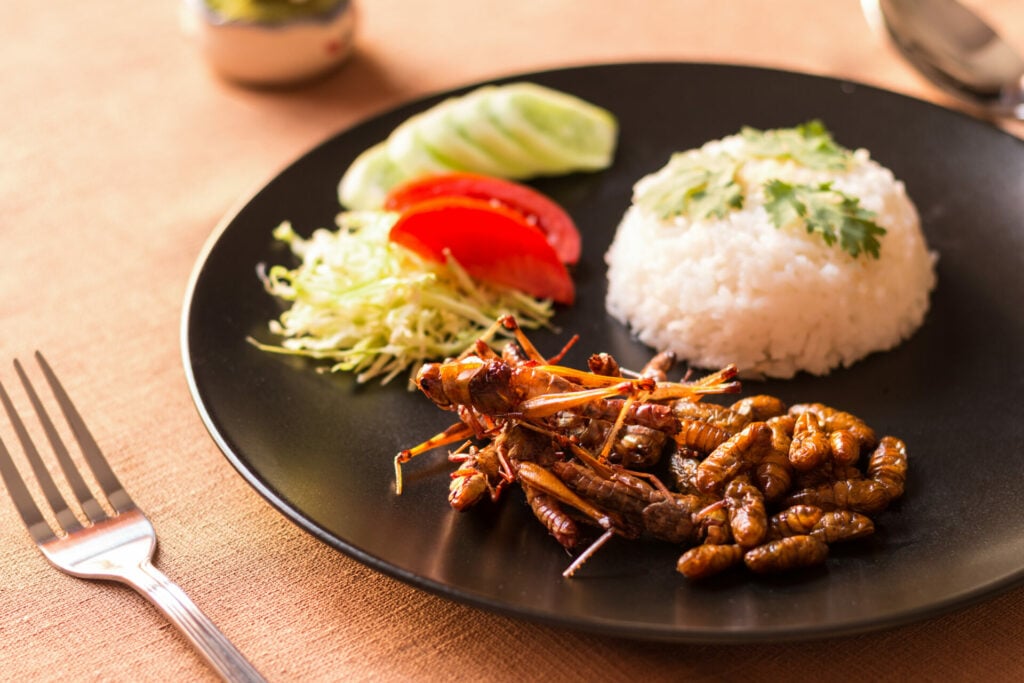 The UN is one of the chief proponents of the idea. In its 2013 report The Contribution Of Insects To Food Security, Livelihood And The Environment, it pointed out that raising insects for food results in fewer greenhouse gases than when rearing traditional livestock; some animals raised for food create up to 100 times more greenhouse gases per kilogram than mealworms. Insects also need less land.
An entomophagologist – someone who studies the human use of insects as food – once told me that in the West people will start to eat insects when they no longer look like insects. In Sebby's restaurant, the wingless, legless, soy-covered bug staring up from my fork looks just like an insect. It has a juicy abdomen, a thorax and two giant bug eyes.
Sebby has just prepared the salt and pepper fried cricket. He's also cooked up a bowl of cricket miang and two scoops of homemade grasshopper praline ice cream.
Sky Prawns
I raise the fork to my mouth and reason with myself. I eat prawns, and prawns are known as the insects of the sea.
'Exactly,' nods Sebby. 'And crickets are the prawns of the sky.'
I bite down.
There's an argument employed by proponents of insect food. It goes like this: people in the West once found the idea of eating raw fish repulsive. Now high street chains and supermarkets sell it for lunch. Tastes change over time. In Europe, the US and the UK, curry, kebabs, quinoa – even spaghetti Bolognese –was once considered exotic. However, the logic falls down when it comes to insects because, as far as I know, no one has ever had to call out Rent-o-kill to deal with a nasty infestation of Salmon Sashimi. The issue is the raw ingredient. Creepy crawlies are, well, creepy.
Sebby hopes his inventive use of insects in high-end cuisine will change this aversion and start to change perceptions. He works as a consultant for a food company called Eat Grub which sells insects prepared for human consumption and aims to introduce them to the Western palate and spread the word about the benefits of eating them.
Sebby and Eat Grub source their invertebrate ingredients from Entovista, the first commercial British farm to produce insects for human consumption. Previously, edible insects in the UK had to be imported freeze dried from suppliers in Holland. Entovista was set up by Dr Howard Bell who formerly worked for the UK government as a research entomologist developing ways to kill insects humanely in the name of plant protection. Thanks to his expertise, Entovista can now humanely cull crickets in batches of 4,000.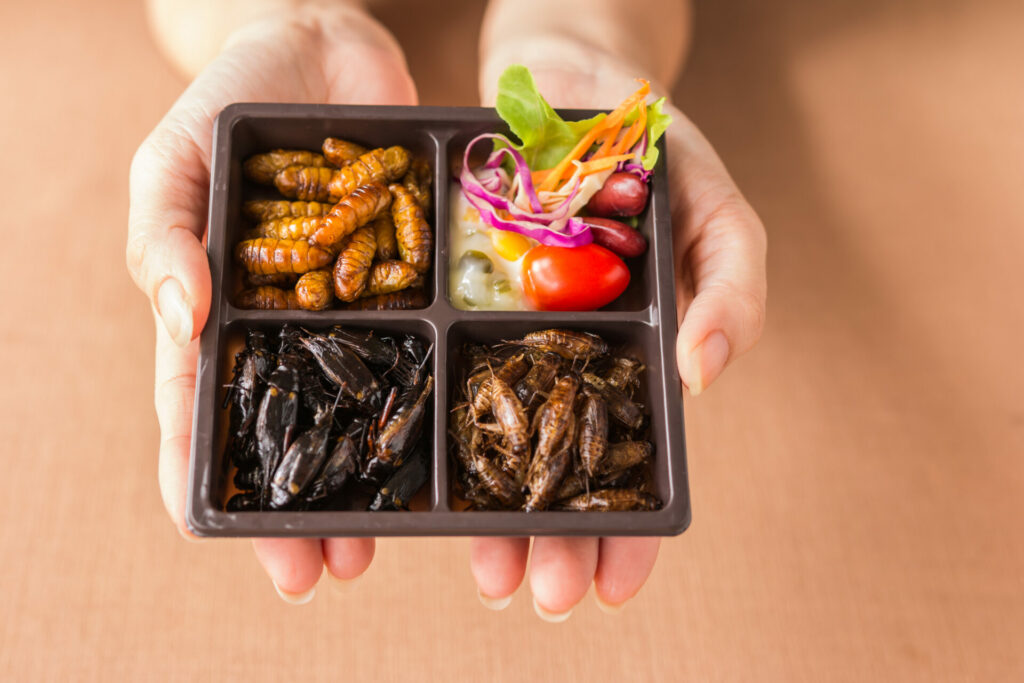 Protein Snobbery
Eating insects has always had a novelty value in the West, thanks to popular television shows such as I'm A Celebrity Get Me Out Of Here, where celebrities undertake bushtucker trials in which they earn points for eating insects and spiders. This protein snobbery is now changing.
In 2013, Belgium became the first European country to allow the sale of insects for human consumption. Supermarkets there stock a range of insect-based products including a spread made from mealworms, carrots and tomatoes. Other countries followed suit. One of Holland's main supermarket chains, Jumbo, introduced a range of insect foods in 400 stores, which included bug burgers and breaded bug balls. And in the UK and US, the fitness industry now uses cricket flour to make energy bars.
Last year, Sebby and Eat Grub published the Ultimate Insect Cookbook in which the chef was given free rein to design recipes using crickets, mealworms and grasshoppers.
'It was fun. I felt like Willy Wonka,' he laughs. 'I think now, insects are becoming a viable food source. They are a surprisingly versatile ingredient. They can be added whole or made into flours and pastes. They have different tastes depending on how they are cooked.
'Crickets taste like shrimp when they are fried and like cocoa powder when they are roasted. Freeze-dried grasshoppers taste like walnut. Ants work well sprinkled as seasoning, some taste like little pops of lime on your tongue, others like vinegar. Buffalo worms compliment some meats.'
He explains that a friend once tried a spider (not an insect) and reported that it tasted 'like a hairy profiterole'.
My salt and pepper crickets have been fried in soy sauce and white pepper and served with panang leaves. 'It's like a snack. They go well with a cold drink,' says Sebby. They taste inoffensive, a bit dry and crunchy.
The cricket miang is in a different league, however. The one-bite parcels made with toasted coconut, pomegranate, lime, and chili are traditionally also made with shrimp, but Sebby substitutes shrimp for cricket paste and a few whole crickets for presentation. Wrapped in a Betel leaf, the dish is an explosion of flavour. You wouldn't even know it had insects at its base.
'It's a gateway dish,' the chef says, 'Designed to show people that insects can work as an ingredient and complement other flavours.'
The ice cream is also delicious and illustrates Sebby's point. The crushed grasshopper provides a nutty crunch and a hint of bitterness to balance the sweet creaminess. If I didn't know the brown nuggets in the dish were insects, I would have assumed they were burnt toffee. The ice cream melts away my misgivings.
A lot of effort has been put into investigating the viability of insect as human food. For example, a £3m EU-funded project called PROteINSECT spent several years recently looking at how to convert maggots into animal feed and protein for humans. The question many traditional carnivores, vegetarians and vegans ask is: why?
Firstly, there is an impending global protein shortage. Soya, the main protein source in animal feed, costs up to 4636AED a ton and it takes 25kg of soya to rear 1kg of beef. Most countries are reliant on imports in a global market where consumption of meat has increased 20-fold in 40 years and will keep increasing. Resources are becoming scarce and global food production needs to increase by 60 per cent by 2050 to stop catastrophic famine.
Palatable Choice
Insects are easy, cheap and quick to produce in vast numbers. They are also environmentally friendly. It takes over 13,000 litres of fresh water to produce 1kg of grain-fed beef protein. By contrast it takes eight litres to produce 1kg of cricket protein, plus they can be fed on waste.
They are more nutritious than meat. Some grubs are 78 per cent protein with less fat than beef, pork or fish. Insects also contain polyunsaturated fatty acids and high levels of vitamins and minerals. Some worms, for example, contain a comparable amount of Omega 3 and 6 oils to fish.
As Eat Grub founder Neil Whippey explains: 'Eating insects is something we are passionate about, not as a gimmick or a novelty, but because insects are an exceptional food in their own right and something which should and needs to become commonplace in our diets.'
All kinds of solutions to the impending global food crisis have been suggested, from GM crops to beef burgers grown in labs. If those of us hooked on largely unhealthy western diets can get over our queasiness and embrace invertebrates, however, there is a ready supply of nutrition right under our feet. We even have pioneers like Sebby to make it palatable. And with six million species to choose from, you'll never be short of choices on the menu.