Perhaps it is the commitment required to reach Calanoa Amazonas (a two-hour flight from Colombia's capital, Bogota; a taxi to a ramshackle port; a canoe ride along a river tributary to the mighty Rio Amazon; a 90-minute speed boat shuttle for 60 kilometres upriver) that makes stepping off the boat to the Eco-lodge's wooden pontoon, all the more exciting. Then again, even without the venturesome journey, just the mere mention of the Amazon conjures up thrilling promises of adventure.
Calanoa Amazonas, a private 50-hectare reserve that nestles in the Amacayacu national park close to the border of Peru, isn't like anywhere else I've stayed before as owners Marlene (an environmental educator) and Diego (an artist and designer) Samper have created in their words 'a lab for sustainable living in the tropics', reflecting their lifelong interest to natural history. Does that make guests guinea pigs, I wonder? Well, if so, I'm more than willing to embrace being totally off-grid to take part in this tropical jungle experiment.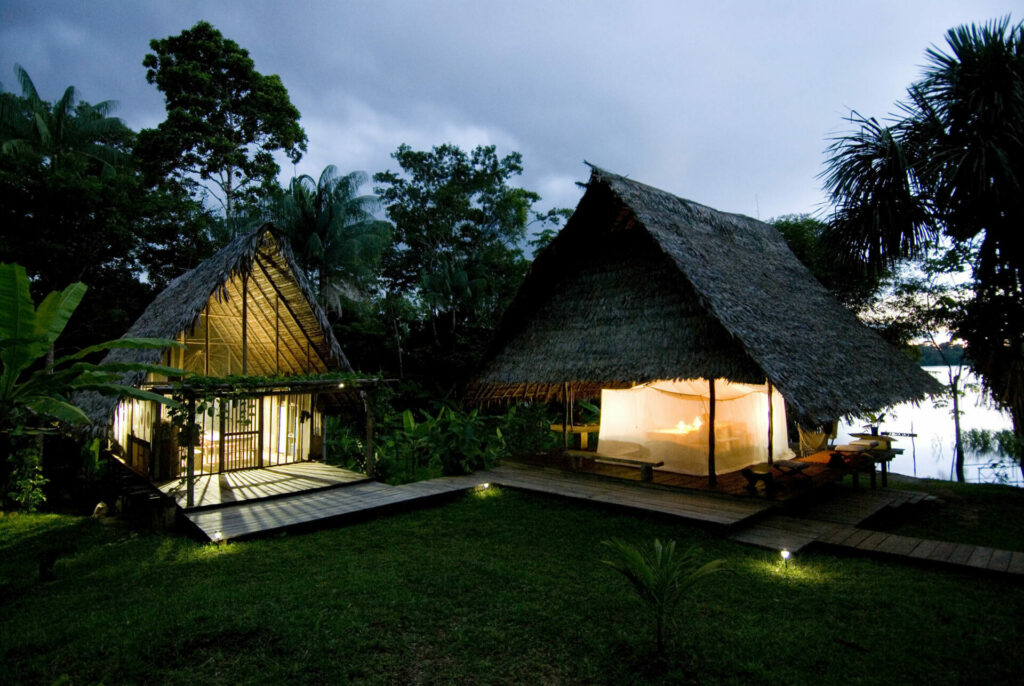 Seven unique cabins are designed as 'pieces of art', using nothing but local materials and traditional building methods: one has an internal garden, another is suspended in a tree, while our two-storey palm-roofed hut has a hammock-strung deck with views to the river. All are spartanly but stylishly furnished (beds are draped, both attractively and practically, with mosquito nets) so as not to detract your senses away from the jungle.
For me, the place feels luxurious for its location and interesting architecture alone (Conde Nast Traveller agreed as they listed it on their 'Gold List' in 2021), for others the lack of ceiling fans (let alone air-conditioning. Although the huts are built on stilts to improve air circulation), sparse hot water (who needs hot showers when it's a humid 30 degrees?) and set menu, might be sticking points.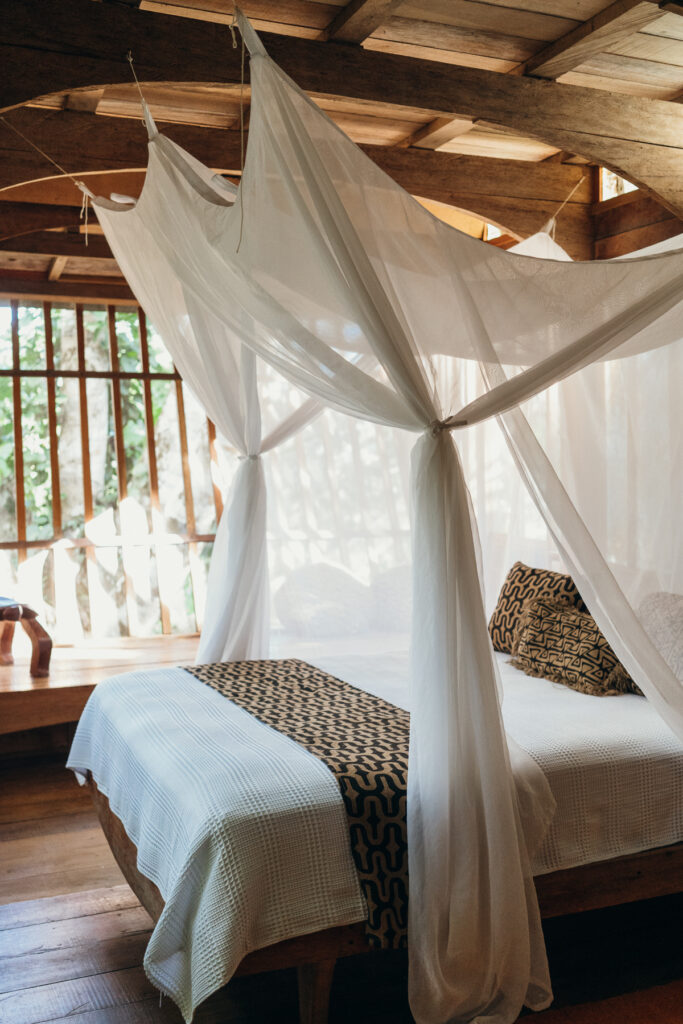 Communal areas are chic, reminiscent of a stylish safari lodge, but perhaps better to think of this as the most exceptional glamping you'll ever experience, and your expectations will be met.
First impressions often remain the most lasting and mine come thick and fast at Calanoa Amazonas : the earthy, almost sweet, aroma of hot vegetation; the click of the cicadas; the collective chirpy chatter from a flock of Amazona green parrots; the curious call, like a stone dropping into a pond, of the busy Weaverbird; the constant croak of unseen toad; and the heat: so thick and steamy, I feel like I could scoop it up.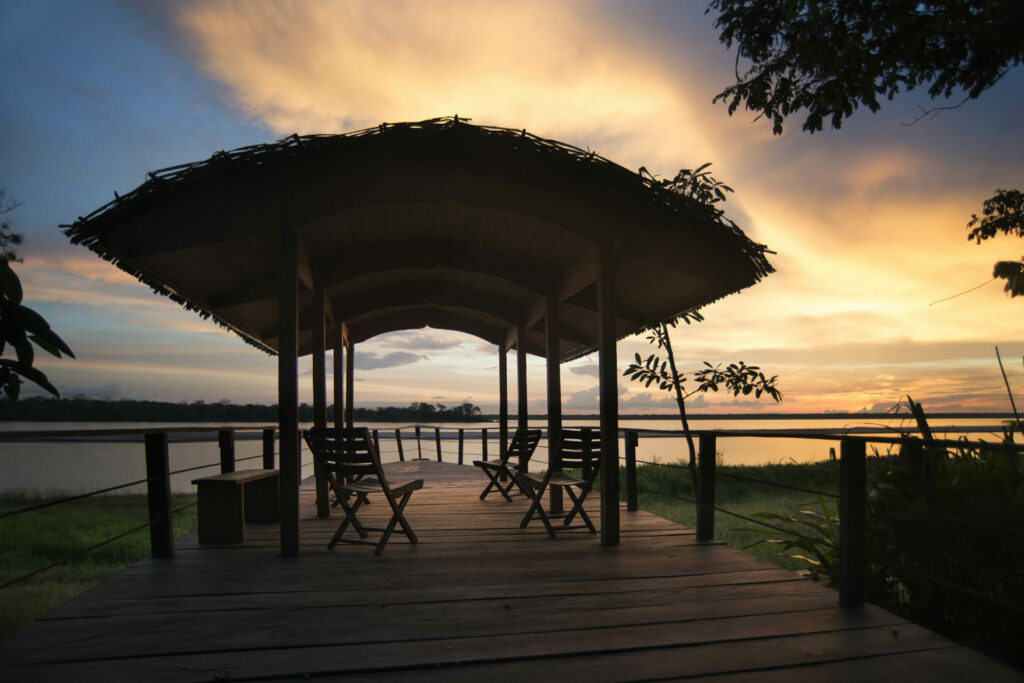 What travellers are offered here is a truly immersive experience and within minutes my senses are overloaded, eagerly anticipating the next sound, sight or smell to engulf me. I note with pleasure that my sons are wide-eyed too.
Day 1 at Calanoa Amazonas
The cost of a stay at Calanoa Amazonas includes two experiences a day and you're encouraged to take the 'interpretation of the forest walk' first to learn more of the Amazon's unique environment. We follow Herman, our English-speaking guide and translator, and Jorge, one of the indigenous Tikuna guides employed by Calanoa Amazonas, along a narrow trail flanked by a tangle of palms, vines, and soaring fig and cashew trees with immense buttresses.
When we reach a rubber tree, Jorge makes a hole in the bark with his machete to collect sap, with which he draws a circle on my hand several times over. Within minutes, I've a rubber band strong enough to tie my hair away from my sticky neck.
Other wonders abound such as the mysterious unnamed tree that Jorge refers to as the 'milk tree' that local women bring their children to drink from when unwell; açai berries hanging in abundance and the ox-blood tree, that when cut bleeds the brightest red sap with antiseptic properties – my husband Neil applies it to a cut on his finger and it heals within a day.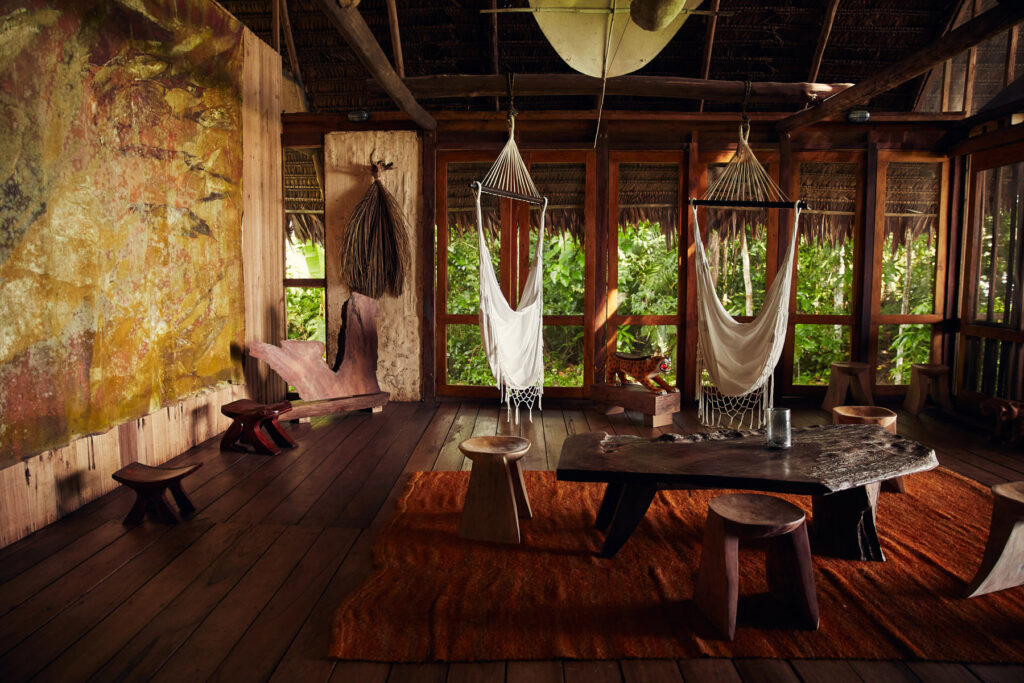 Hanging from the trees are some interesting canvases, placed there by artist Diego to form natural artwork. 'The idea is that these sheets of cotton soak up the environment,' explains Herman. 'See the patterns painted? They are formed by tree moulds washed down by the rain.' Attractive swirls in oranges, pinks, and greens are forming in pretty variations. I see contours of nature – bark, shells leaves, even animal footprints – and realise that we have some just like it papering the walls of our hut. This is creative interior design at its most sustainable.
Day 2
Next day, by small, motorised canoe, we leave Calanoa Amazonas across the invisible river border into Peru to visit Vista Alegre, a community of around 100, who live a sustainable life from growing plantain and other fruit and vegetables. In the shade of mango trees, the women pause in the bashing of their laundry with heavy wooden sticks in river water to offer a wave, but it's the children who are the bravest, giving us impromptu displays of martial arts and dances amid swarms of sulphur-yellow butterflies.
From here we swap to a smaller canoe, passing black vultures feeding on the rich red ripe fruit of the kapok tree as we glide along the Matamata Creek to Mocagua Island, where trees are known to walk. 'This one has spread over 100-metres,' Herman explains, pointing to where the original tree began, having sent out new branches, engulfing and strangling any trees in its wake.
'It was after visiting the Amazon, that film director, Peter Jackson, had the idea for Ents, humanoid walking trees, featured in Lord of the Rings,' Herman tells us. 'I was literally just thinking about that,' chips in my son Freddie, who is a Tolkien fan.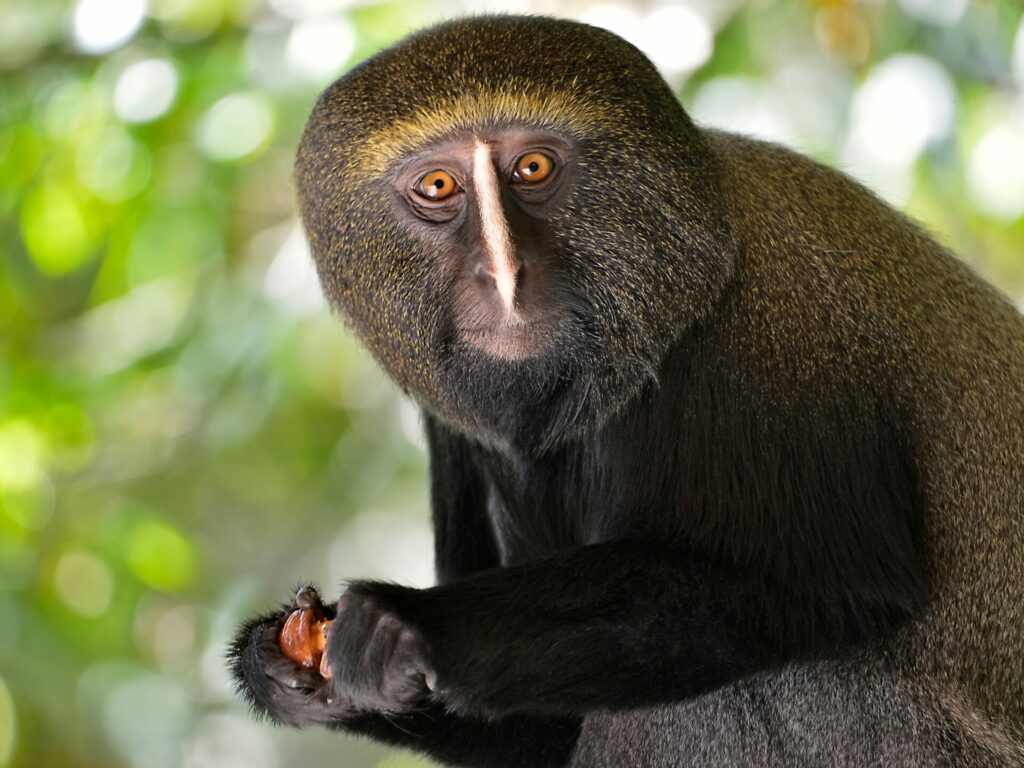 We press on to where the Lotus Victoria Amazonica blooms on small swamps with huge green pads that can grow up to 180cm and are a blur of dancing butterflies; and to a glade of hollowed trees where owls peep out. 'Not an owl,' Herman tells me. 'Look again.' The round eyes staring back at me in fact belong to an Aotus (commonly called an owl-faced monkey), the best disguised and shyest of the Amazon's primates.
At other times we kayak with a guide along a tributary, the bank dotted with Great White Egrets, to a safe swimming creek where Amazon Kingfishers flit and, not to be outdone by my husband and sons, I float with life vest still on, trying not to imagine what my be lurking beneath me; later learning that piranha was most likely, only dangerous when threatened and that Hollywood has much to answer for in demonising these razor-toothed fish.
The Night Walk
There's only one rule at Calanoa Amazonas: never wander into the forest alone. But it's not until we take a guided night walk that I realise just how potentially dangerous the jungle is, as this is when the creepiest of crawlies step out to hunt. With torches to light our way, we're searching for unusual creatures of the night such as poison dart frogs and phosphorescent mushrooms.
An almost full moon provides an eerie glow, filtered through the high canopy. We spy scorpion spiders, bullet ants (able to paralyse with one sting), Brazilian white-knee tarantulas guarding their burrows; and one of the largest (and lethal) banana spiders that Jorge claims to have seen, which makes him chuckle happily while the rest of us shudder, shining torches ever upwards on the look out for webs that might ensnare us.
I feel like Alice in a sinister Wonderland, while gazing at three exquisite ranitomeya amazonica poison dart frogs, so exquisitely marked with black and white spotted legs and rear, and black and orange striped head and back, that I forget that its toxin could cause serious swelling and sickness.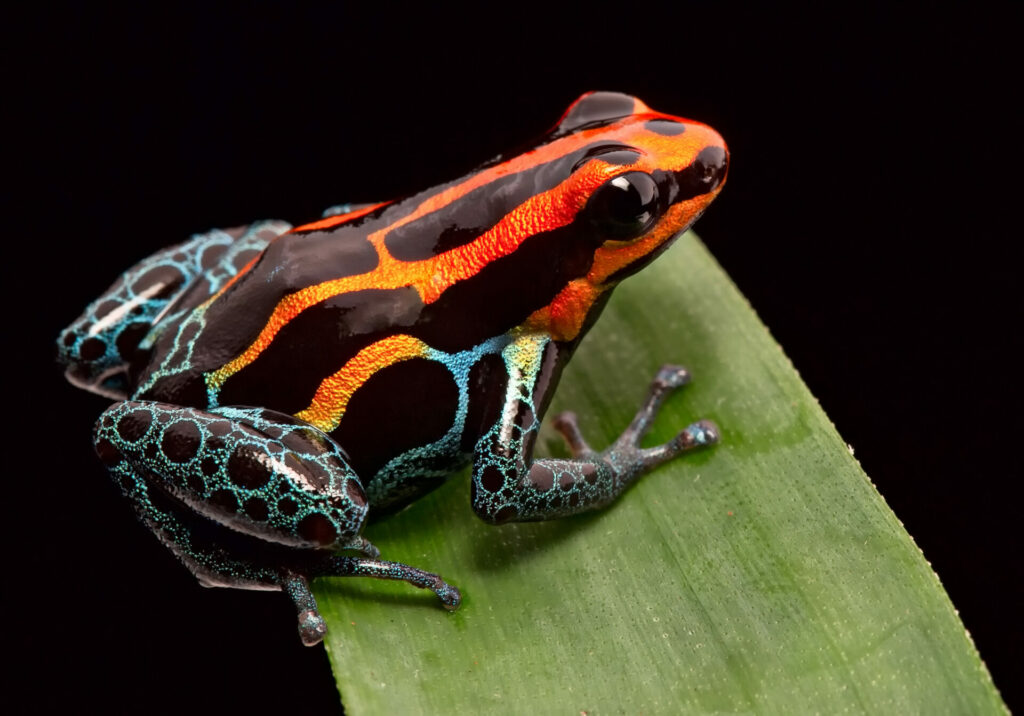 We reach the broad buttress of a fig tree with a large stick leaning against it. 'If the Tikuna run into trouble, they use morse code,' explains Herman, as Jorge picks up the stick and drums out a message, the sound resonating through the forest. 'Won't someone come running?' I ask. Jorge laughs as Herman poses the question in Spanish. 'It's okay,' he replies. 'He was just letting his wife know he'll soon be home.'
On our final evening, under a tangerine-hued sky, we cruise by motorised canoe, running deliberately aground on a 10 metre by 10 metre newly formed natural sand island, the perfect platform for scanning the river for glimpses of Amazon pink dolphins (native to South America). It's a surreal moment to be standing with my husband and two sons in the middle of the magnificent Amazon River, made even more awe-inspiring when the dolphins appear, their skin glowing and rosy, caught in the rays of the sun, sinking fast to the west over Ecuador.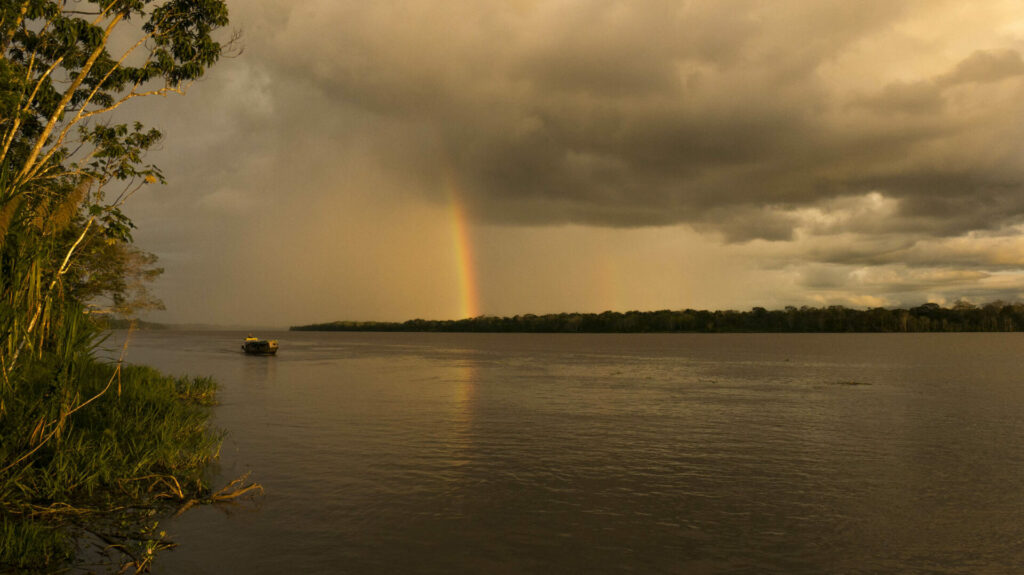 The Facts:
Calanoa Amazonas' eco credentials: Energy is solar-powered and rationed to just a few hours of the days (bring torches if you want to read past 10pm); rainwater is collected, wastewater recycled, single use plastic banned while guests are asked to bring reusable water bottles. Only local, natural materials are used to build. The Calanoa Foundation contributes to the conservation of the biological and cultural diversity of the Colombian Amazon, working closely with the indigenous Tikuna, Cocama, Huitoto, and Yagua people.
Best time to visit: There are two seasons: low water (considered the best time) that lasts from June to November with less rain, and high water from December to May, when it rains heavily and often but rarely for more than an hour or so.
What it costs: The plan has a cost of USD $175.00 per person per night. Children under 12 receive a 10 per cent discount.
Included in this rate: lodging, meals at Calanoa Amazonas, fruit, tea, coffee, natural fruit juices, two activities per day and Spanish speaking guides around the lodge.
Not included: transfer by boat ($300 round trip for up to four people), additional activities, alcoholic beverages, English speaking guides ($70 per day), health, or accident insurance.
For more information vist calanoaamazonas.com