Long gone are the days when being a vegan during the festive holidays meant nibbling on a few soggy carrots that even Rudolph would refuse to eat for Christmas Dinner while everyone else tucked into a huge turkey with all the trimmings.
Being vegan is easier than ever with restaurants, cafes and supermarkets offering entire ranges of delicious dishes and ingredients for you to cook at home. And while you're whipping up a tasty homemade Christmas dinner, you'll know that you're helping the planet, too.
Cutting out meat and dairy products reduces your carbon footprint by up to 73 per cent, according to Oxford University research.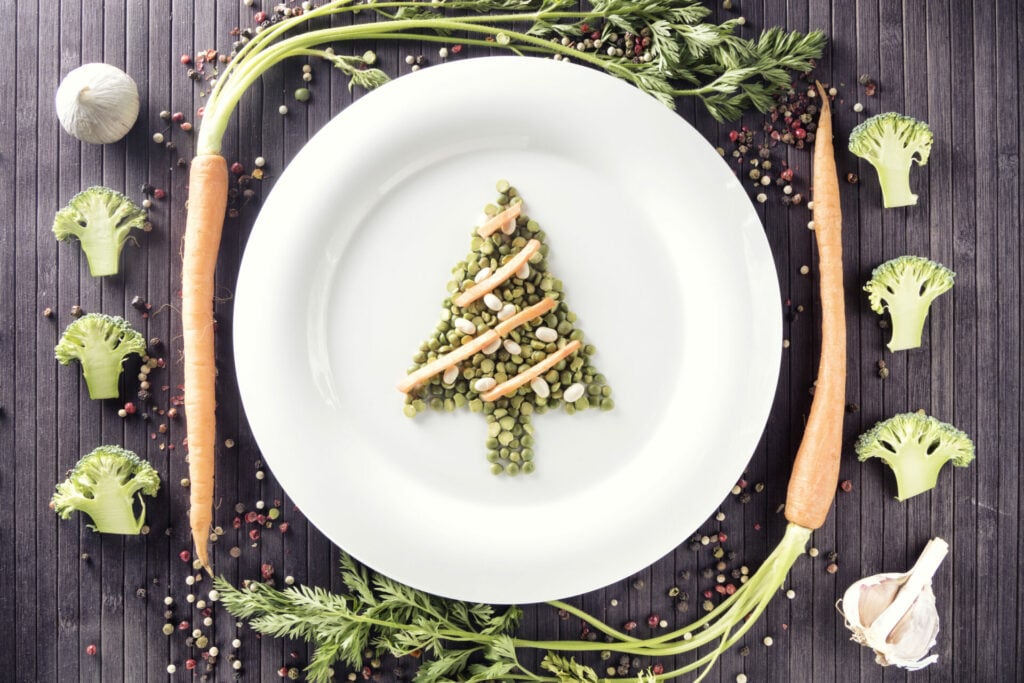 It can be a healthier diet and makes a major moral and ethical impact – for every person who goes vegan, hundreds of animals' lives are saved while it's kinder to the planet. The poultry industry, including turkey farming, has a disastrous effect on the environment, contributing to air and water pollution.
Christmas Dinner Waste
And turkeys are kept in horrifically cramped conditions before being slaughtered – often needlessly as a staggering two million turkeys are thrown away in the UK alone. That's after they've been cooked for Christmas dinner, generating around 14,000 metric tonnes of CO2 – or enough to fuel an entire household for a year. Other estimates suggest that the carbon footprint of cooking all these Christmas dinners is the same as a single car travelling around the globe 6,000 times.
A whopping seven million tonnes of Christmas dinner food end up in the bin each festive season in Britain – the highest food waste provider in Europe – all of which goes into landfill where, according to the Waste and Resources Action Programme (WRAP) charity would be associated with produce more than 25 million tonnes of greenhouse gas emissions, puncturing holes in our planet's protection.
No one wants to be a Grinch over Christmas as it's our favourite time of the year with good will, joy and precious time with out loved ones in abundance, so we've come up with some easy Christmas dinner ideas for you to make at home. The recipes are simple, but the results are delicious. Bon Appetit!
Caramelised Jerusalem Artichoke Soup, Pear & Brioche Toast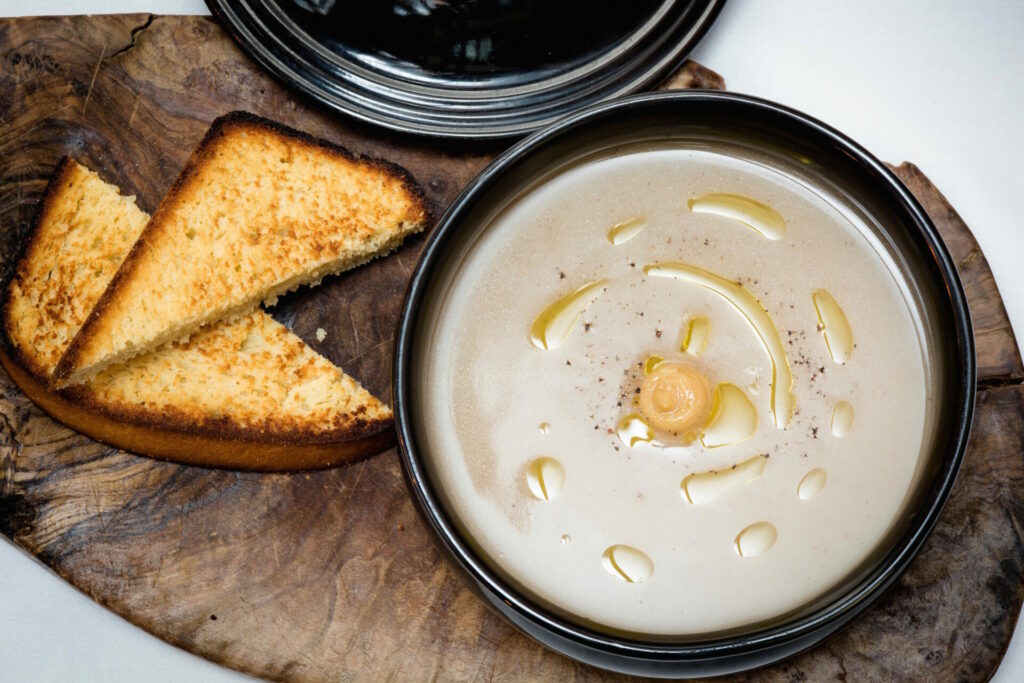 Everyone loves this soup to start a Christmas dinner menu – just make sure you don't spill any down your festive frock!
Serves: 4 Prep Time: 30 mins plus proofing time Cooking Time: 35 mins
For the brioche:
350g plain flour
15g fresh yeast, or 5g dried active yeast
15g caster sugar
1 teaspoon table salt
100g coconut milk
50g non dairy milk
80g aquafaba
100g non dairy butter
1 teaspoon olive oil, for greasing
For the soup:
1kg Jerusalem artichokes, scrubbed clean
25ml olive oil
sea salt and freshly milled black pepper
¼ bunch thyme
500ml vegetable stock
250ml non dairy milk
2 pears
1 tablespoon olive oil
For the brioche, place the flour into a stand mixer bowl, or a large mixing bowl. In separate places in the flour, add the yeast, sugar and salt. Add the aquafaba and milks in the centre of the flour and mix together, using a dough hook on your stand mixer on a low speed, or a firm wooden spoon, to form a smooth dough. When the dough is incorporated, increase the mixer speed until the mixture leaves the sides of the bowl. If doing by hand, knead on your bench until dough loses all its stickiness.
Add the butter and work in until completely mixed into the dough. Work until the dough leaves the sides of the bowl again. Place the dough in an oiled bowl and cover with clingfilm. Leave somewhere warm to double in size.
Gently tip onto a lightly floured bench and shape into a loaf shape. Place into a greased 18 x 9cm loaf tin and cover with clingfilm. Leave somewhere warm to prove again, until double in size. Preheat oven to 175℃ whilst the dough is on its second prove.
Bake for 20-25 minutes until golden and a skewer inserted comes out clean. Tip out of the loaf tin and leave to cool on a rack.
For the soup, place the artichokes in a roasting tray with the olive oil, thyme and seasoning. Bake for 20-30 minutes until a deep golden colour. Remove from the oven and add the stock and milk to the roasting tray. Return to the oven for 5 minutes. Remove the thyme then blend everything together, adding a little more stock if too thick. Season as necessary.
For the pears, roughly chop them, removing the core, and coat in the olive oil. Place on a roasting dish and bake for 15-20 minutes until a deep golden colour. Blend together with a little water, if necessary, to form a smooth purée.
Serve the soup with a dollop of the pear purée and toasted brioche.
Quorn and Chestnut Loaf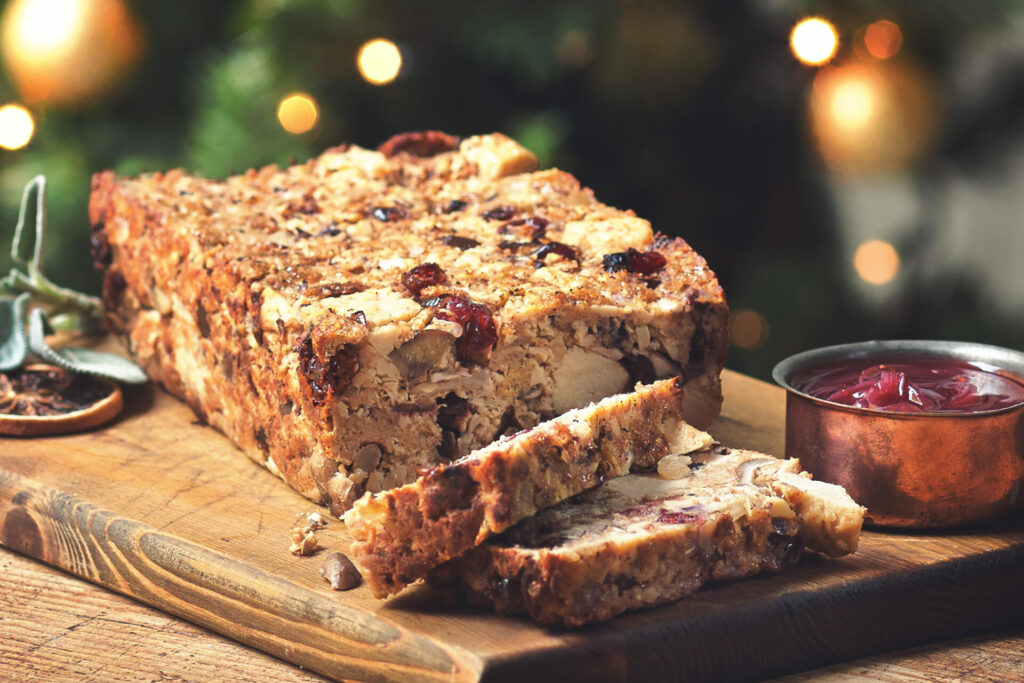 This is a new festive twist on a Christmas dinner classic which is totally delicious for any time of the year
Serves: 4 Prep Time: 15 mins Cooking Time: 65 mins
300g Quorn Chicken Pieces
2 tbsp oil
1 large onion, finely diced
3 garlic cloves, finely diced
1 ½ tsp dried sage
200g mixed mushrooms, cleaned and diced
1 vegetable stock cube, dissolved in 50ml hot water
100g wholemeal breadcrumbs
1 vegan egg replacer
60g cranberries
80g pre-prepared ambient packed chestnuts, diced
Season with cracked black pepper
Pre-heat the oven to 190°C/380°F/Gas mark 5. Line a 2lb loaf tin with greaseproof paper.
Heat the oil in a large frying pan over a medium heat and cook the onions for 4 minutes. Add the Quorn, garlic and sage then continue to cook for a further 3 minutes, then add the mushrooms and stock and simmer for 5 minutes. Remove from the heat and allow to cook for a few minutes.
Place half of the mixture into a blender and pulse for 1 minute. Add back into the pan along with the breadcrumbs, egg, cranberries and chestnuts and mix well. Season to taste.
Place the mixture into the lined loaf tin pressing firmly down. Cover with a greaseproof paper and bake for 30 minutes, remove the top layer of paper and bake for a further 20 minutes.
Remove from the oven and allow to rest for 10 minutes before serving. Serve with freshly steamed vegetables.
Roasted Vegetables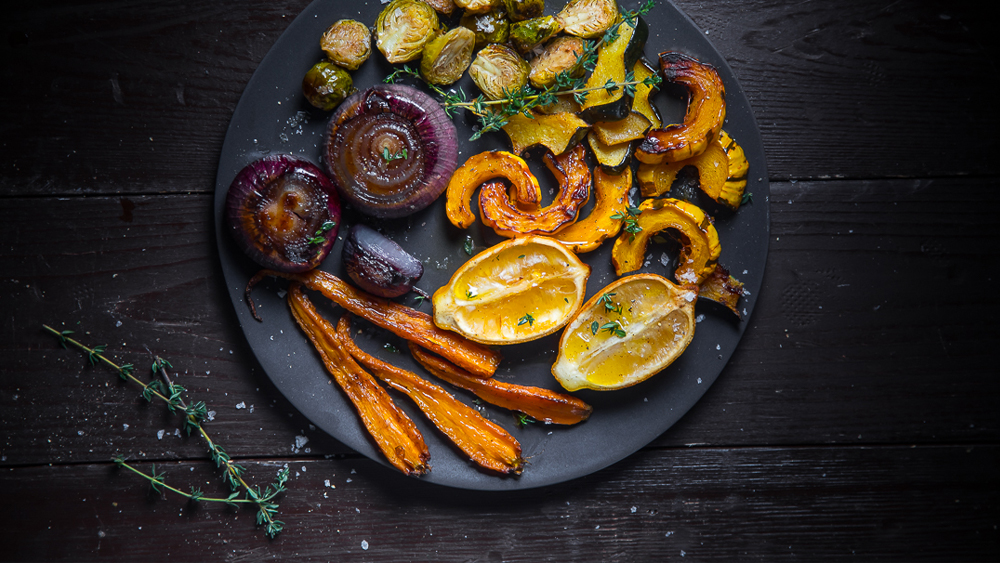 This fragrant blend of onions, squash, and thyme will fill your home with delicious festive smells and serve as the perfect side dish to Christmas dinner
Serves: 4 Prep Time: 20 mins Cooking Time: 40 mins
2 cups cipollini onions, frozen pearl onions, or 2 medium red onions
4 tbsp coconut oil or extra virgin olive oil
1 tbsp red wine vinegar
Salt and pepper, to taste
1 delicata or acorn squash
Pinch of cinnamon
1 tbsp maple syrup
1 bunch (4 to 6) carrots
2 to 4 sprigs of thyme
2 to 3 cups Brussels sprouts
1 lemon
Preheat oven to 425° F and grab two medium sheet pans.
Trim ends off and peel onions. If using cipollini or pearl onions, leave them whole. If using red onions, cut into quarters.
In a large bowl, toss onions with one tablespoon coconut oil, vinegar, and season with salt and pepper. Place onions onto first sheet pan.
Cut ends off squash and halve. Remove seeds and slice squash into 1/3 to 1/2 inch slices. Using the same bowl, toss squash in one tablespoon oil, and season with cinnamon, salt, and pepper. Arrange the squash on the first sheet pan next to the onions. Place first sheet pan in oven and bake for 30 – 40 minutes, flipping vegetables half way through.
In the meantime, cut carrots in half and trim greens to about one inch. Toss carrots with one tablespoon coconut oil, one tablespoon maple syrup, thyme sprigs, cinnamon, salt, and pepper. Add carrots to second sheet pan, place in the oven and bake for 15 minutes.
Trim the Brussels sprouts. Cut them and the lemon in half. Toss the Brussels sprouts and lemon in 1 tablespoon coconut oil, and salt and pepper. Add to second sheet pan and flip all the vegetables. Bake 20 to 25 minutes for the second tray, flipping the vegetables halfway through.
Remove the vegetables once the Brussels sprouts and onions are caramelized and squash and carrots are tender and crispy.
To serve, toss Brussels sprouts in roasted lemon and arrange all vegetables on a large platter.
Festive Chocolate & Clementine Fridge Cake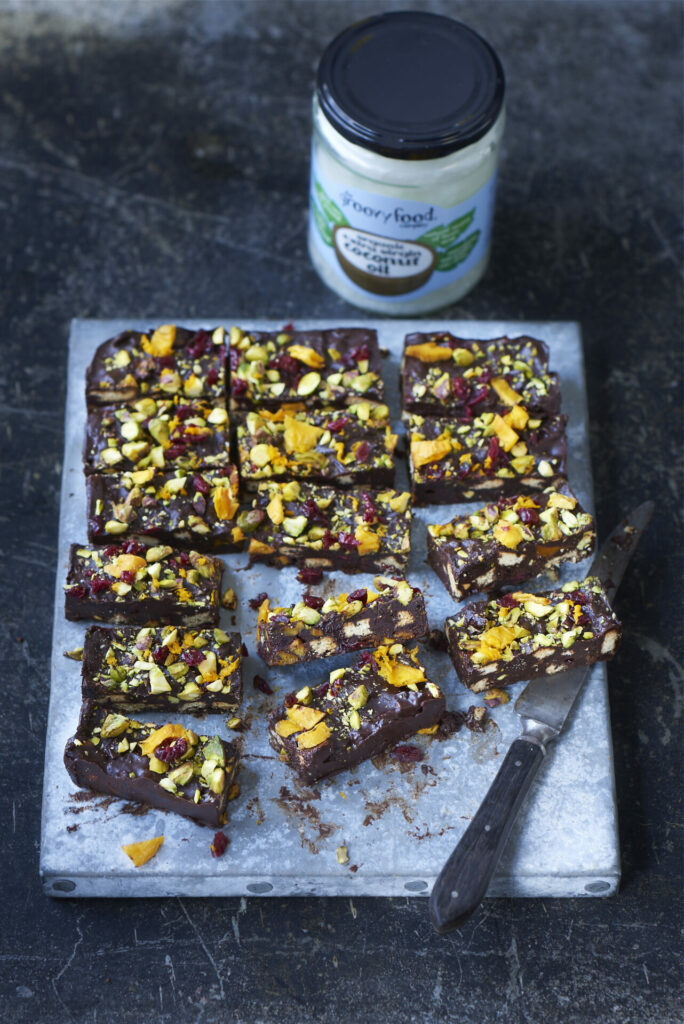 Makes: 18 bars Prep time: 25 mins, plus 30 mins soaking and 2 hrs chilling
This is one of our favourite Christmas dinner recipes and perfect for little ones to help prepare as it's a no cook cake. Keep in the fridge, as it will start to melt if left at room temperature for too long, and help yourself as and when you fancy – if there's any left over from Christmas dinner!
2 clementines
175g equal mix of sultanas, dried cranberries and dried mango, roughly chopped
100g The Groovy Food Company Organic Virgin Coconut Oil
100g The Groovy Food Company Organic Agave Nectar, Light Amber & Mild
200g dark 70% cocoa solids chocolate, roughly chopped
Pinch salt
50g cocoa powder
100g digestive biscuits, roughly broken into 2cm pieces
75g pistachios, roughly chopped
Line a 20cm square baking tin or dish with baking parchment. Finely grate the zest of one clementine and set aside, then peel the clementine and squeeze the juice into a bowl. Tip 150g of the dried fruit into the bowl with the juice, mix well and leave to soak for 30 mins.

When the fruit has finished soaking, bring a small pan of water to the boil. Put the coconut oil, agave, chocolate, and a good pinch salt in a heatproof bowl and set over the simmering water, (making sure that the bottom of the bowl doesn't touch the water). Stir well until everything is melted and combined.

Remove from the heat and add in the sifted cocoa powder. Mix thoroughly, then add into this mix, stirring all the time, the fruit and its soaking liquid, the biscuits, reserved zest of one clementine, and half the pistachios. Once everything is combined tip into the tin and level. Scatter over the remaining pistachios, 25g dried fruit and and grate over the zest of the second clementine. Chill for 2-3hrs, or until set, then cut into bars and serve.