Ever since the COVID-19 crisis began, working from home has continued to rise in popularity with hybrid and working remotely remaining commonplace. In fact so much so that a recent study by the world's number one job website Indeed, shows that the number of listings globally with a remote component has nearly tripled since 2020.
It's easy to see why. Evidence suggests that employees are often more productive when given the freedom to work from home. A study by Stanford Business School found that people who could work remotely had a 13 per cent higher productivity rate, attributed to a quieter working environment, fewer breaks and less sick days.
However, despite the popularity and benefits of this flexible lifestyle, most remote workers still long to work somewhere different every once in a while, and escape to a place where there's no family, pets or chores to distract them.
Thankfully, the UAE has countless amazing work-friendly cafes that all offer excellent coffees, sustainable dishes, and (perhaps most importantly), ample plug sockets.
We'll let you in on a secret that many articles for The Ethicalist have been conjured up in the cosy settings below…
Boston Lane, Al Quoz, Dubai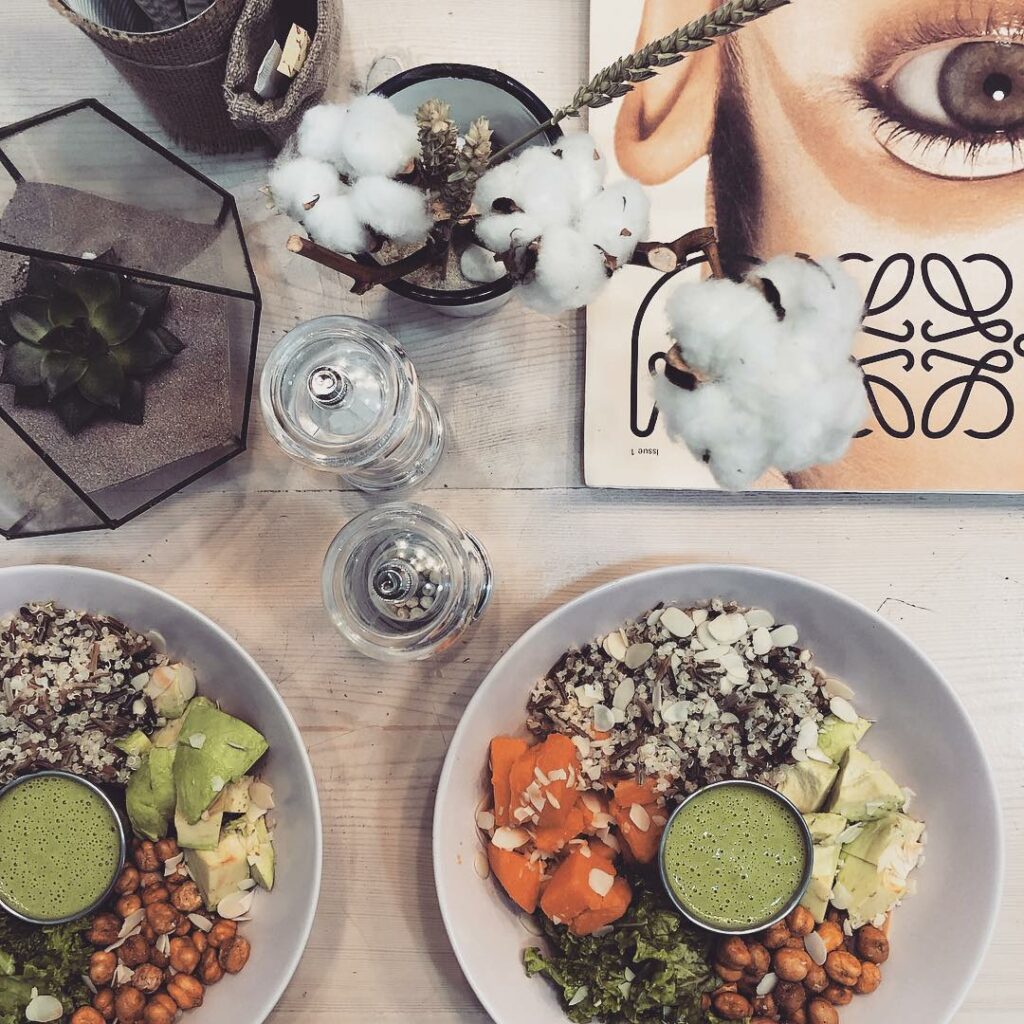 Boston Lane's pretty leafy courtyard lets you leave the busy streets of Dubai behind for a while, and enjoy working in a quiet and peaceful environment that looks more like Europe than the Middle East. Founded by two Aussies and based on the hipster coffee culture of Melbourne, its location in the heart of the city's art district makes it a favourite haunt for creatives and designers.
Very bougie, trendy and perfect for working remotely, it offers a choice of vegan and veggie meals, plus gluten-free pancakes, organic eggs and plant-based lattes. Whether you've in the mood for a fresh and healthy quinoa salad or a gooey and naughty cheese toasty, you'll find just the brain fuel you need at this compact and adorably pastel-coloured hangout.
bostonlane.com.
Cassette, The Courtyard, Dubai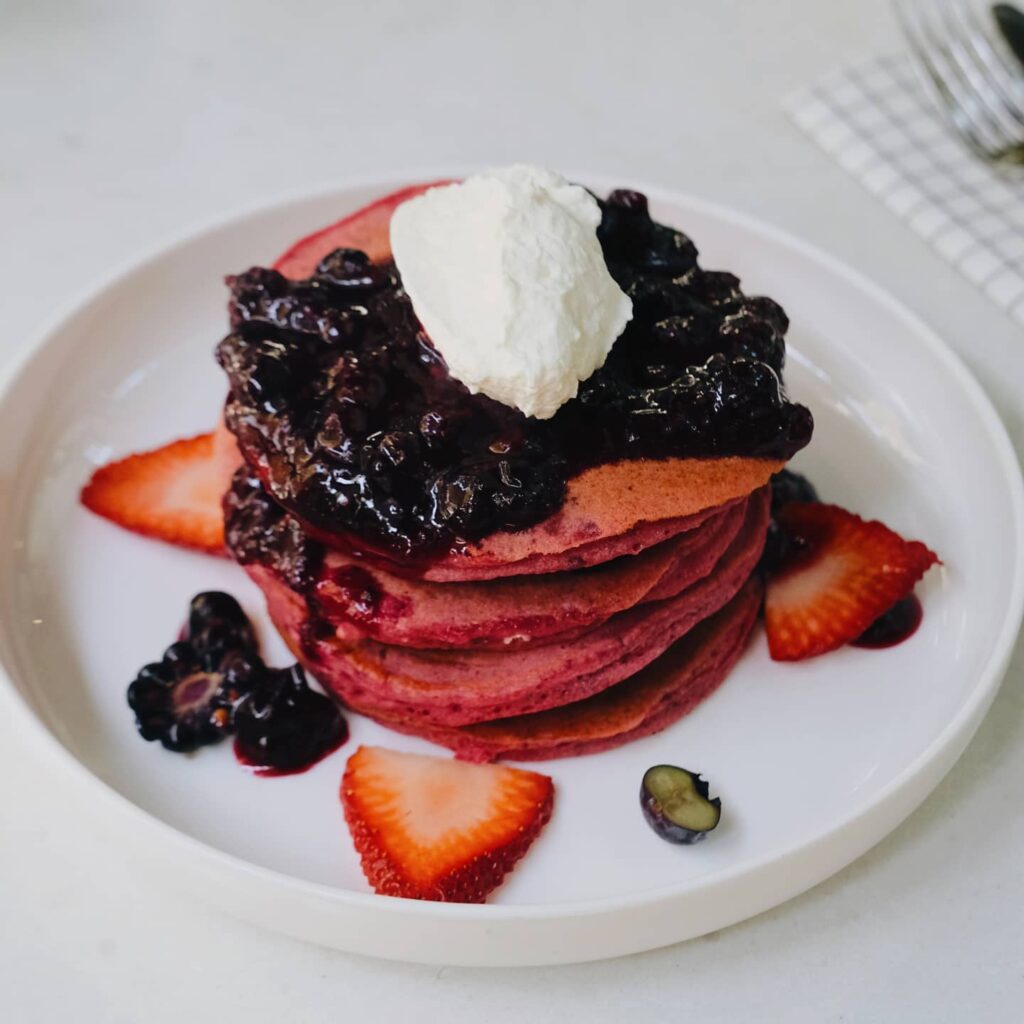 Nestled next door to Boston Lane you'll find homegrown gem Cassette. Brimming with creatives this ample space (also pictured in the main article image) is perfect for freelancers, entrepreneurs and those who just want a change of scenery from their home office. Perfect for a little people watching too – The Courtyard is a popular hangout for tourists and residents alike – you can choose from a wide selection of healthy, plant based dishes from their extensive menu while watching the world go by. Or err, working. We love their healthy juices, vegan pancakes with blueberry compote and strong coffee to get the creative juices flowing. See what we did there?
Sereni-tea, Umm Suqueim, Dubai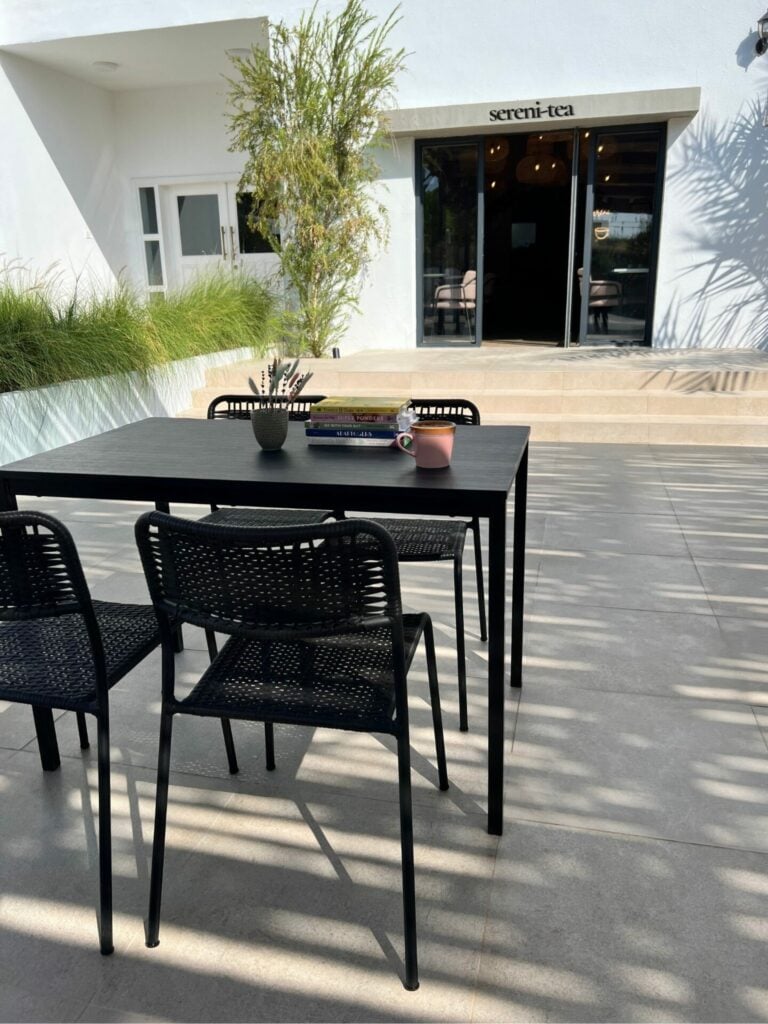 Sereni-tea, from the brainchild of popular pink hued coffee shop Tania's Teahouse, is well positioned, for those who need focus, on the peaceful grounds of Keyani Wellness Centre. Soft minimal interiors combined with a large peaceful patio are the perfect environment inside or out for those seeking silent creativity. Serving up an array of mindful foods from anti-inflammatory potions to chia pudding deserts, with plenty of wholesome options in between, you won't struggle for brain food while working from here!
TASTE, The Bridge, Al Qana, Abu Dhabi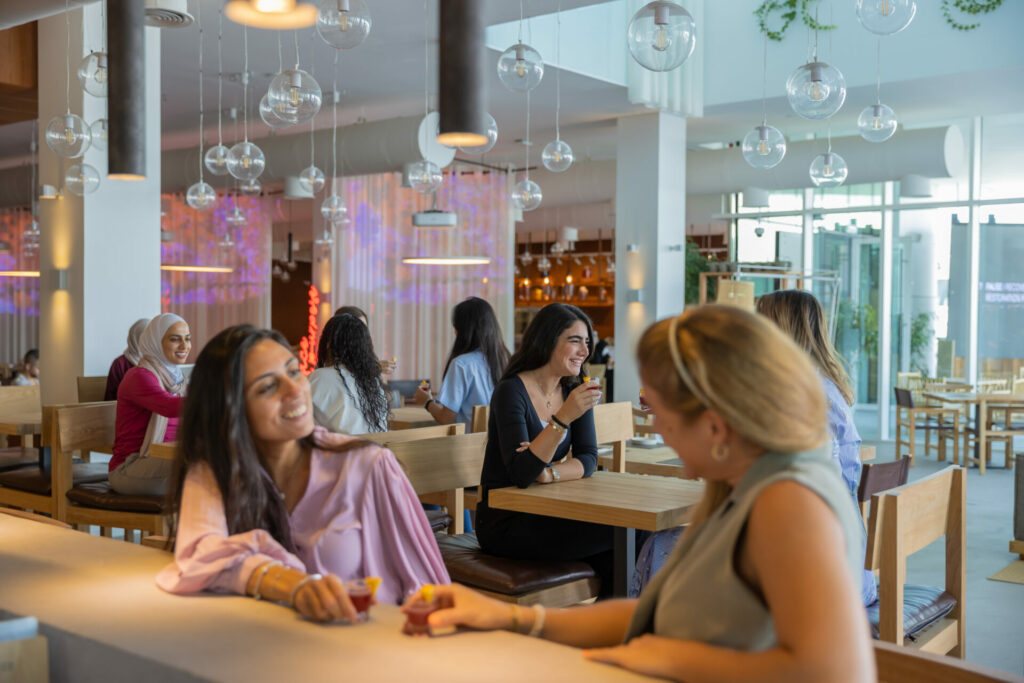 With a swish gym, spa and an eco-friendly concept store, The Bridge is renowned as the fanciest healthy lifestyle hub in Abu Dhabi. Plus, thanks to its spacious desks, stunning waterfront terrace and 100 percent organic cuisine, wholesome restaurant-lounge TASTE has become a hotspot for local entrepreneurs and freelancers. Constantly buzzing with discussions between the city's brightest minds, being around so many other productive professionals working remotely is great motivation to knuckle down yourself. Boasting a chic and edgy interior complete with cool neon signs, the highlights of the menu include the enormous colourful salad bowls, and the simply tremendous turmeric latte.
Heal, Al Manara, Dubai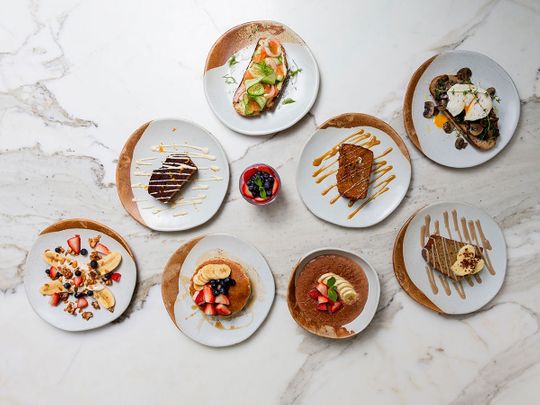 Serving a host of sustainable dishes and drinks with plenty of vegan and vegetarian options, it's easy to see why this cool coffee shop is a magnet for Dubai's freelancers. With a large, leafy outdoor space or equally sizeable interior to choose from, home workers can enjoy fantastic friendly service and a relaxed environment to get those numbers crunched or brainstorm over zoom. Choose from healthy drinks such as the healing potion (orange, celery, spinach and ginger) to breakfast hits including avocado zaatar toast, to keep your energy levels raised. The elegant, minimalist cafe is a big hit with the local community too which is a gold star rating in itself.
Spill the Bean, The Sustainable City, Dubai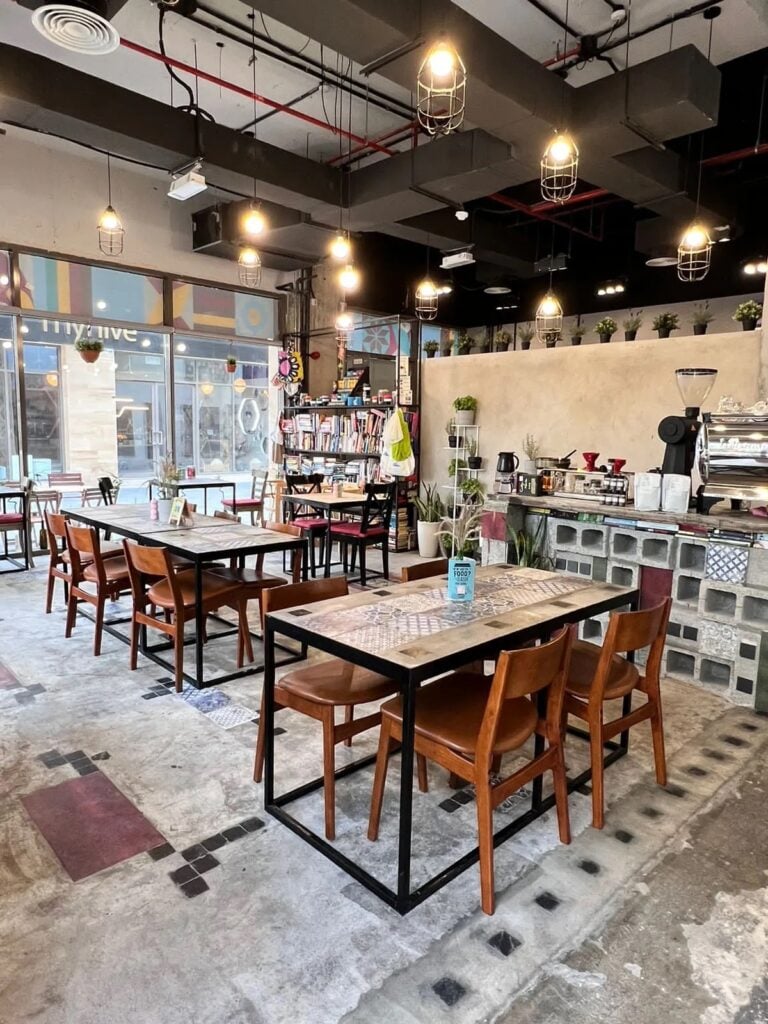 Officially 'one of the best coffee shops in the world' according to the Financial Times, family-run Spill the Bean is one of the city's most well-known co-working cafes. Equally loved by cyclists due to its special deals for those who arrive on two wheels, it's gloriously real and rustic in every way. Brimming with authentic bohemian vibes, all the food is 100 percent organic, fair trade and totally homemade (even down to the nut milks).
The pancake stacks, stunning açai bowls and other breakfasts are legendary, while the refined sugar free desserts can genuinely be justified as 'good for you'. Just try not to let the shelves and shelves of enticing books in the community library distract you too much.
@spillthebeancoffee.
The Social Company, Zabeel House The Greens, Dubai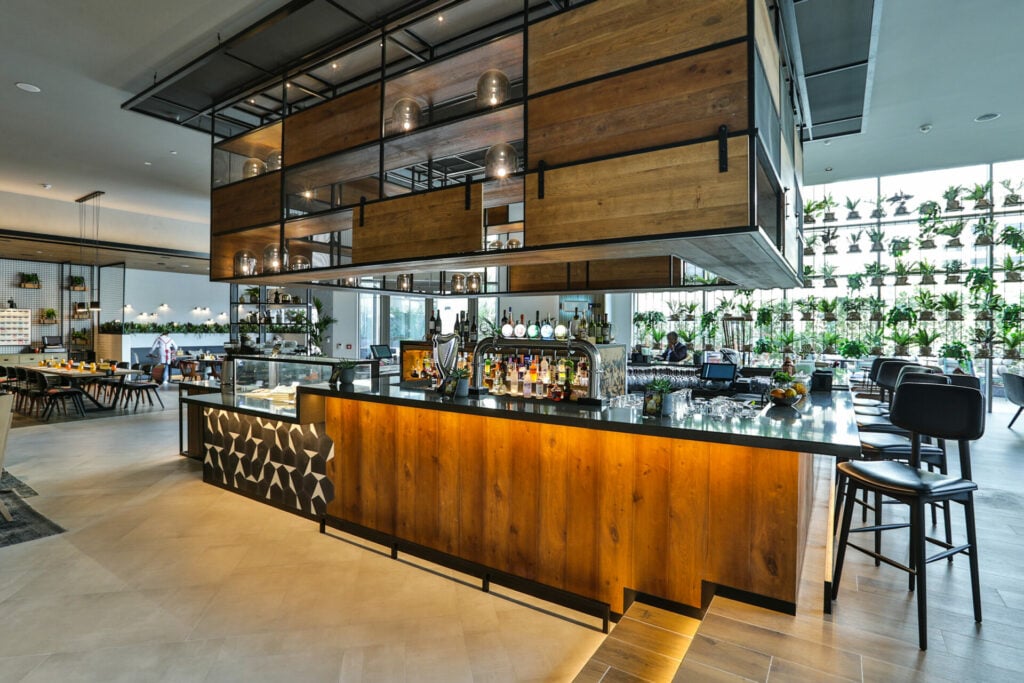 A seamless hybrid between a professional co-working space and a casual coffee shop, The Social Company – featured in the main article image – is so popular amongst remote workers that you need to arrive early if you want to secure a prime spot. On pretty much every table you'll see either a laptop open or a business meeting happening, and the special custom-made workstations are perfect for those working remotely who thrive in a more office-like setup. However, the serious side is balanced out by its cosy, lounge-like decor, and the fact that dogs are made just as welcome as humans.
The numerous meat-free options span organic eggs, smashed avocado, acai bowls, vegan chia pudding, vegan porridge, a choice of salads, and a rather colossal vegan burger.
@zabeelhousethegreens.
Third Place, Corniche Road, Abu Dhabi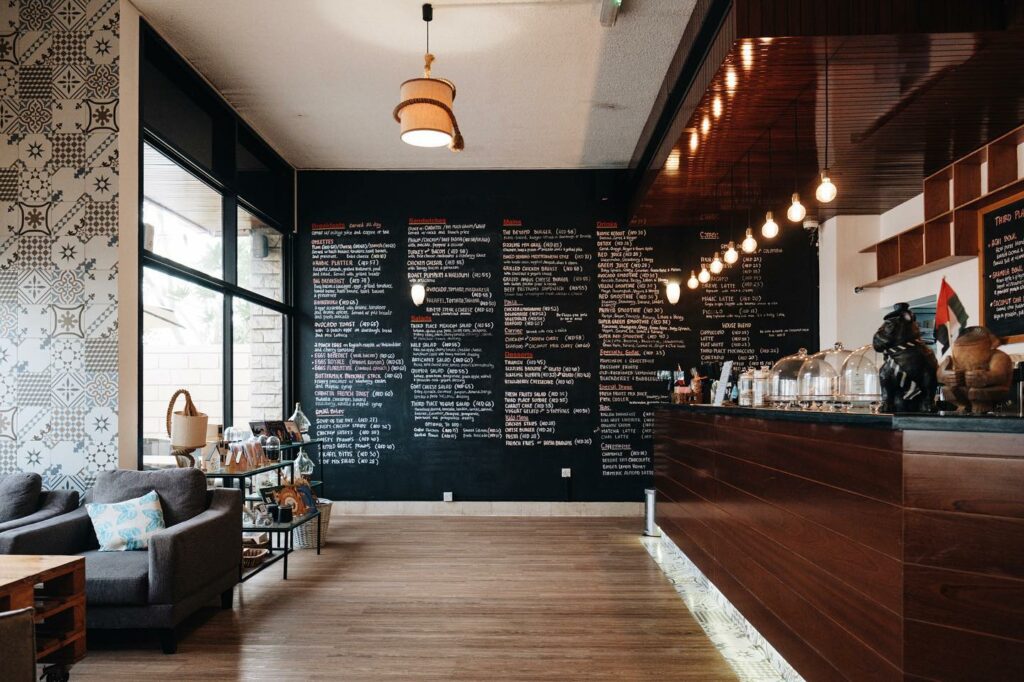 The 'Third Place' between work and home, this long-established Corniche café has been a champion space for working remotely since 2014. Founded by three friends who were frustrated by the UAE capital's lack of worker-centric eateries, the upstairs boasts a quiet 'work zone', while the homey main café presents an eclectic scattering of squishy sofas, comfortable armchairs and overflowing bookshelves.
Taking all the best bits from every cuisine, the ever-changing chalkboard menus span fresh juices, organic coffees, sandwiches, salads, curries and pastas, while community events like book readings, workshops and exhibitions are held regularly. Best of all, whenever you're done with work for the day, you can simply hop over the road for a stroll along the boardwalk by the beautiful blue Arabian Gulf.
@thirdplaceuae.