When you think of travelling around India, Mumbai, Delhi, and the Taj Mahal most certainly spring to mind. For the beach lovers, it's Goa. For the nature enthusiasts: Kerala. However, if you want a more opulent holiday – let's say one that's fit for a King or Queen – Jodhpur and its multitude of palaces needs to be top of your bucket list.
Situated in India's largest desert, you could be forgiven for thinking that a scenic but uneventful drive through a vast landscape of sandy dunes is all it might have to offer but the reality couldn't be further from the truth. Jodhpur, formerly known as Marwar and the second largest city in Rajasthan, was founded in 1459 A.D and is steeped in history.
Situated on a rocky outcrop, looking out over barren terrain, the city is just as visibly vibrant as its' neighbouring states. Known as 'The Blue City' because all the residences around the legendary Mehrangarh Fort sport blue coloured facades, beyond the striking hues are an impressive array of attractions and exciting things to do, see and captivate you.
Here we roundup your top 5 essential sightseeing spots to have a really regal week.
Umaid Bhawan Palace
Whether this stunning palace is first or last on your must-visit list, rest assured it is the the most magnificent property you will visit in Jodhpur. Constructed between 1929 and 1943, Umaid Bhawan is one of the last great palaces built in India, and remains part-home to the Royal Family.
Undeniably the hotel of choice for the luxury traveller, you will be welcomed with a red-carpet arrival, magnificent outdoor grounds that are home to stately wildlife, exquisite gastronomic delights, art deco bedrooms and an indoor subterranean pool complete with holistic spa. Actress Liz Hurley was married here behind the fortress facades and we can see why. It is literally palatial.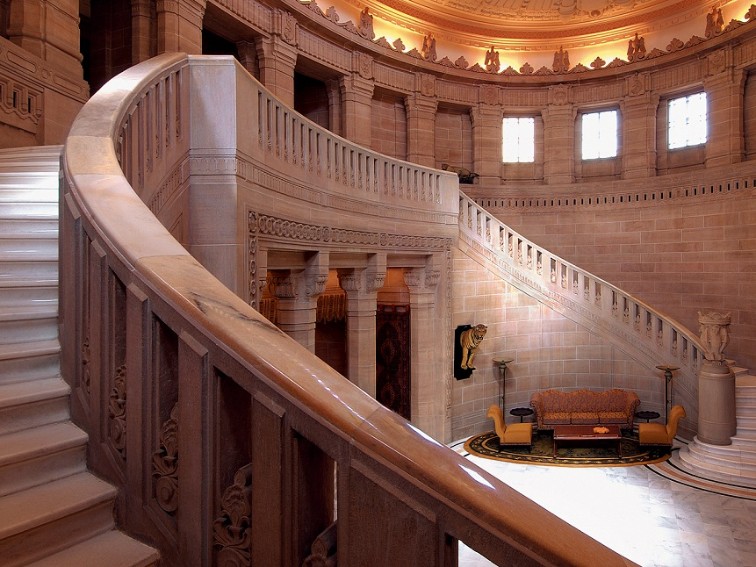 If your budget can stretch to a night – or two – at this beautiful heritage hotel, this is the best way to see the old world opulence that the palace has to offer. Managed by Taj, the staff will ensure you have a visit you'll never forget, delivering unrivalled hospitality in the way only India knows how. Upon arrival you will be enthusiastically greeted by every member of staff from the traditionally dressed doormen to the local Rajasthani folk singers serenading you in the atrium. There is no question why Umaid Bhawan is famed for its international celebrity weddings, and high-profile functions. Let's not forget it was awarded one of the 21 Most Romantic Places to stay in the world by Conde Nast Traveler after all.
If you cannot justify the 2,700aed price tag for the night, you still have an opportunity to peek at the palace interiors with a restaurant reservation or perhaps a daytime visit to the historical museum, where you can view photos of the Maharaja and his family. If you are as lucky as we were, you might get to meet the HRH Maharaja, Gaj Singh, himself. The humblest and most welcoming royal figure you could envisage. If not, it is guaranteed you will still leave the palace gateway feeling that bit more regal than when you arrived.
INFO: Palace Double Room approx. 2,700aed per night
Ajit Bhawan Palace
Named after its owner Maharaj Dhiraj Sir Ajit Singh Ji – the Maharaja of Jodhpur's younger brother – this beautiful palace more than lives up to its name. 'Ajit' in Hindi means 'the invincible' and 'Bhawan' means home and not only is the palace still home to some of the Royal Family, but this architectural grandeur is still managed by Royal descendants.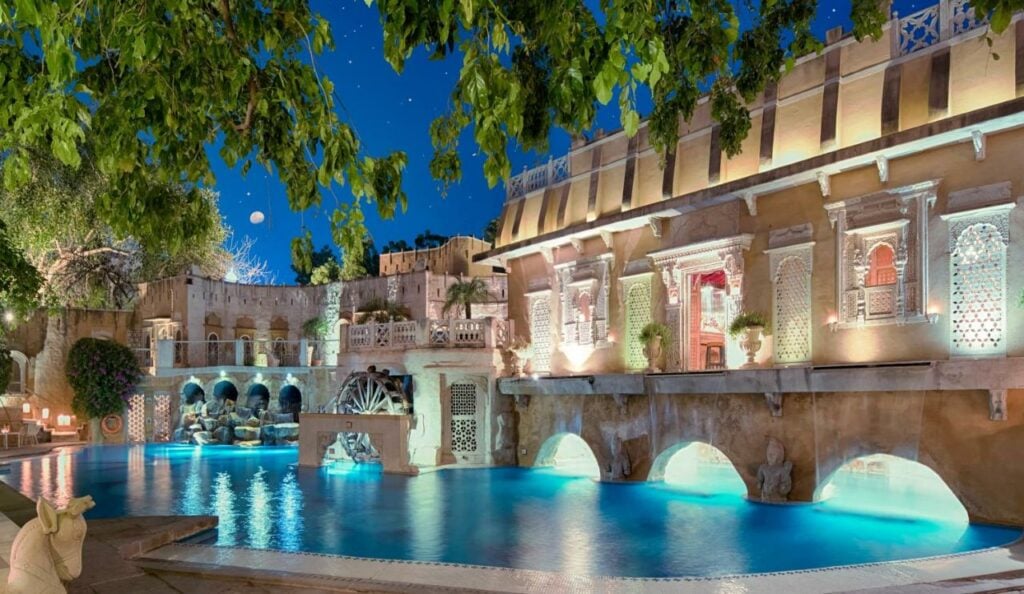 Boasting a sustainable slant to their philosophy behind the rustic design, the grounds are filled with more than 200 varieties of plants and trees and local materials are used in the creation. In fact, most of the staff are from surrounding villages, sustaining the welfare of local communities.
Aside from its impeccable social responsibility, Ajit Bhawan palace is a delight both to dine and stay in respectively. Each room tells a story of engrained Jodhpuri legacy, and meals are served in the beautiful gardens. We highly recommend the Dahi ke Kebab for an authentic taste explosion.
If staying and dining are not on the cards, you can visit Ajit Bhawan when the annual Vintage Car Rally is on. Car enthusiasts from all over the world flock to see the fleet of royal, classic vintage cars on display at the palace.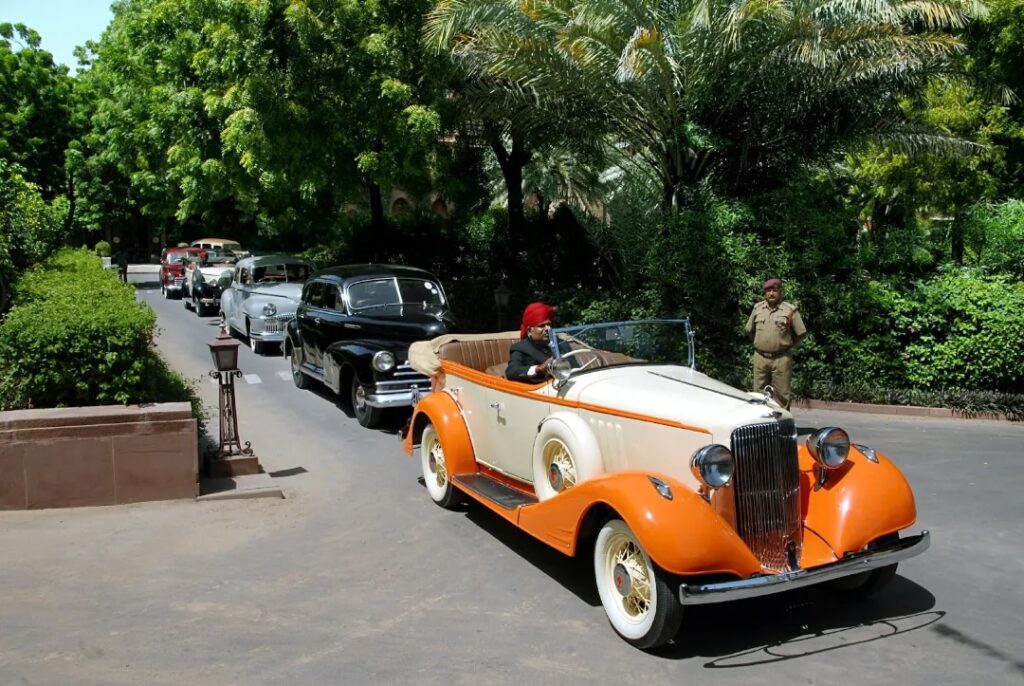 INFO: Deluxe Double Room approx. 500aed per night
Ranbanka Palace
Ranbanka Palace is the first palace in India that was converted into a heritage hotel. Sharing the boundary wall with Ajit Bhawan, this charming rustic palace is a stone's throw from the airport, making it the perfect location. The rich heritage and modern comforts -– those stunning bathrooms! – make for a delightful stay.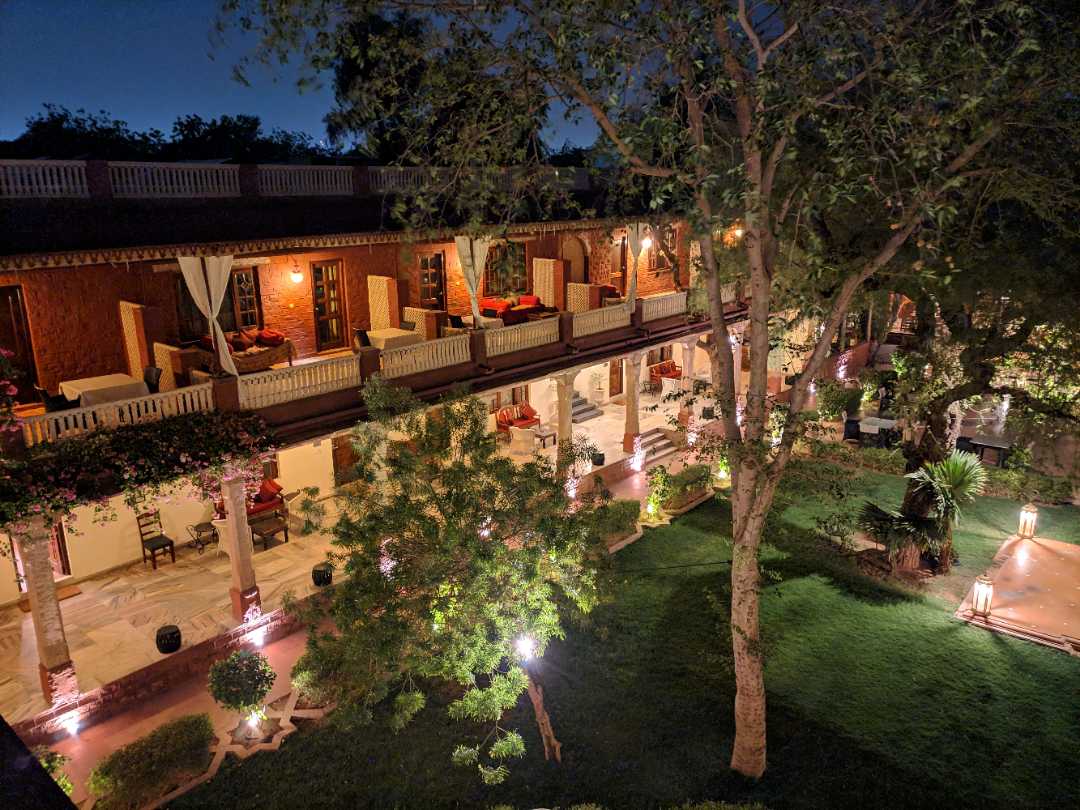 Each of the room's balconies face inwards to a flourishing forest-like courtyard, and you can dine alfresco in the cooler months.
Even for a short visit, Ranbanka offers a sampling of all the local traditions: the notoriously delicious Jodhpuri cuisine, the artisan handicrafts, and a nod to Polo, the Royal sport of Jodhpur since medieval times. Consider an afternoon outing to Ranbanka's courtyard to browse the local market situated in the grounds, followed by sundowners at The Polo Bar (which houses an exhibit of Royal Family trophies) and conclude your evening with dinner at The Pancharanga Restaurant – boasting an array of Rajasthani dishes famed for their elaborate flavours. If you can make it through a one day visit without enquiring on the availability to stay over you did a better job than us.
INFO: Heritage Classic Room approx. 375 aed per night
Mehrangarh Fort
Wherever you stay in Jodhpur, Mehrangarh Fort must have a place on your to-do list of daytime excursions. Literally translating as 'Fort of the Sun' this distinguished institution is situated 400ft above the city, boasting panoramic views of the Rajasthani metropolis and is bustling with life. Having appeared in many Hollywood and Bollywood productions, you naturally have to assume it will be a hot-spot for tourists all year round but get there early, and you might be able to enjoy a quieter walk through the fort and relish the artillery-lined parapets alone while watching the marching military band parade through the paths.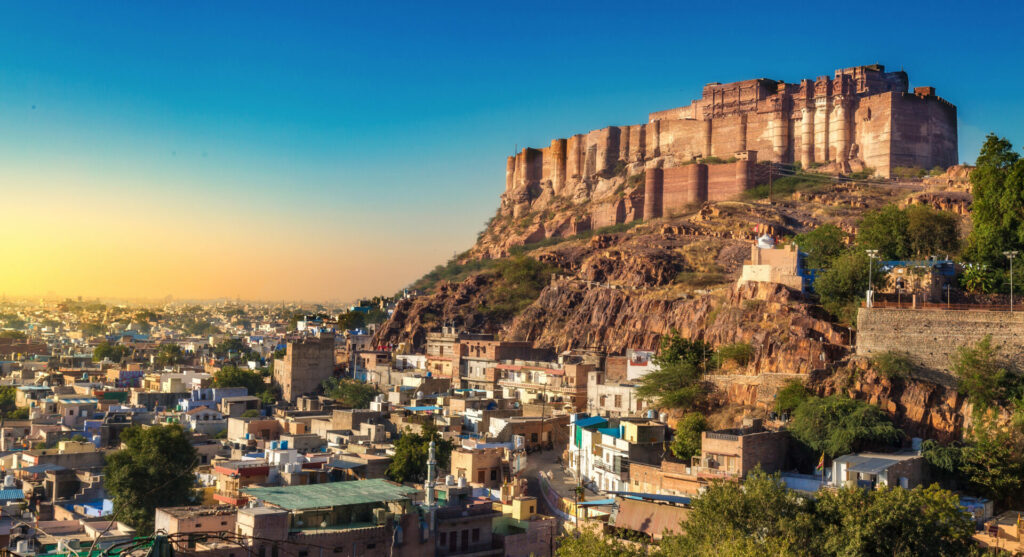 Built by Rajput ruler Rao Jodha in the 1400s, the fort encompasses a dedicated museum to guide you through the intricate history of the royal lives of the Rajputs. However, if ancient memoirs are not where your interest lies, just enjoying the scenery of this stunning stronghold, meeting the resident squirrels and witnessing the sea of surrounding blue dwellings will keep you more than entertained.
INFO: Opening times 9am- 5pm daily. Free entry. Museum Fee: Approx AED5aed for Indian nationals; AED26 for tourists (Charges include audio equipment).
Jaswant Thada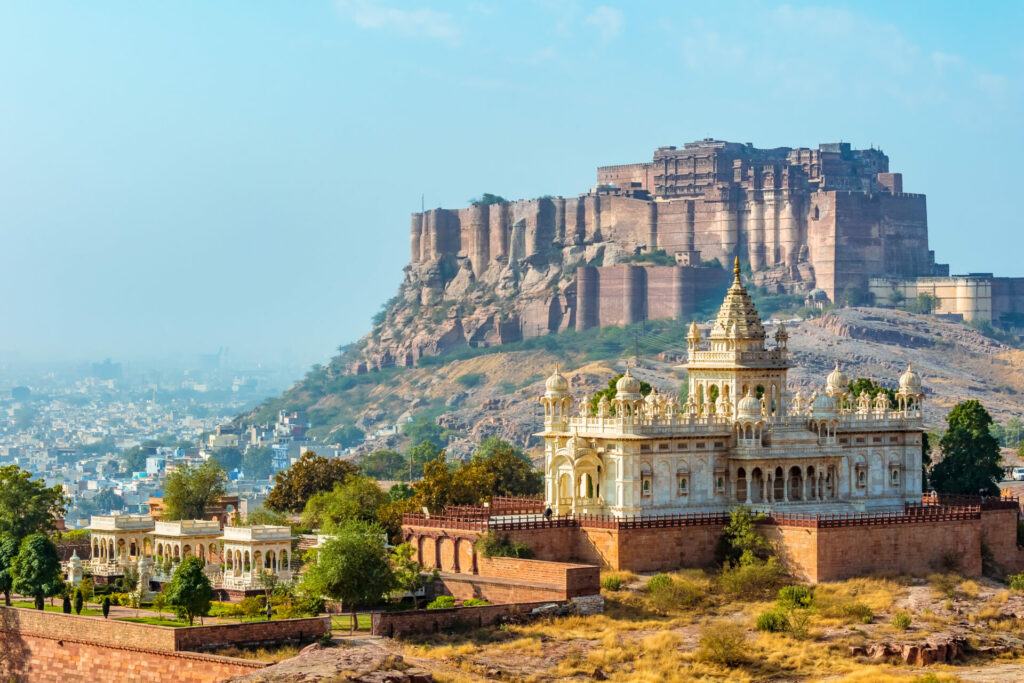 Last but definitely not least, upon exiting Mehrangarh Fort, a quick stop by Jaswant Thada is essential. Right opposite the legendary fort you will find the pure white marble memorial, with its peaceful gardens in which to sit and enjoy the views of Jodhpur after a long day sightseeing.
This Cenotaph was built by Maharaja Sardar Singh of Jodhpur State in 1899 in memory of his father, Maharaja Jaswant Singh II, but it is still used by the Marwari Royal family as cremation grounds. Use up the last of your energy by heading up the infinite flights of marble steps to observe the paintings and portraits of Jodhpur's rulers lining the interior walls.
Just be warned: you may get bamboozled into purchasing every type of natural ayurvedic oil from the resident shop, like we did, but don't worry the only issue you'll find with this is which one to choose.
INFO: Opening times 9am- 5pm daily Free entry.
You can follow Gemma's travels on @watchourworld