I pull ajar the heavy wooden door of my luxury canopied tent and sheepishly glance out into the inky evening, skirting the lush green grounds for any obvious signs of movement: the swish of a tubular tail, perhaps, the padding of paws, or the sleek muscular movement of rosette impressed fur. I admonishingly shake aside my inspired reverie of a trespassing local leopard and step outside.
Instead of prowling wild cats I am met by a petal-strewn pathway bedecked with frangipani trees, hibiscus shrubs and star flower bushes, the sound of cicada love calls mingling with the traditional Sarangani musical notes floating from the hotel's mango orchard where local musicians are performing for the resorts' after dinner guests.
Oberoi Vanyavilas
I am at the Oberoi Vanyavilas Wildlife Resort in India's large north-western state of Rajasthan, whose 20 acres of verdant grounds share a boundary wall with Ranthambore National Park. The reserve is home to 81 Bengal Tigers amongst other endangered, vulnerable and near threatened species such as spotted leopards, striped hyenas and sloth bears. It is a declared wildlife sanctuary with protection from the Government of India's Project Tiger conservation programme. and sprawls over 1,334 kilometres.
We had arrived a few hours earlier beneath the last rays of the sweltering spring sun, ushered in to the five-star resort by a cascade of fragrant rose petals with warm smiles, cold towels and a refreshing mocktail, whose aromatic ingredients were sourced from the hotel's very own gardens. The hotel manager, Ratna Malhotra, was there to greet and introduce us to Soulin, one of the resort's four dedicated naturalists who, fortunately for us, would be escorting us on the next day's safari.
Tasked also with showing us the grounds, he leads us to our private tent, one of only 25 on the property which has a maximum capacity for 60 guests. The doors swing open into a tastefully refurbished interior of brown and beige hues with more than a nod to the resort's raison d'être: the tiger. A four-poster bed looks out from all windowed sides onto the small private garden coiling around the substantially sized tent, and, after a whistle stop introduction to the room's amenities (where every effort has been made to eliminate plastic), we head out for a guided tour of the grounds.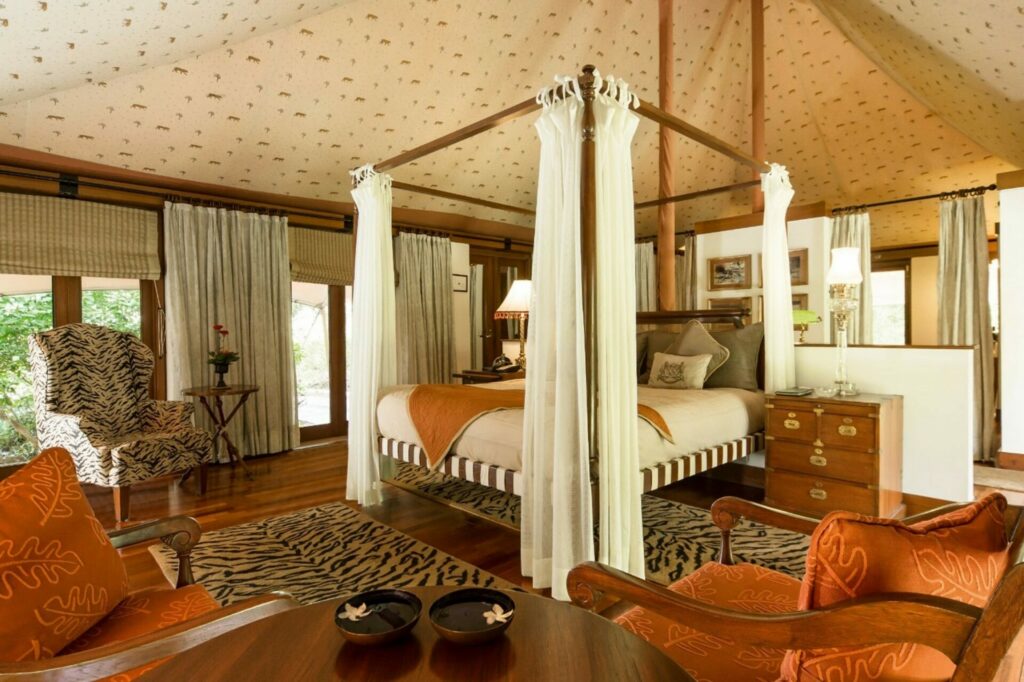 While we stroll, we are informed that the Oberoi Vanyavilas runs many environmental initiatives from tree planting to growing their own local produce. A gardener appears as if on cue to provide me with a trowel and my very own tree sapling. I'm honoured to plant the native baby lemon tree in an area of the grounds that is home to shrubs in varying degrees of growth. The offerings of other guests, young and old, we are informed.
As we wander towards the hotel vegetable and herb garden Soulin imparts a tale that lends a wide birth to my feverish imagination. It seems three nights earlier while walking to dinner, a guest happened upon an unsolicited guest, a somewhat startled leopard. Being a notoriously shy and secretive creature, the agile cat had been frightened by the encounter, forcing him to turn in his tracks and speed hastily back into the jungle from where he came, past our villa no less. 'They are more frightened of you than you are of them,' Soulin reassures me upon seeing my alarmed expression.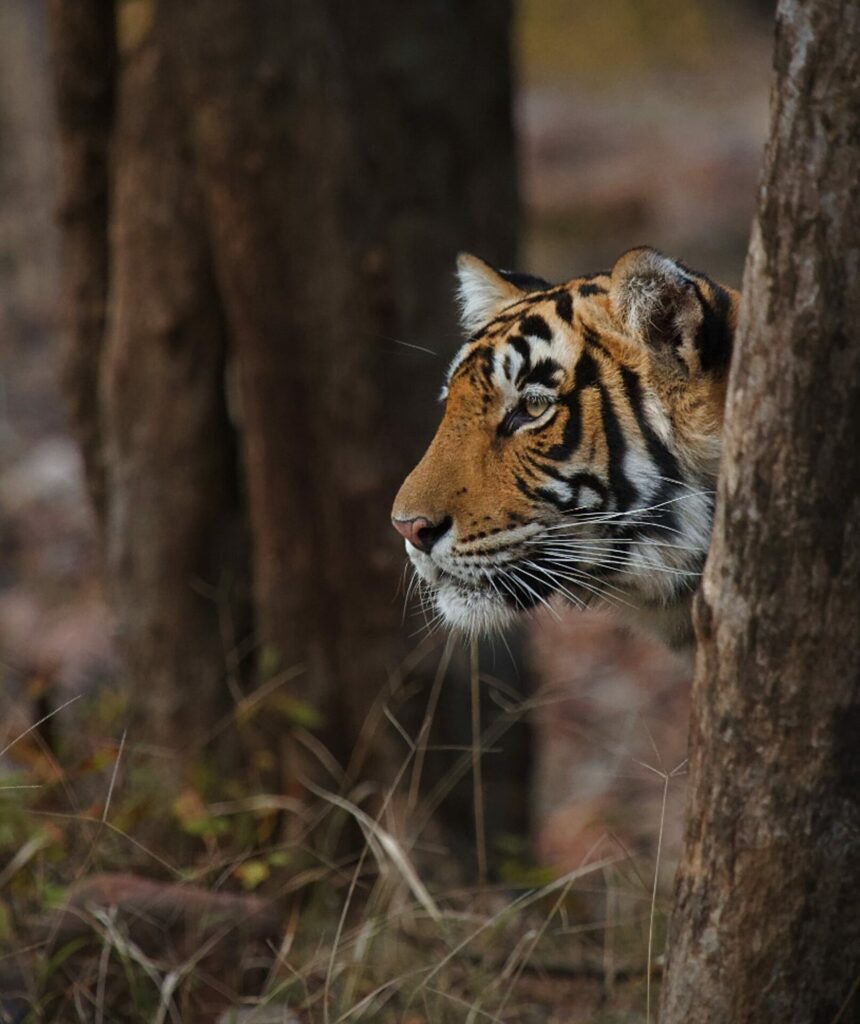 We continue the tour with a slight sense of unease that slowly dwindles as we meander along a pathway dusted in a canopy of bright fuchsia bougainvillea. Our destination is the Observation Tower, where cold sparkling bubbles and charming canapés await to be sipped while taking in the stunning views and warm evening breeze.
We have booked a sundowner's session at the top of the hotel's small fortress with its panoramic vista over part of the National Park. As the sun slides over the horizon, the reserve's copper-tinged hills seem bedecked in a glow of red, orange and gold and the vast jungle sprawls all around, beckoning tomorrow's early morning safari with the promise of glimpsing one of its tigers.
Tiger Spotting
We are woken at 5.30am by the piercing alarm. We bounce out of bed – a safari in search of a tiger sighting is on the agenda. After a quick shower, we head out to the breakfast room where fruit juice, viennoiseries and strong French press coffee are order of the day.
By 6am we are clambering aboard our gypsy – a six-seater vehicle open from all sides – with Soulin, Battilal our government-mandated local forest ranger, and a fearless driver from the Ranthambore Forest Department – who we later learn is not shy of a cliff edge. We head out onto the dusty road in the dawn light to the park entrance, just five minutes' from the Oberoi Vanyavilas.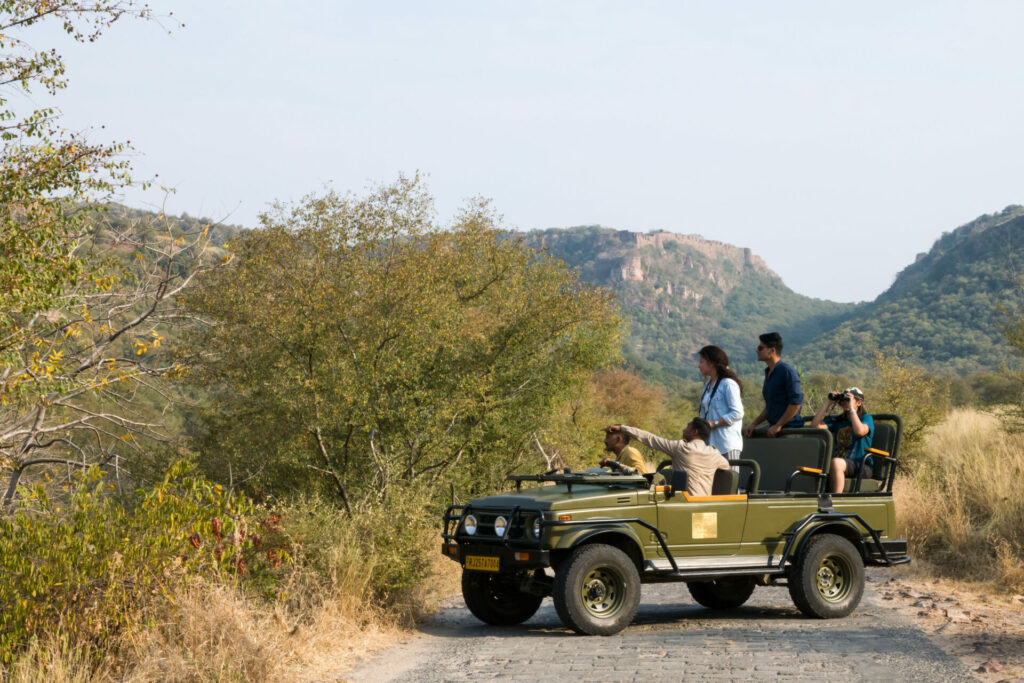 There are 10 eco-tourism zones in Ranthambore, and a jeep safari is allowed in each of them. We are allocated number four. As we drive along the narrow snaking road, ensconced either side between red hued sedimentary rocks, perfect for agile leopards, we pass crumbling remains entwined with ancient banyan trees, local fauna and curious langur monkeys, pertaining to the 1000-year-old fort and temple that remains a place of worship within the park.
While the main goal of the morning is to see the treasured tiger, our guides also point out all the other flora and fauna that is so paradoxically abundant in this dry deciduous jungle. The best time of year to sight a tiger is April, when the trees have shed their leaves in the stifling sun and tigers are forced to quench their thirst at the man-made watering holes. Later in the year, when the rainy season starts, they will not have to venture out from their jungle covering, a terrain that remains impassable for the 4-wheeled gypsys.
At this time of year though sightings are more commonplace as visibility through the trees is clearer. In a few months this ghostly landscape, with its stunning sinewy banyan trees that knit their sprawling roots though the dry and dusty earth, will be a verdant jungle of varying shades of green.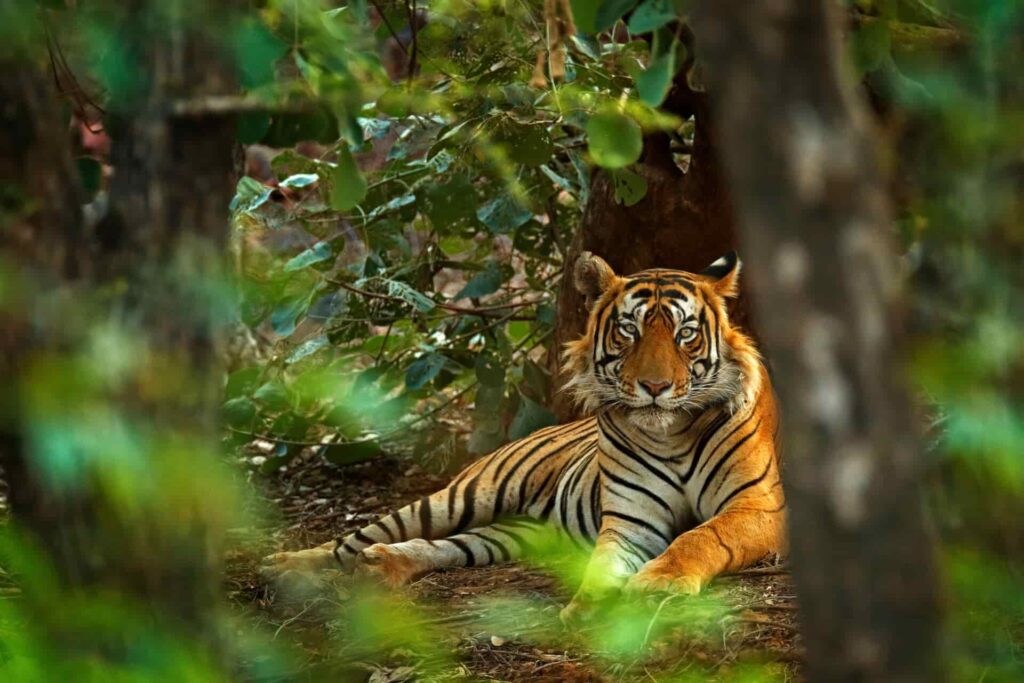 Today, however, despite the abundant stark grey dhonk trees that form the landscape, the peripheral view is alive with colour. From the bright orange flowers budding from flaming flower trees – 'a veritable summer treat for the monkeys.' Soulin informs us – to the dazzling shades of turquoise and emerald from the many dancing peacocks, the forest is far from dull.
While tigers are certainly the most significant attraction to the Oberoi Vanyavilas and Ranthambore National park, and the park is famous for having the highest number of sightings amongst reserves in the country, there are also 40 species of mammals, over 300 varieties of birds and 35 species of reptiles to be glimpsed.
Besides the tiger, other carnivores and omnivores in the park include the leopard, striped hyena, golden jackal, and sloth bears. The most commonly sighted animals include Chitals, the Blue Bull, Chinkara, Sambar Deer, wild boar and southern plains grey langur monkeys. Among the reptiles, marsh water crocodiles can be seen basking in the sun besides monitor lizards while the most common birds spotted include Parakeets, Storks, Egrets, Flycatchers, and Owls. Rare birds include the Black Eagle and The Crested Hawk Eagle.
We are fortunate enough to glimpse a large male tiger thanks to the expert eye of Battilal, our forest ranger who had first been alerted to the tiger's presence from a deer's distress call. We pick up binoculars and see T112, the name by which he is officially registered, or Jam as he is affectionally known, basking regally in the morning sun by the water's edge. We race upward along the pitted terracotta track and search the shrouding vetiver grass terrain below, in the hope of a closer glimpse.
Once we return to the waterside we smell the reason for the tiger's indolence, Jam has made a kill and the smell of death permeates the balmy air. He lies behind a large shrub laying his head down to rest. With such a full belly, Jam has no reason again to rise.
No Shortage of Non Safari Activities
We return to the hotel with a sense of accomplishment and are greeted with cool towels and a much-needed breakfast. While the main dining room is open for a la carte, we are ushered out to the mango orchard where a table has been set under the shade of a fruit tree.
We relish Dosas (crepe made from lentils and rice) with a trio of chutney's derived from the hotel's garden and sambal, a mix of vegetables, lentils, and spices. Washed down with a detoxifying green juice and strong cup of coffee. Nearby gardeners by the swimming pool gather up marigold heads and pink bougainvillea with twig brushes into woven baskets – no noise polluting leaf blowers in sight.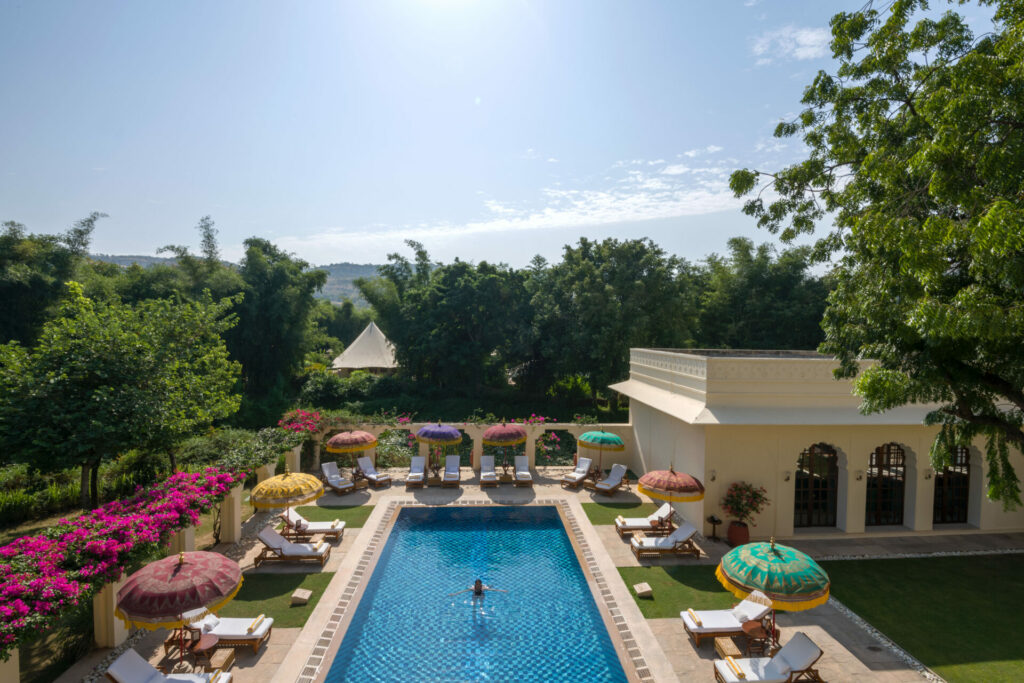 The rest of our stay at the Oberoi Vanyavilas is much as would be expected from a hotel voted the 14th best hotel in the world at the World Travel & Leisure Awards 2021 and once getting the coveted top prize: dining under the stars to cooking masterclasses and leisurely drinks poolside.
I partake in a 90-minute private yoga session with a highly skilled instructor, as I thank the heavens there are no other guests present to witness my lack of grace and balance. Flexible aficionados would revel in the garden environment overlooking the lake surrounded by the sounds of nature as they bend and move their bodies in ways I can only imagine.
We eventually call it a day after I fail drastically at the chakrasana – a pose that is otherwise known as a backbend or bridge and is far above my flexibility pay grade. We find the funny side and move on to finish the class with a meditation, where even I – a notorious misanthrope of Zen – am lulled into a sense of peace. Maybe there's something to this after all, I dreamily reflect.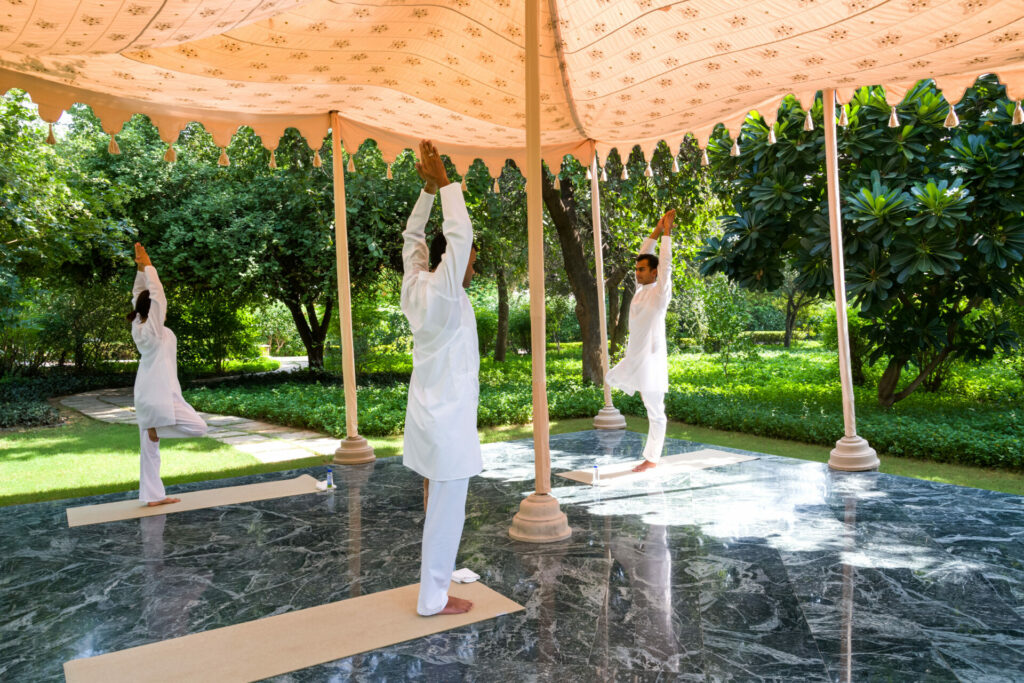 Before long I am back to being active again, donning a tiger block print apron for a cooking master class in the evening sun. Head Chef Shivang and his Sous Chef, Ajmer begin by explaining the top six most popular spices in Rajasthan. These include star anise, cassia bark (the local equivalent of nutmeg) and a spice I know little of but is a game changer in Indian cuisine – Asafoetida, also known as devil's dung.
We set to work on six local vegetarian Rajasthani recipes that are all quick and easy yet delicious, with ingredients predominantly pulled directly from the earth on the resort's grounds. From a lively coriander, garlic, chilli and oil dip to a delicious smoked yoghurt, we even learn how to make a Dal Tadka, one of India's most popular lentil dishes, tempered with ghee, fried spices and herbs. While the weather is too hot to warrant a tour of the garden (available from November to March) we leave feeling emboldened with our skills to reproduce these culinary delights once back home.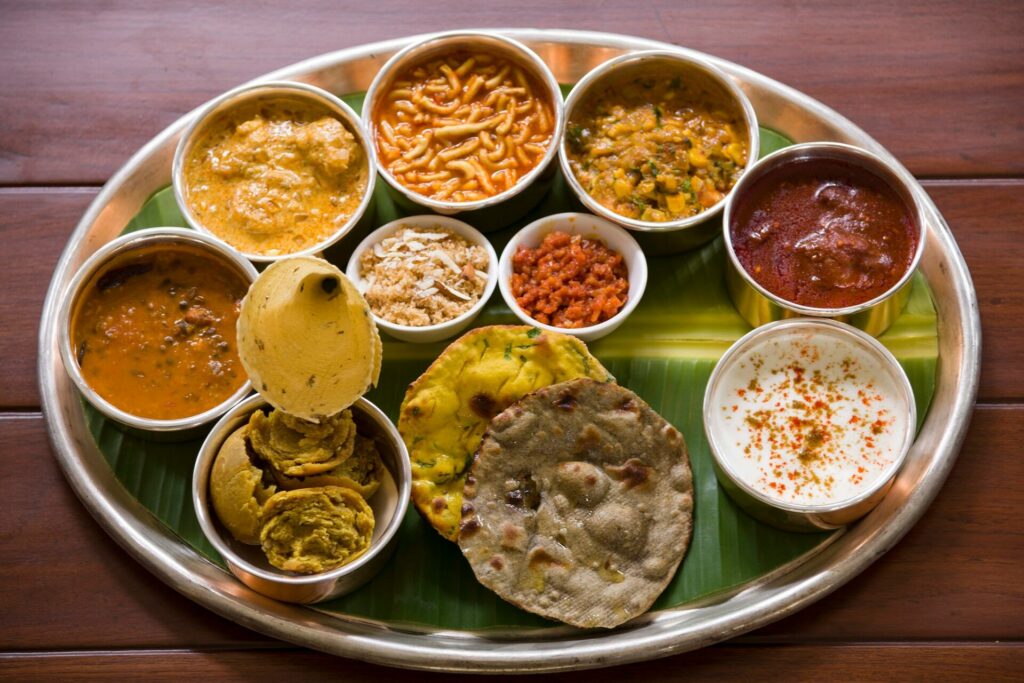 Food at the Oberoi Vanyavilas is excellent and largely vegetarian. The chef's selection menu is a mix of dishes grown on the hotel grounds that we peruse while nibbling on fresh and sweet crudites picked from the garden. I select Shahi baingan Haleem, an aubergine purée paired perfectly with truffle porcini and garlic naan followed by ker sangria, a curry made from local shrub berries and wild beans. I finish off with a lemon granita, washed down with a lemongrass, basil and rose petal concoction – all of course grown on the grounds.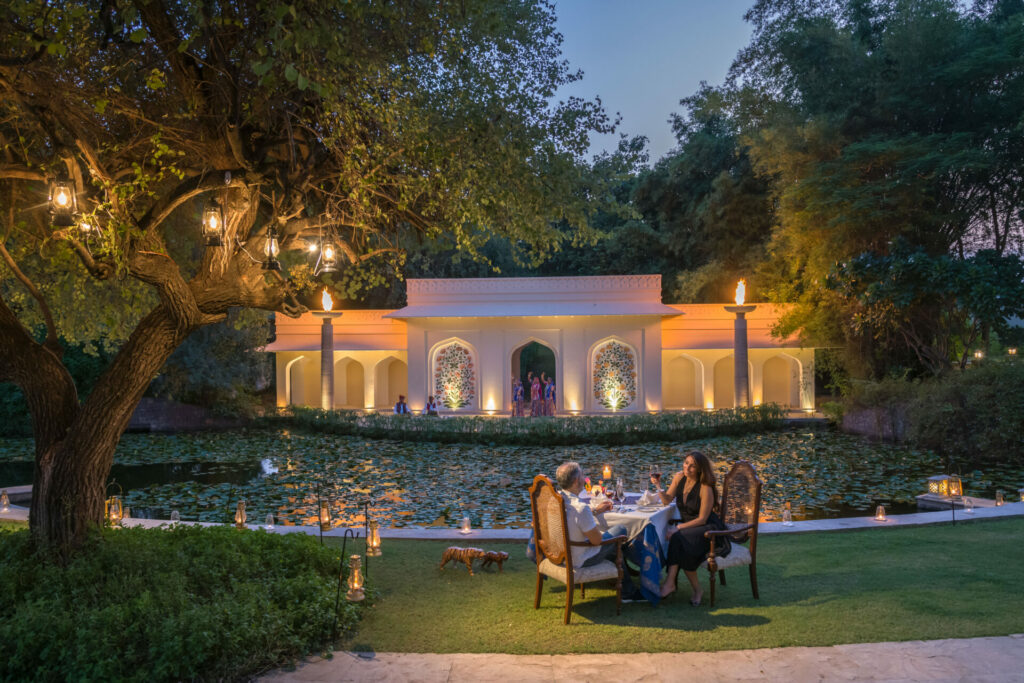 Dinner takes place under the stars, in a walled but roofless restaurant where local community folk musicians sing and play the harmonium and dholak, a two-headed hand drum. Our waiter for the entirety of the stay, Britesh, is excellent. We never want for anything. I cough and magically he brings me a medicinal concoction of ginger, turmeric, honey and spices. No one likes a cougher after all these days.
Eco Consciousness at the Oberoi Vanyavilas
We are taken back to our room in an electric buggy where handmade pyjamas wrapped in a cotton napkin inside a rattan basket are placed on the bed along with an envelope containing pictures of the resort's favourite tigers for me to take home. At no point during my stay am I confronted with plastic – apart from the water bottles that they attempt to provide me with on the safari.
From wooden key chains to deliveries wrapped in cotton it's clear that every effort is being made to rid the resort of unnecessary waste. Nearly 40 per cent of the establishment is run off solar energy, they have their own rainwater harvesting system and a large composting programme in place. Even unused soaps are sent on to a local factory to be given a new life.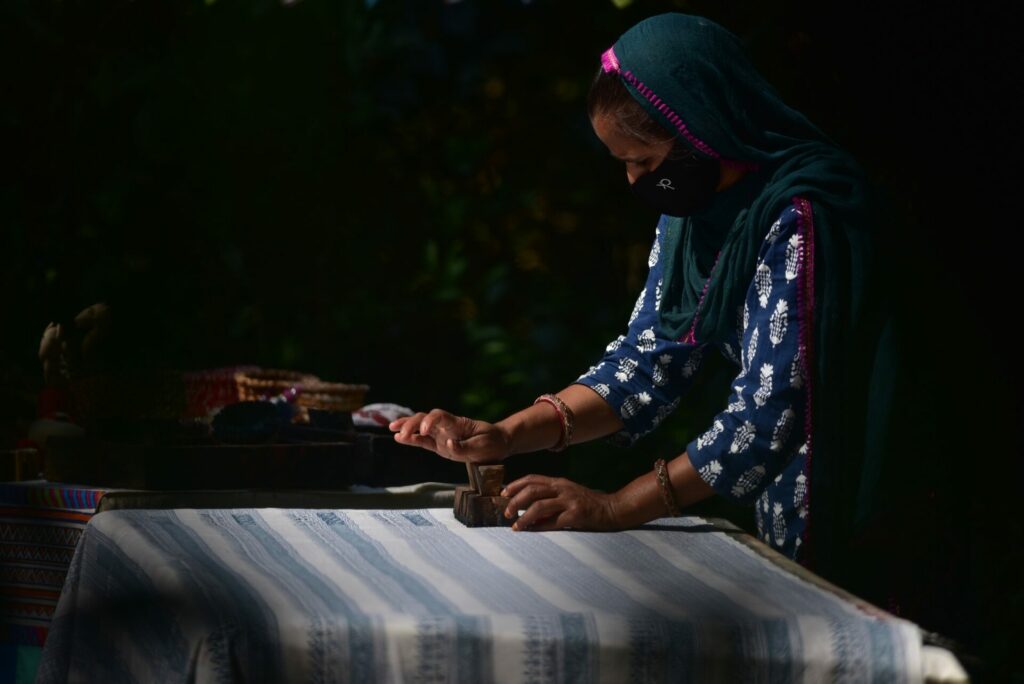 The hotel actively and financially support the local NGO (non-governmental organisation) Tiger Watch to protect endangered species while also working hand in hand with local communities such as Dhonk, a foundation that provides craft training and employment opportunities to former poachers, families, and villagers living around Ranthambore National Park. They have become widely respected as a responsible enterprise making handicrafts such as block print tablecloths that the resort showcases every other day on the hotel grounds.
The next morning as I prepare to say goodbye to the Oberoi Vanyavilas so in harmony with its surroundings, I choose to spend the last few hours by the pool. It's a perfect place to say goodbye under the handmade parasols whose yellow tassels dance in the breeze, where birdsong floats on the air and red and green dragon flies skim the water's edge. We could have stayed a few days more but all good things must come to an end, and in our hearts we know we will return.