No matter our age, learning where our food comes from is essential to understanding not only the intricate systems of food production but the impact of those methods on our health and the environment. By visiting UAE farms, we not only can experience desert nature, but the whole family can better understand what goes into growing the food we eat while enjoying a fun day out.
Visiting UAE farms can also help us appreciate the hard work and dedication that goes into producing our food. By understanding where our food comes from, we can make more informed decisions about the food we buy and consume and support sustainable and ethical food systems.
Fortunately, in the UAE there are a variety of farm experiences for adults and kids to enjoy. Visitors and residents alike can immerse themselves in the local culture and traditions by visiting one of the many farms that provide a glimpse into the country's rural side.
Here are our top picks of UAE farms to visit if you're looking for a unique escape from the hustle and bustle of the city.
Emirates Bio Farm – Al Ain, Abu Dhabi
Emirates Bio Farm is the UAE's largest organic farm, specialising in producing certified organic vegetables, fruits, and eggs. Visitors to the farm can purchase vegetables newly harvested from the field and a range of organic products. Best of all? Emirates Bio Farm has created an integrated tourism center to allow visitors to experience farming in a safe and fun environment. The facilities include a farm shop, an outside dining area, and a greenhouse restaurant. Guests can relax in the restaurant, farmhouse, and outdoor gazebo with freshly pressed organic juices, brewed organic coffee, and an organic field-to-plate menu.
Running hourly, guests can participate in tractor tours, a fun activity for the whole family that can help inspire a healthy and active lifestyle and is an enjoyable bonding experience amid nature. Hop onto the educational tour around the farm and immerse yourself in the refreshing greenery. During this time, guests will learn organic and sustainable farming methods and have a chance to harvest their vegetables. The cost is AED40 per person, including the tractor tour (children under three are free).
No reservation is required; the program runs on a first-come, first-served basis. Visitors are welcome to all amenities in the visitor center; tickets must be purchased to visit the fields and greenhouses.
There's also a Farm to Table Brunch every Sunday! Enjoy a wide selection of vegetarian dishes, fresh juices, hot drinks, and desserts prepared using our own organic produce. Straight from our farm to your table at AED80* per person only. Children under 6: AED40* and children under 3: free (*exclusive of VAT).
Tours are available from November through April. Emiratesbiofarm
Desert Organic Farm, Wadi Al Amardi, Al Khawaneej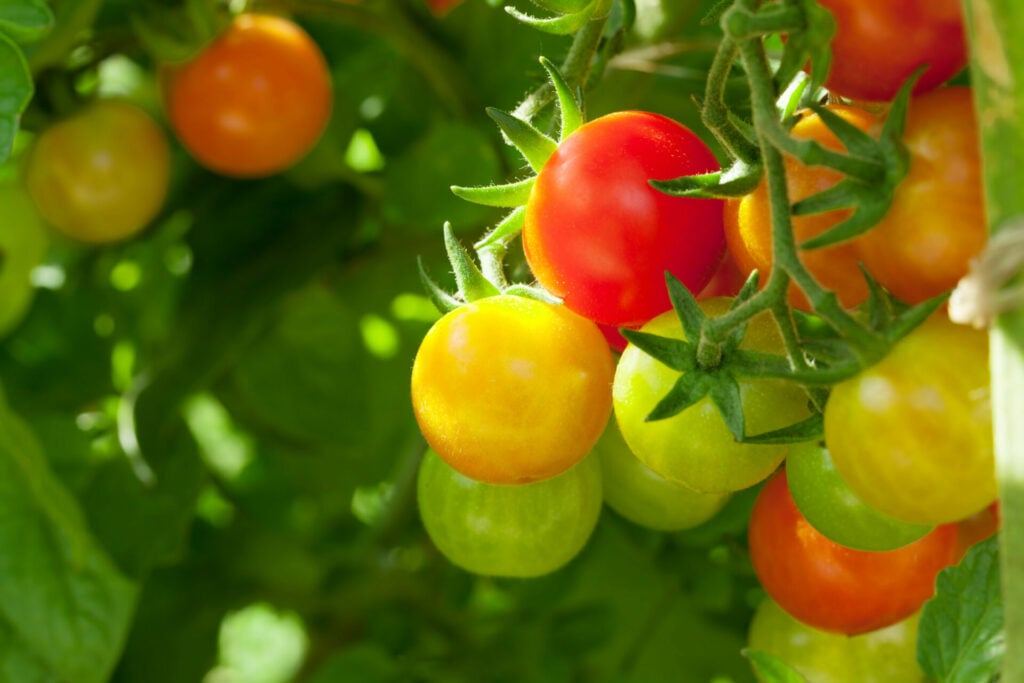 Specializing in harvesting more than fifty different crops over four hectares of land, the Desert Organic Farm relies on sustainable farming practices to grow fresh produce, which includes a large variety of fruits and vegetables. Depending on the cultivar, crops take 25 to 60 days from planting to the first harvest. Some plants, such as broccoli, continue to produce for the season; others, such as carrots, are phased in planting to ensure a continuous supply. The property also has date trees that grow different varieties of fruit, and visitors can also buy organic eggs, which are sold on-site.
New Leaf, Dubai Investment Park – 2 – Dubai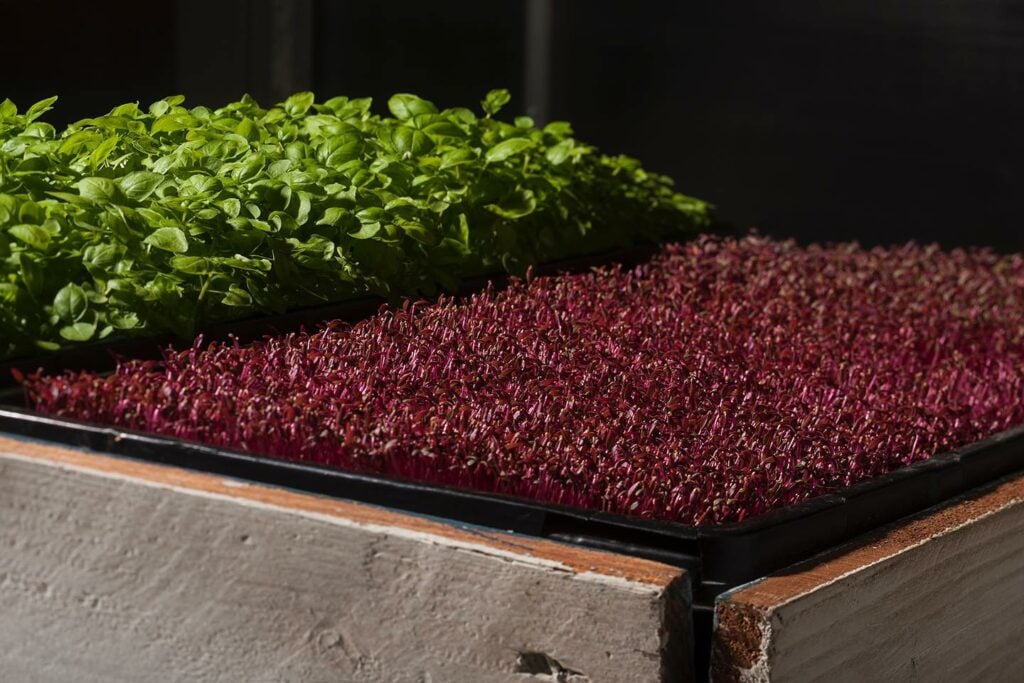 Want to learn more about microgreens? The team at New Leaf produces authentic hand-reared, organically farmed, soil-grown superfood microgreens for discerning customers across the UAE. ​Over the last two decades, founder Adam Stewart has been pioneering the growth of microgreens and is passionate about growing the best products. Guests can visit the indoor vertical farm, which houses over fifty varieties of microgreens, baby greens, edible flowers, and specialty salad mixes. New Leaf is proud to supply close to 200 restaurants across the UAE and can be purchased by consumers at several local grocery outlets.
Mazaraa, Mazaraa Farm Shop, Al Bayha, Abu Dhabi
Part cafe, part farm shop, the mantra at Mazaraa is 'we sell what we grow.' As such, this UAE farm shop shelves are stocked with seasonal produce grown on the land and organic oil and honey from the UAE. To be assured of the freshest produce, guests can even pick their produce on the farm and enjoy farm activities such as feeding the animals, fishing, and camel rides. The fee runs AED25 for adults and AED15 for children, which obtains entry plus a snack and juice. Afterward, guests can head to the farmhouse-style Mazaraa cafe for freshly brewed coffee and delicious bake.
HoneyBee Garden and Discovery Center, Hatta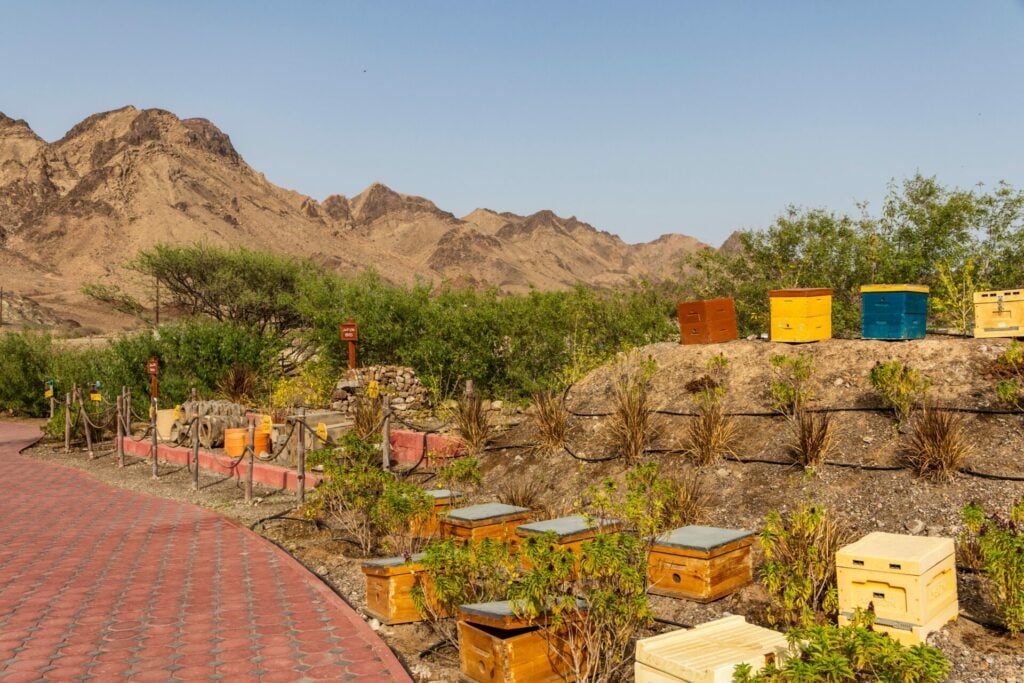 It's not just fruits and vegetables available in UAE farms! Guests can get a front-row seat to witness some of nature's finest work in Hatta. Surrounded by the towering Al-Hajar mountains and stunning native flora and fauna, Hatta Honeybee Garden and Discovery Center is the first specialized garden in the Middle East and North Africa to offer tours, workshops, and hands-on projects highlighting the fantastic world of honey bees. The Hatta Honeybee Garden and Discovery Center was established in late 2018 under the stewardship of H.H. Engr. Salem Bin Sultan Al Qasimi covers an area of 16,000 square meters. The site is also home to hundreds of indigenous and exotic trees, such as Samar, Ghaf, and Sidr.
Since its inception, the Hatta Honeybee Garden and Discovery Center has been at the forefront of educating thousands of visitors about the region's rich history of beekeeping, the role of bees as the world's key contributor to the natural ecosystem, and the importance of preserving these creatures through planting trees, conducting research, and sustainable beekeeping. Book the Bee World Discovery Package, which ensures protective clothing before being introduced to the bees. Tickets are AED50 for adults and AED30 for children and are sold on-site.
My Farm Dubai, Al Khawaneej, Dubai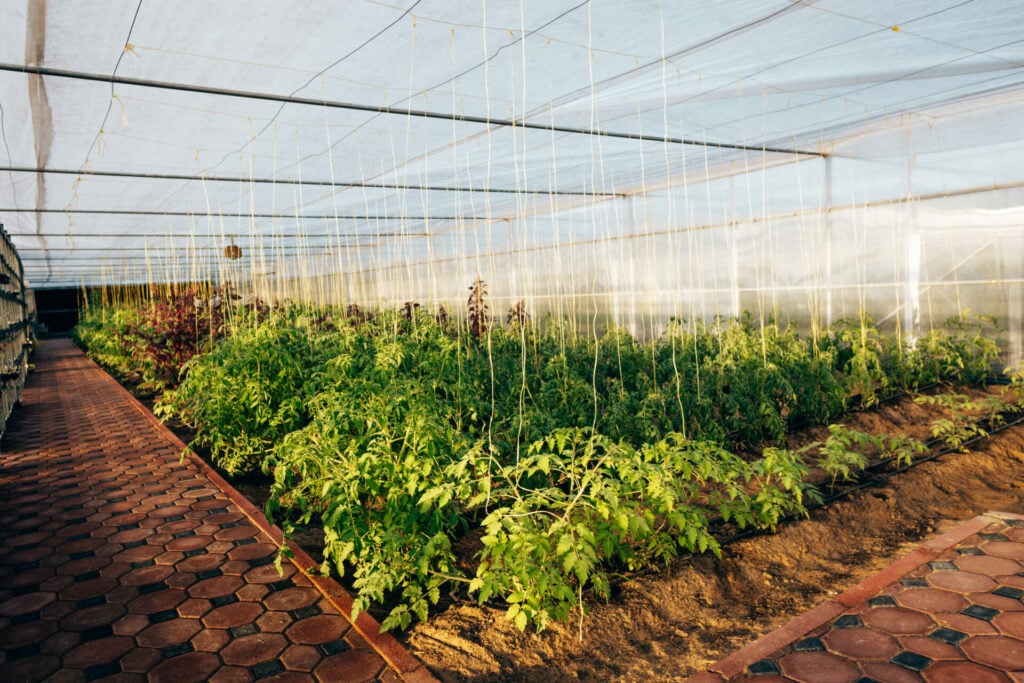 There's a new place in Dubai where guests can join and tend the crops. My Farm Dubai is a self-sustaining, eco-farm that combines nature and technology to grow fruit and vegetables in the middle of the Dubai desert. Located in Al Khawaneej, the property also produces herbs, spices, and honey that visitors can harvest in group or private sessions during a two-hour weekly tour. Guests can get some gardening done and learn new skills. There are adult workshops and full experiences to help teach you to tend to plants, while children are catered to with specialized sessions.
Below Farms, Abu Dhabi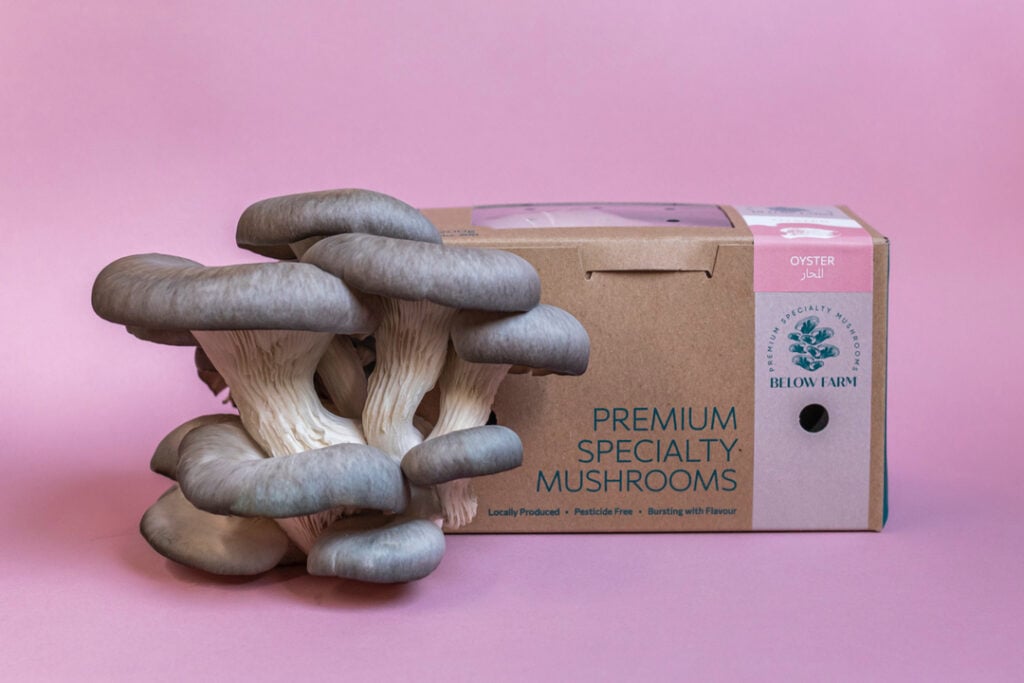 Finally, how about mushrooms? Below Farm's fully automated controlled environment systems allow the team to grow mushrooms in the desert all year round. The indoor vertical farming technique has a seven-level stacked grow structure that requires minimal space, can be set up anywhere, and does not need arable land.
The team at Below Farm will shortly be offering unique visits to the farm, where guests can take home their mushroom grow kits. Starting February 25th, the team will offer bookable open farm days. For AED150, guests will get a tour, attend a mushroom BBQ tasting, and take home a mushroom home grow kit.
Greenheart Organic Farms, Sharjah
Greenheart is 100 per cent chemical free and grows over 180 different types of crops, specialising in organic produce and using sustainable practices like underground water reserves to water plants. The vegetables and fruit are harvested daily at the farm in Sharjah, reaching consumers within hours of being picked from the ground.
Additional Local UAE Farms
While unavailable for individual visits, there are other local and community farms to consider supporting. Consumers should be reminded that plant-based viruses and diseases are the biggest threat to organic farming. This is why many UAE farms restrict access and refrain from permitting customers to pick their own.

At Mary Anne's Fresh Produce, the team is committed to bringing an incredible variety of products grown locally through sustainable methods. The UAE farm develops innovative products to help local chefs take their dishes to the next level. Products range from edible flowers to microgreens and specialty leaves. 
Wherever you choose, there are abundant farms to choose from, visit, and support in the UAE!