With the onset of desert winter comes a whole season of enviable weather: beautiful clear blue skies and light evening breezes. Whether you're just visiting or a long-term resident, now is the time to ditch the car and go for an evening stroll, morning jog, family picnic or simply enjoy a sunbathing session on one of the countless beautiful and free UAE beaches.
While beach activities are fun, walking is the best – and often most underrated – form of exercise. Its benefits include helping to maintain a healthy weight, improving fitness and cardiac health, alleviating depression and fatigue, and improving your mood. Plus, it creates less stress on joints than more strenuous workouts and can effectively reduce pain.
So don't you think it's time to put your bikini or trainers on, embrace this glorious weather and hit some of these beautiful UAE beaches?
Al Sufouh Beach – Dubai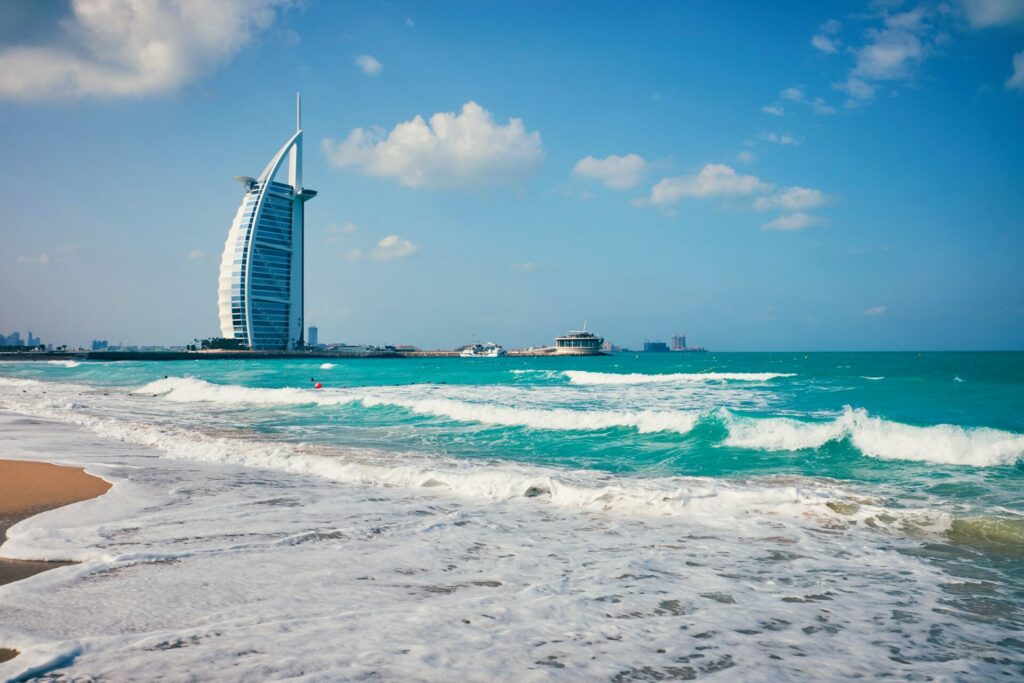 This free UAE beach is popular among long-term Dubai residents and tourists alike. It's the perfect spot to escape the crowds but still get mesmerising views of the Burj al Arab (without the hefty price tag of a luxury night's stay) and its panorama is perfect for taking in other iconic landmarks, too.
Trying to find the entrance to this sandy spot can be tricky as it is covered by a row of palm trees so direct your taxi (or sat nav) to Al Sufouh Park – the beach is just opposite. There are no facilities or restaurants here though, which is great for keeping the crowds away, so be sure to turn up with a beach bag full of soda, sarnies and suntan lotion.
Kite – Nessnass – Beach, Dubai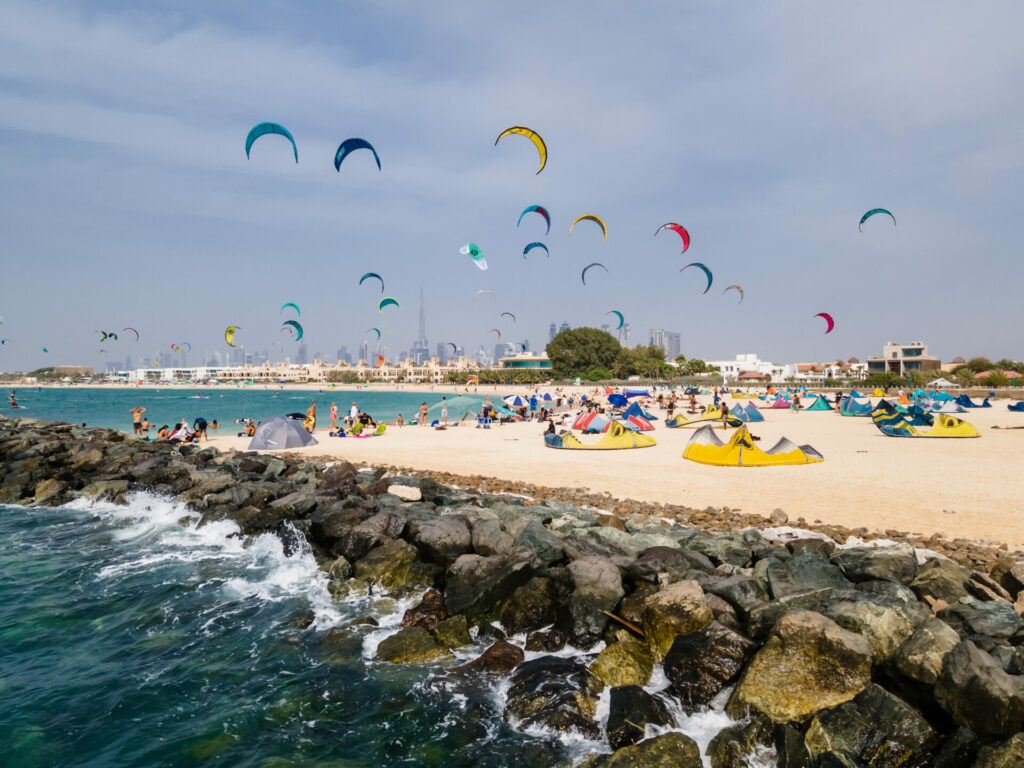 Located along Jumeirah Beach Road, behind Sunset Mall, Nessnass (known locally as Kite Beach) is a free public beach with a delightful beach library and jogging track. Water sports such as kite surfing and paddle boarding are popular here because of the beach's consistent cross-onshore winds. You can enjoy a healthy bite to eat at the cafe, take part in a boot camp, or just find a moment to chill with this UAE beach being the best spot to watch kite-surfers in action.
For an evening stroll, this is a quiet, peaceful spot to explore, away from the brights lights of the city, yet still close enough to venture to often. There is paid parking on site, plus an access ramp for wheelchairs.
The Beach by JBR, Dubai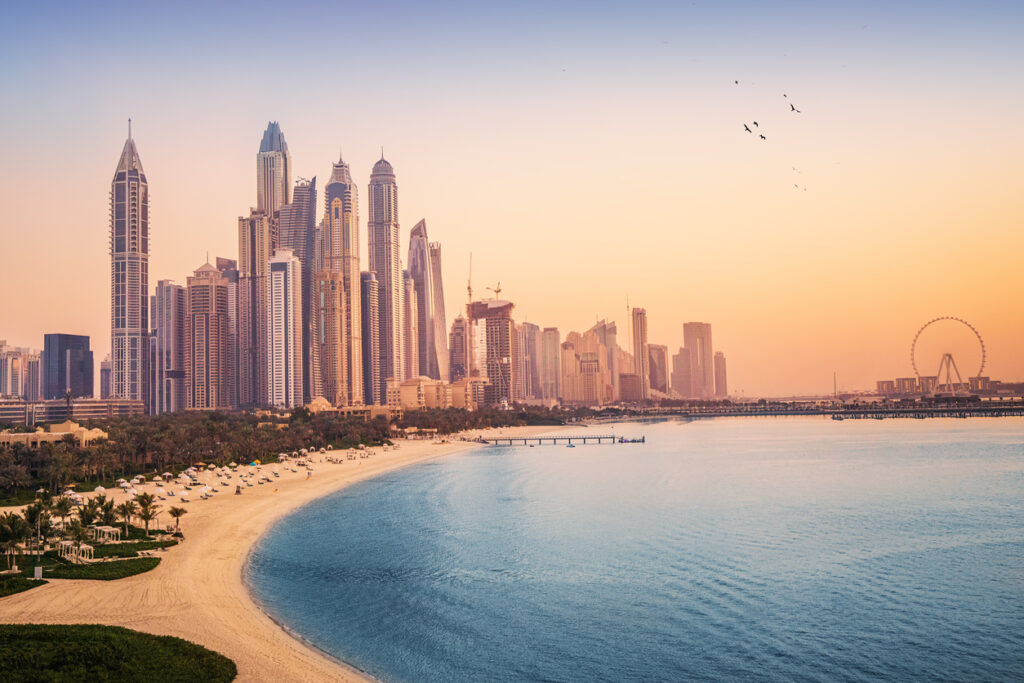 Bars, bistros and boutiques line Dubai's busiest beach where active beach goers can choose from a wide selection of water sports such as parasailing, wakeboarding, and banana boat rides while there's even a train for kids to enjoy. From sunrise to sunset this stretch of sand, which wraps around the entire length of Dubai marina, and the bustling shopping district behind it, buzzes with activity. This beach gets busy though, so if not dishing out dirhams is the order of the day then make sure you arrive early and bag yourself a soft, silica spot and spend the day taking in the superb views.
Corniche Beach – Abu Dhabi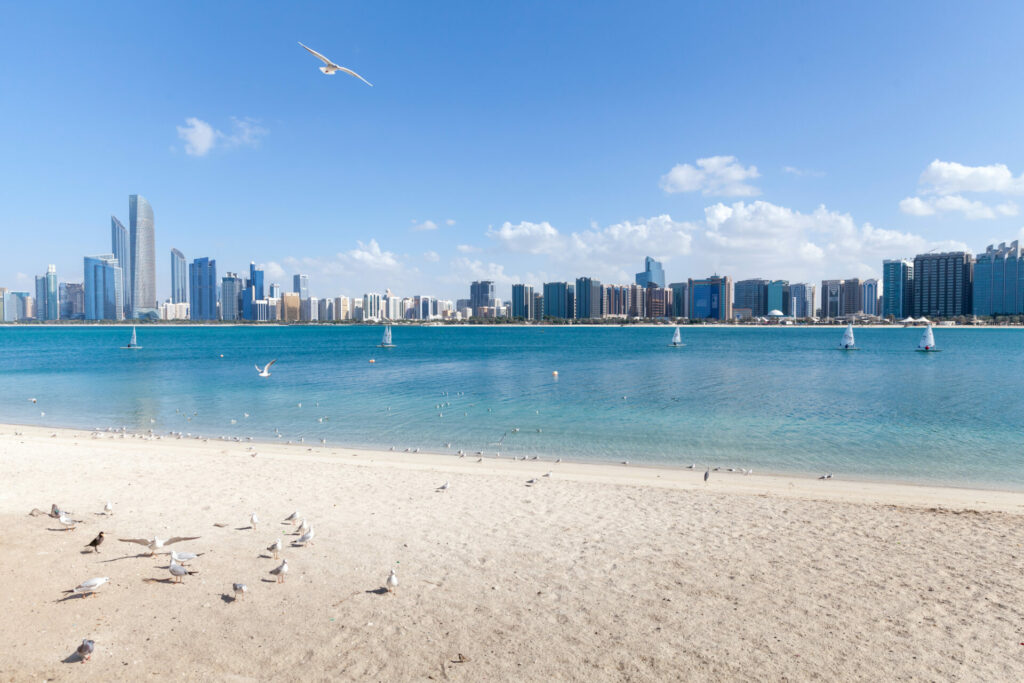 Overlooking the Arabian Gulf, this immaculate sunshine spot is an unexpected gem in the capital. This UAE beach stretches for 2km and has a fantastic seaside boardwalk. Beside the soft sand and shimmering waters are beautiful manicured gardens, with benches to take a well-earned rest. You can also stroll to a children's play area or cycle along designated pathways. Plus, if you work up an appetite from all the walking, there are plenty of cafes and restaurants nearby. Entrance to Corniche Beach is just AED 10 for adults and AED 5 for children (under fives go free).
Al Bateen Beach – Abu Dhabi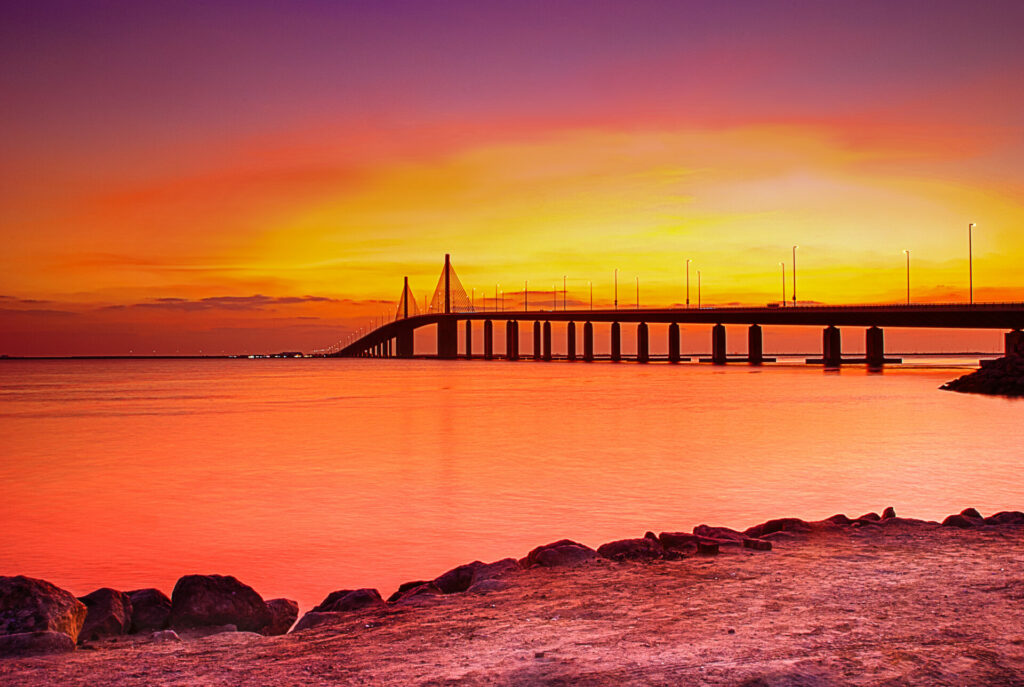 What more could you want from a stunning beach that overlooks Hudayriat Island? It dazzles with clear, tranquil water that's ideal for fishing and swimming. For a waterfront picnic this is one of the best spots in the UAE, covering 800 metres of picturesque beauty, or grab some lunch at one of the lovely healthy cafes close by. Popular with both expats and locals, the vibe is friendly, welcoming and safe. Al Bateen was awarded the prestigious Blue Flag sustainability award by the Emirates Wildlife Authority in recognition of their efforts towards making the beach a clean and eco-friendly place.
The best time to visit Al Bateen is 30 minutes before sunset as you don't want to miss the breathtaking golden skies setting into the Arabian Sea. This beach is open to all from 8am to sunset, however, at the eastern end of the beach, women only can enjoy from 10am-10pm.
Al Hamriya Beach and the Al Zorah Beach – Ajman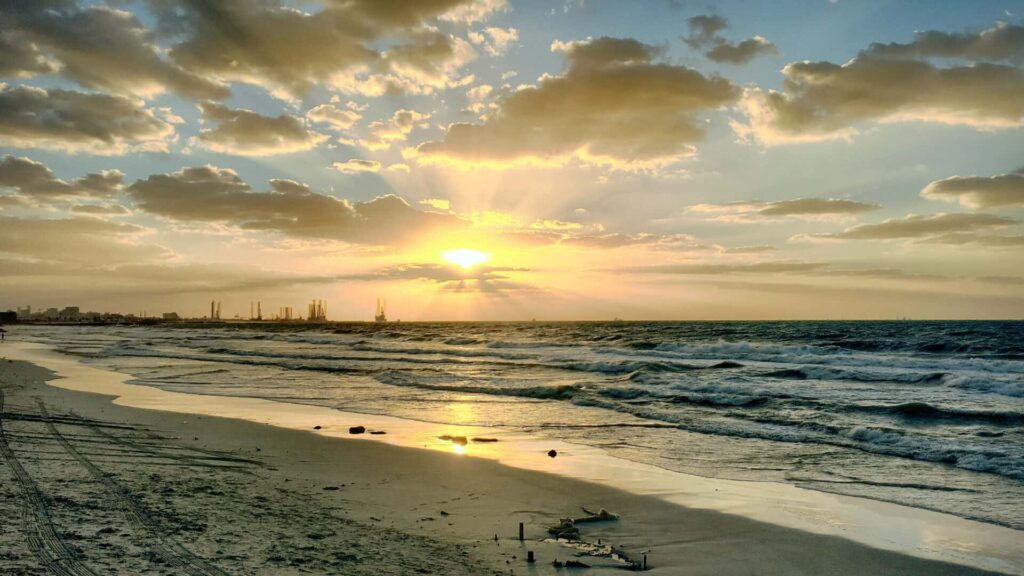 With a 70km coastline, Ajman offers plenty of romantic beaches which are perfect for long strolls. Pristine, with crystal clear waters and smooth white sand, these two public beaches are right next to each other, and you can cover both of them in one evening. Al Hamriya has a jogging track and toilet facilities, and is known for its breathtaking sunsets over the Persian Gulf.
The jewel in the crown of Ajman is Al Zorah beach. Walk along the glistening white sand as the waves kiss the shores. Enjoy picnics on the flawless beach or why not try jet skiing? This UAE beach never gets too busy, providing ample open space and a peaceful ambiance in a secure location, perfect for children to play and feel free. You can reach Ajman's beaches within an hour's drive from Dubai.
Kite Beach – Umm Al Quwain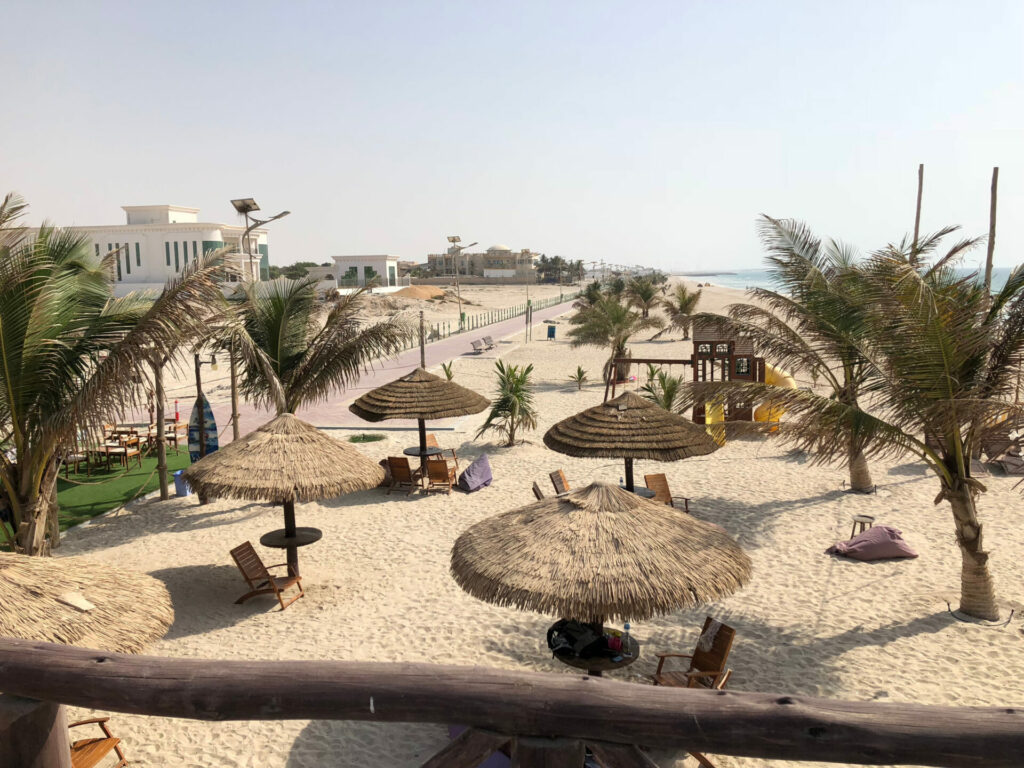 With swings built from tree trunks that stand a few metres from the shore and canoes that line the sand close to thatched beach huts, this is the ideal beachside idyll to sip a fresh coconut. A surfer's paradise, Kite Beach is on a sandy island providing natural and rustic-style features, normally reserved for Indonesian beaches. Why not explore the region's mangroves and sign up for the Mangrove Tours at the Kite Beach Centre? Or take the opportunity to enjoy some kayaking action and get acquainted with the region's wildlife?
If you want to make a weekend of Kite Beach, you can rent a two-storey thatched beach hut which offers a private shower, hammock, toilet and a fruit platter. Pets are welcome at Kite Beach too, just make yourself familiar with the rules and be sure to sign the Pet Declaration Form. The Kite Beach Centre can be found on the Sheikh Saud bin Rashid Al Mualla road in Umm Al Quwain.