Glamorous camping, otherwise known as glamping, has become a popular way to experience the wonderful outdoors without compromising on life's comforts. The UAE, with its stunning landscapes and luxurious amenities, is a prime destination for this popular type of travel.
But choosing glamping over staying in a brick-and-mortar resort doesn't just mean getting away for a fun-filled weekend in the great outdoors – it often allows you to reconnect with nature while doing your bit for the planet, too.
While hotel stays generally come with a substantial carbon footprint (10.4kg per night apparently), glamping comes with a little less impact thanks to several intrinsic differences. Sustainable materials are often used to build the pods, cabins and large tents favoured by glamping companies and travel to glamping sites rarely requires a flight being popular with locals wanting to get back to nature for a couple of nights under the stars.
So, if you're looking to make the most of the UAE's stunning natural landscapes before the summer comes truly knocking, here are our seven favourite luxury glamping spots across the UAE.
Mysk Moon Retreat, Sharjah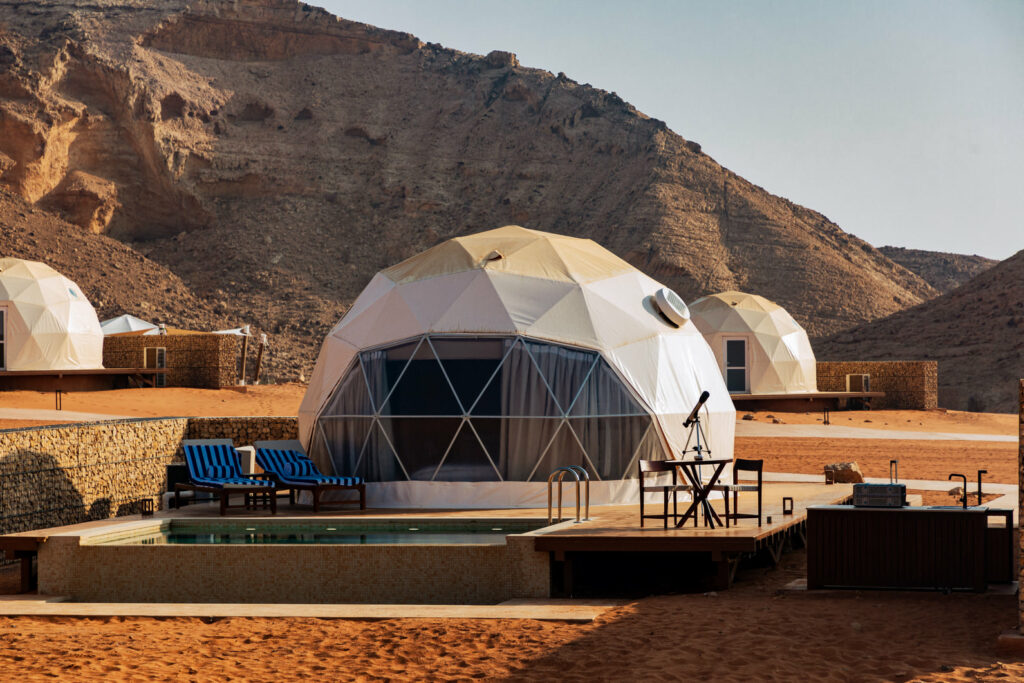 Switch off and reconnect at the award-winning Mysk Moon Retreat. This top glamping spot, only a short drive from the bustling streets of Dubai and Sharjah, offers glamping aficionados an otherworldly experience without disrupting the natural pre-historic landscape.
Nestled in the rugged Mleiha Fossil Rock desert, home to Bronze Age tombs, pre-Islamic ports and a plethora of artefacts and fossils, this getaway has ten luxurious private tents, four family tents and two single-bed tents – most come complete with a temperature controlled private-pool, air conditioning, and private bathroom.
This eco-friendly glamping retreat allows you to explore the surrounding fossil rocks and desert by day with nature activities including archery and trekking, or even a trip to nearby Kalba to see the 300 year old Mangroves, while giving you the opportunity to dine and relax under a canopy of stars by night.
Sedr Trailers Resort Hotel, Hatta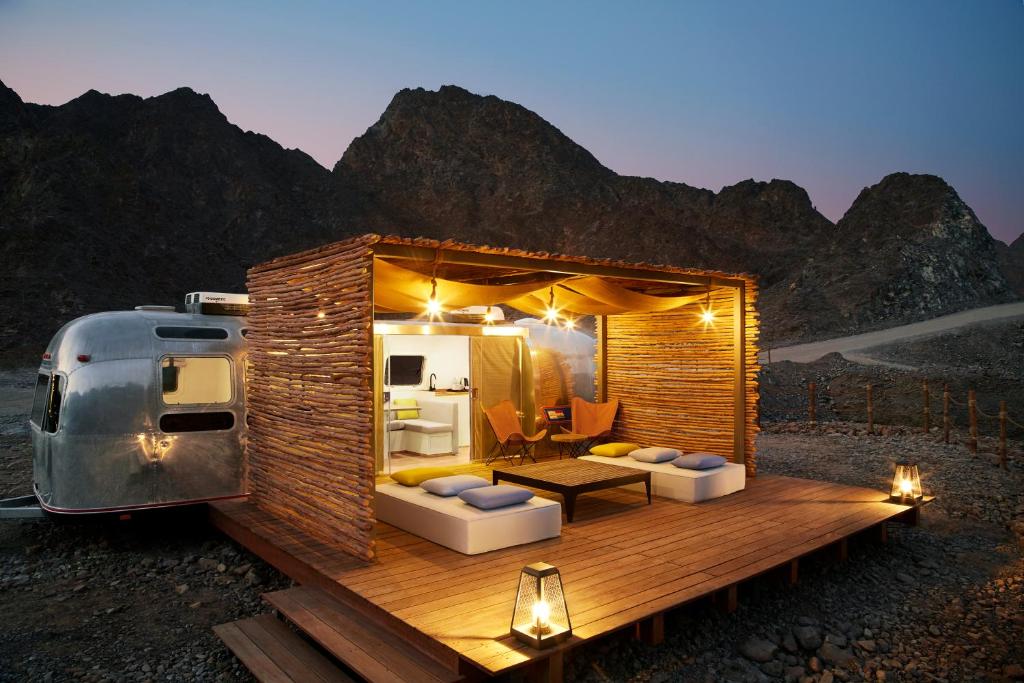 These family-friendly trailers are perfect for couples and families looking for a fun, yet quiet stay in nature. Sedr Trailers Resort Hotel, in the Hajar Mountains, is home to the region's first vintage-style trailer hotel where guests can camp near the stunning Hatta Dam. The grounds offer modern amenities, including a Sedr Bites Food Truck onsite, the Hatta Hub for plenty of kids' activities and complimentary mineral water, and free Wi-fi – although you'll be having so much fun you'll only want to connect to the 'gram to show-off those nature-selfies.
The surrounding mountains offer plenty of opportunities for hiking and mountain biking while the nearby Hatta Dam provides a picturesque spot for water sports.
Banan Beach, Ras al Khaimah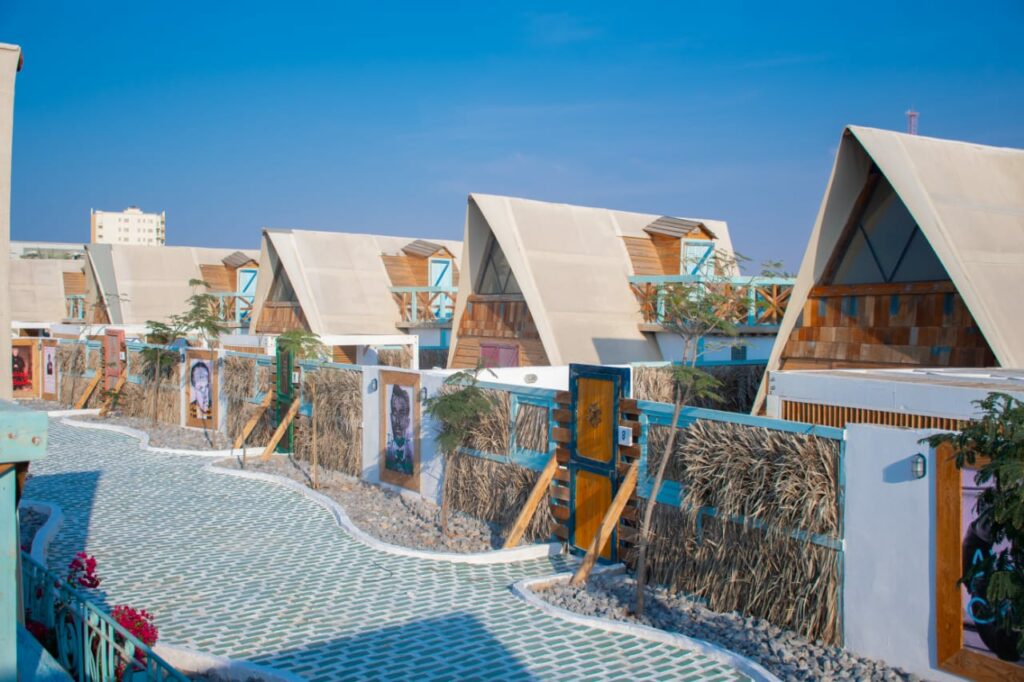 For those looking for a beachside glamping experience, Banan Beach in Al Marjan Island is the go-to. Full of charm and quirky spots, this unique glamping site offers guests the choice of a chalet, loft or tent, all fully equipped with comfortable beds and private bathrooms. Opt for half board (breakfast and dinner included) and for lunch roll up your sleeves and bond over a tasty bbq lunch and a bottle of BYOB (corkage fees apply).
This pet-friendly campground offers a range of activities including kayaking, stand-up paddle boarding and beach volleyball.
Terra Solis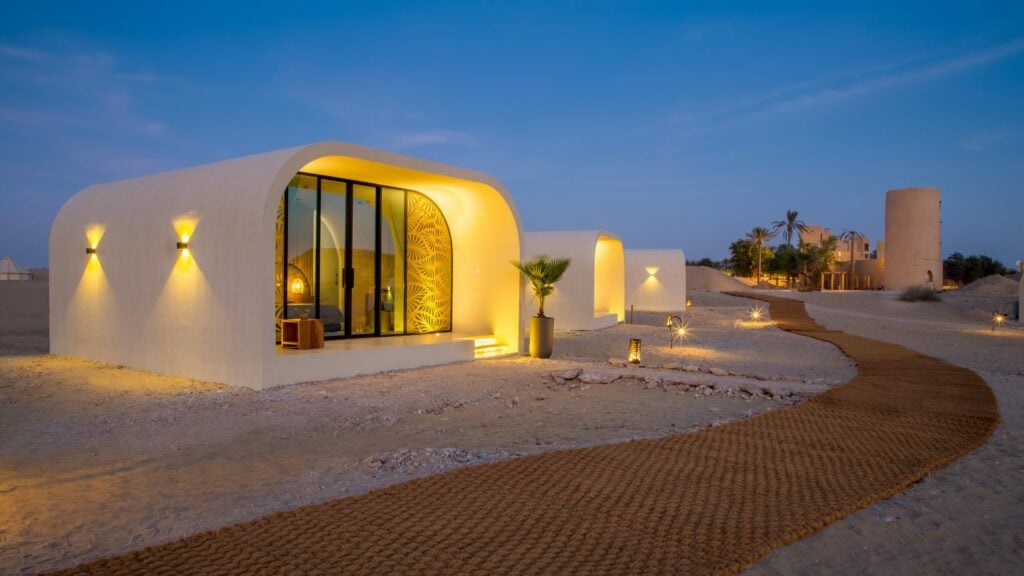 Tucked away in the Arabian Dunes, near Dubai Heritage Vision, is Terra Solis brought to you by the organisers of one of the biggest music festivals in the world, Tomorrowland. Tents here are spacious and don't skimp on luxury, offering a unique and unforgettable way to connect with nature. For those looking for a night under the stars, Bedouin-style tents dot the dunes with a king or queen bed, A/C and a sink. Those looking for a little more luxury can choose one of the lodges, which offer a comfortable bed, bathroom and all the little luxuries of a 5-star hotel but with panoramic views of the desert on your doorstep.
The Nest by Sonara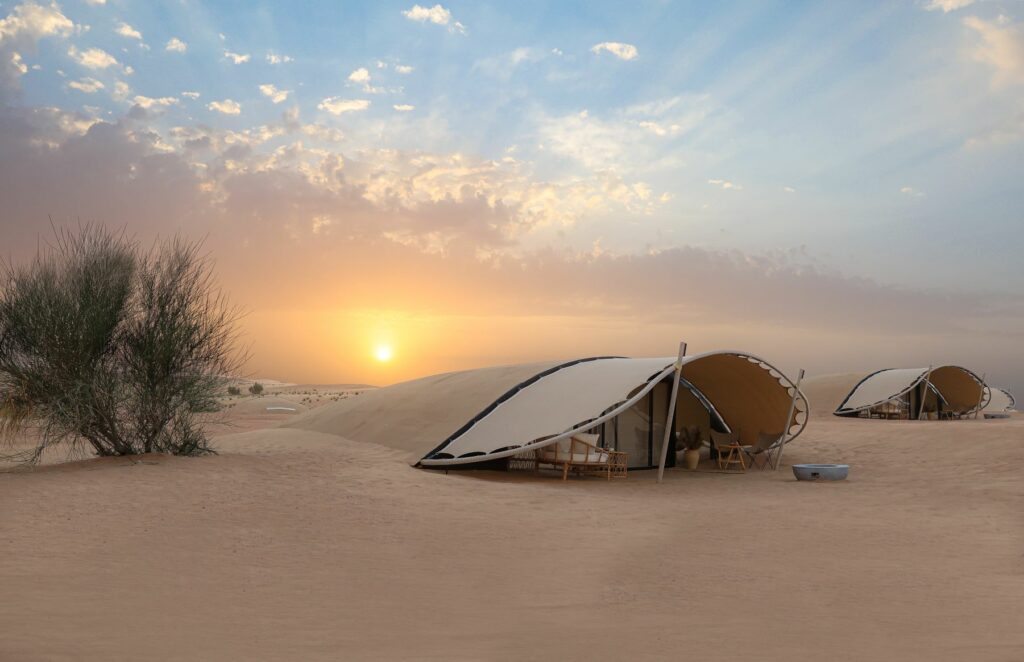 The Nest by the award-winning team behind Dubai's popular Sonara Camp, offers 14 structures that blend seamlessly into the dunes of the Dubai Desert Conservation Reserve. Glamping sites typically offer accommodations that are more spacious and sophisticated than traditional camping tents, and Sonara takes this idea to the next level. Each of their 14 'nests' come complete with a dreamy bedroom area, rich furnishing with rustic touches, private en-suite bathrooms, complimentary minibar, outdoor majlis for enjoying the sunset and stargazing, and a dedicated butler.
Activities at the glamping resort include sand boarding, astrology lessons and spotting the local wild oryx and gazelles as they stroll past your luxury accommodation.
Bab Al Nojoum, Al Mugheirah Resort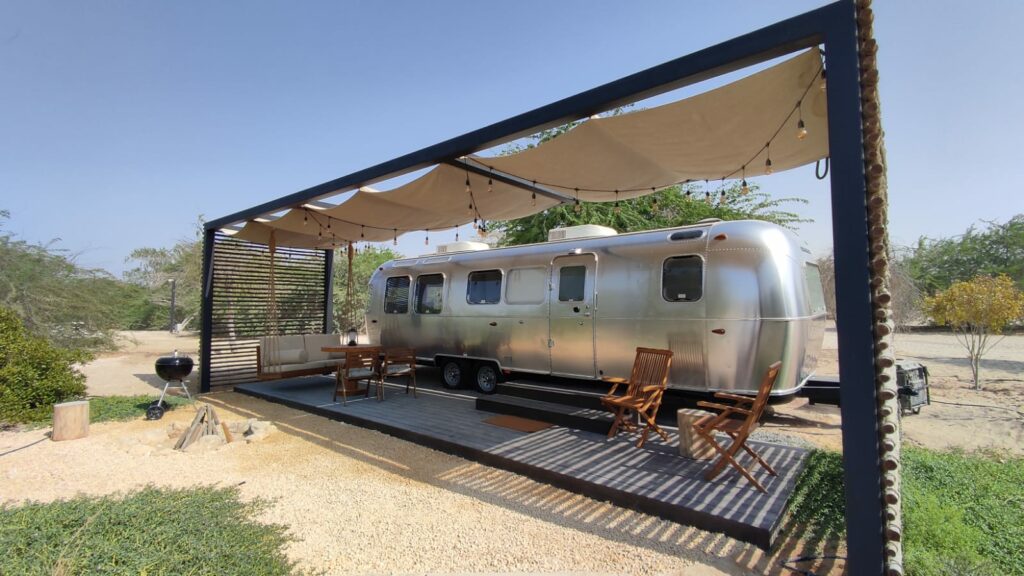 Sleep under the stars at Bab Al Nojoum – Al Mugheirah Resort, the perfect retreat for both couples and friends. Take your pick from a classic silver Airstream caravan or intelligently-designed cabin with a plunge pool and enjoy a barbecue while watching the sunset over the Al Mugheirah nature reserve.
There's tons to do here for all ages. Tour the reserve on two wheels thanks to complimentary bicycles or enjoy nature walks, tree-planting and mangrove exploration trips. In addition, water activities include snorkelling, dolphin spotting, kayaking, canoeing, and stand-up paddle boarding.
babalnojoum.com
Hatta Dome Park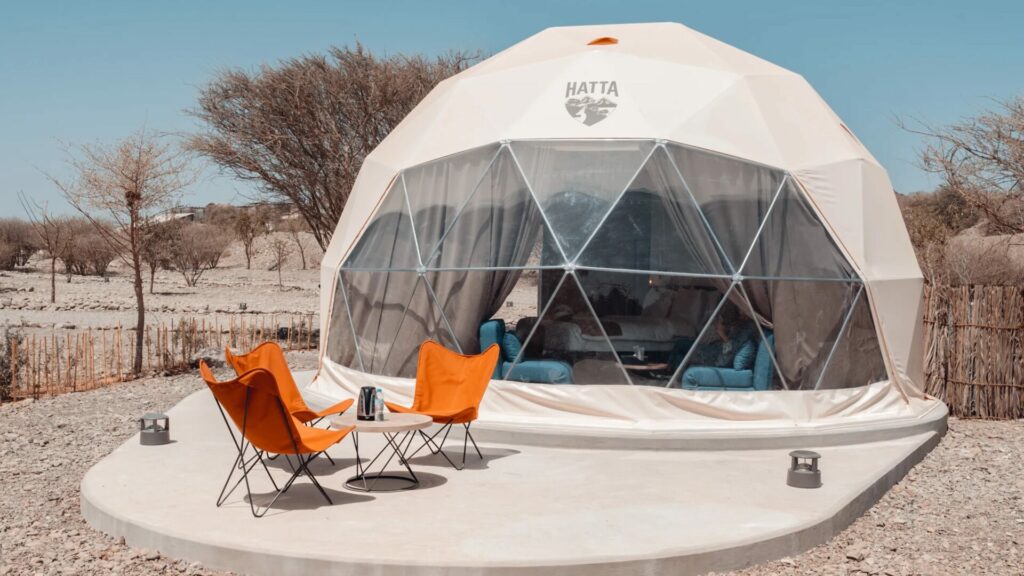 Hatta Dome Park allows people to connect with nature while still having access to the amenities they are used to, making it a great option for those who love the idea of camping but don't want to give up their creature comforts. Settle in for an unforgettable night under the stars at Hatta Dome Park, a glamping experience that takes advantage of Hatta's stunning mountain views and back-to-nature vibes. There are 15 glamping tents available complete with panoramic windows, a private outdoor terrace and many of the amenities you'd expect from a hotel including a chic minimalist bathroom.
Take advantage of the nearby Hatta Wadi Hub for some nature-inspired activities including mountain biking, karting, zip lining, paragliding and more. With such amazing scenery and outdoor activities, Hatta Dome Park is perfect for the family to run-free and enjoy the glorious weather.
For more articles on conscious travel visit our TRAVEL section