The words 'eco' and school uniform don't really go together. Think heavily starched school blazers, polyester-laden PE kits and shiny plastic pencil cases. Then there's all the little extras: rucksacks, water bottles and stationary sets. The brighter, tackier and sparkly the better, as far as most primary school (and some secondary) children are concerned.
As a general rule of thumb, the less eco-friendly, the cheaper, too. Multipack polyester is not as expensive as organic cotton, for starters. And busy parents naturally gravitate towards the easy options too: non-iron shirts, stain-resistant trousers and crease-free skirts.
But, like other parents, I have become increasingly concerned about my family's carbon footprint in recent years, which is just as well as an estimated 183 million pieces of kids clothing end up in landfill each year, according to a survey by upcycling website dotte (more of which later.)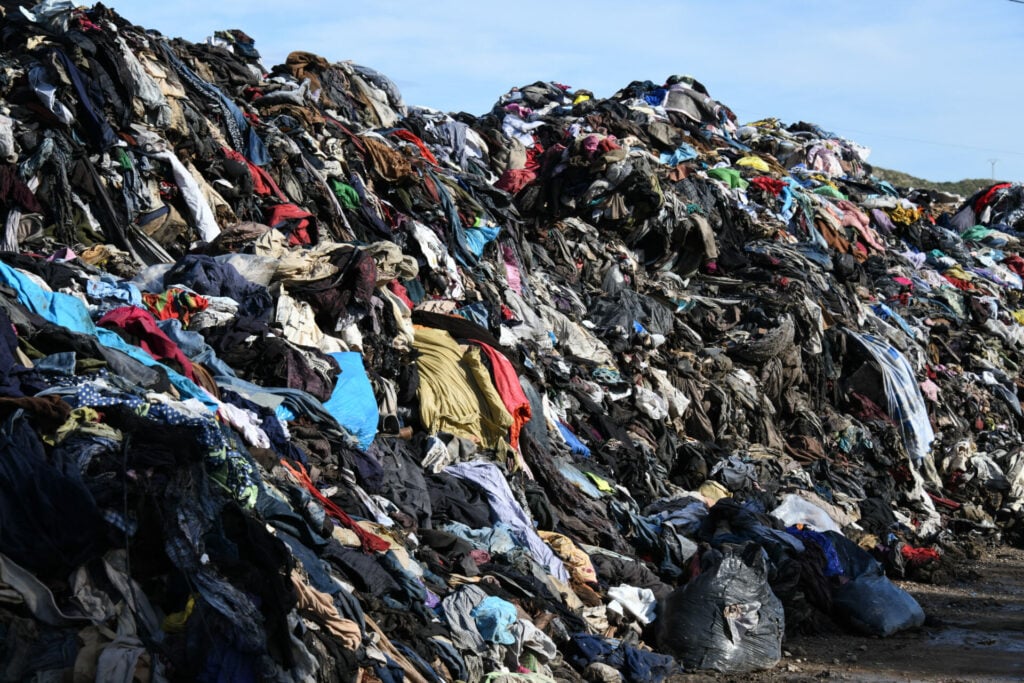 The good news is that parents in general have become more willing to spend a little extra on sustainable clothes. A US study, the Cotton Incorporated Lifestyle Monitor™ Survey found that over a third of parents (36 per cent) would be thinking about sustainability when they do their back-to-school shop this year, up from 21 per cent in 2021.
However, this concern for sustainability conflicts with those for costs. 'Consumers' wallets are feeling squeezed from higher prices for essentials, leaving less room for discretionary spending,' Claire Tassin, retail and e-commerce analyst, told Sourcing Journal. 'Inflation hasn't impacted Back-to-School categories like apparel, electronics and paper goods in the same way that it's hitting gas prices, but family budgets are adjusting to accommodate rising prices by spending less on discretionary goods.'
School Uniform Retailers Getting in on the Action
A number of UK and UAE school uniform retailers, including Marks & Spencers, Eco Outfitters and Kapes are also focusing more on eco-friendly school wear.
Kapes, which has partnered with several schools in UAE, including Arbor and Fairgreen International, produces school wear in ethically-certified factories which guarantees employee welfare and fair wages. Kapes makes its clothes from a number of sustainable materials including organic cotton, recycled polyester, regenerated nylon and coconut shell.
In the UK, the mighty Marks and Spencer has joined forces with dotte, a peer-to-peer marketplace where parents can buy, sell, donate, and recycle outgrown kidswear. Dotte, which was set up in 2020, is a digital platform for pre-loved kidswear including school apparel.
Samantha Valentine, co-founder at dotte said, 'As any parent knows, children just don't stop growing! We wanted to give parents a simple way to pass on their clothes to other families, and at the same time recoup some of the money they originally spent and reduce their carbon footprint all in one go.'
Then there is Eco Outfitters, which was also set up by two frustrated mothers, that uses organic cotton with no nasty chemicals which is ideal for children with eczema or kids like my son, who is autistic and very sensitive to textures and fabrics.
Re-uniform and Recycle
As well as Facebook forums and school sales, there are also a number of great second hand uniform websites too including Uniformerly, where parents and PTAs can buy, sell, give away and recycle outgrown school uniform and Build A Bundle.
Anna Cargan, director of Buildabundle Ltd, says: 'As an online seller of second hand kids clothes, we're constantly baffled by how supermarkets can sell uniform so cheaply. When Aldi are advertising a whole uniform for £5 it makes you wonder how the workers who made it are being paid.'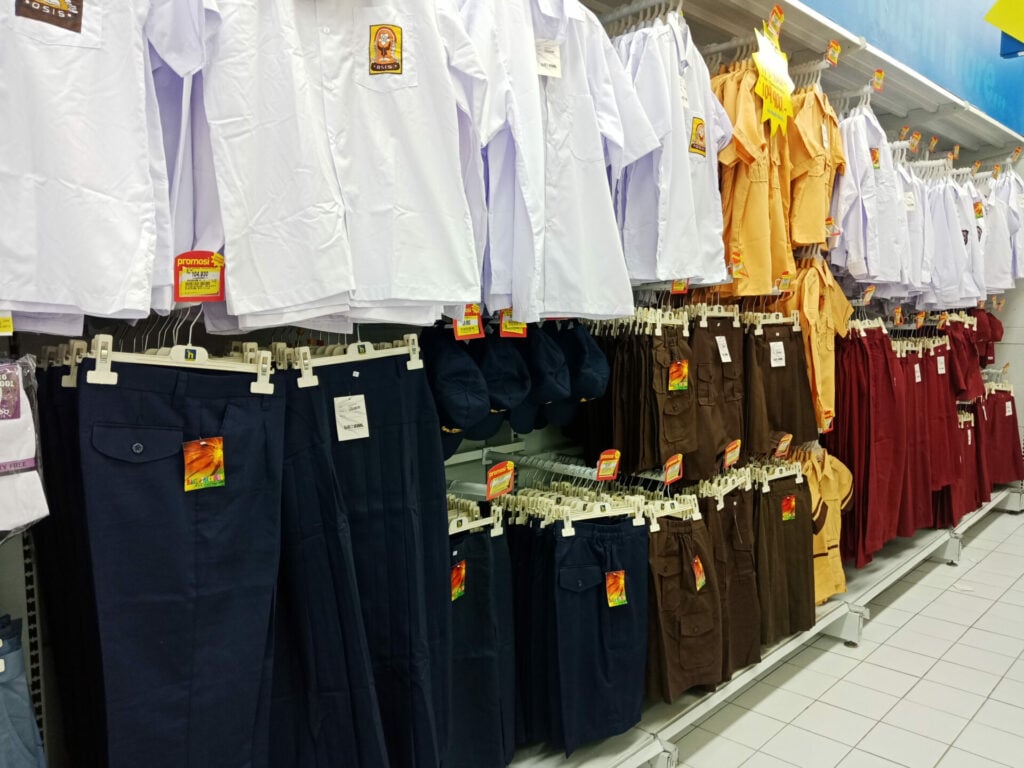 While it's great for families facing a cost of living crisis, it raises some difficult questions, Cargan says. 'By buying uniform second hand where possible, families can get it cheaply and know it's not directly contributing to any ethical issues. We have a dedicated school uniform section on our website with items from 2-16 years, all quality checked to still be in great wearable condition.'
Kathryn Shuttleworth, managing director of ethical school uniform provider David Luke, which dates back over 40 years, says families looking to cut costs should adopt a re-uniform and recycle approach. 'This will not only reduce the likelihood of their child's uniform ending up in landfills but will also save money in the future with a well-made uniform made to withstand the rough and tumble of the playground,' she notes.
The introduction of The Education (Guidance About Costs of School Uniform) Act in the UK will also see changes in the way schools are required to design and implement their school uniform policy, including making it a priority to offer a second-hand uniform provision, Shuttleworth says.
'Uniform swap shops can be a great way to pick up some new and recycled pieces for free, allowing you to blend pre-worn with new or existing pieces together and leave you only needing to buy essential items new. Why not set-up a collection point in your playground and host a stall at the summer fair to exchange your child's outgrown uniform with other families?'
Searching through wardrobes and cupboards can also help you to find that school uniform you bought in the sale but then forgot all about, says Shuttleworth.
'Wash, press and then lay everything out and persuade the kids to have a quick trying-on session before you make a list of the essentials you need to buy. This way you can save money by only buying what desperately needs replacing,' she notes.
Sewing on a lost button or a small tear can also breathe new life into skirts and trousers, Shuttleworth adds.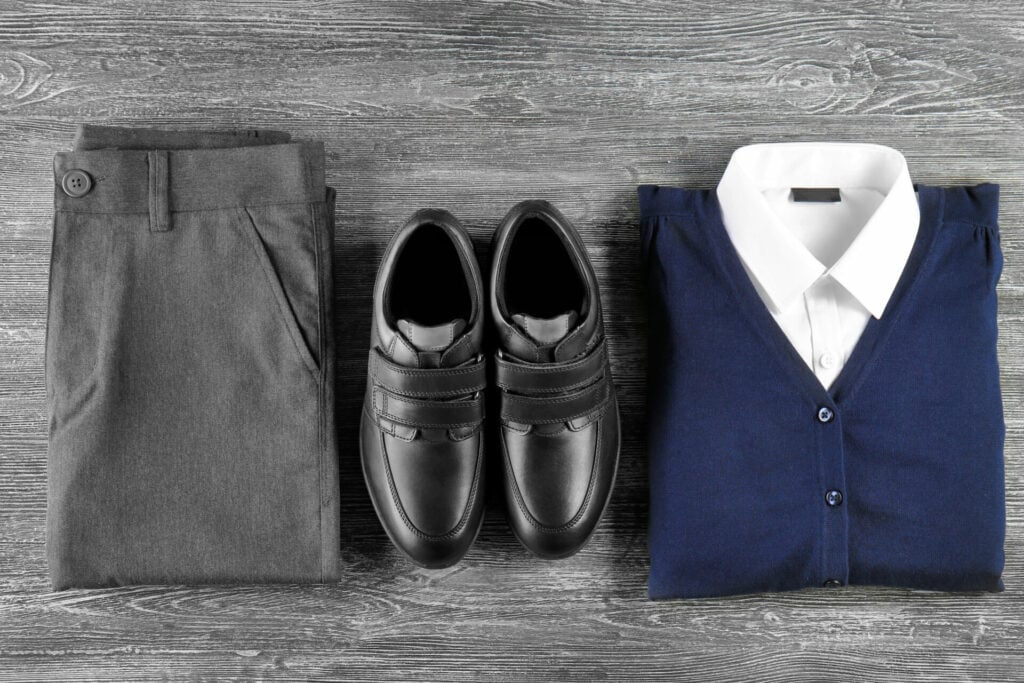 'We want to reframe the notion of buying new each year and encourage families to embrace a 'Love it. Fix It, Swap it' approach. Not only will this help parents save hundreds of pounds each year, but it will also be significantly kinder on the environment and propel us into a more sustainable way of living,' she says.
And let's not forget that school shoes also play a significant part. Both Clarks and Start-Rite are also getting in on the action by designing sustainable vegan school shoes.
Sara Driscoll, head of buying and product at Start-Rite Shoes, says: 'This is our first attempt at anything in the vegan market and we were determined to make a collection of shoes that comes with our hallmark high standards when it comes to testing, quality and style. The shoes have passed our trusted rigorous testing on factors such as surface abrasion and wet and dry flex testing in our on-site laboratory as well as in active wear trials.'
The material used is meant to mimic cowhide, Driscoll says. 'It's not just a synthetic, PU or textile substitute. It is lightweight, breathable and water resistant.'
Kickers also unveiled its first vegan shoe range in July. The Kick Hi Vegan includes six black shoe styles which are made from 100 plant based plant-based PETA approved materials and are reportedly five times more durable than standard PU leather.
So, all in all, there's very little excuse not to take a more eco-friendly approach to the annual back-to-school shop, is there. I wonder if they do the non-iron shirts on the recycling websites.