A huge cloud of smoke hurled into the air by wildfires close to the Canadian city of Quebec has forced people to stay indoors, grounded flights, halted sporting fixtures and left millions at risk of breathing contaminated air across the east coast of north America.
More than 75 million people in the eastern US are under air quality alerts due to the smoke, which made the iconic skylines of major cities  disappear behind thick orange fumes.
Heavy smoke enveloped Washington DC on Thursday as the Metropolitan Washington Council of Governments (MWCG) issued a 'Code Purple' meaning the air is unhealthy for all people.
And experts say it is another manifestation of global warming.
'It does really bring home that the climate crisis is happening here and now. There's this eerie sight of very smoky skies. It puts a yellow, greyish filter over the sun and the sky. There's also a smell of wood-fire burning,' Caroline Brouillette, executive director of Climate Action Network Canada, said.
Global temperature rise, caused by emissions from burning fossil fuels, is leading to larger, more frequent wildfires around the world.
Record Heat Waves Causing Wildfires
Much of Canada, like the rest of North America, has experienced record heat and drought recently as climate change continues to warm the planet. Warm and dry conditions are like kindling for wildfires, say scientists.
Late last month, Canada experienced its hottest day ever when Lytton, British Columbia hit 49.6 degrees.
As the fires took hold, burning through more than 3.3 million hectares of land, images showed orange-tinged skies over Ottawa, Montreal and Toronto, where a thick haze obstructed views of the CN Tower and the downtown skyline of Canada's largest city.
A wildfire in Shelburne County, which is now under control, was engulfing an area of 234 square kilometres.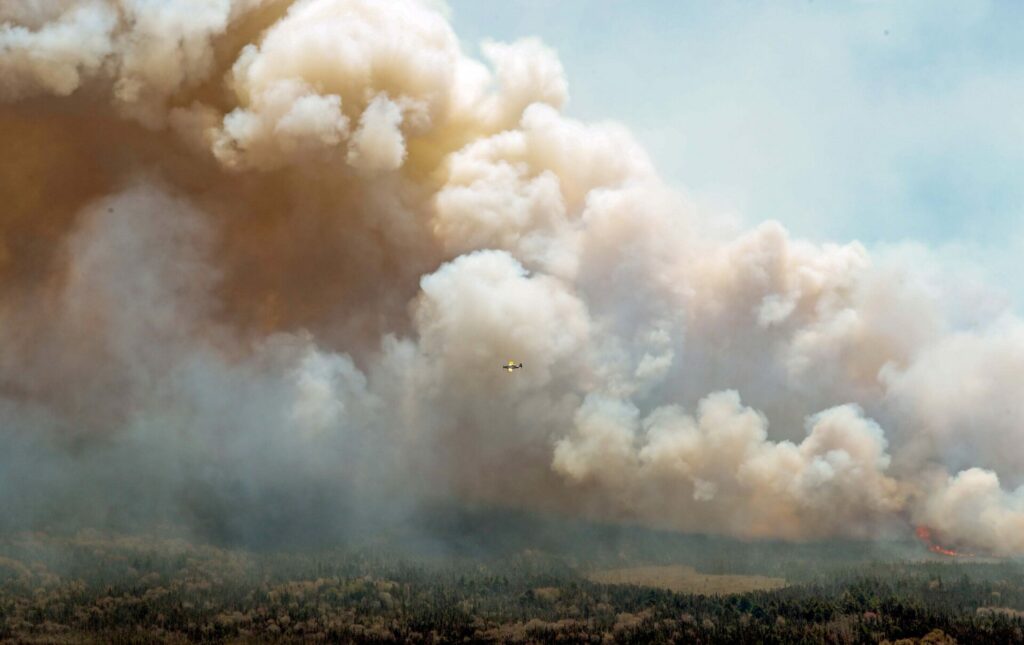 The Canadian government said on Wednesday that more than 400 wildfires were burning across the country, including 239 that were considered out of control. They have warned that this could be the worst wildfire season on record, with over 6.7 million acres already scorched.
More than 20,000 people remained displaced as a result of the blazes.
Climate Crisis Here
In New York City and Washington DC, hundreds of kilometres from the fires burning north of the United States-Canada border, smog has filled the air.
'From the gloom over Yankee Stadium to the smoky haze obscuring our skyline, we can see it, we can smell it and we felt it. And it was alarming and concerning,' New York City Mayor Eric Adams told reporters.
'This is an unprecedented event in our city, and New Yorkers must take precautions,' said Adams, who urged residents to stay inside, close their windows and limit outdoor activity.
'While this may be the first time we've experienced something like this on this magnitude, let's be clear: It is not the last. Climate change accelerated these conditions. We must continue to draw down emissions, improve air quality and build resiliency.'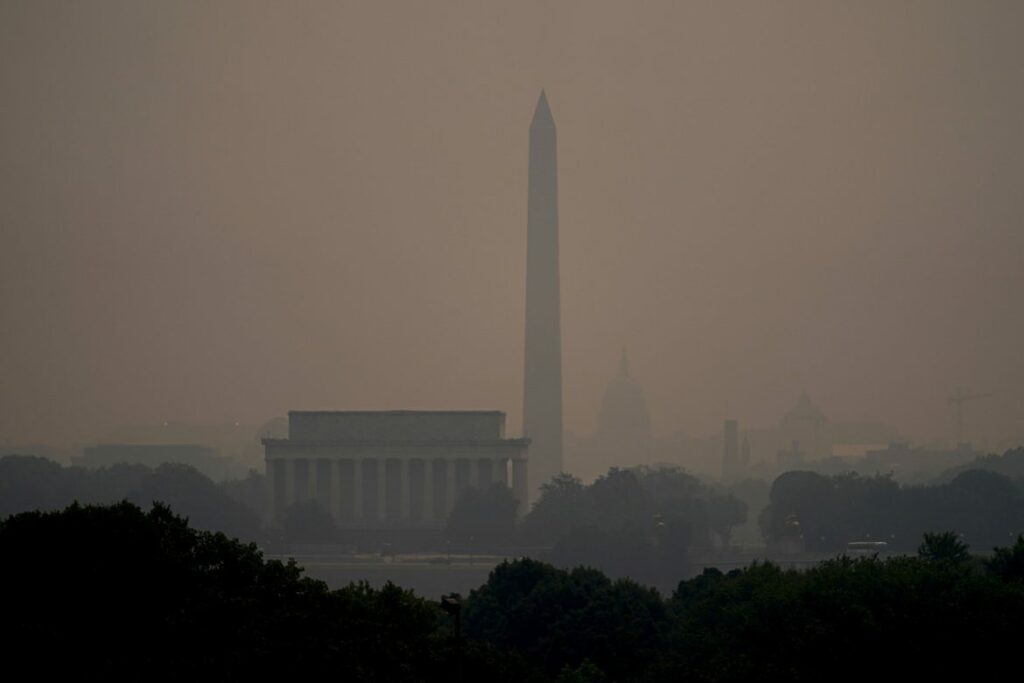 Canadian Prime Minister Justin Trudeau spoke with US President Joe Biden on Wednesday about the ongoing wildfires and air quality impacts, their offices confirmed.
Trudeau thanked Biden for the support and cooperation, according to a statement released by Trudeau's office, which said: 'Both leaders acknowledged the need to work together to address the devastating impacts of climate change.'
Biden said in a tweet: 'Firefighters are also coming from the U.S. We've deployed more than 600 US firefighters, support personnel, and equipment to support Canada as they respond to record wildfires – events that are intensifying because of the climate crisis.'
Speaking in the US Senate, Democratic Party member and house majority leader Chuck Schumer agreed climate change was driving the smoke blanketing the eastern seaboard.
'These Canadian wildfires are truly unprecedented and we cannot ignore that climate change continues to make these disasters worse,' he told representatives. 'Warmer temperatures and severe droughts mean forests burn faster, burn hotter and burn bigger, and the warming is happening at a faster pace in countries with higher latitudes. None of this — none of this is coincidence.'