One pot, one pan or one dish – you get the idea! – is all you need to create a delicious plant-based plate for Ramadan. Not only will it mean there's less washing up but you'll also have more time to spend with your loved ones during Iftar or Suhoor.
Simply follow our easy recipes, which can be cooked in batches to last longer, feed everyone and cut down on waste, and you'll impress your guests over this special time at iftar – and beyond. 
Even better these one pot recipes are all from local chefs and can all be made under 30 minutes so they're super speedy as well as tasty. Enjoy! Ramadan Kareem.
Brown Rice Buddha Bowl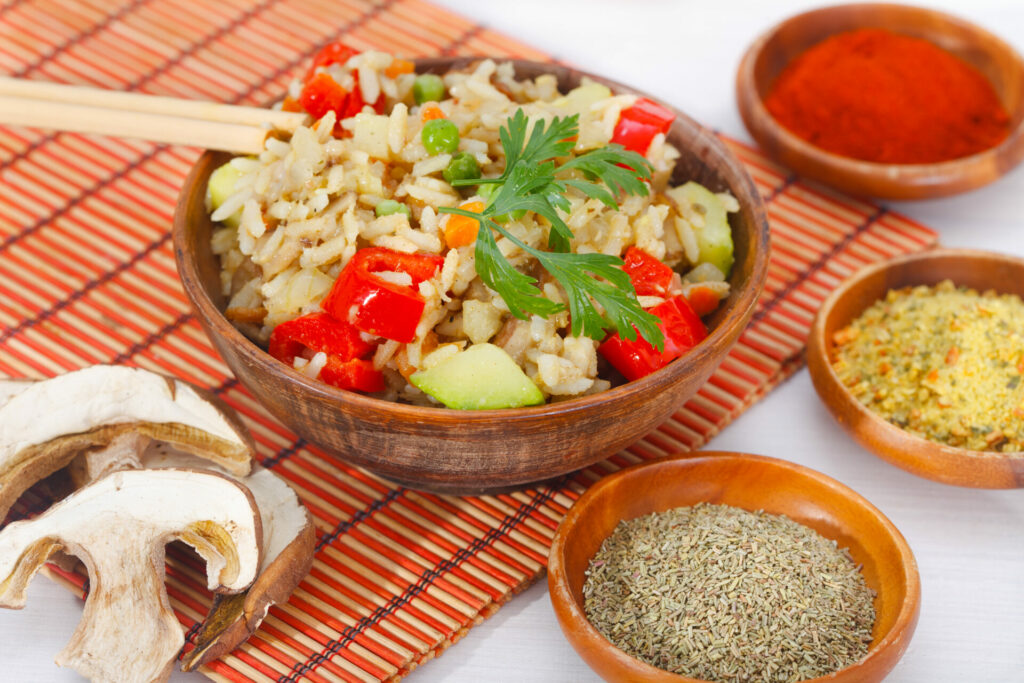 By Melanie Waxman, integrative nutrition specialist and psychology of eating coach at the SHA Wellness Clinic, Al Jurf
Brimming with nutrients this iftar dish is easy to rustle up and is just oozing with goodness… 
Melanie: 'Ramadan is wonderful for mental health and well-being. After sundown, the key is to eat iftar slowly, have smaller portions and to give thanks for the food. Make sure the ingredients are not heavy but nourishing and energizing. For some people fasting is not a good idea – those who are pregnant, breastfeeding or have serious health challenges like diabetes or eating disorders should refrain.' 
1 block firm tofu cut into 6 slices
Sea salt
2 tbs toasted sesame seeds
2 tbsp sesame oil
1-2 tsp grated fresh ginger
1 clove of garlic, crushed
1 small red chili, seeded and diced (optional)
8 spring onions finely sliced
2 cups cooked brown rice
¼ cup water (enough to just cover the bottom of the pan)
1 head broccoli cut into small florets and blanched
1 cup edamame (soya) beans and blanched
1 tbs chopped cilantro
1 lime cut into wedges
For the dressing
2 tbsp peanut butter
1-2 tsp tamari plus extra for cooking
Dash sesame oil
Dash mirin
1 tbsp maple syrup
Juice of half a lime
2 tbsp water
Lightly rub each side of the sliced tofu with a little sea salt and set aside. Place the dressing ingredients into a blender. Blend to a smooth creamy texture. Add a little more water if necessary. Place into a small serving bowl. Scatter with sesame seeds.
Place the sesame oil into a pan. Add the tofu*. Warm the oil and fry for a few minutes or until golden. Turn the tofu over and repeat. Remove the tofu from the pan and place on a plate. Add a few drops of tamari dressing to each one. *Tofu can also be steamed in a steamer if preferred.
Place the pan back on the stove and add the ginger, garlic and chili. You might need to add a touch more oil. Sauté for a minute.
Add the spring onions and saute for another minute. Add the rice and a little water. Cover with a lid and steam for about 3 minutes or until warmed through. Mix gently.
Now add the blanched broccoli and edamame and season with a dash of tamari. Mix gently. Divide into 2 large noodle bowls.
Top with the tofu and scatter with chopped cilantro and toasted sesame seeds. Serve with the dressing and wedges of limes.
Instagram: @shawellness
Japanese Vegan Risotto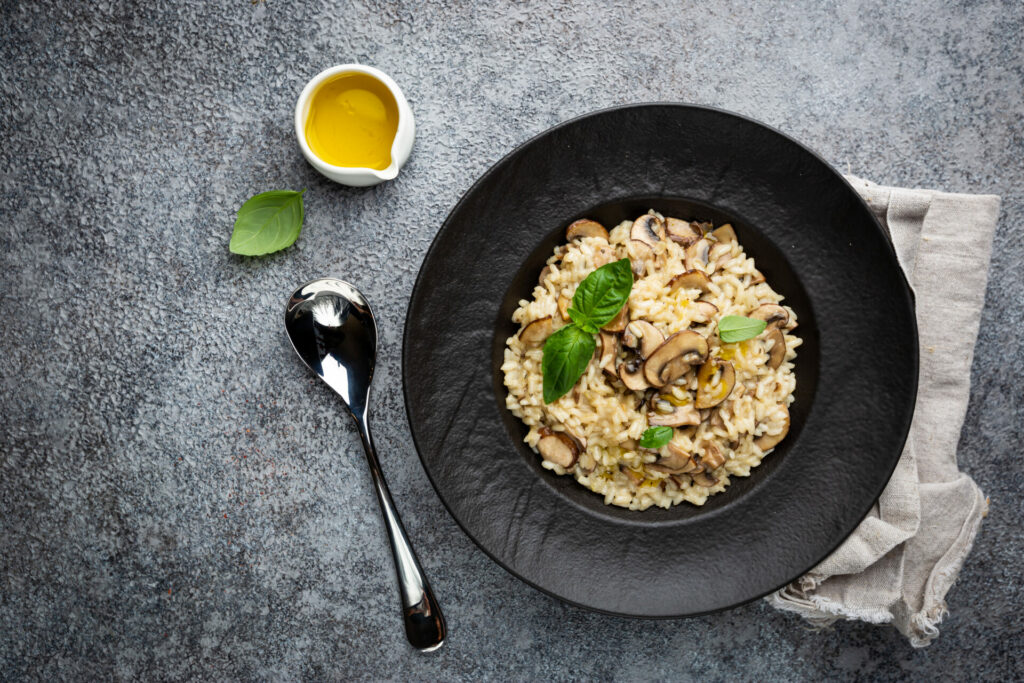 By Chef Budha, Executive Chef at Mogao, Dubai Silicone Oasis
Packed with punchy smokey flavours, this Japanese-style one pot perfect for iftar is not only a hearty vegan dish, it's gluten free too
Chef Budha: 'For me, Ramadan is a great time to slow the pace. I use my time for myself, family, friends and the community. I love to use my spare few hours to try and create new recipes and share these with my friends. I also use the opportunity to give back to the community by engaging in food donation drives.'
1 tbsp oil of choice
1/2 onion, diced
2 garlic cloves, minced
150 mixed mushrooms (such as shiitake or oyster), sliced
1 block of firm tofu, pressed, diced and tossed in a splash of gluten free soy sauce
1 cup buckwheat groats (whole grain) – rinsed and drained
2 cups mushroom broth
3 tbsp cornstarch dissolved in 6 tbsp of water
Salt and pepper to taste
2 green onions, thinly sliced
Sesame seeds and/or truffle oil for garnish
In a large pot, heat oil over medium heat. Add diced onion and minced garlic and sauté until onion is translucent.
Add sliced mushrooms and diced tofu to the pot and continue to sauté for a few minutes until mushrooms are tender.
Now add the rinsed buckwheat groats to the pot and stir until they are coated with the vegetable mixture.
Pour in the mushroom broth and stir everything together. Bring the mixture to a boil, then reduce the heat to low and cover the pot.
Simmer for about 20 minutes, or until the buckwheat groats are tender and the liquid has been reduced. Pour corn starch solution as needed to thicken. Add salt and pepper to taste.
Once the risotto is done, remove it from the heat and let it sit for a few minutes. Garnish with sliced green onions and sesame seeds and/or truffle oil before serving
Instagram: @mogaodubai
Coconut Red Bean Stew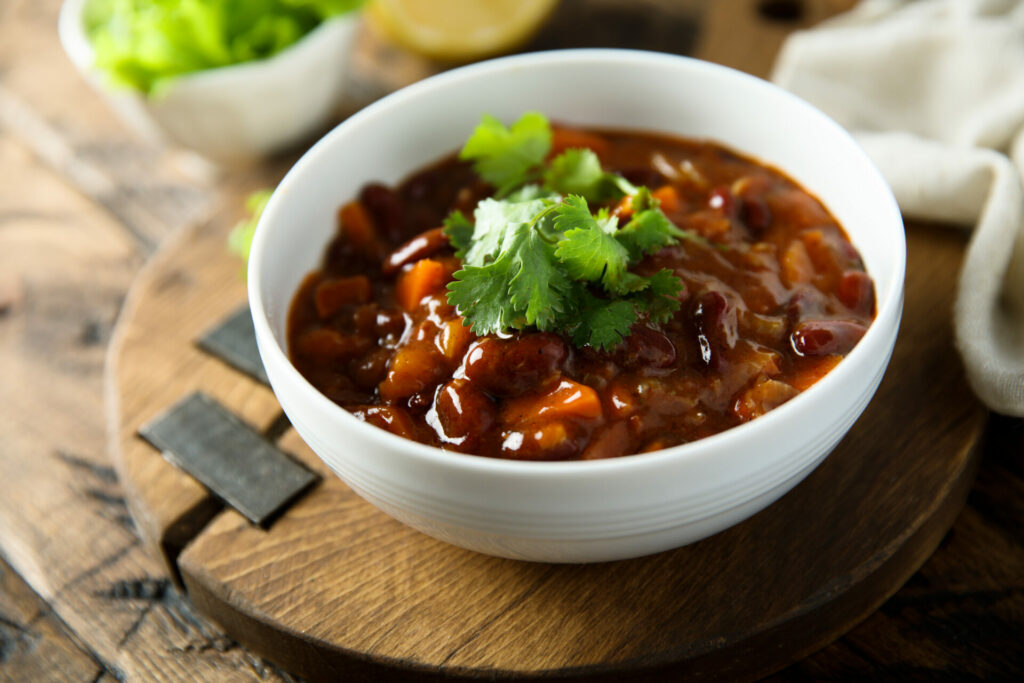 By Gbemi Giwa Founder of Catfish DXB – Healing African Foods
Packed with iron, beans also contain folate, B vitamins, magnesium and potassium which will help keep your heart healthy. 
Gbemi: 'This is my quick version of a popular Nigerian bean stew. I used canned beans to save cooking time and add the sweetness of coconut milk to create a delicious creamy stew that pairs really well with rice, bread or sweet fried plantains. The whole dish comes together in less than 30 mins and hardly requires any washing up – perfect for Ramadan!'
1 tbsp olive oil
1 small onion, finely minced
1 tsp freshly grated ginger
1 garlic clove, finely minced
1 tsp tomato paste
425g of Black-Eyed beans or Chickpeas
1 cup coconut milk
1 tbsp brown sugar (optional)
1 tbsp veg stock powder
1 tsp miso paste (optional)
1 scotch bonnet or Chili, finely minced
1 tbsp paprika
Salt
Heat the olive oil in a large pan over medium heat, then add the minced onion, ginger, garlic and tomato paste and cook for about 2 minutes till it starts to brown.
Add the canned beans, coconut milk, brown sugar, vegan stock powder, miso paste and all the spices. Stir to combine.
Simmer on low for 8- 10 minutes until the beans absorb all the broth. Taste and adjust for salt to allow cooking for another 3 minutes. Serve warm with fried plantains, rice or pita bread.
Instagram: @gbemigiwa
15-Minute Iftar Tofu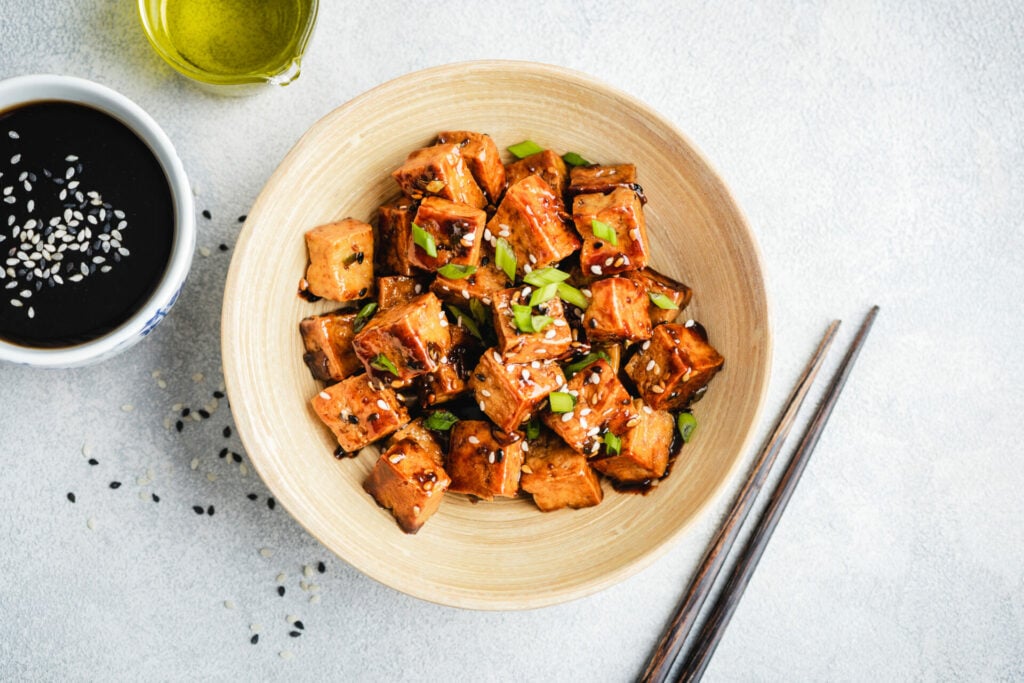 By Priyansh Parekh – Vegan Chef Dubai
Hearty, easy and beyond delicious, this unfussy tofu recipe with sesame is about to wow you and your guests
Priyansh: 'Ramadan is a time of self-reflection and community. With the shorter working hours, I get more time to reflect and relax. It's also when I can spend quality time with my friends and family, especially over good food.'
300g medium firm tofu
1 tbsp sesame oil
For the sauce:
2 tbsp water
1 tsp gochujang
1 tsp red chili powder
1 tsp coriander powder
1 tsp sugar
1/2 tsp sesame oil
1/2 tsp white vinegar
1/2 tsp soy sauce
Salt to taste
Cut the tofu into shape of your choice. Add 1 tbsp of sesame oil to the pan. Fry the tofu in the oil for 5 minutes on each side or until desired colour is achieved.
While the tofu is frying mix all the sauce ingredients. Add the sauce to the tofu in the pan and cook for 2-3 minutes as the sauce reduces. Remove the tofu from the pan, drizzle the remaining sauce on the tofu and serve.
Instagram: @prunchme