While Easter is mostly about chocolate eggs, a cute looking bunny and a long weekend off work, for us mums it's that dreaded time of year when you get the message from your little one's pre-school…Make an Easter bonnet!
Before you had children, you daydreamed about the fun you'd have with your kids while they were still small and into crafting. Oh, how you'd gather around the kitchen table ensemble with crepe paper, glue and scissors, unleashing your creative side.
But, wait – hello reality. The truth is for most of us the work/life juggle is overwhelming and with barely enough time to brush your teeth, and make the family dinner, there's no time to design and create a special hat with baby chicks and ribbon dangling from it. Online shopping and next-day delivery beckons. And suddenly, more single-use plastic barges into your home.
Over the years, Easter has turned into yet another consumer fest. For parents, especially with younger children, the pressure is on to buy, buy, buy. And that's even before the chocolate – a staggering 90 million of them covered in shiny foil and yet more layers of packaging are bought every year in the UK alone – is devoured.
Easter Excess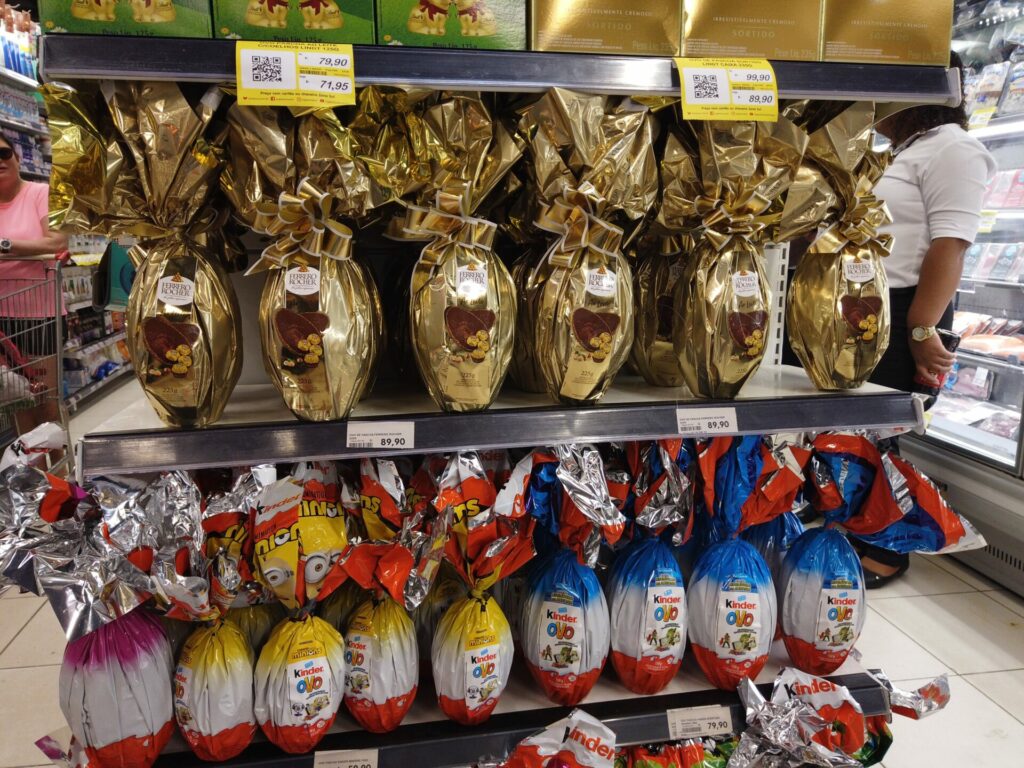 That's 160 tonnes of foil packaging and 4,370 tonnes of card even though 59% of UK adults believe Easter packaging is excessive. Predictions indicate British consumers are likely to spend £415 million on Easter eggs this year with the average UK child receiving 8.8 eggs each.
What they might not realise is that the chocolate itself takes up only 38 per cent of an Easter egg box (by volume). The rest is packaging, which if not recycled, ends up in landfill – Easter packaging waste in the UK alone takes 400 large lorries to transport to landfills or recycling centres. Suddenly Easter doesn't seem so cute, after all.
Over in the US, According to the National Retail Federation, 85 per cent of Americans celebrate Easter and its estimated that $2.5 billion will be spent on candy and chocolate (more than Halloween) for Easter egg hunts.
So is it possible to have a sustainable Easter and keep on top of family life? Here are some top tips that even the Easter Bunny will be eager to try out. Remember, small actions on a large scale can make a huge impact.
Zero-waste Fashionistas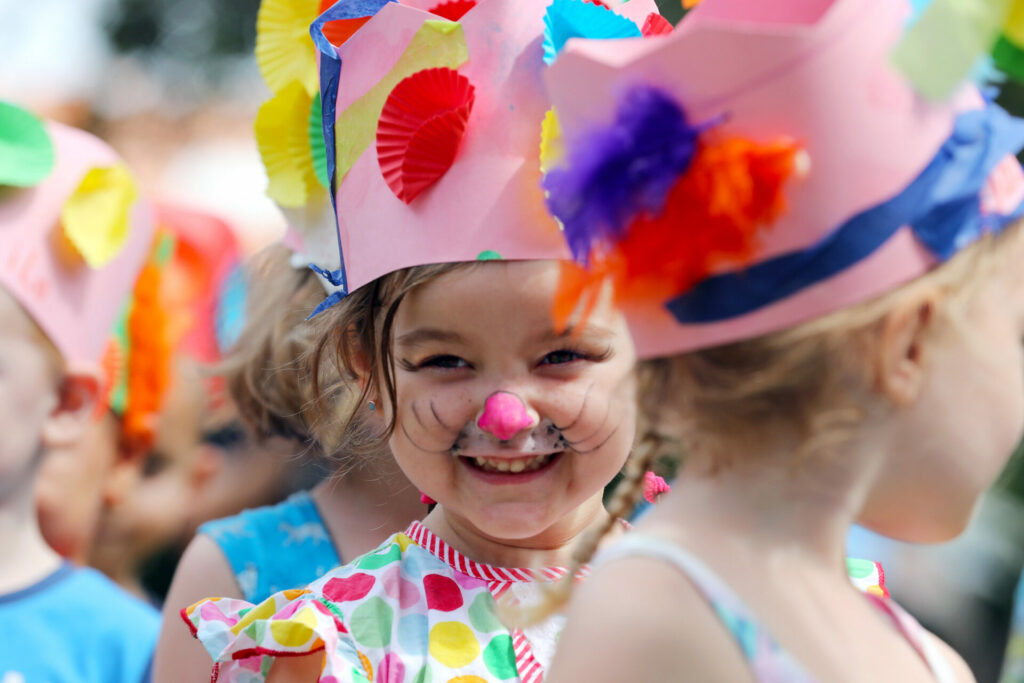 Don't be lured into buying bonnet-making kits online for 'ease'. They're more fiddly that you think, not to mention riddled with micro-plastics and tucked up in a single-use plastic wrapper.
So dig through your recycling for cereal boxes and let the kids make their own shapes to pin onto an old baseball cap or last summer's straw hat. Bunny ears can be cut out from card. Draw loose egg shapes onto a piece of plain paper and let the whole family decorate with whatever patterns they please.
This mindful, de-stressing activity takes minimal effort and gives satisfying results. Also, ask yourself: how long will your kids actually wear their Easter bonnet for before yanking it off to go and play? About three minutes! So plonk the used bonnet bits back into the recycling. Happy days.
Chocolate Can Be Conscious
One of the most joyous parts of embracing Easter is, of course, the chocolate. But working conditions for many communities who produce its key ingredient, cocoa, involve forced labour and poor work conditions.
You can help cocoa producers earn a living wage by choosing Fair Trade certified chocolate brands such as Tony's Chocolonely and Green & Black's. Moo Free have a delightful vegan-friendly range including the Bunnycomb Easter egg which comes with a surprise. For an extra special treat, indulge in the Booja Booja Vegan Egg. Attractively hand-made and hand-painted, this Easter egg is created from paper maché and inside you'll find Booja Booja's award-winning vegan salted caramel truffles. Mmmm…
Good Egg Hunting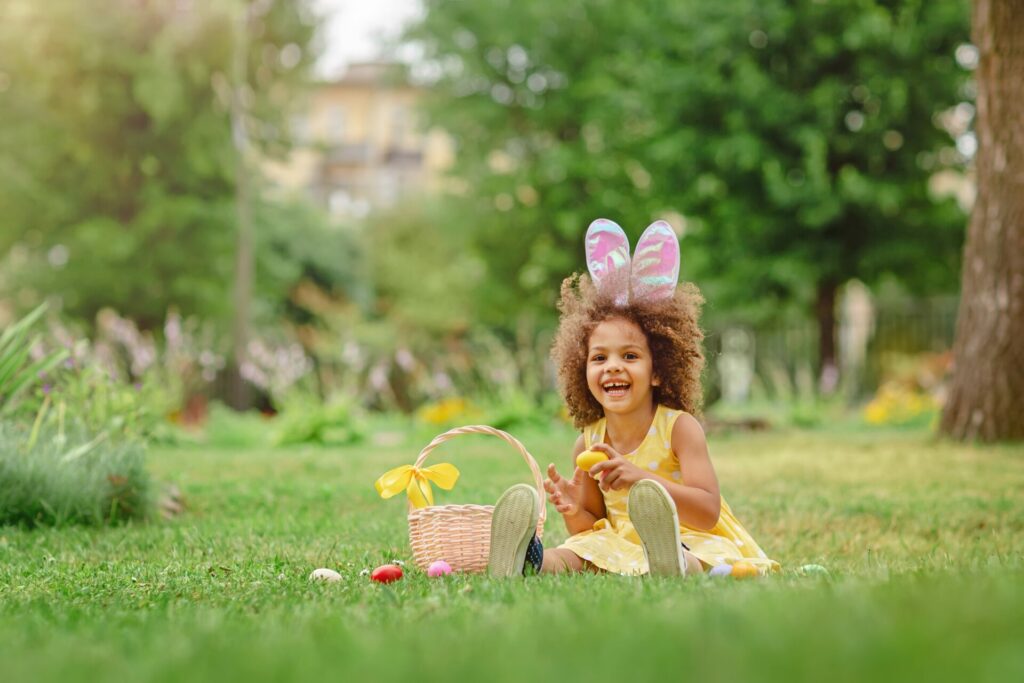 Humans consume over 300 million tons of plastic a year, including those popular plastic containers used for Easter egg hunts. If you already have plastic eggs to pop a little chocolate or toy into, recycle them every year rather than tossing them away and contributing to landfill. If you're buying new, opt for wooden eggs.
Encourage little ones to carry a basket that you already own or buy second-hand. Tie a ribbon around it or pop a cuddly bunny inside. Also, tin buckets are a sweet alternative, and durable, meaning you can use them year after year. Or, re-use egg cartons and slot the eggs into place as you find them. The first to fill their tray of six or 12 is the winner.
Eco Surprises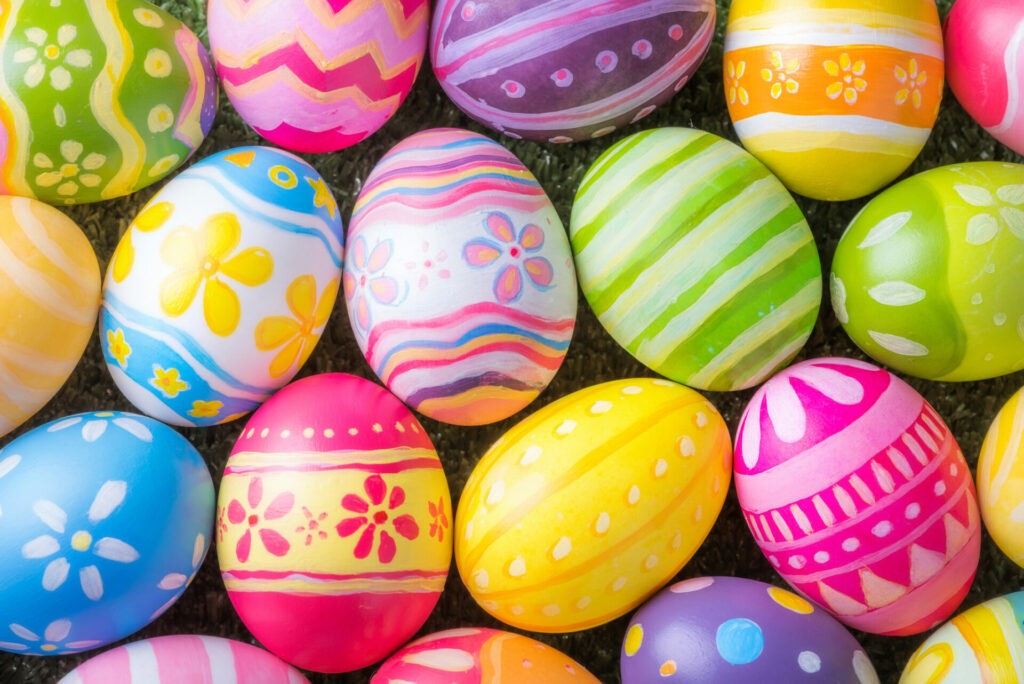 Buy candy that isn't individually wrapped. Most brightly-coloured foil coating typically ends up in the landfill. Let's face it, kids will be much happier scoffing their faces without needing help to unwrap. If your Easter egg does have foil, be sure to clean it to prevent contaminating other bits of recycling and scrunch it into a ball before popping it into the recycling bin. And what about substituting single-use plastic novelties for Lego pieces? Once all the eggs are discovered, the Lego pieces join together to create a…chick?! Try a similar trick with a jigsaw. Hot Wheels cars, marbles and hair accessories can also replace cheap plastic 'themed' items and can be enjoyed throughout all seasons.
Repurpose The Plastic
If you've accumulated a bin full of Easter decorations over the years, why not create a piece of decor you can put up and admire every year. Use leftover party napkins and decoupage to create this gorgeous Easter egg wreath and breathe some fresh spring air into redundant plastic eggs. Make a bunting to hang in your garden or across your balcony. Or donate! Pass on your plastic eggs and chicks to a family with young children, encouraging them not to buy new and promoting pre-loved items that need a home to celebrate Easter in all over again.
For more eco-parenting stories check out our SELF section